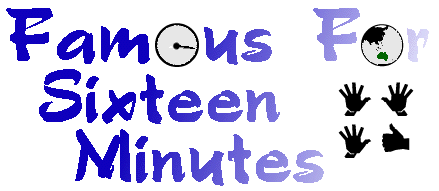 The Life and Times of Peter Green
Archive: 15 December - 31 December 1996
---
*** HAPPY NEW YEAR *** TO ALL OUR READERS*** THANKS FOR THE SUPPORT in 1996 ***
December 15th
Jump in the Phoenix and continue with the Xmas shopping at Malvern Central,some really nice prezzies for people this year. Love the Sunflower starter kits and the Lavender kits....know of a few gardens thatneed some "colour". By now Nicole would be on her flight back to the states,I think she had a good time in Australia.

Gave my Amex card a good working out....oh well it IS Xmas afterall......

---
December 16th
We have our Xmas party at the Blue Elephant this year instead of home. Totally packed and everyone has a good time. sadly Johnny cant make it as he has a gig, money for Xmas presents I guess. A very well behaved bunch this Xmas. i think we have cornered the market on Calvins.....please no more !!!The cute waiter is upstairs and Rebecca keeps leaning back.........not quite further enough Becky (grin). She's in fine form and obviously enjoying her job.

---
December 17th
Tried to call Paul at home and the answering machine isn't on. he must be back from Byron by now-heard that it took him a few days to get over the Crowdies experience. It was nice to have the old Paul around again,I think these last few gigs meant a lot to him-he was the more emotional of all the guys. Nice to see.

We head into the city for some more Xmas shopping,pay Amex etc. The Myer Xmas windows have a full crowd out front and the new HMV store has opened in the city mall. Notice that they still have Michael Jackson at #1, on their wall chart-point out that they've got it wrong so they'll hopefully change it. It's really weird everyone is buying RECURRING DREAM-we are outselling Jackson ten to one.

Mark and myself head to the Keano to see "Welcome to the Dollhouse"-we have some Dollhouse two for one passes. We get there early and the doors are closed the manager opens them and says "are you here to meet Peter Greenway".......I smile and say "No but I am Peter Green". We both say "Spooky" at the same time.

Only 20 people watching "Dollhouse"-all school girls and one little old man that can't stop coughing. The good thing about the movie is that the "Winer Dog" girl never redeems herself and is probably having a horrible life in the USA suburbs with a geek family of her own. You leave the movie thinking it wasn't as good as you hoped and rather forgettable,but suddenly days later you are still running parts of it thru your mind.........well worth checking out. Call into the Supermarket on the way home and they are playing "My Mistake" by the Enz over the PA. Turn on the car radio and hear "Distant Sun".......

---
December 18th
Spy Di tells me she has located both "resident Alien" and "Culture Club at Worst and best".....the Culture Club Cd has "Laydown Mister" on it-which i really like.

All the marigolds are gleaming in the garden.....and the passionate fruit vine now has giant purple and yellow flowers hanging off the fence. No sign of Juno the cat.......hope it hasn't ran away from home-I hate minding other peoples pets.

---
December 19th
Bill sends some more ALT cds,but because there are 20, I have to go through incredible redtape at the Customs House to pick them up. So drive back into the city. It ends up being simple. Haven't heard from Neil or Sharon-not even a Xmas card this year...this is strange.

Printers call and newsletters will arrive tomorrow...the day before we fly home to Sydney for Xmas...so i know what we are doing all day.

---
December 20th
Pay home loan....just get a notice-my home loan rates are dropping, save close to $100 a month- cool. We get our upgrade with Qantas to go home for Xmas- so its a one hour first class flight.

Newsletters arrive-boxes and boxes and our company (Filthy Rich promotion$) Xmas cards. I designed them,Spock created the magic and they look really cool. As soon as the boxes arrive we get into it. Thankfully rebecca and Rosemaree turn up to help and we are soon running out the door in different directions, all carrying huge blue mailsacks and filling up every mailbox in a 10km radius. We try to get every Newsletter posted. Add to this the Filthy Rich Xmas cards and a Xmas postcard mailout for another of our bands (The Screaming jets) and you can get a rough idea how insane it was. Take a HUGE bag down to Prahran to post at the "magic" mailbox...and end up getting a $100 parking fine...gee that made me happy (NOT).

The front of the newsletter is the "Farewell to the World" original graphic (note the colour difference)...i think i mentioned it was painted by Reg Mombassa and the original is now framed and hanging in the loungeroom. Looks good as a cover on the Newsletter....and before any of you ask-the Farewell to the World tshirts have all sold out at the Opera House show and there are no plans for a reissue.

We just get in our sales figure and the RECURRING DREAM album is now up to 400,000 units in Australia. If it keeps selling at this pace it will be SIX times platinum after Xmas....which makes it the biggest selling Australian album of the year.

Working late in the office and realise that Nick still hasn't called......a few minutes later the private line rings and a voice is singing "Little Child of bethlehem" and "Sweet Baby Jesus"......yes It's Nick. This call has totally taken me by suprise as this band has the habit of always forgetting Xmas and birthdays etc. He will be in town for Xmas and spending some of it at his Sisters holiday house. Like Paul the fallout from the bands split has led to some revaluing from within. He sounds great and the future could be interesting for him. I promise to call him when i return from Sydney.

---
December 21st
Wash clothes..exciting..with all these calvins my washload has doubled (: Melissa drops in.Bourbon for Xmas-we decide to get tickets for the ALSO Dance party at shed 14 (Victoria Docks). It's good to see her,she's been out of our life for about 6 months. Johnny calls in, he'll be looking after the apartment and Hairball. Weve left him a huge pile of DeepSpace Nine and Voyager videos which Di Spy sent from America so he'll be kept happy.

My bag is overflowing with Xmas presents-managed to put 3 pieces of clothing in and then gave up. Mark has some huge cactus giftwrapped that he has to carry onto the plane. We drop in another bag of mail on the way...and the Phoenix cruises into the Limo. service. For once it's empty-all the Porsche's amd Mercs are absent..guess no one is travelling at Xmas. We check in and head towards the Flight Club. The new Melb. flight club is great-much bigger and a feast awaits us. I abuse Qantas's phones and call as many people as possible and say happy Xmas. The flight is quick-1 hr and Mum and Sis are waiting in Sydney. By 9.30 we are home.

---
December 22nd
Go shopping with Sis (gee I've been doing a lot of that). Notice that the Crowdies album is selling really well- some of the major stores have nearly ran out of stock. No sign of the Opera House Video yet, which is strange considering the Video has received a DOUBLE PLATINUM award for advance sales. Weve never had an award for a Video for...strange concept. Find a very very old book on Christmas and it's meaning. Find a very early reference to Santa. This one has been removed from the Santa myth.......he had an ELF helper called "Black peter" (not to be confused with Green peter)...and Black peters job was to WHIp all the kids that had been bad all year. Bizarre eh-for some twisted reason I find this to be very funny. Guess that was way before the standard red and white image of Santa created by Coca Cola. May change my name to Black Peter...far better then Feral Peter (eh Elizabeth).

Decide to show Mum my tattoo....it's cool to show the rest of the planet but Mums are very different..."ahhh Mum.....doyawannaseemytattoo". I say at a hundred miles and hour. "What"? she says. "Argh mytattoo". I spout. "Slower I can't understand you" she replies. (Thats the whole idea methinks). "I- decided -to-get- a-........tattoo" (there I said it...grit my teeth). "I hope it's not an ugly greenish colour one" she says. I pull down my shirt and the only two things she says are "It's a bit big,but at least it's not on your face". Thats it! Oh well that's done. Then she flips me out by saying "You haven't any of those ugly piercings".? "No only my ear ring" "Oh thats ok". Coool Mum!

---
December 23rd
Find a melbourne paper at the local newsagent and notice that the Corner Hotel is on of the two gigs for Best melbourne concert of the year. My Sis-Jennifer drives us for miles to a food place called The Dolphin high in the hills of Coalcliff. A surfie owns it and bakes his own rolls and all the food is really healthy...but the rolls are GIGANTIC. Great view-all that coastline. Amanda from grants office calls and tells me that Grant is in America skiing with his son. have an idea for the Enzso Tour programme-tell Amanda that we should have the cover art as many "warhol" Enzsoish images (diff. colours)..could look good. Not sure if I am looking forward to the Enzso tour or not-it's only a few gigs but it seems like the Enzso thing has gone on for too long.

---
December 24th
Last night a huge dry storm hit town,the loudest thunder I've every heard, I thought the windows were going to explode.The day is really hot-Sis goes swimming, I should of went but read Linda Jaivin's first book "EAT ME' instead. Remember her-she wrote "Rock N Roll babes from Outer Space",well "EAT ME" is more like Female Erotica....very funny in parts. The Big Merino that we have driven past on tour will never look the same again. well I'm just back from the local mall...Xmas I'm fast getting over it- it seems like half the people in town have just woken up and have gone on a last minute panic buying spree.It's too crazy,too hot......

I arrive at Pops place with Mum, she starts creating some snacks for the Xmas Eve usual crowd that are dropping in. I sit out under the overcast sky (hey it's a full moon) and look around me. I spent a lot of tme growing up here at Pops place. The huge bird Aviary is now empty,but an assortment of hanging cacti adorn it's frontage. I look under the boat and have a serious flashback- my big metal gocart is under there- it;s bright red frame is now showing signs of rust and it doesn't look anywhere as big as I use to think it did. At one stage my feet couldn't touch the brake pedal. The huge peppercorn tree has gone and the little wooden gate that led next door is now a solid fence. I guess as a kid you get a lot of solid images and it feels a bit sad when they change. maybe I've just become all melancholy because the band has split. Oh well.

It's now very hot and sticky,the relatives all turn up and I swear i will scream if one more person asks me "so what are you going to do now". My standard reply is "go inside and have a ham sandwhich". They think i've cracked! Mum feels sick from the heat so we are home early. Stay up and talk to Sis who moves out of home tomorrow,the last chicken leaving the nest,hope Mum will be ok.

---
December 25th
Up at 6.00,run in the bedrooms and wake everyone up.....I'm sure this is also a flashback from when I was 12. carry in the presents and we all hug and laugh, this is nice. A few hours later we are at Pops place again for the Xmas lunch. Must seems strange to some of you as I'm sure it's snowing at many households. Some people in Australia spend Xmas lunch at the beach,or have a BBQ. The main thing i love is Mums homemade Xmas pudding...totally traditional,complete with "sixpences" (5c coins actually poison people-well so were led to believe). The pudding receipe has been passed down,the paper it's on is tatty and worn and will soon need to be copied. Mum has never made a "flop" pudding and this year is no exception-YUM. This year i don't eat as much as usual,I keep thinking of the millions starving and my guilt consumed my Xmas greed. Seems a bit wrong but even my subtle meal is a huge banquet compared to what some people have all year. Promise to make a donation from my Xmas pay as soon as I get home. Marks parents pick me up and we head towards the airport-we have an evening flight-so it's into the new Qantas club in Sydney-it holds about 1200 and guess what I can access the Famous for 16 minutes site on one of the club terminals, very coool. Guess they are splurging for the upcoming Olympic Games..notice that finally a train line is being built to the airport. Now if Jeff Kennet would pull his finger out of his bum and get a train link to melbourne's airport it should of been done ages ago. The planes touches down and Melbourne airport is empty..maybe 6 of us. The limo arrives out of the blackness and it feels like Satan is behind the wheel...very eery.I could easily of driven around all night felt like a strange rockstar experience. Home again and Hairball is happy to see Mark-Johnny has exhausted his supply of Star Trek and is watching Interview with the vampire". Wasn't there going to be a sequel?

---
December 26th
Melissa turns up, and we all meet Johnny at the Elephant. It's packed and for once they open upstairs-we get the big table by the window and watch the walkers wander down commercial rd. Spock and Katie arrive. This feels good. head up to Hares and Hyenas to buy our new years Eve Tickets. End up splurging on books, my two faves being-La Chapelle Land-an amazing book of photos by David LaChapell This glossy extravaganza comes in a huge box and is beautifull. Each edition is numbered and apparently it's THE book to buy in America. It reminds me a lot of the Pierre et gilles photo books but with more celebs- Milla,FayeDunaway,Jason Priestly,Warhol,Liza Minnelli,Christian Slater,k.d.lang,David Duchovny. BUt you probably wouldn't recognise half of them, they are indisquise or put in a very strange scenario. Anyway it's a brilliant coffee table book. The other book is really a booklett and I can't believe I actually found this- valerie Solanas SCUM Manifesto. Yes the "I shot Andy Warhol" star....and it's really out there (as expected). Poor mad Valerie....or is she a genius?

---
December 27th
No mail today-so we work and catch up on what's sitting here ,spend a big part of the day answering Emails. Forty from today alone. Hope Deb doesn't get sick of forwarding them [ed note: aw, how could I get sick of THAT?!]. I think the supporters enjoy the quick answers. Probably half of them from people who loved the Sydney show- glad the drama queens have stopped moaning about the mosh pit- it's getting a bit boring. One thing they had very wrong was centering their anger on management and the touring company. Apparently Neil and the guys were the ones that OK'd the list of bands that played on the day..it was Crowded House's decision and they had the final say. So per usual a few people jumped to the conclusion that it was management's decision and really it was the guys themselves. The Opera House Video looks good-but Polygram or someone ended up telling us the wrong times (or the band) and they were talking in TV Time (the counter time) not hours and minutes. At least there is some backstage stuff- didn't think the stuff Kerry filmed was all that good-Marks live stuff with a cheaper camera is far better. We'll use some of Marks on the Video Newsletter.(#3).

Noel Crombie calls and wishes me a happy Xmas....that was nice. he stayed in Melbourne with his family, we talk about a "column" design for the Enzso tshirts....still don't know if I'm on tour or not- think i will be in Australia, per usual a lot of assumption.Would be nice to be ASKED. Noel will be working on some artwork for the next Enz compilation album....talk of a possible JUDD cover but i don't know if it will happen. Mushroom call and yes Phil Judds PRIVATE LIVES will have a Cd release- I've been on their cases for awhile now and if nothing else it will be available thru the club-mid year.

---
December 28th
Nick left today for 3 weeks holiday....will be spending NYE at a Castle . Notice the Pansy Division Boys now have a website,it's been up for awhile. Also a RMIT student has a short Skyhooks site up..I think we'll have the official one up in Feb-have to send Deb more stuff on it-as soon as we have the time...and the Tim site ,well Christina will finish that soon. Weve all been rather flat out. Delays delays. Watch a doco. on Armadillos. Love how they roll their burrow straw and hop backwards into the borrow with it in their fat little arms. The Discovery channel has some great stuff on it.

---
December 29th
Still looking for an image of PRINCE PLANET....he was like the original version BEFORE Astro Boy. I wonder if any of the readers can track down a drawing or anything on Prince Planet. He was created in Japan-japanese animation-yes a B/w cartoon...so keep your eyes open....maybe he is hidden away on the WWW somewhere.can anyone help me. So Neil will continue working on his "new" material in March and April. Will be exciting to see what direction he will take. Spend the day playing Resident Alien by Space Hog. A few of us turn up for brekky at the Elephant-get an invite to a "Host a Murder" party- this one is about the dissapearance of Hal (not Al) Coppone. heaps of characters..... and of course I have to go as "TORCHY"...the featured singer at Eddies Gyles Green Tables,I've also appeared at many of the exclusive clubs of Chicago. (I'm sure Marck Bailey and Co. have spotted me singing...,trad. Blues of course. Anyway this will be fun.......maybe. Nicole calls from America......I ask her if she is going to see the "Beavis & Butthead" movie which is #1 at the USA box office (i find this VERY funny). She tells me of a new disaster movie called "Volcano" which opens in the new year ...an active Volcano is found directly under Los Angeles (of course) and it starts erupting........you can just tell this movie will be gignatic....a good disaster movie is hard to find.....("burning & exploding....like a slow Volcano..."). I think Nicole misses Melb a lot......I can relate.

---
December 30th
Today I get my hair cut VERY short.....will Toija take it all the way and give me a #1 cut. After we chop it off it will get a nice Blue Black sheen. My face is nice an tan from the Australian Sun (plus the Clarins I've been using) and with the new years eve party tomorrow I want it as short as possible.... maybe a chunk of fringe at the front. Pick up this sailor suit (a coool one not a dicky looking one) and it has a great cap...perfect. Hope i don't end up on HMAS whatever....so i'd better behave a bit Thankfully a group of us are going and there will be heaps of water in case we indulge. The light show is expected to be one of the best Australia has ever seen and we are all looking forward to the midnight 1930's Ziegfield folly/extravaganza. Tony Di Dio is looking after the 3am funky sharp 70s glam spectacular and the closing show is at 8am.....by that stage we could be DEAD! So if you see a danced out sailor at the Elephant next day it will only be yours truely recovering. Nick S. was spewing that he was going to miss it- Nick loves the Dock partys. (In fact any party).

---
December 31st
The last day of another year and it's been a full one hasn't it? Who knows what the future will hold....I'm hoping '97 will be just as full. We have a few projects on the boil, the club will continue and we will probably try to get a few new ideas off the ground. I hope to get my photo book out mid- year,with a little help from Spock. Maybe less touring, Enzso is a quick one. Tim will no doubt hit the road at some stage. Wherever you are and whatever the future holds- thanks for sticking by us. Hope your New Years Eve is a special one. See you in '97. Cheers Peter

---
If there are any problems with this site, please contact webmaster@aswas.com.