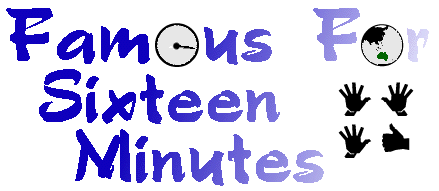 The Life and Times of Peter Green
Archive: 13 April - 26 April 1997
---
April 13th
A gaggle of Drag Queens arrive at the Elephant. Stella Constellation and her entourage. She is stick thin,& an extra foot taller with her wig on and very very pissed (hic). Alex and Peter are working today.....two very sexy Elephant people both of them....Stella slides behind the bar and steals not one but two bottles of Champas...and swaggers outside to her cronies. It's time for us to leave ...but where has Stella gone? A public bus has pulled up and as we walk past who is inside toasting all the old ladies but one (yes you guessed it) Stella Constellation. The driver tells her to leave, she keeps raising her glass....he says he'll drive off....she takes a firm grip with his estree' gloves...and the doors close. Stella's weedy head pops out of the bus's side window and as it drives off...her friends all wave. A very funny sight.

Soundgarden have split up...so who cares anyway. The last few times I saw them play they were really crappy. Buy The Offsprings "Gone Away" cd single...crank up the volume, it's sure to be a hit. Great to see that our old buddies the "Elastica" girls are working in the Glam Movie-"Velvet Underground", the movie has a good script...I think it has a '98 release date. Send Neil a fax regarding him contributing a shirt or tshirt that he wears,for the club auction. Wonder if it will be that smelly green one that he always seemed to be wearing.....


---
April 14th
Visit my travel agent....get our Czech Visa's underway for Prague, we don't need Visas for Peru or the States so that is good. Wow Paul left three years ago to the day. Of course he isn't answering the phone, must be having his afternoon nap. Has it been THAT long you ask...it feels like 3 years to me. I know he feels he did the right thing still. "Hessies Shed" show tonight is much better then last week, more people, heaps of club members and the set is a bit tighter. Still no sign of "Italian Plastic" in the set, I think he lied on his Video interview.


---
April 15th.
Crowdies are no longer in the UK Top 40- heaps of new entries,I hear that they are just bubbling under. In Australia though Recurring Dream is a bullet performer- #16 nationally this week (from 21)....AND Top TEN in Melbourne which is incredible. As we expected INSTINCT has nearly ran out of stock everywhere. Eddie Rayner is in the studios working on a possible remix of Stuff & Nonsense for the Enz new upcoming Best Of...........but only if it sounds good. Paul from Mushroom calls and Phil Judds "Private Lives" will be available thru the club in October. Hope they add the extra track. InXS debut at #16 in the UK......bet it does what the single did and will almost drop out in the 2nd week. It's just not selling in Australia. Pick up the Newsletter artwork from Spock.....off it goes to the printers.


---
April 16th
Noel and Sally are working on the curtain for Kylie Minogue's special appearance at the NEW Melbourne Casino Opening......apparently she's being paid a million $ .......but a new casino with many more ways to gamble will easily suck in that much revenue. Victoria....sell all the publics assets and get the hoards addicted to gambling.......only one winner folks.No wonder Paul hates Kennetts guts. Speaking of Paul, call in and pick up a caricature,that Mardi's brother Tim did. We are making it into a small street poster.......it's such a good likeness! Craig Bird is visiting,it's always good to see one of the roadcrew. Peter Farnan (Bungie) from Boom Crash Opera has a short gig with The Masters (many years ago they were The Masters Apprentices)...but only Jim Keys and Doug Ford are in the band. Hey it pays the rent.


---
April 17th
Parcel arrives from Meredith (Trunk) in the USA....two beanie babies...the latest fad that has hit the States. "Scottie" and "Snip"......hairball thinks they are really strange looking and they keep turning up on Hairballs back (Mark!).Cute. Mark caught a "hopping" mouse today. saved it's life from Juno the cat (downstairs)....he carried it down the alley and released the little cutie into the grounds of Finn mansion.

EMI called and some Gold records for Peter Jones are being sent to me....one gold from Belgium and one gold from somewhere else? He'll be happy when he gets back from the UK Deadstar dates. Sounds like it's been a up and down tour, some good shows, some terrible shows and Nick having a bitch about Neil again.I love him (Nick) dearly, but next month is a year since Neil decided not to pursue Crowded House .....he has to be over it soon. It's one thing to be honest about it all but surely Neil is the person Nick should be saying it to, not a fan? Otherwise he'll just keep carrying it around with him. Will have to talk to him in America....wow today is Daffy Ducks 60th birthday....he doesn't look a day over 20! At least Daffy is totally naked, unlike Donald who is only half dressed.


---
April 18th
OK and ID yet another photo for the book company. Nickla calls and it looks like we'll be seeing her and Nick in LA. Some serious shopping will be had. Mark and myself go out and put up the posters for Hessies Shed.........


---
April 19th
here are my faves for the week

Fave Single- Dave Graneys new single - "Feeling kind of Sporty".....has a great familiar glad guitar riff??????

Fave cover cd- Nancy Boy- "Are friends (frenz) electric.....as good as Gary Numans" version, plus it has the great bonus of having "Johnny Chrome & Silver" on the single too.

Fave Album-BLUR- Live at Budokan- Japanese Blur Live release....

Fave Book- Virgin Destoyer- Manuel OCampo......scary art.

Fave Person-has to be Paul Hester this month- who has been an Angel to work with

Creep of the month......Senator Coulston..........this porker thief must go!

fave Colour- metallic blue.

* * * *

Pick Leanne up at the airport, we put up more Hester posters on the way. The airport is deserted, even the flight vip lounge is closed.Stay up and talk all night- it's great to have her back in Melbourne.


---
April 20th
Chris Bourke calls from the airport and we decide he has to come to the Elephant for brekky. I must of talked to a lot of people on the phone yesterday, in the end we had to put three tables together just to squash us all in. There were no spys there today...simply because we took up every bit of space. It's now 6.30pm........and the news is in that Jen and Merl have had their baby and it's a boy,called Matthew. So Matt welcome to the madness. The Dad was their too, so the gathering of the tribes is underway. I'm sure Merl must be relieved that the huge tummy sack she was carrying around has nearly gone....ah babies. Head to Acland Street with Mark and we meet Fran and Leanne at The Galleon..... and they have NO Apple Crumble! head to the Grotto and spend my monthly wage on a new lamp..........it's about 8 ft tall...and somehow we get it in the Phoenix The head of the lamp is wrapped around my neck and the three huge spike legs are poking out the back window...we manage to get it home.I get a parking ticket.


---
April 21st
"Sometimes the urge to do bad is nearly overpowering".(Benjamin Horne-TwinPeaks)


---
April 22nd
The Diary site is well over the 10,000 mark.....someone is heading towards that free lunch. Remember if you are person #12,000 get a print out and send it into us at p.o. box 333 Prahran Vic 3181 Australia. Include your name and address and we'll wine and dine you....

Play ASH's "Girl from Mars" VERY loud........... JJ finishes up his tapes for the various publishing companys, hope it all goes well this time. Try to call Nick in the UK and he's still asleep....... INXs have a bad debut for their album in Melbourne #30......(stinky). Leanne catches her flight back to WA...she grabs a lotto ticket at the airport- in the hope she can win a trip to LA for my birthday...good luck. Maz from BCO calls...they've nearly finished the album....my Qantas person lives directly below him...what a small world.he's taking me for lunch soon.......and I didn't have to be the 12,000th hit on the BCo site (grin).


---
April 23rd
Enzso has now been released as part of Sonys nice price....it might get to double platinum yet. Work on some new artwork......heaps of ideas, have to get them into shape. Belmore is covered in leaves today...fill up the compost bin ......wont be long till the streets are gold and brown and the pick the leaves off the Phoenix becomes a morning ritual. Spy Di is sick...it's the cold war again...have to get some Echinacea into her system.We've all invested in a really cute Toy Boy Nurse to go visit her............the things we do.

The Andy White dates are getting close to being locked in. I wonder if Tim will jump up with Andy in Sydney? The dates I have are: May 22nd- Continental-Melb. May23rd-Tilleys Canberra,May 29th-Bridge Hotel-Sydney,May 31st-Zoo-Brisbane June 11th-Continental #2- Melbourne. Should be a good show,so check "A" out.


---
April 24th
Robyn called- Adam from Choc. Starfish just called home. He had brekky in LA with Judith from The Seekers. Well what can one say- check out Treasure Chest (aka Rebeccas Pleasure Chest)....this is not a paid endorsement..is it Becky? The Newsletters arrive and we start folding- Australia will get them first this time,as we are are doing a special discount coupon sheet for the club stall at the upcoming Camberwell Record Fair (May 4th). The club stall will be in the foyer ...as soon as you walk in, come and say Hi. Fold, fold, fold,stick, stamp, bag, lick, stamp, fold fold fold. Who needs meditation.


---
April 25th
Anzac Day. Last night was Melbournes White Party. The Elephant is full, in fact even "we" couldn't get a table. Thankfully the boy with one leg left and we grabbed his table. The whole of Commercial Rd is 'white".....and the party on top of Virgin Marys is still rolling on......it's like Mardi Gra New Orleans style........even more so when some of the queens start throwing jewels off the roof of VM's.

JJJ are using Henry Rollin's as part of their promo....Henry just loves Aussie ...wonder if he went to the White Party...can you see Henry in White?Shaking his tush......getting down and (heaven help us) smiling and laughing. Cmon Henry life can't be THAT bad.


---
April 26th
Get an email from Aaron the Jets manager...the Screaming Jets next single will be "A song called Elvis"...they've been in NYC (man) mixing the album. A two week tour happens soon. Deb goes on holidays soon so for the next week I won't be able to get emails forwarded on........hang in there. A well deserved break, so have fun Deb. The next Diary update will be on the day we fly out for America. A month off a month off......a month off.........can't wait!!!!

Regards Your Gryphon Boy.

---
If there are any problems with this site, please contact webmaster@aswas.com.