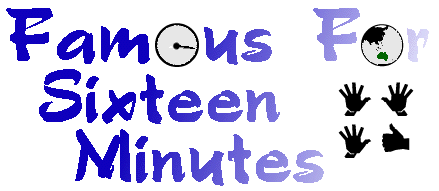 The Life and Times of Peter Green
Archive: 15 January - 7 February 1997
---
Jan.15th
Peter Jones (ex Crowdies Drummer) calls and he has the flu- it's really a case of who ISN'T ill at the moment, seems like everyone I know has some bug or another. Deadstar play the Espy soon so he says to come on down...they still arn't sure if they will do a residency their. Spend most of the day working out costings for the Enzso tour. have a chat to Noel about designs and getting the colours right with the printers. The blue shirts should look good.


---
Jan.16th
Have a look at Spocks artwork for Only talking Sense......it's very hard to find a frame that has both the eyeballs and the tongue in it together...that damn tongue looks soooo phallic when its a single frame. Oh well we'll work it out.

The Rheem man (don't be rude) drops by and checks out the hot water system...can't believe the Finns installed a Rheem Miser system.....what a weird name for a hot water system. mailed off my $100 parking fine,hope the council chokes on it....demand a receipt. Parking fines suck-BIG TIME.


---
Jan17th
The Crombies drop in with their two girls-Wiggie looks so beautifull and Grissy is so cute. Laura arrives next with her two boys and her little Stella Girl... so belmore becomes a childrens play area for a part of the day. It's great seeing kids playing-no crap like adults carry around. The Murder Party is on tomorrow night and guess who has to be "Torchy".........can't believe I am going through with it-but if Andrew (ex Roadcrew) will wear a frock and be "Silky" I'll make the effort. So first stop "Celebrity Wig" shop on Chapel St. It's a guy thing i know but why do we men go bright red when we walk into a wig shop? maybe it was the Italian family that wandered in when I was deciding on blonde or burgundy. Expected to see Nick Seymour in there. (Work that one out). After going red for the second time, the Italian family end up being very coool and the big mama says "No get the Blonde you look really pretty in it " (arghhhhh). Blonde it is........very Rupall.


---
Jan 18th
Get a quote on our guttering. Spock (alias "Socks") and Katie (Alias"Molly") pick us up for the party. Mark is also in the Car as "BIlly" (no not from melrose.......but a baseball player). Spock and katies costumes are equally fab. My Hair just fits in the car. The neighbours next to Kym and Andrew sit with their jaws dropping as we hop out of the car...the jaws fall another 6 inches when Andrew -now a 7 foot drag queen with a huge bossum answers the door. To cut a very longggggg night short-the food was great,the bubbly all gulped down,and we had an incredible sunset over their beach house...and yes I picked the murderer.


---
Jan 19th
Watch the Barbara Waters interview with Courtney Love. The Courtney one was far better then shitty old fur wearing Ophra's with Maddona. Now have a new office chair at last (thanks katie),it's blue and beautifull. Someone tells me that Neil is still down the beach...is he writing songs?


---
Jan 20th
The start of the very hot weather..me thinks. This is our 4th superhot day in a row. Fry in the photocopier room doing a club update- thanks to Rosemaree for making the effort. Just heard from Sarah and Tomi-they gave me heaps of info on prince Planet. he was the 20th original Japanese animated tv show. (1965). Kimba (the white lion) was the first colour one. cant believe so many of you tracked stuff down-it really blew my mind-thanks guys. Enzso is getting closer-per usual Merchandise will be last minute-hope the programme works out ok.....have a Warhol (who else) colour idea-but a bit more subtle...afterall its with an orchestra. Tell Amanda and she is onto it.


---
Jan21st
Charts Recurring Dream is at #2 and Enzso is still in the top 40 at #36. The Crowdies are heading towards 450,000 units in Australia. Will feel satisfied when we reach the 500,000 mark.


---
Jan22nd
Really happy today-two of my favourite people-Bill and Eidre are in town and at long last I get to meet the baby-Daisy. It's really funny-Bill and "E" and very much like Spock and Katie,just feel I can trust them with my life.......ok so I'd better rush and see this baby. OK I'm back (no it wasn't that quick),we ended up walking Ackland Street-Billy with pram in hand and Daisy with a grin that could eat a whale. She's a winner and she'll have luxurious hair....I've come home very clucky (again they cry).It's made my day. Will see Billy at Deadstar tonight. he's co-managing OMC- check them out their first single has already sold a million worldwide. I hear that Neil is calling the Enzso tour- NEVERAGENZSO.......have started making a Neveragenzso tshirt for him.

Go to the Espy with Rebecca-meet Billy there, and heaps of others. OK tonight was their off night-Deadstar were not very good-with the exception of Peter Jones who played like a man possessed. He's a great drummer. Nick- well he wore a suit top-bare chest underneath. Rebecca flipped that he had a hairy chest.... Caroline Kennedy sounded shitty-I think it was the mix.Anyway we'll see them at the Big day Out so fingers crossed.


---
jan23rd
Johnny and Toija call by-Uk is still fucking him around.....it will crumble soon.hang in their JJ. Toija and Jj practice defence moves and I hear Toija neck crack in the office. (Ouch). Found a scrawled piece of paper it read :
"Remember Terry's song and your future wont be long
you can be happy where you are
or as lonely as a (dead)star"........

Hmmm what does it all mean.?


---
Jan 24th
Well the mail is still flooding in,so many people now getting into the Crowdies I wonder how our backcatalogue is going? See Spock (briefly) at the Elephant. great Coffee today-the good waiter is on. Bill and "E" and little Miss "D" drop in some Big Day Out passes and tickets (god bless em). Mark adores Daisy and we offer to buy her(: Looks like I'll be looking after the "Meet and Greets" on the tour for the Brashes contest winners. No joy.


---
Jan 25th
The last Big day Out and the weather is still damn hot. It's packed,the biggest crowd ever. See heaps of bands, and our passes keep us in the shade,the masses on the showground floor are all turning pink.....Deadstar were much much better today. Frente were really shithouse. The Fauves were brilliant (OK Rebecca you were right). Hope OMC went over well, we went looking and couldn't find the stage they were playing on.....we gave into the heat exhaustion. A good day.


---
Jan26th
Eddie Rayner flys in to work with the Orchestra on Enzso.


---
Jan 27th
Australia day-it's one of the holidays I really like. I almost bought an Australian flag ,except I want to vomit on the Queen. It's time for Australia to be a Republic-the Queen can go fuck her Corgi's for all I care. (Ok I do have a soft spot for the Ol' Queen Mum....because she pours a mean beer.....and Di has her charity heart in the right place). Where was I? OK tradional BBQ..only because Rebecca loves BBQ food. Finally it rains..but the food is BBQ'd so we eat it inside in the huge stone table. Trudy drops in and I manage to save some food for her (before the two Hyenas-Rebecca and Mark) get to it. We have a nice night. I still call Australia home!!!!!!!!!!!!!!!!!!!(wipe that tear boy).


---
Jan 28th
The Enzso rehearsals start in Brisbane.They'll film some of it for a Current Affair...as a tag on story. Phone Tim and chat to him about the meet and greet-overall he is fine,but he finds the idea a bit "American record companyish". (He's right). Tim sounds great, but he wants to rerecord parts of the album and work on some new songs.


---
Jan29th
Enzso rehearsal again tonight. A Current Affair decide to film tonight- good idea it will sound and look better. Recurring Dream has dropped another notch down to #3. Enzso has slipped too to #44.


---
Jan 30th
OK I leave today-not really in the mood for the tour-but it's work and I'm sure to meet some nice people. Depart on AN62 at 8.10 (yes the morning)...so I'm up early and feel like shit. because I leave on showday I fly alone (do I smell). Arrive at the Brisbane Hilton and meet up with Tracy our tour manager....leave for the Venue at 5.00.

The Choir is really coool,they decide to practive using Supremes songs, my dad was a Supremes admireer,so I grooved along and ended up dancing with the choir in the hallway (I'm such a funky dude-NOT). The show went well, a few minor mistakes,the best thing is that the orchestra is REALLY good-far better then the NZSO (sorry NZers),they seem a bit more young or something-but thats only my opinion. The NZso is really good........I think i'm burying myself here...i'll just give up.

The meet and Greet goes ok....mostly record company people. Manage to sneak a few fans in, so many people,I noticed a few guys that had been waiting all night sadly this tour is so tight time wise I just couldnt get everyone in...and remember that I am "sneaking" people in.......it's my arse. Jen and Merl come to the gig-Merl is really Prego...they did it. She tells me that the baby was kicking like crazy as soon as the music started.....hope that was a compliment. Anyway it was a good gig. The programme came out really well, the cover art was close to what I pictured,the tshirts look good too. Decide to have an early night. No partying for this little duck.


---
Jan 31st
Ansett Flight 131 to Sydney starts vibrating in the heavy turbulence.......I look across at Crombie.....he smiles....the rock of gibralter. Maybe Noel is God? Sydney is really overcast-which means Fran is in town-I swear everytime that girl comes to Sydney it rains-it's her fault the Opera House show got rained on I'm sure. Back home to the Sebel....order a BLT and homemade icecream just to make it perfect. Sony have a nice bottle of Red wine waiting in my room as a welcome-thanks guys. Just read an interesting thing in the age....by the end of 1997 there will be 50,000 people in America over the age of 100. They predict by the year 2050 there will be 1 million people in the USA over the age of 100. That's a lot of bingo players! (By 2050 I'll be one of them.......oh thats a scary thought-silly ol' Gryphon).

meet up with Fran and we find a good coffe bar......just up from the Sebel. We gasbag and fight off the mosquitos (they mostly attack Fran), I point out the "rent boys" and we watch them do their stuff. Frans a good buddy,and I must be a good friend because it doesn't rain once while we eat dinner.


---
Feb1st
Buzzzzzzzzzzzzzzz-what is that noise....oh its my broken telephone in my room. Leanne has arrived from Perth. I open the door in my shorts and the concierge looks down at my crotch.......this horrifys me...do i have a morning hard on ....no dear reader...is my fly open....no dear reader. Phew. Nothing worse. Anyway leanne shakes me awake and I tell her to have a shower. I got my fave room,its on the very corner of the Sebel and the shower windows open outwards and you can shower and watch the harbour. (It has a split window so you dont have to get arrested for full frontal nudity).I like touring.

Call Fran and we taxi it into the city centre-to shop,pay my Amex bill and eat. We invavde HMV and Blockbuster and arrange Crowdies and Enzso everywhere. Call into Gowrings to see my Sydney friend Marilyn,hope she'd be working but she was at home with Richard. The good thing about marilyn is that she has always been honest with me, no bullshit,I like that. We end up back at the hotel and have to get ready for the gig,we'll see Fran there. Tonight is the usual "Meet and Greet" and record presentation......so i have to try and get everyone to go. One person i am happy to see on this Enzso tour is Annie (Crummer)....we go all boyfriend,girlfriend mode ,hold hands and stuff. We dont know why we do it, she's just so fucking huggable.....god I swore again, sorry I'll try and stop.......it's hanging around our bad crew....my mouth becomes a sewer plant for a week or two after a tour.

Anne from NZ is also helping me out,and we get everyone together for the record presentation. I just realise Tim has been missing all night. We find out that our tour manager forgot to book his pickup car.........thats one less .Oh well its time. I get them to the room and its full of people,press,record company. Sandra the head of Sony Aust Artists starts presenting the awards. She's an old buddy so its nice to see a woman we like at the top. The first award is for Eddie...oh my god-now he's missing,I bolt down the corridor and find him....eating! I nearly ripp his arm out of his socket and drag him up the corridor-he enjoys my stress and probably only wants my hair to be as grey as his (revenge)..at least he makes a good entrance "we're here.....".The awards are passed out to the performers and the managers......"and now theres someone thats really quite and shy and he deserves one of these...so cmon up Peter". Yet another day with yours truely being red faced. Deep breath,pretend its a play...god cameras...the camera is your friend Peter.....kill marcia...but she's your sister.........................meltdown. Somehow I get to the podium.....Sandra kisses me, i lean her back and plant one on her lips and get a round of applause. All i can think of is..."We'll I'd like to thank the Academy...." It worked...........I leave to applause with the award I realise the others are in a pile. Sandra calls out "you can leave that here"> I cry back "Cmon i know how this industry works,if I leave it, you'll peel my name and the Enzso logo off and present it to Michael jackson"...more applause.

In the bandroom a very familiar face stares at me puzzled.........."Hi brother" I call out. It's Malcolm Green. he comes bolting across- "I didnt recognise you with your new haircut". We chat and I introduce him to leanne and they hit it off immediately.I think mal will stay in contact. He looks the same.

The gig goes down well,again. The Choir arnt as good as Brisbanes and they dont do Supreme numbers in the corridor. meet long time supporter Johnny Au out the front,he was kind enough to invite me to the fan get together, but per usual tour work bogged me down. It's always good to meet people like Johnny and we should really create a new word,fan always seems like an obsessive mad person, supporter would be ok if we were a football team...anyway it's good to put a face to a name. I think my buddy mary Ann from the states was also going to it....kept my eyes peeled for her but didn't spot her out the front. usually she's wearing one of her amazing self made coats but its a bit hot tonight. Try to stay with tradition and go to the Green Diner......but they are closing the doors....so we head to Club 31...and we can only have Coffee as they are closing too.....so we eventually end up at KINK. The first waiter is really bad and should be sacked, the second is good. Sonia makes some bizarre paper animals and a jumping frog for myself. It's a strange world. Scare leanne all night... told her I was levitating and kept making weird noises.......boys will be boys.


---
Feb 2nd.
Pancakes for Brekky. cant believe I say goodbye to Leanne already. Bother her and Fran are off to see Malcolm play-he;s doing a blues set near the rocks. Hmmm she has a twinkle in her eye?

Arrive at the airport and no one has my ticket...I usually look after my own,but we have the agencys tour manager looking after us....I have the Rayners with me, the kids etc. thanksfully we find theirs. I sweettalk Ansett and there is a ticket issued...but its in 2 days time. big fuckup. The flight is boooked out. I get some vip service person who is pretty nice and he gives me seat 2A which is first class. I board first, i want to get home.! Douglad one of our Ch crew is on the tour and he walks on,sees me in first class and just laughs..."How does he do it"! In a true eternal balance fate doesn't let me escape ...i get food poisoning from my first class meal. Arrive back in Melbourne to hear the great news that the Liberal seat in Gippsland was lost. There was a huge swing against the Kennett Liberal Gov. ...it's the first signs of some cracks appearing......count your days Jeff. It's nice to be home.


---
Feb 3rd
Have brekky at the Elephant-need a good coffee. Miss candy and Rotten Rita are at the table next door "discussing" the costumes for their FUR stageshow. Rita is letting all hell loose. Ian the promoter calls....."where are you" he asks? The bank...I lie...it's too hard to explain two loud dragqueens to a 60 year old promoter...


---
Feb 4th
The food poisoning combined with a scorcher hot day has really messed me up. I cant seem to focus,my head hurts,my tummy is killing me...moan groan.The Melb. gig is tonight.....the show must go on....i live on zinc tablets and bottled water.

Walk the guys down to the "Meet and Greet" am so delirious I somehow follow 2 Tennis players.....thankfully its close and Neil spots the meet and greet area and has a good chuckle at me. Annie comes along looking for Sam Neil who is meant to be here tonight. Its an easy meet and greet.......ten minutes and we head back to the band room. The room has a thick odor of pot tonight and for once it makes me feel ill....the door opens and in walks Paul (hester). he sniffs the air and smiles at me.

See the first half of the show and didn't enjoy Melbourne as much as the previous two gigs. Around intermission I see death...and decide to head to the Phoenix to recharge...sleep in a pot free zone. A little lightglobe comes on and says "Peter you are delirious". I decide to make the effort to stay to the end,thankfully I've done 90% of my work......I scramble back inside after the encore and I notice that Nick has wandered backstage too......memories,all 3 in the same room.....I was on such a emotional rollercoaster I'm suprised I didnt burst into tears. yes readers the Gryphon is really sick. I finish up my stuff and make a run for home. Several melbourne clubbers are waiting out back and I have a chat,its hard to talk-and I have no brain by this stage......but i do tell security to go easy on them as the guys dont mind signing stuff for them.....somehow I drive home. yes a silly move. Cancel my flight next day,I'll fly on show day to Adelaide.


---
Feb 5th
JJ calls and he's sick,similar thing,maybe its not food poisoning from the plane? Sleep,drink water,sleep,drink water,sweat,shiver,drink water. OJ is found guilty maybe there is such a thing as Justice.


---
Feb 6th
Feeling a bit better,today is the last show on the Aussi tour. Decide to drive the Phoenix to the long term and get the limo. The tour manager forgets to tell me that the flight is cancelled,and despite me flying Ansett I somehow use my Qantas pass to live in the Qantas Club for 3 hours. Notice that Primeminister John Howard is also in the lunge surrounded by YES people. Wish i had a Famous for 16 mins tshirt...make him wear it for a photo (grin). Some beach movie is showing on the club screen-god the Volley ball Guys hair is even more feral then mine use to be....and I'm not sure about the beach girls in the pigtails and the coconut shell bikinis. Did this movie inspire BayWatch?

gee everyone is on this flight- Neil looks really little today...he looks a bit michael j-Foxish.........the Sony SA guy calls and asks if the paper can do a photo,I give him some contact numbers and when we arrive its photo time. Next day its in the paper ANd I was right neil is VERY minute'. It's raining in Adelaide which is great-nice and cool. We stay at the Hilton,I pick up all the room keys and check everyone in. The Finns are on my floor...we are right at the top the 18th floor...what a view. We leave for the gig at 6.30. All these Entertainment Centres have so many corridors underneath,it gets a bit confusing.

Adelaide was a hot gig-great responsive crowd. Tim walks around the corridor strumming his guitar. Eddie misses his dinner again-he hasn't much spare time...but he's passionate about this project. have a dance with Annie and Dave is getting crazier as each day goes by. Noel has a new item that he uses for his "fake teeth" during his violin biting segment. He originally used small pieces of white plastic spoons, he now uses broken up peppermints. See we give away all the secrets here. Hmmm what else. When Sam (Hunt) is reciting onstage he has to time it perfectly with the orchestra......which is hard if you are not a musician...Sam IS a poet. So neil sneaks side stage and prompts him using a small light and a switch.....so its Sam's voice and passion,its the orchestras music and Neil Finns timing.

I jump in the van after the gig and share it with Tim,Eddie and neil. I mention that some fans have been waiting by the gate for an hour,and the guys stop and sign stuff, shake hands....Eddie draws on their arms...and gives them my pen.

The Finns have to be awake at 5.00 am to catch the 6.40 flight to Melbourne. I end up being alone in the lift with Neil.....its so weird, sometimes neither of us talk-its like its really hard to start a conversation, and I think weve said it all before, and we are both worn out from work...so we go why bother.

I say Goodnight and Tim pops out of the next lift.....I head the other way up the corridor..Neils turns and says "You know its always great to have you on the door". I wink and laugh and say "sweettalker". Love those Finns. Order room service, feel sick,nibble on it cos I hate to waste food.


---
Feb 7th
Very little sleep,brekky arrives at 8.oo....Adelaide is covered in mist-the city looks incredible,like god has cleaned it (Noel with a brush?). We all meet in the foyer except Dougald as he is sleeping like a rock. We leave him and the second driver will take him to the airport. The Ansett man is an ol' grump and asks us if we played The big day Out...he has no idea. Michael barker (ex Makers) is on the flight,he's also onstage for Enzso....mates rates Eddie (?). Dougald is a bad puppy and shoplifts...fills Jacquis bag with food and steals a sad ol' teddy......no wonder we love him so.

Sit next to Noel (Peter is always on the right hand side of God?)...enough God stuff Green......(yes God). More turbulence...once again I look at noel...he smiles. By now the stewardess have forgiven Dougald for trying to inflate his lifejacket. melbourne is stinking hot and I arrive at the office to find Mark really sick......maybe its not food poisoning. Decide to take the phones off and finish reading the Christopher Scaske Book. We do the NZ Enzso shows in ten days ....after that neverAgenzso. Until next time dear troopers-thanks for tuning in.

Love PG

---
If there are any problems with this site, please contact webmaster@aswas.com.