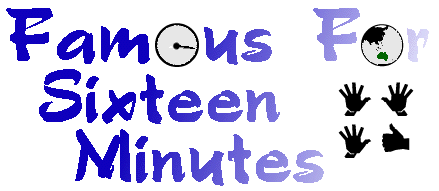 The Life and Times of Peter Green
Archive: 17 August - 31 August 1997
---
August 17th
It's a very weird Sunday-weather wise. Wake up with the Sun shining thru the Gryphons lair...and then it goes VERY dark.....a solar eclipse? Nah it's just Melbourne....4 seasons in one day...as someone once wrote!

Virgin Marys is pounding away and The Elephant is FULL...so we grab the only available table outside. Rosemaree is already there, Spock turns up and we squash around the table. Eagerly gulp that morning cappa'- I'm drinking a very weak coffee these days-get too wired and goddess knows what I'll write! Have to keep you all coming back-don't I? Rebekah and her man...Steve-yes he's a singer....turn up late. Comments of early morning shags etc greet them, the early morning Elephant crew are full of Sunday charm (cheshire smile). One of Stella Constellations friends inside keep begging them to go inside, but they are saved when the table next to us becomes free. The coffee kicks in, Rosemaree starts with "one of the woman at work" (which IS her favourite line)....we watch as an ambulance arrives at Three Faces.....another victim of "E" is carried out there must be some bad ecstasy around as only a minute later another ambulance pulls up outside VM's. Maybe Candy ate someone whole! A friend comes by munching on a chocolate lamington from Alexanders cake shop. It has some great goodies, I prefer the rum bar, Mark the homemade cheesecake and if memory serves me right that Neil Finn found enjoyment in their chocolate lamingtons!

Get home just in time,as our good friend Fran arrives with MG's birthday present....it's the "I dream of Madonna" book which is starting to become rather rare. We love books....in fact we now have too many. The apartment is full. Play Paul Kellys Gossip album, saw him the other day, he'd just gotten back from a quick tour of New Zealand. he dedicated "Randwick Bells" to Neil and Sharon who were at his Auckland Gig. Melissa spends the afternoon with us and we head out for Pasta on Chapel Street.


---
August 18th
The P.O. Box 333 is always full of mail on Mondays. Today is no exception, that snail mail sure comes in....we love it. The good news is that Mushroom have added both the SplitEnz and the Skyhooks links to their own site, and so they should, they are such a HUGE part of Mushroom. Thanks to everyone that sent them emails.

I'm in a good mood today (as always..well!!!) my Sister is in town and she has her boyfriend with her. So guess who's cooking. Melissa will drop in as well, so Sis isn't surrounded by the opposite sex. Work till the afternoon and then start on a serious dinner. Chicken tandoori pieces with heaps of vegies, also a homemade Carbonnara...loads of bread, ginger chutney and 3 deserts to pick from. This is what happens from flying Business class, you always give friends multiple choices at Dinner parties.....plus loads of Wolfblas wine. What a combination we'll all have very strange dreams tonight. Went well.My Sister. Hmm what can I tell you. Her name's Jennifer (Jennifer Anne very regal....kind of like Peter Mark)....she's close to a decade younger then myself and she is the only Sis I have....no brother but Mark fills that area as I've known him since he was five. Her boyfriend is a pretty nice guy and that's a relief, not having Dad around anymore you get that "protective brother" syndrome...."hurt my sister and you die" sort of attitude. So it's good that her partner is OK.........what else- we travel well together, when we fight it's no holds barred and we go for the jugular... It's great having a Sister, still not sure about her taste in music. (*no comment*).


---
August 19th
Today I sent Management a fax saying "We are all has-beens". Recurring Dream has finally left the Australian Top 50 after 57 weeks. Its now at #61. Even the Screaming Jets have dropped back a bit with their "World gone crazy" CD. It's a good album and it has suprised many of my non-Jet friends. They do a good version of "Eve of Destruction" which looks set to be the next single. To balance out the day we get a fax from the UK telling us that Recurring Dream is a bullet performer in the UK charts and has jumped back into the UK top 75 (at #53). That balances it out...I guess.

Hmm still no news on Nick, he must be in LA as no one is answering at the house. here that some gallery show happened in Sydney with some of Nicks work- from what I hear there was a small turnout...wish we'd been told about it. Just found out that none of the original Lost in Space cast get residuals despite the series being in permanent re-run land. What a bummer....I wonder who collects Mr Ed's residuals?


---
August 20th
Happy Birthday Rosemaree .......how old?

Watch "Home for the Holidays" with Holly Hunter ...and LOVED it. Did someone hide a camera at one of the Green's Xmas's.........spooky. It's been a cold Melbourne Winter...just paid our Gas bill.....nearly double. Beat magazine has just ran a small piece on the Skyhooks website (located at http://www.aswas.com/skyhooks/ ) Christie Elizer ran the piece. He was the editor of Juke magazine......it started in the Seventies and would have heaps of major articles on Skyhooks, SplitEnz etc. The Enz always scored a mention even in the "haircut/Phil Judd" days. So Christie ran Juke and there was never a photo of Christie in the magazine...so we assumed Christie was a GIRL. On one of our many pilgrimage's to Melbourne, Mark dropped into the JUKE office for a few backcopies.......and he met Christie. Imagine our suprise to find out that Christie was not only a man but a cute short aboriginal man. So funny,when I saw Christie at the Crowdies Corner Hotel Gig all I could think of was that story.


---
August 21st
Jj stays over tonight and lives on our couch-it's been adored by many in the past- Leanne from Perth, Spy Di, Nurse Sal from Plymouth, and many more. The new BCO album Gizmo Mantra is out mid-October. Looks like I'll be in Sydney for a few of the BCO gigs early October. They are playing a Best Of...set so Aussie fans should check them out. OK the Enz trannis with Noel Crombie for the Rock Swap cards. There will also be Crowded House and Skyhook cards with Bio etc info on the back.


---
August 22nd
Pissed off at Paul because he made a date to call and never did. I hate wasting my time......give him the benefit of the doubt a little gryphon voice inside says....OK. Hmm Video Clip of the week is Ben harpers "Faded". The album is a bit weak. get an email from Cindy Lee from Canada and describes me as The Mother Theresa of Crowded House fans... love it. Thanks Cindy. (smile).

Hmm LIVE clip of the week is by PJ Harvey- "Prairie land" from the White Room sessions. Really brilliant. Compared to BOF (Boring Ol' fart) Paul Weller.... god the English can really be off base with some of their musical heroes. Paul Weller just piss off.


---
August 23
Answer Crowdies mail for a good 4 hours today-so strange that the band gets more mail now that it has "left the building". But it feels good when it's finally done. Just remember guys to include a stamp or IRC each time your write in. If you can- cast a vote for Recurring Dream in Rolling Stone magazines Readers Top Ten. It's in every issue. You can voted at this site. http://rstone.com.au/ cmon it will only take a minute......you're on line go for it....................they'll probably freak at how many emails come in .


---
August 24th
Heard Phil Judds "Counting the beat" as backing music for a KMART advert. The advert sucks but the music is just so great- holds up well. Should be re-released. Bet Phil got a shit load of money for it, good on him.


---
August 25th
Skyhooks Bassist Greg Macainsh drops in...with a Birthday present....even though it's not my birthday....wow it's Howard Sterns "Miss America"-this will be an interesting read...will surely shape the famous for 16 Minutes Year One Book! No I won't be in drag on the front cover, like Howard, though my legs look pretty tempting these days! The bookmark is pretty unique, an original Rolling Stones concert Ticket from their show at Kooyong in the seventies. feel very spoilt (again). Melissa calls by and we go and see the Austen Powers Movie for the second time at the Chapel Street Cinemas. This is so strange, the Australian print of the movie has extra footage to the USA release. Wonder why? The crowd love it. Work to the wee hours of the morning scanning a batch of photos that Tim sent me for possible internet use........all scanned out. Goodnight.....


---
August 26th
Weve sold out of the Crowded House Book, more copies arrive later this week, I think Chris is expecting it to go top 10 in NZ soon. The club will have it available for quite a bit longer. It makes a great Xmas present...Xmas is really only around the corner, Safeway are already selling Xmas decorations.

get some advance ARIA nominations- Crowdies are doing Ok- nominated for best Aussie Group, Biggest selling album and Best Video clip (Instinct). I'm sure they've won biggest selling album. Great that they are nominated with so many indie bands. very proud.


---
August 27th
It's Erikas Birthday....wish i was in LA to attend the party...of course it's at the Viper Room....knowing Erika it would be a wild one. Remember what it's like when the music scene is getting a bit staid, and then you check out a new band and suddenly you realise exactly why you love music. Well tonight i went along to the Punters Club with Jj, had a few beers and checked out EFFIGY.....it was a great crowd- fairly young, almost a first year UNI crowd.....quite a few Goths which was nice to see. We missed IN VIVO but caught the last few songs of The mercy bell, they use to be called Eat The Menu. Their lead singer Becca is really fresh and they sound a bit like The Clouds. The Effigy were next,setting up their own gear, they've toned down their own appearance- less makeup. They have this great dregged out Bassist, she's really a bit of a gender bender (like the lead singer). later on we hope to incorporate the famous for 16 minutes Interview page- and The Effigy are deffinately one band that I hope to interview. Really interesting, bizarre vocals- kind of like Suede meets Placebo. Check 'em out. Have a few beers with Jj, and then go to Joes for Coffee. A Queen and her boy- friend were next to us, they had this cute dog....the coffee got me wired and I didn't sleep.


---
August 28th
Talk to Deb about running a Largest Living Things site via Frenz Com. Won't be up for a few weeks but the address will probably be http://www.frenzcom/LLT/. Paul is really into it, and we'll probably have 1 or 2 of the new songs on the site. Get a postcard from Annie in the States-radio WDBZ105.1 ("The Buzz") are still playing a lot of CH and the Enz.So people living in NY,NJ and CT area should check them out or call up and request more CH/Enz. 1-800-4649105. Maz from BCO calls and we talk about songs on the upcoming BCo tour and they will deff. be playing a Best Of set. Should be a fun gig.

Foxtell are playing two songs per night from Countdown (70s,80s music show). Tonight one of the two clips was the Enz doing Dirty Creature. Had all these strange makeup effects in parts of the song. I remember being at Countdown for the filming of that one, we almost choked on the amount of dry ice pumped into the studio. Dougald is back in the country from his stint with Supertramp....sounds like its been a bit of a boring tour. guess it pays the rent.Nice to hear from him, he's a true gentleman the ol' Doug's.


---
August 29th
Paul drops in, signs the famous for 16 minutes tshirt which is going to go in the Frenz.com auction at a later date (a gold record and other goodies as well).

We are getting all the "parts" together for the Largest Living Things EP.... at this stage it will only be available via club mailorder...and probably at gigs. In about 3 weeks time. If any readers work for radio stations overseas get in contact with us as we want to hear from stations that are interested in playing some tracks.....

Just noticed the Skyhooks site is up to 600 hits, all from word of mouth, also checked out this Diary sites counter and its 16,000- my god thats amazing. Totally blown away. better get some real scandels happening to keep bringing you back.


---
August 30th
Australian fans should note that they can win a chance to go along to the ARIA awards (in Sydney). Channel "V" have this phone in contest where you vote for your favourite band, leave your name and address and you are in the running, you can call as many times as you wish. The number is 0055 29799. Each band has a key number that you dial in (when the recording tells you), Crowded House are 18. The House have 3 major nominations and I think I mentioned that I'm sure weve won at least one of those (Biggest selling album) so who knows who'll be there to collect the awards. The prize also lets you go along to the ARIA party and rub shoulders with (?) so show your support for the boys- 0055 29799. (Crowded House 18).

Sleep in today, wander down to our favourite bread shop and spend the afternoon on the computer.....It's a lazy Saturday.

That's it for now- you still have time to send in your passport size snap for the Diary Site Book, the pieces are coming together and we'd love to see your smiling faces......strange snaps are appreciated (dont forget your name and town on the front.......no bottom shots thankyou ( :

Take care- Peter

---
If there are any problems with this site, please contact webmaster@aswas.com.