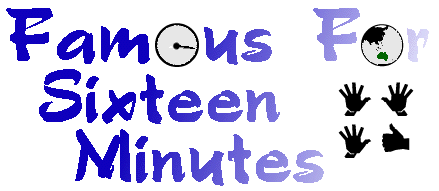 The Life and Times of Peter Green
Archive: 1 September - 13 September 1997
---
September 1st
The death of Lady Di is still depressing everyone. The weather outside is Grey and depressing, that's how we feel too I guess. So many people crying on the streets and in the supermarkets.


---
Sept 2nd
Happy Birthday Spock.....create a great 'drag" birthday card of him...and email it to his work. Turned out really well.....no doubt he'll cop heaps for it.

Go to IT on Greville Street, one of our favourite stores and buy some sixties pillows for his present. We all meet up at Katies place for drinks, Maz from BCo is there, can't wait to see the band live again. Katie has booked the Casino Gold Cinema- it has huge armchair seats that fold forward and pop up at the front. Very comfy. We watch "Face Off"....have a small gamble at the casino and lose.....no more money for Kennet we go home.


---
Sept 3rd
Neil has been busy signing some of the CH books for friends and the crew. I was taken back as expected to hand them out, not get one. My copy had some quote like "Now Pete don't get any ideas, you know too many of our secrets". Brought a smile to my face.

Discover a new yogurt. It's "d'lite" by Ski and is called Honey Buzz. This cool combination of honey and yogurt. All those live acidophilus (is that how you spell it?) must be happy in this honey culture as it tastes out of this world! The ARIA awards are getting closer. Looks like all the boys will be in town for the awards...still working out some final details.


---
Sept 4th
Fax EG for the Largest Living Things free plug in The Age...it's one of my weekly rituals. Call in and see Paul, George "The Largest Living Things" drummer is there as well, nice guy, and ladies...he's single! Paul shells out a Gold Cd award for The Recurring Dream Album- it's going to be used as a fundraiser for the FrenzCom domain etc. FrenzCom will also be home to The Largest Living Things website and yes expect some sound on the site. Paul and the band members all want to contribute- so expect to see notes from them etc. The LLT will be a fun project and for once we can all be there at the start. The site address is http://www.frenzcom/LLT/ but the site won't be up for a few weeks, so give Deb a chance, the poor girl is flat out with all the other projects. As soon as the fundraiser items are all listed Deb will no doubt announce them. The Famous for 16 minutes site will have an autographed Famous/16 tshirt. Many of the strange and godamn sexy people you read about on the site will autograph the shirt.

The Grey Ghost goes in and has it's new anti-pollution muffler attached, it's silver and used to be the tail pipe of the Jupiter 2 (that's our theory). After we drop it in we walk past this great antique shop that is closing down, and starring at me, large as life, a huge stone Gryphon on a pedestal. It looks at least a hundred years old. I've just got my tax return back, and even after the new muffler I have some cash left. Call the shop and haggle like hell for a price. Luck is on my side, all the items are 60% off. Put a deposit down, it was just too tempting. The scary part is that the Gryphons face is identical to my tattoo.


---
Sept 5th
Go in with Sarah from Mushroom and get some of our umatics and VHS tapes converted over for Mushroom to use on their 25th Anniversary TV special. It will be shown in Australia on Dec. 15th, on channel 9 at 8.30 and will run for 2 hours. I'm hassling everyone to vote for Crowded House in the Australian Artist of the Year Award, for the ARIAS. It's the only public vote, and to be honest the only threat of a win is by Savage Garden. I know so many of you will pass this by but please if you live in Australia, make the effort. The phone number is 0055 29799 Crowded House are number 18 on the voting list. If you phone, you and two friends could win a trip to the ARIAS. All votes must be phoned in by


---
September 6th (midnight).
Call now....thanks.

Dougald is back from the Supertramp tour (snore)....he's looking good and sounding sassy. He's only here for a few weeks and then back to Europe for a few more dates. Great photo of Mark Hart in the Supertramp Programme.


---
September 6th
What a horrible week, Mother Theresa died today. Maybe i don't want to be the Mother Theresa of Crowded House- I want to be a wise old Gryphon instead.... live long and prosper.


---
September 7th
As we drive down Chapel Street we spot Jj eating brekky at GLOBE. He sees the Phoenix (which is never subtle) and catches up with us at the Elephant. The new songs are coming together and we plot his showcase gig which should be early November upstairs at Revolver. After brekky we head to Rosemaree's copying centre and spend two hours getting club stuff out of the way... Arrive home to find an email saying that the Lost in Space Movie will now be out in Australia in June '98. Hope it's worth the 85 million spent on it.....it has even more effects then ID4....(and easily a better script).


---
September 8th
Mel from ode to a Goldfish sends me their EP. It has a Melbourne return address, have the girls moved to Melbourne? Speak to Paul about the LLT Ep and all the parts are nearly ready, so we put it into production soon. Loads of club mail today- so many new members, also mail for Skyhooks which is really wild. I guess music is eternal. Tomorrow is chart day, hope the Jets new album has turned around, it's a really good record- what the fuck is wrong with Australian radio? I just wish they'd stop playing shit like John Farnham, thank the lord for JJJ and RRR.

Had some nice letters about Chris Bourkes CH book, we spend a huge part of the day sending them out to people. They are such a fat book, real awkward as far as mailing....but it's nice to have some quanity and quality.


---
Sept 9th
Well the charts are in and the Jets album has dropped a few places. The new single will be a cover of Eve of Destruction, now radio has to play that one. Talk of a double tour with The Angels later on this year. However CH are a bullet on the Aussie charts with Recurring Dream which jumped from #58 to # 39 and is heading towards 8 platinum-this means weve knocked INXS's biggest Aussie album (KICK) out of the top ten. Just leaves ICEHOUSE....but Xmas is approaching so Recurring Dream could be a good Xmas Gift for some people. It's still only 61 weeks old (yes that many).....the album that won't die.


---
Sept 10th
The Gryphon finally arrives and takes 3 people to move it. Now a few vines and ivy and it's the perfect Goth centrepiece. Paul calls so we drive to Hellwood for a cuppa. Sunday is chasing Wednesday the cat. Poor Wednesday, the hair is falling off the end of it's tail. Living with Paul Hester would do that (grin). Heard on my grapevine that Nick Seymour is home soon, looks like the touring with brother Mark might happen. Still can't believe that Mark seymour got bashed at Kings Cross.


Favourite Book- Drag Queen by Robert Rodi and The Velvet Years (Warhols factory) photos by Stephen Shore.
Food- Honey Buzz Yoghurt
Movie-Money Movers (Aussie movie from '78)
Album- Effigys self titled CD.The single "I Give In" should of been gigantic.
Single- "I'm a backdoor Man" by Pauline Pantsdown.
Pissweak act of the Month- Pauline hanson slapping an injunction on JJJ, proving that not only are her views misguided by her sense of humour is sadly lacking. The full text of Pantsdown song can be found at: www.fax.net.au/~inda.
Amazing site- all those flowers for Diana.
Fashion Tip- Clarins-Contour des Yeux...Eye Contour gel for those early morning photo shoots.
---
Sept 11th
Spy Di was right- Smashmouth's new single "Walking on the Sun" is great, nice to see their album in the Billboard Top 40.

Speak to Eddie rayner in NZ and a tape is now on it;s way to the Enz Website located in the aswas galaxy. So fans can hear a great Live version of Dirty Creature that was mixed after Anniversary was completed. Should be up on the Enz site soon. http://www.frenz.com/splitenz/ I suggest to Eddie that we put these 2 unreleased live songs (DC and ?) as bonus tracks on the I GOT YOU cd single which Mushroom are planning on releasing in a month or two. They sound pretty good.

Have brekky at The Elephant and SKIP- the CH tour manager/ Mental as Anything manager drops in. Great to see him again and we end up at Chapel On Chapel. It's a gallery and we will probably be working on a 2 week exhibit for the Mental as Anything guys. A retro of all their art and some will be for sale. The CH office asks us to keep Mum about the ARIA awards, as you know all three of the guys will be at the awards and giving away some of those pointy statues.

Weve had a lot of emails and calls but at this stage there is no info that CH are playing. Just stay tuned and if you can watch the ARIAS on "V" channel (cable) on the 23rd.


---
Sept 12th
Police recovered 1,900 tickets sold in Hawaii for a non-existant Spice Girls show. The promoter was up on theft and forgery charges, confesed that all the money he raised from the ticket sales were to fund his sex change operation!

Barry called, the guy who is writing the Fandom book, wants me to be in the guise of a Skyhook fan having an arm wrestle with a Sherbet fan (I suggested the arm wrestle).....think i'll do the photoshoot in a few weeks-could be fun.

Decide to boycott the opening of Revolver and head to "Gurkas Cottage" for dinner- it's melbournes first Nepalese Restuarant. They have the best lasi in Melbourne. Find Andy Whites single Jacqui in the stores, our stock will arrive soon so Andy will have some serious autographing to do. have strange dreams about crashing on an Alien planet.....too many Aliens reruns. My good friend Mary Anne Pineapple head sent me the Stephen Hawking Book "A brief history of Time".....I've been after that for ages- should be a good read. Jj tells me to read it three times.......things come in 3's don't they Rebecca?


---
Sept 13th
Nick is back in the country on Monday, Neil and Grant are now in NYC making decisions on what country to do the final recordings of Neils solo album and what producer to use....

Wedding bells are getting louder for you know who? Who, oh you know! Decide on what to wear to Diversity- Commercial Rd will be blocked off and Prahran will be partying tomorrow........so I'd better go and pick an outfit, i'll be on the lead float and cutting the official ribbon later on with Ian Roberts...what Tottie Goldsmith has replaced me....what is this town coming too? On that bitter note it's time to say goodbye.....PG

---
If there are any problems with this site, please contact webmaster@aswas.com.