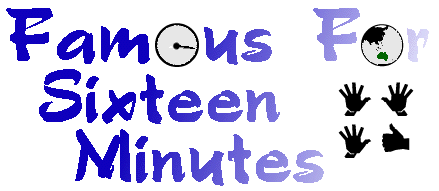 The Life and Times of Peter Green
Archive: 20 July - 2 August 1997
---
July 20th
Overall a nice morning at The Elephant. Scottie is on and tells us that he is leaving soon....he makes the best coffee so that worries us...plus he's a nice guy with some great gossip. he should have his own Diary site!

It's still freezing here, the days arn't too bad but the nights are damn cold, can't imagine what our central heating bill will be like with it going 24hrs a day.


---
July 21st
It's both Trudy and Frans birthdays today. Give them a call. Roses for Trudy and an advance copy of MILK for Fran. call my travel agent, the mad as a hatter Miss kayleeen. She's always so bubbly and somehow between us we end up with the fare's I want or that particular hotel, it's a great working relationship.Good travel agents are hard to find. So I'm now off to NZ on the 7th for the book launch and other stuff.


---
July 22nd
Recurring Dream has dropped to #50...week 54. I fear it's almost over...but its been a dream run, no one can complain. Looks like Jackie Chan will finally be a household name in the States, afte rthe success of Supercop. He turns up with the very sexy Mira Sorvino at the re-issused Operation Condor movie.


---
July 23rd
Glad they finally caught Andrew Cunanan. Poor Versace and the other 4 victims. Versace tried to live such a simple life. The Miami Police have been really slack on this one, several people reported Cunanan's whereabouts and it all got lost under red-tape. tragic.

Well tonight we pulled off the biggest suprise party for Mark on the top level of the Elephant. Rosemaree sneaked in the Hairball Cat replica birthday cake, and we mnagaed to convince him that Leanne was shouting us dinner. So he walks up the stairs and the crowd screams out suprise!!! I love it when peoples jaws drop open like the spring has snapped. It ended up a really good night, every- one catching up, a host of band people. At one stage we had the basis of a supergroup in one corner. Fun night.


---
July 24th
Wake up with a sore throat..too much talking or that dreaded flu virus that nearly wiped out the Sydney CH office. I'll soon know.


---
July 25th
Well Sharon & Neil flew in today. Staying at the Hilton. Great to see them, they (like the rest of NZ) are over for the All Blacks V's Australia game. 40,000 NZers flew in, new Zealand looks empty at the best of times, subtract 40,000 people and it would mean a bad weekend for the Mormons recruiting campaign.

Talk about Rugby (yes I use to play), that freaked Neil out a bit I think. His album, and other stuff. Will see them in a week or so in NZ. Oh yeah the All-Blacks thrashed Australia too. ..and there are 340,000 mormons in Australia. (thanks Mark for that bit of info).


---
July 26th
Wake up totally hideous! It's the flu and having a fucked time is what it's all about. Talk about sick. Sit up,fall down, bark like a dog, roll over, die. Dream, do things 3 times. Hanson are a bunch of Girls, this and much more is revealed in my delerious state.


---
July 27th
Not sure where today went, still sick. Happy Birthday Mark.I'm fucked.The TV crashes off it's stand at 5.18...taking with it all the video gear. Nothing is broken-amazing.


---
July 28th
Well things are a bit better, haven't had food for awhile, eat half a roll today and spend sometime working on club stuff. Ignore all the emails from Deb just want to stay in bed. The Dr says it could be time to go to Hospital, I'll give it another day.


---
July 29th
I can remember exactly when the fever broke. It was really early in the morning (2.17) and suddenly I felt heaps better and became really hungry. What a bad flu. No wonder so many people have been sick.

Check the charts, Recurring Dream has climbed back to #44 (from 50) so it's still surviving. Festival called and they are running a special sticker for Andy Whites upcoming single "Jacqui" (Sept 1st). So they'll go out with the Newsletter.


---
Wed 30th
We expect Nick Seymour home soon....and another big name Australian band are calling it a day. can you guess?

Neil faxes over a letter that misses the Newsletter deadline, but we'll add it as an insert. he mentions some of the new songs etc. RSVP for the Invitation only Book Launch in NZ. Paul is working on the Largest Living Things EP.


---
Thurs 31st
The Deadstar gigs have improved a bit and The Punters Club show was the best of a bad lot. The Mercury Lounge gig should be a good one. Wonder how the album is selling, guess it will be in next weeks charts. Leanne now has the flu,equally as bad...it never ends.

While going thru articles for Mushrooms 25th anniversary,we found this early Rolling Stone Mag. gig review, 22 years ago (31/7/75). Blacktown Showgrounds (9/7/75) Billy Thorpe & the Aztecs,Split Enz and Bison. The Enz part is pretty funny: " SplitEnz confused the situation further with a distracted rendering of their fusion of upper class twittery,Bowie's profile and Zappas bridges. They are the most successfully badly dressed act in the history of showbusiness,musically quirky,quaint and sometimes heavy to the point of tears,Bonzos for the seventies! You don't have to be feared to be weird (I love that line). Even though it sometimes sounded as if everything was a bridge between the next bridge,the Enz must surely have the means to cross them all. They have the same management as Skyhooks to help them".


---
August 1st
Off to the dentist today...no real joy. But no drilling. The Skyhooks site has had it's 200th hit. It's a grower. Pick up the few remaining copies of the Enz Dizrythmia CD from Paul at Mushroom, have to wait till Sony press more. Mushroom have to have their 500 titles ready for the Stores by Oct. 1st when it all changes hands. What a huge task. The club now has more people signing up then we had when the band were around. Not sure what that means. Think we spotted the Tea Party down on Chapel Street today, looking very "Doors-ish". We did get to the Elephant for the Friday morning ritual. As we were leaving a taxi screeched to a halt and out pops Miss Candee. We almost run into her. Mark makes some noise and she tells us to "grow up"....oh you're in one of THOSE moods. She decides to be nice (give with one hand,take with the other) and asks if we were hairdressers (her wig seems to be defying the laws of gravity).....I say I was in a past life and suggests that Alex inside the Elephant might be able to restructure "it". She smirks,blows us a kiss and stumbles off. Kind of like Big Foot in Drag......but we adore her.


---
August 2nd
Decide to play some demos today. Play the original Finn Bros demos and on Chocolate Cake you can hear Paul calling out "play the theme from Cats" (during the Andrew Lloyd Weber bit). Also we notice that "She goes on" was originally "Flowers in Bloom". So many great demos around, hope something is done with them.

Hey I slept last night, the first time in a week. Feel great. which is good because 12,000 newsletters will be arriving at our door in a few days time.

Still have to go through the notes for the "Famous for 16 minutes" Book 1, so there is still time to send in your passport size photos to be included in the collage. That's all for now. PG

---
If there are any problems with this site, please contact webmaster@aswas.com.