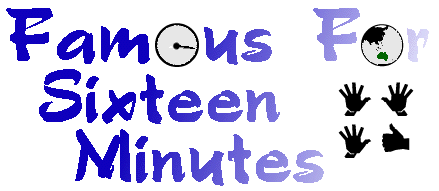 The Life and Times of Peter Green
Archive: 23 November - 6 December 1997
---
November 23rd
Well the day has been totally taken over by the death of Michael Hutchence. Not sure what to think, leaves me with the feeling of what a stupid,selfish thing to do. Surely in 1997 it's hard to give a lot of sympathy for a rich, rockstar who has just become a Dad, shagging someone else, and then doing himself in. It IS sad, but i just know how the public and the media will go on over the next few weeks- they'll all say what an amazing person Michael was , and without speaking ill of the dead, some people should also say- hey he was like everyone else and full of faults. How many people will say, wow if someone with the popularity, wealth of Michael couldn't make it through this life how can the average person do it. I don't know, it's only the next day, I'm in a wilderness of shock, but also really touchy.


---
November 23rd
Nick looks like going to the funeral, which is good. The news showed all these people buying the latest INXS album, is this what it takes these days to sell a cd.?


---
Novemer 24th
Meet club member Robyn at the Prahran P.O. Box, she ended up with Pauls, Holland Woodface platinum award. At least it's gone to a good home and not being flogged off on some collector list in NME. I like it when real fans get special momentos like this.

Hey a new chalk message outside near the Belmore gates. "I came to you, when i fell off my star". I like that one....... Called Waterfront Records in Sydney, they only have 3 copies of the LLT cd left, the club has now ran out. Hope the band get back into the studio soon.


---
November 26th
Happy Birthday dearest Toija. We pretend that we've forgotten and catch up with her at The Elephant......flowers and coffee what more can a girl need! Her Mum is back from Egypt, living in Brisbane again, so I guess Toija will go home for Chrissy this year.

Glenn A Baker calls and The Other Enz cd is still a happening thing, I'll be writing the liner notes, so that will be fun, should be out in the first quarter of '98. Seems like everyone connected to the Enz will be on the cd. Start work on the next CH newsletter (issue #43). Should go out around December 20th. Notice our LLT quarter page advert is in In*Press today. Looks good.


---
November 27th
Michaels funeral is on at 2.30 today-televised. I spotted Shawn our publicist she must be looking after the family/press. It's a bit of a circus. Apparently this idiot tried to hang himself- sounds like it was more of a media stunt for attention. What a fuck-wit. At least the cameras were re-positioned so they wouldn't be stuck on Paula.Nick Cave was a gentleman per usual, I think he is god-father to TigerLilly if memory serves me correct. Kylie flew in, it must of shaken her up a lot. The way Jason Donovan has looked he'll probably leave this Earth next, so she'll probably have another funeral to attend later on, hopefully jase will get it together. The cameras seem to be on Nick (Seymour) every second shot, or was it just Nicks hair .....film the blonde guy!!!!

I thought Michaels brother was great and that moved me, and the whole band lifting the coffin was one of the few moments where we all understood what being in a band is all about. Didn't seem to be many fans outside, but that could just be the way it was filmed. sad day and a silly waste of a talented person. 'Nuff said.


---
November 28th
We have a brekky/business meeting at The Elephant. While MG and myself are waiting, we hear "clonk,clonk,clonk" coming down the stairs from the Elephants second level.......ladies and gentleman-Miss Candee. She enters wearing a plastic snakeskin two piece...this is new. We ask her what's up: "I've been upstairs working out" she bellows. She seems fairly sober today, and her "bonnet" (drag title for WIG) looks fresh. Unlike last week when she stumbled in tipsy after winning an award at the Rainbow Awards in Melbourne. What a woman! (?)

Well LLT play their last night at The Albert Park, none of us like the new renovations (ych) and the area where bands play is really stupid. It's a good crowd and we take up a few tables, end up dancing during the encore. Even the band were suprised to be called back. Fran leaves her party and emerges in the second set.....she still holds the record for the most attended LLT gigs. Sonias sister is a good dancer....Spock turns up and Angie -who we haven't seen for awhile. She's now working on the tv show-Healthy,Wealthy & Wise. There is a young girl, who does this "unique" bunny/tribal dancing....everyone else is grooving and she kind of hops across the front.....cute and strange. Turns out she's a single Mum, we all like her and Paul gives her the very last LLT. She vows allegiance to The Largest Living Things and promises to come along to more gigs.


---
November 29th
Well Paul and The Largest Living Things start their 3 night "special guest" spot for Deborah Conway at The Conty. Should go well for them. Tim from Gaslight phones up and they've also sold out of all the LLT cds, and people have been asking for more copies.May have to do another run.


---
November 30th
Get a preview of Kylie Minogue's new clip for "Did it again" and it's great, her best thing for ages- a return to form and deserves to go to #1. It kind of sounds like Deadstar at their best...and then double it. Actually it's much better then Deadstar, kind of like Garbage at their best. Great clip too- go Kylie! Top ten for sure.


---
December 1st
JJJ are flogging the Kylie song..heard it twice today while I was out doing store checks for CH/Enz. Wow it's the countdown to Xmas.....where has this year gone?

Go along to LLT with Becky tonight and we are both in weird moods, some people are eating dinner but we wander in, catch the guys in the band room. Paul wants to get into my pants...sorry I'll rephrase that, Paul wants to wear my pants. These great burgundy chords, dangerfield did a small run, perfect fit. Will have to try and get him a pair. Mr Hester is looking splendid tonight, wearing a figian wrap, polished silk shirt, a "stick with Wik" armband....and sunflower soxs.

For those of you who are unaware- the Stick with Wit campaighn is a project that is making the public more aware of native title in Australia. It's an effort to fight John Howards ridiculous 10 point plan. The ten point plan is very unjust and discriminatory.

It is true that I am not a big fan of the Liberal Government, but since the Howard Government has come into power many things are going from bad to worse. Thankfully Howards days are numbered, I'm not sure that the Labour government is much better BUT anything has to be better then a woss like Howard. We all hope his ten point plan gets shoved up his arse sideways!

Off the soapbox and back to the gig. Barry is playing his 100 year old double bass tonight, it's more of an acoustic set. The other two nights went very well. Deb Conway arrives as I head out the front, she says hullo and I'm amazed at HOW pregnant she looks, mid Feb. baby for her, but I think it will be an earlier birth.

Paul says an interesting thing onstage tonight. "I've kept the same formula for this band as we did for Crowded House." We all think about it...and he's right. One kiwi (Barry=Neil), Two Australians (Paul=Paul, George=Nick) and one American (Kevin=Mark Hart). Isn't that strange?

All the wives are here tonight- Sally Crombie, Mardi and we run into Julia (Nicks old girlfriend), Sarah from Mushroom. Downstairs the Mushroom 25th photo exhibit is on, came up really well, Sarah spent a lot of time getting it together- looks great. There is a really nice shot of Phil Judd and Tim together. Rebecca likes Phils "flat top haircut in The Swingers photo. Its a free exhibit and will run for another month.See Noel with really fluffy hair!

Sidetracked again- basically LLT did well, great reaction and they almost got an encore, rare for a support band at The Continental. Deb Conway was singing really well.....good show.


---
December 2nd.
Work on the Neil and Tim bios with Amanda from the office. Neils is easy, Tims is hard.....nothing changes. Spellbound has already sold 10,000 units. We spend the day getting all the club copies boxed and ready to go.


---
December 3rd
Speak to Nick today-I think the Michael thing fried him out a bit- all week. Nice to have a long chat. Michaels death was like a giant exclamation mark on Nicks career, or maybe the end of part one.I keep urging him on to do some more paintings, but he keeps telling me that's what you do when you are old. Fair enough, it's his life.

Paul from Mushroom calls looking for Hooks artwork, track down a UK version of Women in Uniform for him......has a dental nurse passed out in a chair. She is pretty. Sexist...maybe, sexy deffinately. Women in Uniform will be one of the Mushroom re-issue HITS cd singles.

Get a call from Phil (Judd), that throws me....you never know when he calls. I think we are all going fishing in a few weeks, seeing I dont eat fish I guess I'll just throw them back......is that a pointless exercise? Hairball may be eating fish all Summer otherwise. He (Phil) is still working on the music for Good Guys, Bad Guys (TV show)....and signs all the Private Lives cd covers next week (yey). It wont be out till then.


---
December 4th
Meet Spock at the Elephant and give him the artwork for the next Club newsletter. Received a letter from Paul Field of The Wiggles today and in it was a photo of Hester with the Wiggles in the studio. So we'll use that in the newsletter. Looks like Paul will be in the next Wiggles Video (as a cook).

Just found out the the psycho that tried to hang himself at Michaels funeral was the same nutball that ran onto the grounds and wrecked the net at the Melbourne Internat. Soccor game. I speak to the office today and Hayden tells me that it's the same nutcase that jumped up at the Ultimo Festival when his band Ccada Luge was playing. All Hayden could hear were the bells on the mad mans pants...he uses them to communicate with animals. We suggest he jumps the fence into the Lion den at Melbourne Zoo with his bells on and has a chat with Mooie the Lion. Looser.


---
December 5th
Erika from America calls. Reasons why we love Erika. Driving home late last night from a gig in L.A. she spots an armchair in an alleyway, 45 minutes later she finally get's it into her car, there are no street lights, so she cant make out much of the fabric etc. She wakes up today to find a purple and green and yellow armchair in her room (urgh). Yesterday she put up all her Xmas lights......"I'm not taking them down after Xmas........I love them- they make me happy". Erika Rules.

Death by lawnmower. The grass is growing so quick this time of year i thought i'd do the right thing and mow the lawns, our lawnmower men arn't due for another week So I get out the old electric mower downstairs, do the front,the back, and start up the side near all the fruit trees.......when ZAP....guess who gets electricuted. I was wearing rubber soul shows so I'm ok, the mower starts frying and spitting out smoke.......so we have an unfinished patch. Feel a bit sick so I blow out going to the gig tonight.


---
December 6th
Sleep in ..reaction to the electric shock? Skip calls and Ansett have given me a free ticket to fly to Sydney next Friday to follow up the Mental as Anything Art show. We are looking after it in Melbourne in FEB. Really happy because Gough Whitlam is opening the show.....always wanted to meet Gough. Wonder if he'd wear a famous for 16 minutes Tshirt (grin)?

Strange overcast day, was going to go and visit Nick and Nickla....not sure if I want to venture out. Fill in my voting form for the Rolling Stone magazine Readers Poll. It's in the latest issue of Rolling Stone (Australia), has some great articles on The Woman of Rock.....well worth a read. Also we have linked a voting form to the JJJ Hottest One - its on the Bulletin board of the Largest Living Things site- so you can cast a vote (via the internet) for Crowdies INSTINCT or go to the "other" area and vote for LLT'S THUMBS.

As the Diary site reaches it's 20,000TH HIt I am amazed that so many of you are coming back for more- what can I say- thankyou...hope you find it as much fun as I do rushing out each segment. The F/16 Book will be a '98 project...we are still accepting photos for the readers collage.

That's all for now- guess it's time to start Xmas shopping.....1998 is popping it's head around the corner- wonder what suprises it has in store for us all.

Take care
Peter

---
If there are any problems with this site, please contact webmaster@aswas.com.