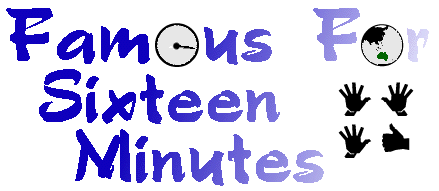 The Life and Times of Peter Green
Archive: 27 April - 8 May 1997
---
April 27th
A really nice Sunday.......I must of spoken to a lot of friends over the past few days as the Elephant is packed for breakfast. Hayden from the office and his band mate Martin are down from Sydney. Johnny turns up....looking very glamerous Becky (god bless her) had a long night and probably danced her feet off. Don't think she realised that there would be so many of us....her jumper has that "slept in it" look about it-but none the less she still looks pretty. Rosemaree turns up and is in fine form.....Mark makes a rare appearance and suprise suprise in walks Maz. He played last night- half the table went along- he's using his electronic drums again-so the gig at Sunset Strip is pretty funky. Just when we are about to order in walks Spock and Miss Katie.......the "sorry we're full" sign goes up. It;'s a fun morning- Spock gives me his copy of the great new Boom Crash Opera single- "Dreaming up a fire"- it sounds like the BCO that most people love- very "Onion Skin" and "Dancing up a Storm" sound...Spock once again is doing the artwork (thank christ- as the "Born" cover is really UGLY). Anyway I'm told the BCO single is out on June 2nd.....if radio gets behind it they could be back in the charts. Thats if Rocky Horror Show doesn't continue it's run in Hong Kong- BCO frontman Dale Ryder is playing Dr Frank'N'Furter........"admit it Brad...it's not that bad giving yourself over to ABSOLUTE pleasure"......go Dale!

I get home and decide that I'm really lucky, all these people at the table I really love. Hayden from the office has all the trimmings of a rockstar...... (in the nicest possible way). As we go to pay the manager refuses our money and says its on the house because so many people come in when we are there.....cool!


---
April 28th
Well Andy White's "Teenage" cd is out in Australia today. Still playing it, we email Sydney to make sure all the Andy postcards are arriving on time. Pay my parking fine today...hmmm I wonder if Neil has paid all his old parking fines...he had so many. As he said, after paying so much tax he has to get away with something.......maybe I should try that...then again I'd probably worry myself sick that I hadn't paid the damn fine and customs wouldn't let me leave the country.

I think the Morrissey Edmiston clothing line will do well over the next few years, they have so many good clothes. Was going through some of their new bits and pieces and who should I spot out of the corner of my eye but an INXS person......bet INXs will end up wearing them onstage......maybe they do have taste after all (grin).

Spend the afternoon retrieving song info for our USA publishers. Find it all except for two songs- "grabbing by the handful" and "Oblivion"....cant find these...assume they are Crowded House demos.....maybe my memory has gone...


---
April 29th
Aaron called today...I thought he was joking but it looks like one of our "heavier" bands "The Screaming Jets" will have to blow out their Melbourne dates.....Grant Walmsley from the band has Chicken Pox.....so the gigs have been cancelled.....of course this is after I have just done a huge Jets mailout.Hope he is ok, poor bastard,Chicken Pox (any Pox) is terrible when you are an adult.

Speak to Neil today and he has nearly finished his studio...maybe that was all the noise in the background. He's going to send over one of his stage shirts for the auction prize.Make sure he signs it on the inside.

Caroline gives us some corporate movie passes...so we show our support and go and see The Castle .....it's the #4 movie in Australia this week. Have some fattening food at the Jam factory Pancake Parlour....didn't like it.America makes the best pancakes. The cinema wasn't exactly packed and we pigged out on too many "freckles" feel ill.......... Recurring Dream drops 2 spots nationally to #22. Slowly creeping towards seven platinum,we'll get there.


---
April 30th
Jill calls and it looks like we may drop in and see Savage Garden do one of their USA showcases.....wonder how many backing tapes they'll use. They are doing really well-the lead singer is a nice guy- I remember saying how appropriate it was that Savage Garden should start charting around the time that Crowded House decided to wave goodbye. Not that we can compare the two bands, but its nice to see an Aussie group do well...everywhere.Hope they do well. One band that isn't doing too well is INXS......their album dropped out of the UK top 40 after one week,a bit pissy. So we hear that the biggest Ozone Hole...ever has been found over Russia...... it apparently covers 2/3 of Russia...hell that's a lot of ultra violet radiation.Scratch Russia off our holiday list. Fax JJJ a request for INSTINCt late at night and they play it- good ol' JJJ.


---
May 1st
Catch up with Robyn and Trudy at the Blue Elephant....somehopw the booking goes astray...but we get a very long table. Fran rolls up and a few of the regulars.. Decide to wear some chestnut nail polish, got Nick into it awhile back........ the SUBS look tempting so we all get a bit pissed....new staff member...he wont last long. The crazy guy ends up serving us- he's a sweetheart and Becky compliments him. We keep missing Trudy by one day in America...fate I guess.

hear that a new Deadstar site will be coming out of England...hope they use the various singles coverart, some nice designs...maybe Nick should do some covers..


---
May 2nd
get all the stuff together for the upcoming Record fair...should be a good chance to meet some of the club members and list people.A long day....usually by 4.00 we look like hell warmed up. Wow one week to go ....till our holidays start. Hmmm decide that the single of the month must be "COWS WITH GUNS"......hope Stomp distribution get it in the stores. Great songs...I love how the "chickens in choppers" save the cows...cool!I think you can phone order it via STOMP on 03-94289333.

Great to see John Major get the big boot.....thank christ for that,England was becoming a smelly old corpse, it will be really exciting hitting the UK in a few weeks...its a bit soon,but with the Torries out it can only help..."a new dawn has broken...".Kick butt Tony.


---
May 3rd
Poor old Tony the new Priminister's wife.....she answered the door at #10 wearing her nightie......the worlds messiest hair...looking like her and Tony had been riding the hobby horse all night. That English media is so sneaky.... maybe shes a woman for the people.......I wonder if she wears pink fluffy slippers????

Opened the bathroom window tonight and a little visitor was sitting on top of the actual window.....it's our friend Randell the Possum who use to live in the roof. So he is alive.......he got a free ride on the window. he looks healthy so he must of moved to one of his other nests.


---
May 4th
Urghhhh up early....cmon Sun wake up.....cold ,sleepy,hell it's Sunday.It;'s gloomy outside, the rain tap tap taps on the windows,the bathroom floor is freezing, I stumble for the central heating button..........brrrrr.Bloody Record Fairs.... The doors open and the clubstall looks like the Myer Bargain basement sale, heaps of people with discount coupons and grabbing at the one off items.Mark saves my life with a cuppa. One of the first people in line to enter is Vivienne (no telephones near us...we check).....shes died her hair. Still crazy in a Viv way. She complains that none of the fairs have vinyl anymore......... Fran gives me my birthday pressie...she is wearing 4 different nail polishes.. is this a clue. I save it and will be suprised later (when my eyes are open). Wish Fran and Leanne were coming to L.A.):Cant find the Mal Green FOLLOW ME single- we look everywhere-sorry Leanne I tried to get a copy. So many nice club members,and famous for 16 minute readers......by 3.00 I have lost my voice..... talking to people all day. Mark gets the rare Kylie Minogue single he needs for the collection,last Fair it was $40.....we get it off the same person for $5.. Hope the fans got a bargain, we gave away $2000 worth of discounts.....so they did well.

Open my present and its a great blue metal Nail polish and seashell chockys. Spoke to a friend and she sold the Silverchair boys......steel blue Nail polish. .....so Steel Blue Polish is probably hard to find in Newcastle...then Steel will be hard to find in Newcastle soon, BHP are closing down the Steelworks ...it will be much cleaner but god all those people out of work, I remember when they did a big staff chop at Wollongong, unemployment went thru the roof...... Visit Becky after dinner on Chapel St.....she was finally crowned "Miss Universe"......by us all (Maz put the final vote in).....yes it's one of those secrets..........time to pay the piper Becky (thats Peter Piper picked a....?)


---
May 5th
Cant get on the Diary Site...have we been removed from the Internet? Did God strike us down...........?Strange all our friends with Macs cant seem to get on, but our IBM heads can.....have to ask Deb. [Deb's note: our server changed software, and will be flogged for it!]

Do a mailout for our buddy Andy White really nice postcards with the tour dates on them...... leanne calls and lets us know that Peter Pan is also in Perth (we never doubted that)...in 1929 the Perth Rotary Club commisioned a statue from the original mould as the London one......its an amazing statue....so if you live in perth and read the Diary site find out where the Pan statue is. Fax EMi the release info for the Ch albums......probably for some reissue stuff who knows......somethings cooking. Neils auction prize arrives...its his "Paul Smith" Uk shirt-he;'s worn it onstage a few times...its a size 16 1/2 (42cm) and is a crushed velvet...light burgundy..wine type colour. he signed the inside collar.Really nice.....like it myself.....no the club needs the money.neil has been incredible, I can't remember one time when he said no to anything I've asked, even signing those 10,000 xmas cards didn't make him hate me. It's been a good seventeen years....will have to call into Auckland for a few days and visit after we get back....


---
May 6th
Send Mum her Mothers Day present, she's a good mate. In her sixties and still a lot of fun. She is a great story teller.(so that's where I get it from...not that my stories are great). Deb gets back today...tried not to send her too many emails to forward.Hope she had a good break. Today is Johnnys Birthday, he gets a metaloid oil burner from us, and Becky gives him some oils. Hope he heads to the States soon....all these incredible songs just waiting to be recorded.


---
May 7th
My Xmas bonus arrives....I wont go into it here.....for the very first time I am awestruck.......the note from Neil is the final straw and I am close to tears. It feels like someone has control of the "emotion button" and I run the full gambit. Shock, total joy, embarrisment,awe,warmth.......the expression "so happy i could cry" is as close as it comes. My brains are fried. I can pay off my home loan. Money is around the #10 area of my "life list", friends, relationship, even music are above it.........I never believed it can make one totally happy. I know a few wealthy people and all of them say the same thing, there were times when they were poor and experienced total joy. Anyway this is a totally over the top way to start the day. My brains ARE fried.

Take our first malaria tablet.......no side effects......haven't had one for ten years......it's only one a week now. Cusco is too cold for mosquitoes...but its better to be safe then sorry. Recurring Dream has dropped to #26 (from #22) but we start more tv adverts in Qld this week so that should help. Just found out that Hairball is a rockband from Cincinnati (Ohio)...I wonder if they know our office cat? Dale Ryder is home from Hong Kong today......so BCo will start filming their "Dreaming up a Fire" video this Friday. My brains are fried............


---
May 8th
Still raining, hope it reaches the farmers in the drought areas.The Finn mansion is so lush this month. Well today is Beckys birthday.............so we all meet for brecky.Spock turns up with some champas for us....he too is having a break soon.BMG did a great print job of his new BCO cover.Going to miss all the people and coffees ...for a whole month!!! Go to the city and put some $ on my Amex card.....the traffic is jammed because tonight the casino is opening.....we declined our invites.....I think it pissed a few people off. The Mercury Room should be a good gig. The only reason to go was to see Arloe who is out here with Sheryl Crow.......The Sun called her Cheryl..arghhh.I can imagine Deadstar playing their.

Speak to MAZ....he says "its" the size of a babies arm.........I miss the start of the conversation.....have to get Becky to ask what "is".Sounds rude. he's a great drummer,great style. Clear the answering machine and there is a message from Paul Hester...its a good one "G'day Pete,it's Hessie,I'm just ringing you up to say thankyou very much for your lovely note,card and the Newsletter...and doing the posters and just being around and helping me out. Thankyou so much and I'd like to invite you to a dinner at the BeachHouse with the Largest Living Things........so I'd love it if you and Mark would like to come...and you'd both be more then welcome to dine in the luxury of the beachHouse which has now been centrally heated. Apart from that,loved the newsletter,I think my favourite bit was all the words on the band members...which i thought you'd done (laughs)...I was so stoned I didn't know what it was,but Mardi said "no no no they're words that the fans had written in". So when I read it again,I was so proud that mine was full of dark sort of...lewd,unsavory...loser I think was my favourite (laughs),very impressed with my standing with the Crowdie community (laughs)...so thanks a lot. I'll talk to you soon."

So when we get back it looks like a meeting will happen .the Espy shows for Pauls band worked really well and the album is currently being mixed........its great to see him back in the saddle.

Alison drops in with some Rocky Road for Mark.....to eat on the plane....she makes the best Rocky Road...pig out! Spend the afternoon packing and getting ready. It will be great to have the month off, we are back in early June so everyone will have to wait till we return.....all our mail at 333 arrives and is sorted into a locked mailbag so all mail will be safe.

We expect the Diary site to hit the 12,000 mark while we are away...so one of you will get a free lunch ...just print out the number and send it into us and dont forget to put your name/address on it. Will try and do an update while we are travelling.Have fun- Peter

---
If there are any problems with this site, please contact webmaster@aswas.com.