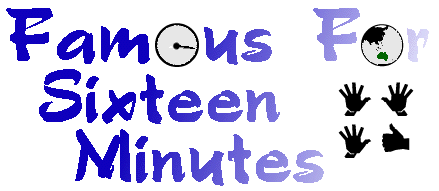 The Life and Times of Peter Green
Archive: 27 May - 6 June 1997
---
May 22nd
It's nice to be back in first class. Continental have this fattening ida of putting a trolley full of micro eclairs and truffles up the back so you can wander up and nibble on. No wonder all these first class passengers require bigger seats....I only nibble but it IS tempting.

Watch "Mars Attacks"-a great piss-take,love it and those martians are so cute in their red briefs. Will have to get myself a Mars Attacks doll- they look really cool.......

We arrive at gatwick London-when the customs man asked mark his purpose for being in London-he put on his best Austin Powers voice and said "I'm here to shag the Queen,baby". We narrowly miss a full cavity search! Get to the hotel at midnight,go and post all the English fanmail.


---
May 23rd
Nice to be in a cool climate for a change. Notice my metal tour suitcase has an incredible dent in the side and it takes me 45 minutes to open it- phone Continental and freak out. They'll work something out.

London like America is good for books. Todays bargain is a book on Aldous Huxley one of Englands more brilliant modern novelists. His move to Hollywood in 1937, and his change of direction into meditation,mesemerism and psychoactive drugs... should be good fodder to read on the plane.

We decide to avoid the peak hour tube rush and go and see the Beavis and Butthead movie instead.....this trip is a search for knowledge (grin). Buy Placebos debut album. Lead singer Brian Molko is really great,all makeup and brutal honesty. The reaction to their Top of the Pops performance freaked a few straight English people out. he told us his favourite nailpolish was "Urban Decay".


---
May 24th
call our producer friend Cameron and we organise dinner later on . he is currently working on "Salads" new material. They are doing well in places like germany and I keep spotting their first album at Tower.Hope it goes well for him.

Finally get the Warhol Factory Book "Velvet years"'65-'67. Wanted this for ages.feel good today because we had a sleep in. After brekky we catch a train to Camden Town to go to the usual markets plus the camden Record fair. get some great bargains- "Not the Girl" UK promo cd single, plus the very rare "Talking Sense" cd single which DOES have a picture cover........I didn't think they printed it...but we have a copy- it's different to the cover of the bonus club cd single from last year. Notice all the "Kiss the Stone" bootleggs have all gone....that company is really suss-bunch of fuckers!

Ran into a reader (Hi Mitch) wearing a Famous for 16 Minutes tshirt- it totally freaked me out-just came up and said "Hi Peter" like I lived around the corner- not half way around the world. he told me that Oasis and their management company Ignition have given all the unofficial oasis sites a month to remove all copyrighted soundfiles,lyrics and photographs of they get hit with legal action. I can understand removing a few things-partic. unreleased material but surely things like photos etc is a bit extreme. Sure it will cause some talkback on the WWW.

OK,I'll have to stop being a bit wicked (not totally) as god was trying very hard to wash my sins away today. Whilst walking through the markets,the wind blows a plastic tarp. into the air,it was full of water. Two minutes later I'm a drowned rat. Thankfully it belonged to a clothing store,so I tried on a nice (dry) shirt and the owner felt so guilty she said I could have it for free. Mark as you can all imagine is still laughing at that one. I jump when I hear running water.

Today we get Kylie's special private photobook that she gave out to friends at Xmas....great photos of Miss Minogue.


---
May 25th
Try to call Morrissey at his Mums but I think he must still be in Hollywood, or working on his next album. The latest press release that comes with the media copies of the upcoming Mozza Cd says "Morrissey has no interest in world politics and prefers the company of animals to humans.His ambition is to play Fremantle in Western Australia"...........strange man.

We find another Record fair (Totty Rd).....poor Deadstar it's very confusing out their...the "D" section is full of "Dubstar","DogStar","DreadStarlets" and many more. No DeadStar cd singles anywhere....not a good sign. But we find the Bowie "Santa Monica" '72 live cd ..it's anow an official release.


---
May 26th
Wake up early and pack. The Holiday Inn are being real shits about leaving our bags in their lockup, so they pay to have them stored at Victoria. Glad when the new "fast train" to Heathrow becomes a reality....(June'98). Buy a copy of Recor Collector top 500 most collectable bands. Crowdies are at #100, the exact same spot as last year. Their popularity hasn't waned. The Enz are at #444.

Arrive Prague-get public bus to the metro,and pretend we know where we are going. Taxi from train to Hotel Ameyst. Hotel is kind of cool. It's new only 100 years old,has small beds and a large bathroom with handle bars on everything. Argh they've given us the handicapped room....what are they trying to say? Mark floods the bathroom .......things haven't changed.


---
May 27th
Take our weekly Malaria tablet.(spit spit). Walk around Prague. The first few hours I felt totally let down, I was expecting so much more. A few blocks later, we get lost and suddenly the city is astounding, it's magic settles over us. The golden rule seem to be "look up". The facades are covered in angels and gargoyles. It's a chilly overcast day, sprinkles of rain and we seem to drink a lot of coffee in crumbling buildings. Youth is everywhere (no not the producer) heaps of young people. We walk across the very old Charles Bridge. The bridge is stone and has huge religous statues on all sides. Painters and sketch artists earn a living off the tourit trade. The other side of the Vltava river is Prague castle and the St Nicholas Church,also a really cool record shop called "Music Antiquariat",really cheap bootleggs,but here they are called "live rarities". Even offcial stores have them on display (sorry kids no live C.H.). KISS are back in Prague again soon,spot some Kiss beer cans. have lunch at this bohemian cafe called "Ethnico"-these two cute girls run it and keep putting food on the table...we must look like thin and starving musicians. Explore the city all day- sore feet.


---
May 28th
France's president Chirac must be shitting himself if his socialist counter parts are voted in as the new majority. he'll have to work with them and he doesn't want that.It is sure to happen, it's pay back time Chirac for letting off those bombs. you are a pig Jacques Chirac.

A limestone spur sits high about Pragues Vltava and on it the 9th century (I think) fortress Prague castle. My favourite imperial livd their- Rudoplh 2nd. he filled the courtyard with soothsayers,alchemists and necromancers. What a guy.

Even Adolf Hitler when he sntached Czech. paced the stone courtyard. Imagine looking out it's grand windows and seeing the Russian Red army expelling the Germans. OK we'll live there. Sorry Grant I'm not coming home. We watch Linda Finch arrive (courtesy of CNN) on her fianl leg of the 2 month around the world trip...Amelia E. would be proud of her,she did it.


---
May 29th
The Prague phone system is really bad. Tried to call Neil on his birthday but I gave up.haven't been able to get one call out of the country. Go visit Prague Museum, the guidebook is right- "bugs" and "rocks". See the "street girls" again and today they are all wearing their PJs with wet towels around their heads. i think they are students. We give them our change and they ring their bells and chants. Fly out to London on the late flight. news comes in that Oasis singer Liam gallagher was punched out in a Uk pub last night.....stop smiling Peter.


---
May 30th
We got in really late last night, problems again with the Underground. Everyone is in a bad mood and Mark almost punched out this person that was causing problems. My new suitcase arrives from Continental and they dont take my old one so I'll tru and get it fixed. head to Kensington markets and visit Marco at "Children of Vision" and get my hair cut. Chicken out of orange and go for a blue black dye job. Steve Tyler from Aerosmith is at the markets shopping.

We catch Spice Girls at Top of the Pops.....we feel like grandads,the audience is VERY young. They still don't do anything for me,so manufactured.


---
May31st
Cat news- hairball sends her sad condolences to the friend of Pebbles the cat who lived at barbican Station (UK). Pebbles lived there for the last decade and use to siton the top of the ticket barrier. sadly he died in his sleep last night.

Great news when Sally calls- her cat has returned home after going missing for 3 months.Thankfully a happy ending. We go and see the new Clint Eastwood movie "Absolute Power" and Clint did do a great job, nice to see a movie without bulk special effects.


---
June 1st
I think this is my 400th flight, I'm loosing count. Continental gives us the VIP treatment and they move us up to first class. For the first time I hand my lucky flying jacket in. I joke with the stewardess that it will be her fault if the plane crashes. famous last words let me tell you. After so many flights you get to know every noise,and as we took off every instinct told me something was wrong. It was like the engine couldn't keep the plane up,we bobbed amongst the clouds and couldn't get any higher. It took awhile but finally we levelled out, but the look on the stewardess face said it all,she was scared too.

Just realised that the Diary site has been up for a year now- should take this time to thank all of you for even bothering to read the writings of a madman... Not sure what you find in all of this...but thanks.


---
June 2nd
Deadstar album is meant to be released in Australia but from what I have heard it wasn't released on time....it's now past being a joke. "Dont it get you down" is now out in the UK and the vinyl version is nice and sparkly.

Go see "Lost World" (hey it was only $4) the dinosaurs look great but apart from that zzzzzz. Send all our friends admit one tickets to the Female Mud wrestling (and oil too) at LA's Tropicana......class acts arn't we.

Singer Jeff Buckley still hasn't turned up. he was swimming in the Mississippi River last Thursday and disappeared, doesnt look good.


---
June 3rd
Bowie has been playing the Hanover Grand...exactly a year after the Crowdies did the fanclub/farewell show there. It's also a show for his fanclub (this is a bit weird) but his fans pay 100 pounds for tickets!!!!!!! Now David thats a little bit greedy my love.....

catch up with Erika and Elizabeth. We have a late dinner at Noura cafe (Eastern Cuisine-yum). Elizabeths new car...a "shadow" is really good. A bit quiet tonight (yes that is rare)...maybe because it's a year since the split. It's gone so fast.

Hear that Bob Dylan is out of hospital-recovering from his histoplasmosis. he was quoted as saying "I thought I'd be seeing Elvis soon".


---
June 4th
Go and see "Addicted to Love"- E recommended it. Meg Ryan is really beautiful and is becoming the Edie Sedgewick of the 90's. Neena Cherry does a great version of "addicted to love".....it's usually such a naff song.

Catch our Qantas flight back home.....doesn't seem to take to long, except for a sore back. The final segment from Auckland to Melbourne is the killer bit, those 3 hours just drg on and on.


---
June 6th
We skip a day across the dateline.....so the 5th has gone....but where. Arrive Melbourne in the morning, nice and Wintery. We go straight to the Post Office and collect the mail.....we can just carry it all. Thankfully it's a long weekend, it's going to take a few weeks to answer all of this. better go and get started...it's nice to be home. Special thanks to all of you that spoiled us rotten on this holiday. To Neil and Grant- especially- you guys have made it a great year for me. Cheers guys- Peter

---
If there are any problems with this site, please contact webmaster@aswas.com.