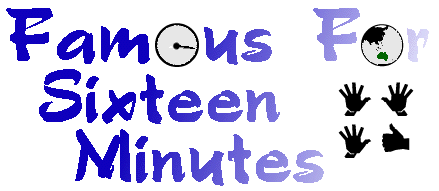 The Life and Times of Peter Green
Archive: 28 September - 12 October 1997
---
September 28th
Just a few of us at breakfast this weekend, Greg from Skyhooks turns up on his bike in "those" bike pants!!! Hope for some natural light in the afternoon so I can take a photo of the gold record that Paul is donating to our fundraiser for the domain etc. Details at- http://www.frenz.com/auction.html. We will probably have a few other items as well. Beck goes and see's RealLife at the Espy at St Kilda. The show is filmed for use on the internet at a later date. Couldn't be motivated.


---
September 29th
The Skyhooks site has been up for 4 months today- think Deb is adding another new song to the website. I'm sure nearly everyone overseas would be saying "what the fu*k is a Skyhook". Greg from the band is running for the APRA board in the songwriting area- hope he gets in-better then some of the old farts who have been on it in the past. Glenn Shorrock- cmon....what was the last bit of music he penned.?

Spend some time designing handbills for the LLT shows in Sydney. The website will be up really soon- Paul wants to be more involved so he'll probably email the site on a regular basis. May take the baby computer on the road so the band can put up their "road stories".


---
September 30th
The charts are in and Recurring Dream is a bullet performer (again) the band jumped from #50 nationally to #38. Week 64 on the charts. Go to LLT HQ for the evening band meeting- the guys are really excited about going to Sydney. Paul usually doesn't leave his Melways area so this is a rare thing- so see them while you can. The dates so far are: Oct 18th-North Sydney (Northpoint) with Blackeyed Susans, 21st-Gosford-Kincumber Hotel, 23rd-The Hopetoun with Dog Trumpet, 24th-Windsor Leagues-with Mental as Anything, 25th- Ultimo-Up Town Festival and the evening at Harbourside Brasserie with Cactus Child. Should be fun so come along and say Hi to Paul and co.


---
October 1st
Go and inspect the possible new premises, only a small chance that we will get them- the building is 111 years old and we love it. Fingers crossed. Get a review from The Listener- can't believe that the magazine stabbed Chris in the back after all those years. They let an idiot like David Cohen review the CH book- I didn't even know that Cohen could read yet let alone write a review. What a total loser.


---
October 2nd
Drive to the Pelican Cafe at Tooradin to get all the LLT posters off our printer Brian. He did a great job- has the Ep cover on the front. All the way down the EK has a convoy of bikies- a few tap on the window when they go past and say "cool car mannn". The Philip Island Grand Prix (bikes) is on this weekend. I decide not to go to the LLT gig as I'm up early for the flight to Sydney. Mardi's sister Claire takes over.


---
October 3rd
Spock picks me up at 8.00 and we head to the airport- he's going to play on stage again with BCO. Limo drops us off and we head to the Qantas Club- which is nice because our flight is delayed by 20 minutes. Hertz mess my hirecar booking, so they give us top of the range for bottom of the range price (we love that). We are staying with BCO at Hotel New Hampshire in the heart of the cross. It's a real rock star hotel....we get the room at the very top- Kurt Cobain stayed in the room...the staff tell me they found some needles when they were making the bed (gee how nice). Wander in the lobby and the signed photo of Tex Perkins makes me shake my head. Still the rooms are clean and the manager is a nice guy and has known BCO for years. Jump in the car and head to Redeye,Waterfront and Phantom Record Stores- all indies in the heart of the city and they are stocking the LLT cd. We give them a few signed copies too.

Next stop to Grants office to pick up Nicks red Fender bass. Grant arrives soon and we have a chat- the Crowdies have been asked to put a song on the Princess Diana charity album- GT plays me the new version of DONT DREAM ITS OVER, slightly acoustic- nice to hear something new (some familiar backing vocals). Not sure if it's confirmed yet but it sounds worthy of release. Head back to the Cross and Hayden thumbs a ride- gives me a copy of the Ccada Luge demos- his band. Sadly they are too good for Australia- don't think the market here will understand them. Love the "HOllywood" track. Run into William West the photographer- shows me his new apartment from my bedroom.

We visit Peter Farnan from BCO and dinner tonight has been changed from JuJu's (Japanese) to the cafe downstairs. All the BCo family are their (well most)...and it's great to see Jill and Sarah again. Have a little too much wine and too little food. Hitch a ride in the car with BCO to the gig. They go off- really great crowd. Keep them smiling by giving away 250 cds when they leave, part of our promotion for the upcoming BCO album "Gizmo Mantra". Get home at 3.30-band partys on even longer.


---
October 4th
Wake up early and the Cross looks deserted except for the odd stragler crawling home from a heavy night. (Is that you down there Tex?). The hire car purss like a pussycat and it's so easy to go over the speed limit get home to see Mum and Sis without a speeding ticket. Almost punch out the weirdo next door. He's been hassling my Mum- mums are sacred!


---
October 5th
Sis organises a BBQ- all the family etc are present and for a dysfunctional family we do ok. In true tradition their is way too much food. A really nice day and we pig out too much (oink oink).


---
October 6th
Up at 7.30 and head off to Sydney to catch the 10.00 flight. Miss the hirecar entrance so I have to circle the airport- don't you hate that. Call Spock on the mobile and meet him in the flight lounge. This must be my 500th flight- loads of turbulence when we take off- Spock looks ...scared! We arrive safely and Mark is at the office to greet us. Freddie from the Hooks has dropped in one of his costumes for our archieves. We'll use it tomorrow at Mushrooms Press Party.


---
October 7th
Mushrooms timing is really bad- their press party starts at 12.00 and Mark Goddard (DON) from Lost in Space the tv show is in Melbourne having a signing session at Blockbuster Music. Decide that work must come first (drat) and stick with Mushroom. They are afterall releasing our Spellbound cd in a few weeks. The Princess Di cd single has delayed many releases.Spellbound being one.

We set up the Hooks and Enz costumes in the top section of the Mercury Lounge. The Mushroom 25th media day is being held there. Deborah Conway (yes she was Paul Hesters old girlfriend) is onstage first singing a few new songs, next Michael Gudinski- head of Mushroom and a few artists talking to the media etc . The main topic of conversation is the governments lifting of restrictions on imports (CDs etc). Means the local artists will get ripped off again. All for the excuse of CDS will no longer be $31. I don't know anyone that pays $31 for CDS...stores like JBHIFI are as cheap as $24.

Noel from the Enz turns up at the Mushroom press conference. Sits in the back row of the group photo that makes it onto the front page of The Age next day.

The Seymour Bros play a few songs from marks recent solo album and they sound brilliant- the best they've ever sounded-could of listened to them all day. Nick is wearing that orange retro shirt still- time to wash it Nicholas.


---
October 8th
Quote of the week is from Gary Olman who plays Dr Smith in the new LIS movie. "Give my regards to oblivion" (didn't Frank N Furter also say that in Rocky Horror Picture Show?).?

SpyDi arrives ina few weeks....not many sleeps to go.


---
October 9th
Leanne from Perth arrives at 7.30 in the morning. Back on the old couch again. LLT band meeting today- the guys hand over their biographys which we'll use on the internet site. Their different characters are already emerging. The gig at the Redback was a good one, they now play Bowie's "SORROW" in the stage set. Paul wants to do coffee, we want sleep. We win. zzzzzzzzzzzzzzzzzzzzz


---
October 10th
The auction for the new place is on this weekend....feel stressed. Speak to Tim and he ok's it for me to release info about Marie being pregnant. Tim is VERY happy and excited.


---
October 11th
Mike Chunn gets in contact about his Phobic Trust show at Auckland Town hall on Friday 21st November. It will be called the NO FEAR CONCERT. A few well known Enzish names- Tim Finn, Eddie Rayner, Geoff and Mike Chunn plus a host of other kiwi performers are on the bill. The monies raised will go to the Phobic Trust- for their national education programme.

Mike Chunns recent book "Seven Voices" relates deeply to his 17 years with agoraphobia...it's an interesting read. If anyone is interested in a copy you can drop Mike a line (include an irc) at PO Box 74-321,Market rd, Auckland NZ.

Hope it goes well for all on the night.


---
October 12th
We head down to the Elephant and all I can think about is the damn auction that will happen at 1.00. I think i had something to eat? Auctions- I hate them. An hour later-I hate them even more. At one stage we had the place in our grasp but it wasn't enough. We ended up being the 2nd best bid of the day and at an auction #2 isn't good enough. It's now several hours later and we feel very weird.

Nick Seymour just phoned, and that was nice- he really wanted us to get it. My friends are great around this. Not sure what Bec meant with "I wanted it too bad"...if I didn't I wouldn't be bidding on it. When you find a place that you want you go for it BUT I'd seen too many people go into severe debt and we were not going destroy ourselves over it. So I think we are at Belmore a might longer which in itself isn't a bad thing- the ol' Woodface apartment is a spirited place and usually brings out the best in us- no wonder the Finns did well writing here. Time to go......enjoy what we have. PG

---
If there are any problems with this site, please contact webmaster@aswas.com.