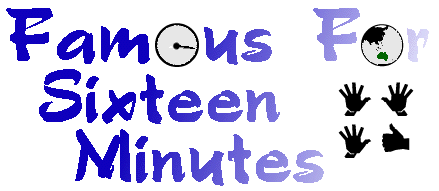 The Life and Times of Peter Green
Archive: 29 March - 12 April 1997
---
March 29th
Get an interesting call from Crowdies manager Grant. he's interested in me co-manageing Paul with him. For ages I've fought against the manager area, each week we get several bands calling the office wanting management. It's even harder when a friend (like Paul) is concerned as the old constant of work and friendship not mixing, is one that I've lived by.....as far as being the manager. Anyway Grant seems to think it's time to have me in the saddle , so apart from being flattered, it will be a fresh direction. Told him to check with Paul and make sure Paul was into it. I know i can do a good job....


---
March 30th
Spock emails me a JPEG attachment so i can view graphics etc for our various projects. Spooky...."Instinct" just came on JJJ as I'm typing this- they've been playing a lot of Crowded House lately. The single keeps jumping around like a yoyo on the Aussie charts- one week it moves up 40 spots, the next it drops back 50......the other problem is that EMi has only ran off 1000 of the Instinct digi paks so it will probably sell out soon, hope they press more stock. Work on artwork for the Video Newsletter #3 cover- decide to go with the early Crowdies Volcano design....in orange and black....should look ok. Spock thinks it will look good so that's good enough for me.


---
March 31st
Answer emails-most of the day. leanne tells me that a Perth radio station played Crowdies and said they expect the reunion tour to be announced soon! There's an interesting rumor.


---
April 1st
Pay car registration..what an ugly rego. sticker this year.....looks like dark mud or chocolate..urghh. Belmore gets a new frock- yes the painters have arrived and her stunning deco features are being painted. The back stairs are all being reconstructed..should look good. Zoom into travelex in the city and cash the Video newsletter foreign cash to pay for Videos etc. The best part is that travelex give me flight points...and for the month of April it's a 50% bonus...so in theory when I add these to my Amex and existing Qantas points I should have enough for a free business class ticket to L.A..


---
April 2nd
Well marks Qantas ticket is booked and ok'd. Frequent Flyer redemption is never as easy as you'd expect. Qantas only have 2 Business class frequent flyer seats and both are taken on the day I'm after. Rats! I HAVE to leave on that day so I get this great Qantas girl to speak to her superviser, who is passing on my request to the Qantas head honcho's. She's stressing that I'm a share holder and a Qantas life member....but the chances are small. She'll let me know in 48 hours. I don't think I've got much of a cance afterall they have to pull out a $5600 paying seat for moi! Oh well it doesn't hurt to try. My computer is still away so i haven't cleared my emails. It's Leannes birthday- she still doesn't have her answering machine on, so I can't sing "Happy Birthday" in the key of "C" to her...........


---
April 3rd
call Nick in London and miss him by an hour.....charts come in and Recurring Dream has moved up to #22 (was 26) so it might well be back in the top 20 soon. Instinct has dropped like a rock in some states, I think the stores are out of stock, I just know heaps of people will write in ,in a month or two and ask about getting them a copy. It always happens. Go have coffee at Globe with JJ, it's been ages since we've had Kylie Minogue wander in.....what is Kylie up to.. ..apart from yet another new boyfriend. I manage to park in a one hour parking spot for three hours- this is a rarity for Prahran- Kennetts henchmen are usually out scraping up $$$- so the gods are smiling on me today.

Come home and the Woodface apartment is half painted- we're getting there.Play "Disco 2000" VERY loud , all the kids are dancing around the apartment...what a song. Run into Anne Murray at the abc ,she's there for JJJ. her quote of the day is "Fads don't last"! She just laughed about the Pat Boone heavy metal CD. What is Pat up to, how fuckin' tragic-a media slut at his age. I still have a "donation" letter from pat Boone to Split Enz that he sent to the p.o. box 333 many many years ago.......so tragic I just had to keep it.

Glenn A Baker calls regarding my fax on the Other Enz cd....am writing a piece on it for the newsletter, he asks me to write the liner notes....that will be fun. We were all a bit worried about Glenn being the "Rock Brain of the Universe" winning a contest like that you could think he is a total wanker, but he's a pretty decent guy and he has a huge rock brain, it will be fun working with him again.


---
April 4th
So Boy George is waddling around the ABC studios at Elsternwick doing rehersal for the Recovery show, he's put on weight again, which is always a good thing for the Boy because it means he doesn't have a monkey on his back again. he must be totally off smack now- still has a very sharp wit.

Tonight the supermarket gave away free Pears, we grabbed a few bags full- they were really delic. You know the type, you take a bite and the juice just runs down your chin, I think they were from the organic produce area so we won't die from them. keep missing Nick, think I'll wait for him to get back and give me a call.


---
April 5th
Heard from an internet listie that the KTS double bootlegg is a piece of shit- basically a poor recording of the tv show plus other stuff not related to the show- hope none of the listies are silly enough to order this from KTS. I also heard that they close down in July,probably because they keep rehashing most shows under different names. So if you are thinking of ordering "Dont scream its over" from KTS save your money you are getting ripped off.


---
April 6th
A huge parcel arrives from one of the few people who worked at Capitol that I actually admire....ex president Hale. Hale was around in the Woodface days and made a hude effort with regards to Crowded House- he went out on a limb several times for the band. Jeremy Hammond is another person who is a huge fan, I love how he considered starting a Split Enz fanclub in his earlier years. I know heaps of American fans think Capitol are shit- and overall they are- look at the huge amount of publicity they've given "Recurring Dream" (NOT).....,but we should keep it in mind that yes there were some people who were supportive of the band...Hale was one. Anyway out of the blue this box arrives.....god I think Marjie has sent me ten years worth of her demos.....(sorry Marj....I know you have a great sense of humor)...but it ended up being a parcel from Hale- the contents- the Capitol Anniversary Book and the Capitol Records Cd Box set. It totally blew me out. Plus Hale has done something he never does....he signed the book. Anyway he's now part of the club and is probably wandering around L.A. wearing his Crowdies Belt Buckle. Nice Guy.

OK my prediction for the next worldwide fad will be ...."Tamagachzi". It's a virtual chicken...created in Japan...and the screen is located in small egg shaped case. You have to feed the chicken and keep it happy (in a virtual way) or else it dies on the screen. So get in early folks and make your fortunes, you read about it here first!


---
April 7th
Had a dream last night that the Crowdies (Nick, Paul,Neil and Mark) were walking across the Abby Rd "Beatles Crossing"...Paul was out of step and wearing knee high red and white soxs.......he kept pushing Neil.....Nick had a shiny black tear painted under his left eye...Mark Hart was very exact where he was walking. I wake up and the first thought is "tonight is Pauls first gig".

Get Video newsletter #3 artwork off to the printers...the Volcano looks great. The art guys arrives who's working on the cover of the upcoming Crowded House book, give him some tannis and some of Dennis Keeleys giant B/w photos.....hope he can find an image he likes.

Fran and Lara arrive at our door on their way to the gig....Lara's car is playing up and we have a look at it. (No Peter thats the boot not the engine-oh!). Think it's the generator....but they get on their way and will see us there. An hour later we are at the Esplanade Hotel and no sign of Fran or Lara. When we arrive I count 76 people....the front section has the tables with candles. Paul and the gang have done an incredible job with the stage set......it's even better then Hessies shed. By the time Paul comes out around 200 people are watching this debut. One quarter would be club members. mardi sits with us and we nudge each other each time Paul does a guitar "pout"....he looks great tonight, very sassy. The songs are good, and all are original, except Lou Reeds "I love Woman".....my favourite is "Crooked Fence" which is written from the eyes of Rosie, one of Pauls dogs. Great song. A classic moment is when Pauls secret Diary is read on stage, Pauls Dad sent it down....and a piece is read in between the sets...the spooky thing was one of his objectives at the age of 7 was to be a brilliant drummer in one of the worlds best pop bands. Spooky kids! Anyway the gig goes well,they get a real encore and I escape quickly as I know the parking attendants are out tonight and I don't want a $40 fine. Good gig.


---
April 8th
Sydney- well the cheque is handed over to the Sydney Childrens Hospital (Randwick) and it's for $400,000.00+ so everyone feels good about that. Paul god bless him sheds some tears again. Some of the kids in attendance call out "Hey Hessie we're still here " (meaning alive) and it just ripps his soul apart. Paul can be a dark, little bastard but times like this you realise what agood heart he has.....mad bastrad. No wonder we love him. Marj. plays her date tonight at Richmond, hope it went well for her. Recurring Dream moves up one more spot #21 (from #22).


---
April 9th
Speak to Sharon and Neil. neil is giving us one of his shirts or one of his tshirts for the club auction. We need some more computer memory etc etc so everyone is donating something cool. It's good to speak to him, will have to stay for a day or two after he finishes his album...they do make a good cuppa.

Recurring Dream moves up to #37 in the UK (was 41)....it just won't die. Wow Rebecca and Aaron from Sydney are getting engaged....had to happen, two mad music people together.....will the industry survive. The Screaming jets are now back in the country,they've been mixing their new album in New York, loved their last album.Should of been released in Europe,could of been a hit. Aaron tells me some Jets live dates are coming up in May. Notice INXS came into the Uk charts at #20 with their new single...and next week it dropped out of the top 50...the bells are tolling for INXS...it's nearly over.


---
April 10
Just finished telling Rebecca about the Sun being like a huge Hydrogen Bomb and recently man has been noticing the Suns little Hydrogen related hiccups....each one million tonnes of hydrogen turns into a solar wind and of course some head to Earth. A few years back Canada got a taste of what happens, computers get messed up, anything electrical....this time I hear that the superpowers are really worried that the satelites orbiting Terra will get messed up...goodbye communications. Time to save that string and empty cans people, you may need them to communicate. I know the recent Space Shuttle had engine problems (solar cells) but i wonder if the solar winds had anything to do with their speedy return....a crippled space shuttle, no atmosphere for protection...sounds dangerous if a current hits it! Bang!


---
April 11th
Hope the "Castle" movie by the Frontline team does well. I think it could be one of those Australian movies that people will still be talking about in many years time. So check out "The Castle",not sure when it's released overseas. The printer gets all the Video newsletter #3 covers back to us and we start the long process of assembling them all.


---
April 12th
Start mailing out all the Australian Video newsletters. get up early and drive down to the Prahran Post office the grey ghost full of Videos.....I could just see behind me...the postal people must love us...."here's another 6 bags"...

Travel agent calls, the very sexy Kayleen, and our Prague accomodation is booked and so are our nights in Peru. The long awaited holiday is just around the corner. Will finally have a photo of myself and our site hostess Deb in NYC together- emailing people is not quite the same as being their face to face. We are currently running a contest for this site- whoever is the 12,000th hit on the site will get a free lunch out of me. Yes I'll pay. The only thing is we may have to have a raincheck on it,depending where you live. So when we are touring next, or if you come to Melbourne I'll shout you lunch. So if you click on and you are #12,000 just run a printout and send it to myself at p.o. box 333 Prahran Vic. 3181 Australia (include your name/address) or send it to Deb. We hope this will happen "naturally", so this means that Rebecca Booth and coherts should not download 2000 times just to score lunch......(grin).

A new club newsletter will go out late April/early May. Take care-Peter

PS-Pauls gig at the Esplanade on Monday 14th April will be exactly three years since his last show in Atlanta. Could be a good one to go to.

PPS-Andy White- the man who put the "A" into ALT is playing a handful of shows in Australia to showcase his TEENAGE album. may 22nd- Continental-Melbourne, May 29th- the Bridge Hotel-Sydney, May 31st- ZOO-Brisbane, June 11th-Continental melbourne. TBA-Canberra.

---
If there are any problems with this site, please contact webmaster@aswas.com.