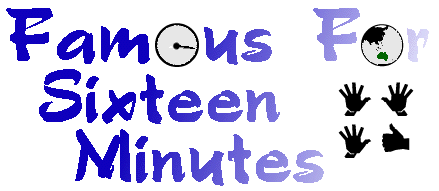 The Life and Times of Peter Green
Archive: 3 August - 16 August 1997
---
August 3rd
Can't believe it's August already, Xmas is just around the corner. Seems like this year has zoomed by. Tomorrow is the Dentist appointment....it's one of those things, totally horrified about going, once I'm there it's all fine and I wonder what the fuss is all about- well that's what I hope will happen. Coffee and OJ only at the Elephant.


---
August 4th
The dentist went really well, nice and quick, didn't need any fillings, but I had my one and only replaced. The dental chair seemed to go back too far, felt like I was going to flip out of it. Considering getting a cap on my one filling, notice that Neils tooth cover looks really good, he used to have a gap in the Enz days (Fang!)...and his smile looks good these days.....seems to be a dental week, I think Grant is having root canal work....just found out that crowns are $1200 here. (Yieks). Call the Espy and tell them that we should give club members a 50% discount to get in to Pauls last Espy show.


---
August 5th
Well Recurring Dream is still in the top 50- week 56. It dropped a few places to #46 (from 44). The Lost in Space Movie is looking great- more like an Aliens movie. The USA release will be April' 98 and Aust. May '98. We'll know more soon.

One of Fred ,from Skyhooks costumes might be up for sale on the 'Hooks website (located at http://www.aswas.com/skyhooks/) notice that Savage Garden didn't bump Skyhooks off their record run at #1 with Living in the 70s album. That was 23 years ago, hope they hold the record for 25 years. Deb is working on the Skyhook site this week, finishing it off- she'll be putting up some of those great "costume" shots. It was Bongo and Red from Skyhooks that convinved Mushroom to sign Split Enz all those years ago. Fax Mike Chunn- need some more Enz books for the club.


---
August 6th
Pack my bags for NZ- take an extra suitcase which is packed full of NZ Newsletters etc. Should be a fun 3 days. Can't really afford it but it's good to show some support for Chris and his CH book.


---
August 7th
Up nice and early and drop Mark off at Prahran. Drive the Phoenix to the car place and the limo (with a new driver) takes me to the airport. Check my overweight bags in and head to the flight lounge. It's packed in here today & I'm glad I'm a member as the flight is delayed by 40 minutes. I'm going to cut this so fine- hope I can walk straight thru NZ customs as I have to get a cab to the Hotel and then straight to the launch.

The flight over was pretty weird, about 50 fourty year old Elvis fans were on board making the anniversary trek to Gracelands. They all had on their Elvis tshirts...but hell they were happy and excited. I expected them to burst into "love me tender" at any moment. They were ALL big girls!

Customs were cool, except they have this x-ray machine that checks your bags when you enter the country,mainly for food stuffs..... The taxi drivers meter blows up and 999 keeps appearing....it blinks and the numbers keep getting faster....I felt the devil riding on our fender! Arrive back at the Centra- good hotel and nice and central. Have a quick shower and the driver takes me to The Irish Club. The launch is in the Irish Society Function Room. Walk in and the first person I see is Sharon Finn (cute jumper) and Raewyn Turner-Rayner. It's a family affair- Neil, Mike Chunn,Robert Gillies,Eddie Rayner,Grant flew in at the last minute, Tchad from the studio, Miss Amanda who looks purrrrfect tonight, Ricky Morris,Emelyn Crowther.... Chris gives a great speech, we hang around for awhile and then head to the Velvet Lounge. Great place, nice loo! Familiar mosaic work. A bit slushed, get back to the Centra at 3.00.


---
August 8th
Didn't sleep too well, miss my bed. Mike Chunn drops my Enz books in while I'm out posting the Newsletters . The Springboks (Rugby league) are staying at the Centra,they are playing the All-Blacks tomorrow. The media is hounding them and every news crew in NZ seems to be in the lobby. They are big boys these Sth Africans....they squash into the elevator and their muscle tone sets off the overload button. One of the younger ones has a drink and tells me what a huge Neil Finn fan he is and asks if Neils staying at the Hotel (all starry eyed).

Stick with tradition and head to Real Groovy Records-hunting bargains. It's still my fave NZ Record Shop. Always find something there. Taxi to Eddies place for a meeting and to get stuff signed. They have a great balcony, so we sit in the sun and talk. Raewyns art is everywhere- some nice work. Get back to the hotel to find a message from Sharon. So back in the taxi with some good Nuu Zeeland Wine...for dinner at the Finns.

Some things I don't put up on the Diary site, it's nice to have some normal life and it's good for the Finns to have their life. Hate for everyone to think I'm there reporting on their every move. Good food, good wine and a classic Simpsons episode. Great to see the kids again, well Liam is almost an adult- he's cool and Elroy is his own person...what a character. My treat of the night is to go into the studio and hear some new songs. It's a hard call, when 6 or 7 songs in a row all blow your mind, do you gush, do you dribble and drool, do you chill out and groove. It all feels good and the sounds are great. Sadly it's like walking into a chocolate factory and smelling a new confectionery and then being told it's not on the market for 6 months.

I'm not even going to second guess how all the CH/ Neil fans will react, I can only go by my own tastes and I'm really excited. It feels like a new musical era of Finn related work is coming up......I hope it does well. I notice on the wall several titles, one "Santa's on the cross" and it's probably not going to make it. Like all sessions, some tunes work, some don't..........I wonder what this one sounds like.... I leave the Finns head full of wine and music, a feeling that they've built a great home in Auckland and that things are good in the world! Ah Bliss.


---
August 9th
Well another night of zilch sleep, Chris Bourke 's phone call wakes me. He drops by and we head to Ponsonby for lunch. We talk about the book, the internet people and how it's sometimes better not to read the various postings because every word is put under a microscope. Naturally you can never write the perfect book as fans always want something different. How do you tell someone that it's not right to push Neil on what certain songs are about when the man himself has preferred people to make of them what THEY will. I think at the end of the day Chris should be the deciding factor...if he was happy how it turns out-that's all that matters. We collect all the photos that wern't used and I will return them to the various people. Some great shots. Hear the tape of Neil singing the Beatles "Blackbird" and "Cry baby Cry"..."Blackbird" is very cool...great vocal from the 17 year old Neil Finn. Chris drops me off at the Hotel- the All-Blacks V's Sth Africa is just underway so for the first time in days the Hotel lobby is empty. After a tough first half the All-Blacks are winners. A sad Springboks walk the halls of the hotel that night.

Finish reading "The Forge of God" by Greg Bear.....he's a great writer, and may give Arthur C. Clarke a run for his money. The description of the end of the world is rather spine chilling....I check outside just to make sure we're all still here. Arghhh it's all black...oh the drapes are closed.


---
August 10th
What the hell...still can't sleep so I read, call room service and watch movies all night. Out of the hotel by 5.00 (2.00 Aussie time) and the airport shuttles rumbles thru the darkness....with a sole passenger (me) on board.....have a coffee at the Qantas Club and we fly out after 6.00. have a light sleep and touch down in Melbourne around 8.30. The Limo is waiting and takes me to the EK...drive direct to the Camberwell Record Fair where Mark and Tania have been setting up the club stall. We have to raise some money today to help pay for the postage on the free StageTalk cds. I am the last person thru the load-in doors, they lock them and I head to the club stall. Sit down and the main doors open and a gaggle of club members descend upon the table. It's a fun, long day, meet many new clubbers and put faces to the Diary Site readers. By 5.00 we feel and look like shit I'm sure....beyond being tired. What a long day.


---
August 11th
The Diary site is well over the 15,000 hits mark. Amazing. Looks like WHO magazine will be running a piece on the Skyhooks site. Send them a great photo.

Spend a big part of the day answering emails and I'm suprised at how much mail is for our other band The Screaming Jets. They have a new album out "World Gone Crazy"....contains a great cover of "Eve of Destruction". Charts tomorrow, I hope it debuts well.

Notice that the Age newspaper's Internet section has had an article on some music websites and NONE of them are Australian bands. So much for The Age's support of Australian product. If anyone has a spare moment send an email to the guy who writes the column and tell him to run a feature on Australian Bands Websites. His address jed@theage.com.au. Hope everyone can drop him a line. Australian bands should be supported, especially at the moment where the lack of Australian bands getting airplay is becoming the norm. in this country.


---
August 12th
Chart day. Deadstar are still not showing up on the National chart, but Mushroom informs me that in Melbourne the "Milk" album dropped from #91- #117. Nick's departure might of been a good thing for him. The reviews from the Tea Party Tour have been pretty awful, while shows like The Punters Club have been pretty good. It's tough times. The Screaming Jets album "World Gone Crazy" is doing well, top 10 in NSW first week and debuting at #18 in the top 200. That's healthy. Plus all the publicity for the new CH book "Something so Strong" has helped the CH album. Recurring Dream is a bullet performer this week (#37 from #46) week 57. Amazing, it just won't go away.


---
August 13th
Looks like some of the original Lost in Space people will make cameos. June Lockhart (Mrs Robinson) will play Will Robinsons school principle in the re-make Angela cartright and the very sexy Marta Kristen will have small roles as reporters and Mark Goddard (Don West) will play a General at Alpha Control. We hear that the original Dr Smith was offered a piddly $3500 for his cameo....so he said no.

Mail Mal Green Dizrythmia covers to sign. Some possible talk of the Enz albums being re-mastered by Eddie.......


---
August 14th
Send Mushroom 3 Enz trannis for the SplitEnz swap cards. Alison is back home from her month away in Europe. Nice that she caught up with Karen from Holland. We finally get a postcard from her!!!!!! (Alison not karen).


---
August 15th
Try to call Tim back but his phone is always engaged....Paul Hester was meant to drop in but just didn't turn up. Decide to have brekky at the Elephant while the CH renewal photos are being printed. We walk in and low and behond Miss Candy is at her usual table. Silver sequins today and a new "fluffy" bonnet of Hair. The Elephant's phone rings while Alex is in the kitchen and Candy jumps for it ......she trys on her "receptionist" voice...but lets face it, a 7ft drag queen with shoulders that the All-Blacks would die for faulters in the soft female voice dept. She's very funny, loves the limelight and seems to be sober. I think we may back her to run against Pauline Hanson.....in the election. I think a 7ft Drag Queen with a heart of gold would be an improvement on an ignorant racist who's 16 minutes are definitively well over.


---
August 16th
Woke up feeling very distant, realised that it has been 11 years since my Dad died. When it's the same day as Elvis it makes it a bit hard to forget. Speak to Mum and told her how incredible she has been raising my sister- the dual role as both parents would be a hard task. So even though it's a day of sadness it's kind of a day of happiness as we've got a pretty cool Mum. Will see my fantastic Sister in a few days when she calls into Melbourne.

Memphis is expecting 75,000 people to turn up. No doubt they'll all scrawl their names on Elvis's front fence. Wonder if my name is still there, I cut a deal with a friend of mine- she wanted to go to Gracelands and I wanted to go to Sth America, this was a decade ago. I think I bought a bottle of Elvis's sweat!

Watch "V" music channel. Some great songs/clips around at the moment. I think I mentioned Jebediah "Jerks of attention" single awhile back.....one of my fave songs, well their new single "Leaving Home" is doing really well and looks like making the Aussie top 10. Also Third Eye Blind with "Semi-charmed Life" is pretty good...and of course The Wallflowers with their album. The Wallflowers bumped the hideous Hanson off the #1 spot. Hanson suck. I had this weird dream that the 3 Hanson kids were bugs and I was slowly breaking their wings off..... ....if dreams were more then wishes......!

Spy Di is off to her 50's Party tonight. She's sure to have that Bond Girl (50s Era) look down pat......never trust a femme fatale with espionage on her mind.

Nice to have Miss July back on the www..........sorry readers all the July issues have now sold out. But ask Nicole,she may have some signed copies of herself...left.

It's one for the money ,two for the show, you've read the Diary site so go go go. Come back real soon y'all hear. PG

---
If there are any problems with this site, please contact webmaster@aswas.com.