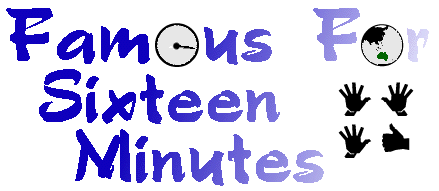 The Life and Times of Peter Green
Archive: 3 March - 16 March 1997
---
March 3rd
We decide to do the Paul interview around the 12th or 13th of March. paul's into it-we'll run it in the Video newsletter and a printed version in the next club issue. It's been awhile since I've interviewed Paul but he's easy, the neil interviews make me nervous. have a chat to Spock, he's trying to get ideas for the new BCO single cover.....a bit of the old style bco may appear....


---
March 4th
Charts are in and we've dropped another notch- from 11 to #12...and "Instinct" has creeped up the Australian charts- from #103 to #90. It's a start. Give Neil a call, found his VOX cover for his amp. We all thought it went missing on a previous world tour-but there it was ,squashed between two stage backdrops.Will send it over with Noel. Neil sounds very relaxed these days,decided not to ask him about the solo stuff, he's about to get into it and most of the material will probably be done at his home studio. Just got a fax in from the Uk, the "Best Of" has moved back up #31 in the UK. Wonder if the band were asked to reform for EMI UK's anniversary bash-heaps of other BIG names...now there's a rumour.


---
March5th
Mums Birthday-remember to send her flowers. Mums are important. i nearly fucked up one year- was away in some really really remote area of Australia and by pure luck I called home. Mum gushed "You remembered my Birthday". Of course I lied and said "yes of course" and felt about 2 inches tall and looked for a rock to crawl under. Wonder if those Finn boys ever forget Mary's Birthday? Birthdays etc were never a Big things around the Crowdies- a few on the road moments and celebrations but it was never a ritual. Thats why Nicks Christmas Carol message took me by suprise.

Spoke to Phil Judd today- a company phoned up looking for him-the woman seemed very vague-I told her Phil would call her. I phoned him at his coastal home.....his first words were "You're still alive, I thought you'd be dead by now" (gee thanks Phil...I thought you would of drowned from too much fishing).....he sounded happy to hear from me and we are getting together with Spock for some pub crawling in a few weeks. Mushroom have approached him for some art for the Enz best of album........it's hard to tell if it will be used as it's a painting-but not of the Enz. he's still working on the Cop Show Soundtrack "Good Guys,bad Guys".


---
March 6th
We share Brekky with johnny at the Blue Elephant- it's very quiet for a Thursday. Apparently Miss Candy did her tribute to Shirley Bassey-across the road at "Virgin Marys". Opps it's called "V.M.'s" now after the catholic church went all legal about the name-which is pretty petty considering that the Church should really be cleaning up it's own act- kick out all those alter-boy molesting Priests!


---
MARCH7TH
TODAY IS A GREAT DAY-Sarah Frost from the States sent me the most incredible present. The ultimate Prince Planet present(trying saying that three times). Can't go into details as I'd hate to get her fired but I am totally freaked out, blown away and over the moon. (Move over bartman). Thanks Sarah,it's as good as getting a Warhol!


---
March 8th
Well today is Enzso at Womad and the Foxtel Tv tells me it's going to be a bit wet at times. It's the first Enzso show I've missed, basically there isn't a lot of work at this show as the Womad people have it all covered. Neil asked if I was coming over, but to be honest I am all NZ'd out. I love the place but 20 times in 12 months is enough! I'm even picking up a accent (grin).Wonder if Paul Ellis's Party (SONY) will happen...... Ex Neighbour and Coke-Nose Jason Donovan is the host for the very late "night nude surfing" on the Comedy Channel. It's real-=many Aussi surfers go out at Bondi beach etc and surf nude under the moon.....like wow-nude wipeout!


---
March 9th
Really like Sugarmoths "watch me drown"-cool song. Just heard Mr Blonde on the radio-on an am station...probably where they belong (snore).Jebediah's "jerks of attention" is a hit on JJ-notice it's on Murmur -SilverChairs label.It was recorded at Birdland Studio above Dan Murphys Wine cellar on Chapel Street.have to check them out live.


---
March 10th
John (downstairs) finally removes all the dandelions from the front lawn...they always grow back We spend the afternoon deciding on the new colour scheme for Belmore...it will still be Deco colours...should look good.

Just found out that on Dec.9th the lead singer from The Waitresses (they had "I know what boys like")died of Lung cancer from too much cig. smoke. Like Shampoos version of "I know what boys like" buy they'll no doubt get criticised because it's too poppy and too much like the original. The Japanese will love it, some- times I really appreciate the Japanese's sense of Pop. guess thats why The Cardigans are #2 on the Japanese charts. Ntoice that "Love Fool" is becoming a huge hit here- remember you read about them here first! Spend most of today sending out another pile of the NTSC Crowdies videos....still many to go,it's one of those BIg jobs,glad everyone is patient.


---
March 11th
After watching "EuroTrash" on cable it's becoming obvious that Nick Seymour has a Jean Paul Gautier obsession.......same hair,shirt,pout and hip swivel. What a very silly show-Bunny races, brothel specialist,supermodel wheel,and stupid European songs.........naturally we love it. Pissed off we missed the Pierre et Gilles episode.


---
March 12th
Well this year is Mushroom Records 25th Anniversary. Its really easy for people to criticise record companys, but Mushroom have given many artists their big break. With reference to the Enz it was Mushroom that signed them and stuck by them (most of the time). I know the Enz sales have rewarded Mushroom handsomely but if Michael Gudinski hadn't listened to two of the members of Skyhooks, they wouldn't of gotten signed and they possibly could of went back to NZ and done zilch. So this year is Mushrooms 25th- I've spent 18 years of the 25 working with bands connected with them,from James Freud, to the Xmen, to the Enz and Skyhooks.So I'd love to do some work on their celebrations...will have to speak to Sarah or Paul as they know my worth (grin). Hope someone is writing a book on the company as it would be interesting. The new Enz "Best Of.." will be part of the celebrations which will run for at least 12 months (I assume). When we know more we'll mention it.

Well today Recurring Dream dropped TWO spots on the Australian charts.....and is sitting at six platinum . Mum calls and Sam the family cockatoo has arrived home after being missing in action for 8 years.(Actually a mad aunt was looking after him). Good to see Ian Jones on the Mardi gra special-it takes a lot of balls to be a footy star and come out..imagine the crap he must get from the opposite teams supporters.?


---
March 13th
Speak to Paul from Mushroom and he tells me about the Lost in Space movie...this thru me for a six as it meant he was reading this diary site!gee glad I didn't slag off Mushroom Records (grin). Today we do the Paul hester interview for the Video newsletter. Paul has this crazy shed that he has built in the back yard, it's really neat and VERY Australian.It's his escape and all blokes should have one.......(huge smile).mark will be filming today and we spend some time setting up lights and our wonderful tripod...gone are the days of handheld filming-we've moved up in the world. Paul and Mardi show us the new house-yes the hesters are moving....it has a bigger yard for Sunday to run wild. Rosie and Stan are lying in the sun and a new white cat is on the swin......sorry we don't know the cats name. We end up with a thirty minute interview- Paul plays some his songs in the background and we talk about the Crowdies, the Night in Pauls Shed project, the crazy fans-he talked about people with poles and soggy tongues...no that's a lie,just wanted to bait you ......overall a fine interview and some fu stories that only Paul can deliver.A big part of it will be in Video newsletter #3, the rest as a printed interview in the Newsletter (late April). He'll be playing at the Espy every Monday night (upstairs) with some mates,under the banner of the "Largest Living Things".

Di Spy emails me that "Friends" star-Matt le Blanc will be cast as Don in the Lost in Space Movie. We know of several people who had a "thing" for the original Don in L.I.S....so will matt meet the requirements?(Should we do a poll?).


---
March 14th
The Blue Elephant is the perfect setting for an early Morning meeting,this weeks is with BCO members about our involvement with their future. Spock (ex BCO) has the new artwork ready and it's pretty damn good-Spocko comes up trumps again.

We have two new songs to play and Maz pulls out the worlds largest headphones.. they scream out "hey look at us-we're in a band listening to demos" type of headphones. Forget working out at the gym-lifting these mothers is a workout on it's own. Well the songs are very good, a return to the form of old. Mark gave them the thumbs up and thats always a good sign.Gone are the powerdrills and extremes,the catchy chorus, Richard Pleasance-ish guitar and anthem rock is in their place. It feels good,guess we'll work with em' till the end. The single will be out mid-April and if you want to know more check out the Boom Crash Opera website or BMG Australia will have it's own site up and running soon.

Go to Mushroom to pick up a few Enz books (thanks Paul) and as I run to the toilet i get sidetracked by Sarah and i mumble some offers of help etc etc. Dean who was our main EMI contact is at Mushroom now and he looks VERY happy which is good to see. next we pick up a Reel to reel from Revolver on Chapel Street as we have to transfer over all this old 70s and 80s material. ..and who do we see lurking in the Revolver Corridor getting his guitar fixed...why its Jean Paul Gautier-Seymour. It's good to see him and he's not wearing blue toenail polish anymore. I question him about giving his dentist flowers on Valentines Day-busted Seymour, sadly she's only a long term friend....and you wanted dirt-none to be found. Nick is very good,he said he might be in LA when my may the 11th birthday is on and hopes to get to El Coyote.....we have a habit of just missing each other on foreighn soil-so we'll see on that one. BUT it would be good. I told him he has to bring an animal to the restaurant as we all have to. Elizabeth is bringing Mortimer (the illegal alien-ferret), Erika is bringing her Bunny with a broken ear and Mark is renting a Deer..how he is going to smuggle it into the restaurant is another question.

Anyway back to Nick- after the Deadstar dates Nick is off to ireland, there is a chance of some Deadstar Uk dates but these haven't been locked in yet. he said that he really likes how the band are playing now and that the first few months they did some terrible gigs. We talked about THAT Mojo article and some of the full on quotes were cut out.I thought they were pretty "honest" .Anyway Deadstar are doing an album launch next week and Nicks going to take us along to that. MILK will be in the Australian stores on April 14th. It's taken forever for it to come out-we had our copies September last year. So we all stand on the sidewalk and blow kisses and do our "we're noth worthy" hails as Nick putts off on his motor scooter.


---
March 15th
Becky calls and is really excited that Marilyn is back in the news. This is Boy geogoes "friend" Marilyn- not Monroe or Manson. marilyn was spotted last week at UK band "NO DOUBT"party. he was supposively sleeping with BUSH's Gavin Rossdale who is now romantically linked to No Doubts Gwen Stafani......yes this sex stuff can be confusing. The last time I spotted an old girlfriend she was on Family feud with her boyfriend and he was pretty tragic so I felt REALLY good. Let's be honest a secret side of us all grins from within, when an ex-has a hideous partner.......snigger. She looked the same but had some weird accent. The last time we were together we were exploring Egypt.


---
March 16th
Well our toilet is blocked which is not very glamerous.....I can never remember reading about other peoples toilets on the internet........yes we are all mere mortals here at belmore. My neighbour tried telling me that recycled paper causes this- so you have a choice of supporting the enviroment and paying for a blocked loo or getting some non recycled paper and killing the fish! OK I'll go for the recycled stuff still-occasionally you have to pay a bit to have a better enviroment and if it means a plumber every 5 years thats ok with me. The deco drains at Belmore are really neat, each toilet pipe has strange metal "teeth" in it that chew up the loo paper and other nice things.........

Well that's all for now....thanks for taking the time to read this and thanks Deb for passing on all those emails . Love Peter

---
If there are any problems with this site, please contact webmaster@aswas.com.