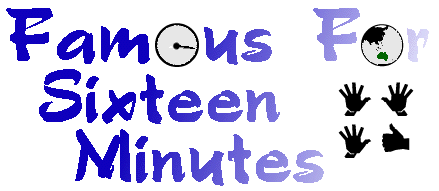 The Life and Times of Peter Green
Archive: 7 June - 21 June 1997
---
June 7th
Today we received a letter from our lucky 12000th reader. The persons name is KIRI and they live in Auckland.......so Congratulations- lunch will be on me probably in August.Should be fun. It's great to be home, travel is always fun, but after a month I want my own bed, our mad cat and all those bags of lovely mail. Heard that our friend Lisa Loeb will have her new album FIRECRACKER released in September. She takes as long as Crowded House did to release a new record.


---
June 8th
So here are our favourite things since we returned.

Fave Book- "Michael Jackson...was my lover" (The secret diary of Jordie Chandler). This one is a mindf*ck,it's all in there,but we stress this IS a pretty full on book. Not only Jordie but kids like Macaulay Culkin and Emmanuel Lewis (from the sitcom "Webster") are dragged into MJs twisted world.

Fave Album- HOLE-"Live through this" and "Naked"s self titled release on red-ant.

Fave Quote-from Kaz Cookes "little book of stress". Passionate personal relationships are vivid & exciting,& shouting & insulting each other all day exercises the uvula muscle no end.

Fave Soap-"Blue Sky" Pure glycerin soap from Terranova.

Fave Nail Polish-#174 Blue-Black/silver by Barry M (what DOES the "M" stand for Barry?)

Fave Person who isn't answering your calls- Nick Seymour...lost in LA or did the dwarf kidnapp him?

Fave Stockmarket Tip- Petsec...the secrets out.

Last female to kiss me- Alison Church (on the cheek).

Last male to Kiss me- Andy White -farewell (on the cheek).

Last animal to kiss me- Shaggy the Llama-steps of Cusco Square.

Creep of the Month-mostly a month of minor creeps......no made the grade this month. Then again our pick up at the Peru airport was the one holding up the Mr Creep sign...so I nominate myself to be Creep of the Month...(I'd like to thank the academy).

Fave Movie- Batman & Robin......Alicia is very cool and Mr Freeze is ice cold!


---
June 9th
Had a good idea for the "Famous for 16 Minutes" book which will be out in time for Xmas...maybe sooner. Decided it would be fun to have a collage of small passport photos of YOU the reader. So we want everyone to send in a passport size head shot and write your name and town on the front and we'll have you printed in the book...fame for everyone. Rosemaree is working on the type-os' and rough grammar. Will add some extra tour bits and pieces and more photos.Should be fun.


---
June 10th
So Jerry Hall is pregnant again....will Mick behave?How does she put up with it? His kids are really cute, when we looked after the Stones on some of their Aussie tour the kids were all running around in the band room (tent)-they were really "normal".

Yuk, we are still taking our malaria tablets, at least its only once a week. I doubt that we picked anything up, but I suppose we should complete the batch, dont want to be the cause of an epidemic.

Sounds like we still haven't any cover art for the upcoming ENZ album. I dig around in the vaults and find a very rare Enz cover. Its the Chrysalis album with the Fortune teller and weird Tim-like kid on the front.Like the image so i'll throw it in the ring and see if any of the band or Grant like it.

Pick up Crowdies cd stock from EMI- great to see Linda, Mish and Paddy. We try to figure out a way to keep the Crowdies album in the charts for 4 more weeks, we decide it's in the hands of the public.


---
June 11th
Spend most of the day calling favours for Andy White. Tonight is his last gig in Melbourne. Call up everybody that we know, Fran gets RRR to give us a plug, head down Dandenong Rd and put up the last of the Andy W. Teenage posters. Johnny, becky, mark and myself decide to have dinner at the Elephant, they make a killer Chicken Parmigana. We go in and Fran and friend are there so we grab the table next to them. Fran,lara,Sonia and company are going to mind us a spot at a table near the stage. A few hours later and we are at the Continental and everyones hard work has paid off- it's really packed. Lots of familiar faces. Jane drags me backstage to see Andy...he's excited that so many people have turned up- he's almost ready to go on so we head off and grab a few bottles of wine for the table. It's a great night, the crowd love him, and its one of the few times that Melbourne demands an encore. Mark thought he was really exceptional. We'll see Andy tomorrow for coffee.


---
June 12th
Andy calls in the afternoon so i pick him up from the studio and we head to the Elephant for coffee....we hope to see Miss candy so he can write a song about her- but Candy Darling is absent. The damn beautiful Alex is on,one of the new "art pieces" is a sand mould of Alex's upper bod. complete with her piercings. She smiles at Andys accent when he orders......we all love that Irish voice. So Andy is toying with the idea of moving to Melbourne for 6 months to work the album and his career, plus he loves the place (Dont we all). It's a great day for gossip....talk of a possible ALT Japan tour much later on ...not confirmed, Tims beautiful Sydney apartment...how much fun the gigs were. So if you want to know more about Andy- you can go to his website via FrenzCom. Well tonight is Tims last time in the studio. he's finished around 10 tracks which we'll shop around for a deal.Dying to hear the new stuff.


---
June 13th
It's Mushrooms 25th anniversary celebrations soon. A lot of the Mushroom family of artists will be putting out re-issues etc. It looks like some of the many Mushroom hit singles will be reissued as cd singles. One looks like being "I Got You". At the time in Australia it was the biggest single ever, but never had a picture cover...so I've opened the vault again...and found some overseas artwork...hopefully they'll use it. Paul from Mushroom has a really good vibe and it's good to have someone at a record company that is easy to get on with. I just feel that the various projects that we are working on will be happening things. Also my first band that I worked with-Skyhooks-who are the band that Mushroom were built from (and the Hooks guys got the Enz signed to Mush.)well they will have material out as well. Dig up some other artwork. It's such familiar territory- the Enz and Hooks ,but thankgod for the archives. hear neena Cherrys version of "Addicted to Love" on radio..always thought the song sucked- but this is a killer version- its from the Meg Ryan movie.


---
June 14th
Call up BMG- two other of our artists- Boom Crash Opera and The Screaming Jets have singles out this week. Haven't heard the Jets one yet,bummer that BMG pulled the snap of the various Jets members as Elvis (all stages)-hope we can use it on the jets website- sounds very funny. The BCo single is "Dreaming up a fire"...sounds like BCO of old. They'll be touring in September. None of us could figure why Richard Wilkins was wearing the eye patch for the 30 minute Batman and Robin doco. Hopefully its not his new look.


---
June 15th
The gang hit the Blue Elephant for the Sunday morning ritual-we all look very bleary eyed today.....that "had too much champas" look. I love the Sunday ritual...get's us ready for the upcoming week. Johnny is getting his album underway,go through dats and stuff....and in true magpie fashion he hasn't labelled them. It's really exciting that it's all getting underway. Hayden from Grants office is in the studio soon-interested in hearing his stuff... but he keeps avoiding sending us a tape...don't you Hayden? We think he's a bit scared that the Diary Site could judge him too severly......(grin). His life long ambition is to be a star on the famous for 16 walkway. Priscilla Queen of the Desert is on tv tonight and rompts it in, in the ratings Terence,Hugo and Guy are real nineties men...go get em boys! Interesting to see that this small budget Aussie flick could wipe Jurassic Parks arse in the years ratings.


---
June 16th
We work out who the creep of the month is. Come collect your crown super moron (opps Model) Naomi Campbell. Yes the old moll who was happy to support the anti fur campaighn when it emant media coverage....and as soon as that stopped she jumped on the catwalk...with a selection of cats(leopards) drapped over her not so youthfull frame. BUT the good news is that karma has happened and Naomi had to have her stomach pumped in Spain today. Anyone that supports fur traders is ignorant. Hope Mortimer the Ferret gets up her orifice.

Work very late (like 4.00) and have almost cautght up on the mail. Eudora dies on our email system so no email for a few days. Play HOLE cd nice and loud..some great tracks- "Asking for it" is really great.

Brian baker called today (Ex makers) and his band "Big head Little Body" have a 3 track single out "Happiness". Love the record label....it's "Spanking Bottom" Records. if you want to purchase a signed copy write to Brian at p.o. Briagolong,Victoria 3860 Australia. Include an IRC and a letter.


---
June 17th
Well Recurring Dream dropped to #46 this week on the national top 50. Its been in the Australian top 50 for 49 weeks. If any of you can encourage friends to buy a copy- now is a good time. We are trying to keep it in the top 50 for the full year.

Spy Dys email arrives and the bad news is that the original Dr Smith wont be making a cameo in the upcoming Lost in Space Movie. I met Jonathan when he was in melbourne last-he's a funny bugger. has an eye for the girls.....and can turn vicious if pushed....but he has a charming side too....hmm maybe he IS Dr Smith....he didn't call me a Bumbling Boobie...which was a letdown.

OK Crowded House flashback snippet. Mal Green (ex Enz drummer) called and ,I didn't know this- but Mal did the sound at the Crowdies first Sydney Record Launch. he also played drums with Nick and Neil when Paul was late at s/check. The venue was called the Goulburn Street Connection and is now an erotic book shop.

Call Phil Judd and per usual he's not home.


---
June 18th
Still avoiding doing my washing from the trip.....will do it on the weekend, I know gross.

Spock drops in for our meeting at the Elephant,we have a great cover design of Neil, for the next newsletter...hopefully we can reproduce it. Rosemaree drops in with her little computer (Candy...named after...) and I introduce her to Bob....my baby computer...that use to belong to Chris Bourke. Chris tells me that Paul E. will jump naked out of a cake at the book launch.......and Sharon will be icing the cake....oh you wacky kiwis!

Rosemaree has made a good start on the Diary Corrections...yes without my typeos it just wont be the same (grin). Maz from BCO calls, his girlfriend is back...he sounds happy. Sounds like he wants to get back on the road soon. Nigel Griggs (Enz) calls and he's been busy growing potatoes......we are going to visit him soon. Suggest that Issabelle from France takes up the job as his maid......it's all that mountain air that he's been gulping up.


---
June 19th
Happy Birthday Alison.......I'm scared that she will blow out the candles on her birthday cake and make a wish and we'll be stuck in the seventies permanent -ly. Scary thought.

Phone Paul Hester,miss him. he calls back-misses me. Call him-no one home, I think I'll try again in a few days. The album must be finished .....the great news is that paul and the Largest Living Things will be back at the Espy again on Sunday nights....starting from June 22nd. Doors open at 8.30.

Tim has completed 8 of the 10 new songs, the final 2 are being completed very soon...we have lift off.


---
June 20th
What a day- we keep getting calls from people wanting photos and bits for various books, swap cards, cd roms etc. yes later on this year Crowded House have reached the peak of their fame by appearing on a bubble gum swap card, more info in the August newsletter.

Have a meeting at the Elephant with Johnny, not sure if the band will be called Planet Ray...but whatever- August will be the month for the showcase. Some of you have herad some of his material...he's a good friend, a talented musician and well worth checking out- we'll let you know when the showcase will be, it will be nice to be able to say that you were at the first gig. (melb only). Track down Nicks LA number,may have alead on his stolen Bass. Miss him by 2 minutes.

We pile into Rosemarees car and head to Alisons birthday party. Its at a food place...in the outer suburbs. Was it the blue metallic nail polish and indian jacket, Marks furry coat with super zips, Rebeccas very cool skunkish hair or Rosemarees biggest assets...whatever when we entered it felt like we were from cars...my joke about being later because we still had ten tabs of ecstasy to sell caused a look of horror on some patrons faces. Poor little Tania was minding our spot.....oh well Alison had fun.


---
June 21st
Spock repairs the email system...he starts work on John farnhams coverart soon.. .......Fran drops in to pick up her signed Andy White Teenage cover (she's smitten with Andy)...take a number Fran....and gives me a huge bunch of flowers ...so the entrance vase is overflowing....Fran seems to know more about Deadstar than anyone else in Australia....Deadstar dates are playing Melbourne 16th-19th of July at the Empress (Fitzroy) and the 25/26th at The good ol' Punters Club. 30th-Mercury Lounge at Jeff's casino...should be free so avoid the Pokies and you wont give the Vic. Government any extra dosh. She tells me that the 16/19th dates are once again under the name Payphone. Fran will keep us all posted.........won't be the same without Nick lurking around on stage .....and who will now dress the band?

Spend the day answering emails..........which is ok because it's very cold outside. The cold keeps the stalkers away Mark tells me. Thats all for now, and dont forget to send your passport size photo with your name/city on the front-we want all of you to appear in the book. Send it to us at:p.o. box 333 Prahran Vic 3181 Australia...as soon as you can. Bye ya all. PG

oh yeah...almost forgot...looks like Deadstar will be special Guest on the TeaParty Australian tour in August

PS-Just had a call from none other then EX-Crowdies Drummer and current Deadstar (that sounds terrible) Peter Jones. DeadStar are trying out a new Bass player and an exztra guitarist tomorrow (June24th). One correction to the live dates they are now playing the Mercury Lounge (its FREE) in Melbourne on THURS 31st!(not Wed). Milk will deff. be out July 28th (yes its probably curdled by now)...and the band are special guests on the Tea Party Aust Tour.

---
If there are any problems with this site, please contact webmaster@aswas.com.