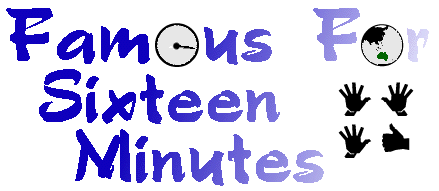 The Life and Times of Peter Green
Archive: 8 February - 2 March 1997
---
FEB 8th
Well today is the FINN gig at Marlborough on NZ's Sth island. Seems weird not to be there, but to be honest there is little for me to do, no real backstage requirements,no merch, no pr stuff....maybe I can lay out the bails of hay? Several club members are making the pilgrimage-loyal bunch,I'm sure it will go off. The rumor is that neil will do some of his new songs,which I doubt,will probably be the standard set.


---
FEB9th
Fax NZ our requirements for the Enzso tour-goddess this is coming up fast. Enzso just keeps rolling on. Still trying to find a spot for this platinum award may have to re-arrange the office,wonder what inventive thing Noel has done with his award. Work on club stuff all day- we seem to be getting heaps of new members,it's still growing.


---
FEB10th
Miss Amanda is back in the office,so I'm sure that's a relief to Grant. Consider going to Egypt on valentines day but the airtickets are too much-maybe a holiday in May instead.All those continental flight points just sitting there,and the airline no longer flys to Australia. Hope Guam is nice this time of year.

Heard Nick (Seymour) has started painting his toenails and wearing weird sandals the question is what colour toe nails now that Silver is no longer our fashion colour of the year...methinks Blue.


---
Feb 11th
Brian Connelly from seventies glam band Sweet dies. Not sure what from but I bet it was a heartattack, he was really ill on the last Australian tour and most fans that met him left the gig depressed because all he could do was shake.

Play a Sweet compilation cd-everyone deserves a good dose of glam rock at least once a week. It will be a sad day when Gary Glitter goes to the big glam show in the sky. Recurring Dream drops another notch in Australia from #5 to #6 but Enzso moves up into the top twenty #20 which helps it creep even closer to double platinum. Phone Eddie Rayner and give him the charts,we talk about a possible Enzso #2-I think it's a bad idea, i know the Finns wouldn't want to do it-so i guess the lineup would be Australian or International.


---
Feb12th
Rosemaree drops in heaps of photocopy stuff for the club. Help destroy the Ch bootlegg market today by sending out some more live shows to fans...in fact this takes several days.


---
Feb13th
Michael Jackson man/child has a boy child to Debbie Rowe/Jackson. God-mother is of course....Liz Taylor. A friend who polishes Liz's jewels tells me she isn't too well. Toija flys out to Queensland....have to have coffee when she gets back.


---
Feb 14th
Valentines Day-the romantic side of me ticks in........my fave chocolates arrive which was really sweet. Decide not to look in the classified section,never know what you will find.....hopefully not a bad poem, unless it's silly then that's ok....a really good coded Valentines day message is cool-keeps the readers guessing. Guess it's nice to be loved. "Instinct" is released today-not really a valentines day song....unlike "Message to my Girl" which was released on valentines day in Australia all those years ago. The cover art was a carved ink print....a hand carving a heart into a tree-by Noel Crombie.


---
Feb 15th
Spy Di emails me that the "Lost in Space" movie IS underway, I think an Australian director is at the healm. Wonder if I can get a part as an extra, will have to sniff around. She thinks that William Hurt is John Robinson,the "Party of Five" girl is Penny and possibly gary Oldman as Dr Smith. Who plays the sexy Judy and the hunky Don? Suggestions please readers.


---
Feb 16th
Well "Instinct" was delayed by a few days.........brekky at the Elepahnt,it's really empty today and the staff are very vague. Neil sings a new tune "TRUTH" on the access all areas show. Great song,he still has it,but the album is soooo long away. Like the line "Truth is worth more then pride". he looks good,except for that side shot that is 2 inches from his face and you can almost look up inside his nose....who films this stuff? It's like Kerrys closeup work at the Corner Hotel gig which looks really awful on the Opera House Show, i think some of marks footage for the Video newsletter will look much better.


---
Feb 17th
Get an email from my dwarf wife-she misses me so much she's bathing with a ferret(!). There is some strange Ferret obsession with this office, the Ferret page was the first site we clicked onto when we had access to the net. We were trying to disquise(thinly) hairball the cat and send in a photo of her and say it was a rare Australian ferret.....but we didn't think they'd get the joke. Hopefully miss "E" will come along to dinner at El Coyote in Los Angeles on my birthday May 11th. She threatens to bring the ferret/love child.


---
Feb18th
has anyone noticed that secretary of state (usa) Madeleine Albright looks like a washed out/rained upon version of Australia's Bronwyn Biship?It's that hairstyle and frown and vulture-ish beak.maggie Thatchers hairdresser has a lot to answer for. More Iron maidens on the way.


---
Feb 19th
had to do something a bit yucho today- it's one of those areas that I get stuck in, between a fan and working for the band. I was asked to send an email to john who has been supplying cassttes of hard to find bsides to fans-in the past weve turned a blind eye-basically "I" think it's fine and so would the band I'm sure it's not like he's selling them and not too many have gone out. But now the posting has him asking for unreleased material and demos and talks about a possible CD. This is a gigantic step and puts him in a very illegal area where he could get his arse busted. A few people I know well know him and say he's ok, so this is obviously just overstepping the mark because he's into the band/music. Sadly the internet postings also are like a giant notice board and word gets out very easily. So "they" (this sounds very X-files-ish) have asked me to check and see who gave him permission etc etc. I know the Tonguers will not think and rush ahead and start abusing the band, management and of course I'll be the poor bastard that will get aimed at (again) because they access to me...anyway let's see how it pans out. I think something else is in the wind because too many "official" people have asked about this cassette/cd thing.

Nice quote from Richard Thompson in (NZ) "Real Grove" magazine.
RG-are you aware of any NZ acts.?
RT-"Definitely.My all time favourite band is Crowded House.best Pop band in the last ten years.In fact I think they are the best pop band since The Beatles. Neil Finn is an amazing talent". (Thanks Rich your $10 is in the mail).


---
Feb 20th
One in four animals on Earth is a beetle.

We were right- Liz taylor (aged 65) had a brain tumor removed today...4 hour surgery.


---
feb21st
limo drops me off at the International airport to catch flight QF37 to Wellington. It was still dark when I left home, but i felt like a supermodel going off to an exotic location.....reality will hit in I'm sure. Weird night heard several load long screams from Neils old mansion next door.A bit spooky Mulder. Invade the Qantas club lounge, no celebs today to report, just businessmen.

Sit next to Noel on the plane and we chat all the way. he's good Crombie,keeps us honest-would make a great leader for the Democrat party. When we land in Wellington he points out several sites where he helped dig for maori ruins when he was a teenager. I tell him about my times in Egypt and Sth America crawling thru bat dung down 2 foot wide crawl-spaces. Wellington looks grey and miserable. Ian and Anne drive us to the site to check it out.Just a big field really.

Xena Warrior princes is on...notice the Production Designer is Robert Gillies. This MUST be Enz person Robert Gillies. i remember he did some of the Video sets etc for the Enz when he was in the band (with Noel). Check with our sound man that knows Robert G. well and yes it IS the same Gillies. he started work on hercules and Xena was a spinoff. Stay at the Plaza International...the staff bring me a coffee while I wait in the foyer.


---
Feb 22nd
Enzso Wellington Show is today and the weather is getting worse. An overcast rainy windy day.head to the gig early with Anne who is running merch. with me. The wind lashes the stage and tents all day. We have to make a decision at 5.00 and YES the show will (must) go on. Visit the fun fair (on the same parkland) and buy some homemade fudge and a wind fish to attach to the tent. I climb on the stage and sit with our production manageer Robbie-we agree the right decision has been made, tomorrow is looking worse.

Sharon and Liam and Elroy are down for the show. Elroy is now starting to grow and Liam is as cool as ever.We sit on this weird couch that Robbie found for the band room and he tells me about school and stuff-per usual I miss having these guys next door....tell them they should move home to melbourne.

A lot of clubbers everywhere-some girls grab me and we do a photo,the flashes blinds me for ages. A fan called Jonathan has a Noel single he wants signed so once again I trudge thru the crowd and get noel to sign it. He has a huge smile and I warn Noel that there are thousands of Crombie fans out in the audience.

The Venue is located near Lower Hutt where Eddie was born...I tease the ol' Horse that somewhere someone has an Eddie statue in the town...Liam butts in and adds that someone has put a toilet seat around the neck of it -we both laugh at Eddies expense. The band are all happy...well if you can call Enzso a band. Dave freaks because he left his red poka dot hanky at home...I manage to salvage some material from our display and he uses that onstage. Great gig except for a bit of wind onstage when Annie is doing "I hope i never". The show finishes with some fireworks. Go to bed at 3.00.


---
feb23rd
Up at 8.00 drive to trentham (45mion) to pick up the crew. get there an hour early,its funny driving the tour vans by yourself. the previa is like a huge bubble but if you get in an accident the steering column can ripp thru your stomach...so that was my thought for the day. Breakfast is a banana milk and a bounty bar.Watch the football game near the hotel. Drive to new Plymouth-we have 3 days before the gig-I could go mad.

The 4hr drive is fun-Paul our sound man does the driving..i think he use to be a Grand Prix champion or something. Mike (sound) is also in the privea as is Robbie our fantastic production person. We are all in silly moods. arrive at the new Plymouth internat. and Showtravel stuff up our booking-no room for me-they finally find one........


---
Feb24th
Lunch-Vegetarian lasagne and Sprialina milkshake at the health food shop. new Plymouth has heaps of record shops and estate agents and no people. Watch "the sum of us" for the millionth time. Then watch "Boys on the side" another good road movie...Woopi,Drew and Mary Louise Parker. Found out that lester was poisoned. he ate some snail pellets-he's ok now-the Finns got him to the vet on time. Sit on the cliff and watch the sun go down.... all alone.


---
Feb25th
Buy Weezers debut album,its not as good as the 2nd one. Move to another hotel because they need my room. We are all scattered over town.I move from the Internat. to the Amber Court HMotel which is just down the road. Cool my room has a kitchen.

The marvel Superheros V's The Dc Superhero's Issue #1 has sold out in new Plymouth. 600 tonnes of cocaine enter America each year. What else can I tell you.??? sad to say it but new Plymouth feels like a dying town.The "For lease" signs stretch down the main run (Devon St) like a growing cancer. I think bodysnatchers arrived a few days ago and stole the population. It's still raining. This is certainly a wet weather tour.


---
feb26th
Enzso New Plymouth. Well the Bowl of Brooklands has a new soundshell,it's nearly finished but the stage area is bigger for the artists.The lake is still there, the bridge has gone which is sad. get to the venue at 11.00 and count stock and help with set up. The Sun finally breaks through and we expect a decent walk up.

Wander backstage and see the guys. Paul from Sony is there,we all agree Neils new haircut/colour is a good one. Tim is in Denim tonight. My buddy Paul from Sony is in town and he has a really small joint (it's so small it feels a crime to smoke it- you could use it to do your teeth). Decide to chill out and head side stage into the rainforest and light up. Decide to grab some vodka and ice too. I know pot destroys your short term memory but i really can't remember the last time I had a joint, seems like years ago. The stollys also goes down well.

head back out front and do the merch. with Anne. A bunch of really young girls come up and they look thru the Enzso programme and talk about each person. It's obvious they have no money so we give them one of the damaged programmes each- they get so excited,bouncing up and down on the balls of their feet. Debbies friend is at the show-he's a nice guy, gave us a hand with the stock.

In the middle of the show Annie pops her head into the merch. area,the crowd around us flip out at her. She's come to say Hi. "You should be onstage " your numbers next- she runs off. We love Annie, she tells us that the merch tent was glowing from the stage area-she gave us a huge wave. The crowd is really filling up the natural amphitheatre,looks really packed, the girls in the front row are waving candles and during My Mistake several people jump into the pond and swim towards the stage-good to see tradition is kept alive,even with the new soundshell. The guys come out and dave Dobbyn calls out "Swim my children"...he'd love to be the new mesiah! Neil shakes their dripping hands.....what a night. Richard and Mary (Finn)are at the gig and I walk them backstage-it's pitch black so Mary grabs my arm so I don't have to fish her out of the pond. The Finn snrs are really good natured-Mary is good for a quick repoire',and it is not the same without the Finn clan at the shows.

We all head back to the Hotel bar after the gig, Dave Dobbyn is in tour mode and buys about 20 bottles of champayne,Grant (manager) Mum and Dad are here,must be a Nz thing because his Mum is very similar to Mary Finn. The choir are singing,and I leave at 3.00. Even though it's a 2 minute walk-Grant drives me to the Motel....still the father figure. Pack my bags,without all the NZ club mail I manage to squash 3 bags into one. order breakfast.


---
Feb 27th
Must of been in a deep sleep because the breakfast man scared the shit out of me. Couldn't work out where i was for a few seconds. usually don't eat brekky, but today is a long day so i try to. Wander up to the Internat. and sit with Eddie and Noel for awhile and then the rest of the tour personnel. neil gives me the plans and photos of the mansion next door-BEFORe they did it up-amazing how much work they put into it-18 months worth. IO don't know how they could rebuild such a great house and then go back to NZ and just leave it. say goodbye to everyone, I'm driving back to Wellington with Noel and Grant. It;s a good drive and Grant mentions that over the past few days there have been several major bootlegg busts,instigated by the legal side of the music industry. The biggest amount was 60,000 Crowded House units from Holland, the smallest about 200 cds and cassettes in the USA.Instantly think of John who has been supplying cassettes to listies and am relieved that he's "on hold". I'd hate for a long term fan to get busted-what a bummer. We get to the airport and Grant was suppose to be on the Sydney flight,it's booked out and he's not omn it. i suggest he flys to melbourne with us and gets a domestic flight to Sydney. I take Noel into what is probably the smallest Qantas club i have ever seen.... it's packed. We find a couch when the Sydney flight is called but no sign of Grant. Eventually its time to board QF338 for Melbourne.Apparently Grant is on board. This flight seems to take forever. get into melbourne say Bye to grant and Noel and the limo takes me to the Phoenix and I get home. Nice to be in my own bed.


---
Feb28th
Mark tells me that there are a few pissed off listies about the illegal cd cassette/John situation. I decide to reply to as many as I can. Marck from the website asks me if I want to add anything to the posting about it-so i do. After reading some of the postings I'm really irked off at just how many people pointed the finger at the band and basically said they were greedy fuckers and it boils down to money. They didn't even give the guys the benefit of the doubt and really they could of sent us an email via Frenzcom. Only a handfull of people bothered to. They say the band are motivated by money, then some of the fans are motivated by Greed. This must have everything attitude sucks. Unreleased material belongs to the band- none of us have the right to just release it. Their songs, their time and energy in creating this stuff, surely they can decide on what they want to do with it. I'm sure the few listies who are musicians would probably understand. I should of asked Marck from Tongue in the mail how he'd feel if someone that the band doesn't really know decided to release a cd of Marcks material without asking. I personally dont have any problem with a few cassettes going around of hard to find bsides etc, i'm sure most of the fans have spent a lot of money buying albums and singles,BUT two things to remember- 1/ it's your choice to do this. 2/ if you are fans you could at least try and respect the band and don't be so quick to judge. Thankfully there was a letter from John who did the cassettes and his email was one of the most sensible.....even he said the demo/unreleased material cd was overstepping the line. If he can see it why can't some of the others...simple GREED. I bet few of the critics would put their hand in their pockets to help him financially if he got busted for breach of copyright.Anyway it will be interesting to see how this pans out.

Spend the day and nights ending out the USA (NTSC) Crowded House Opera House Videos. One thing, Australias postal system has a few new areas-higher postage rates and a variety of services to choose from-March 1st. With these new services we could expect delays of up to a week,especially overseas,so if your cd or video hasn't arrived in a week or so dont panic,give it some time. Go to bed at 4.00 in the morning after boxing up half the USA videos. before we hit the hay, we turn over the office Melrose Place calendar....this month will be a good one as this months melrose celeb. is our fave....schemer Sydney Andrews.

One question that keeps coming in, and that's what's happening with the Tim site. At this stage we don't know,weve tried to get in contact with Christina but she has made no attempt to get back to us. We'll try and keep you posted, and hopefully we'll have some news soon.Sorry it's taking so long.

Thanks to all the people who have turned onto the site, we are up to 8000 hits so far....and a big thankyou to Deb for her huge effort.-Love Peter.

---
March 2nd
Turn on the answering machine........the message seems to be running at a strange speed so we slow it down. mark notices how white my face is....... oh great caesars ghost...it's Paul...Paul Hester. We thought Paul was DEAD.... that's what the cd says. It was common knowledge that it was his brother Harry Hester at the warmup shows,and being so far from the crowds at the Opera House gave us an easy job. But it's Pauls voice speaking to me from the grave.... "I'm a freakkkkk, I'm a weirdo..........you're not home are you Peetie? Peter it's Paul....young hester,for all intents and purposes I want to talk to you. I suppose your been up at the Mardi Gra this weekend,whoring it up in a ridiculous pair of short leather trousers and no top,with several phone numbers tattoed on your buttocks. So if in fact your home and out of your cossie,give me a call I'll be at The Lodge (which Lodge I ponder...the White Lodge from Twin Peaks?????). Hessies going public. I love you in a funny ,manly way". I speak to Madamn Ruby and we have further necessary information about the return of Paul Hester. 1/Look out for a band called LARGEST LIVING THING. The name was one that Crowded House almost used (instead of CH) after The Mullanes. It's to be a night in Hessies SHED and the venue Melbourne Esplanade Hotel. (upstairs so its a payer methinks). Every Monday in April. Itlaina Plastic will no doubt be on the menu as will many old Hester songs and some new ones from a possible album. The heavens will open and very special guests will wander out. He would be tempted (like Nick) with some velvet Underground/Lou Reed- "I love woman". For further clues join up all your live CH cds and gaze at the image on the back-they have to be in a special order.....or simply write into the Crowdies club. Paul Hester Lives.....the messiah of silliness and fun returns.

---
If there are any problems with this site, please contact webmaster@aswas.com.