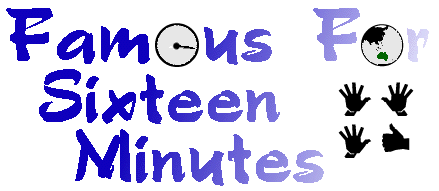 The Life and Times of Peter Green
Archive: 9 May - 21 May 1997
---
May 9th
Manage to squash the remainder of the overseas newsletters into our bags, it saves us a fortune mailing whilst on holidays, but with so many people it's rather ridiculous. Yes customs person, 5000 newsletters, 50 videos and 2 pairs of Calvins.

So here we are on the plane, up in the top, a touch of the music industry rubbing shoulders with all the "suits". Watched "The Relic" on the way to NZ; a silly movie with some gore-ish special effects. Once again we fill the Auckland mailbox and go to the VIP lounge and eat all their dry apricots. There is never anyone VIP-ish in these lounges . . . so no celeb. spotting Diary fans --sorry. HQ Magazine has a great Rollins article and a good one on sexy ol' Judith Lucy-- she's part of Radio JJJ's Lady's Lounge--it's a favorite in our office . . . She looks good these days but she has to stop talking about her tits!

Arrive in L.A. Clear customs and our bags are out first (thank you Qantas) . . . all in the space of 20 minutes. Arrive at the Holiday Inn only to find that a huge UFO has parked itself outside--soon learn that there is a UFO convention inside. Classic guests like Swami Moi-Ra Mar-E-Dove, Filipina Psychic Surgeon and more. Walking back from Ralph's Mark spots Angelique cruising by in her Pink Convertible. Melatonin--sleep.


---
May 10th
Call Mum later on as Australia is a day ahead so it's Mother's Day. A lot of my adopted USA family arrives today. First in is Spy Di-- she is probably dictating this segment of the Diary, I know she'll be tempted to tidy up my grammar, etc. We'll soon know . . . We hire a car and drive up and down Wilshire Blvd. trying to find this Hi Fi shop for an optical cable. Wilshire is so silly, it has numbers everywhere. We get out of the car thinking it's the right address, it isn't; but to Di's and Mark's amusement, two guys sitting on the corner make mention of my black Levi's. One says "Oh they are so tight, how on earth did you get them on man? " That was all and no they weren't very tight but Di and Mark found it VERY funny--me thinks it's revenge from all the years of torture. An hour later we found the store plus bonus points--a Crown Books Super Store. Crown is my fave book shop--so many cool books and always a bargain, some titles 30% off.

We get back and Christina, Elizabeth and Nicole are here. My darling dwarf wife knows this great restaurant (name escapes me--no that's not what it is called--I've just forgotten), it's down the far end of Melrose. Christina has hired a red convertible--driving down Melrose it looks like a remake of the Go-Go's "Our Lips Are Sealed" video. Food, wine and great conversation, I like these people. Great sex and sin talk, interrupted only by a belly dancer. Miss Ferret whispers "I can do that"--the belly dancer has good ears and lunges at our table. "Who said that?"--of course I point to Elizabeth, dying to see her belly dance. We try hard to get "E" to reinstate her new career, but it's no go. We all end up in suite 1011, more talking late into the night--a nice start to the journey.


---
May 11th
Well it's my birthday--none of my Australian friends bothered to call- -so you are all out of the will. But my adopted family steal us away. I suggest "Highland Grounds" which is one of the few places in America that has good coffee. Hmmm . . . someone who looks a lot like Brad Pitt was 2 tables away--we let him admire our beauty. Next stop Aaron's--which always has a great 2nd hand CD area. How many record company people scrape in the extra $$ by selling promo CD's? I seem to buy mostly Australian artists like Snout and yes Silverchair. Next we take the convertible back up to Melrose. We head straight to "Red Balls"; Christina finds some shoes next door. Almost buy some blue mohair pants--now I'm glad I didn't. We then venture into "Wasteland". Spy Di trys on a red "Annie-ish" frock and thankfully sharp shooter Mary Anne K. took a snap. She's flown in for a quick visit and brings along her friend Judy. My USA family is growing.

At 7:00PM it's off to El Coyote. The lovely Erika joins us--she baked this amazing blue birthday cake that matches her blue tips and lipstick. Plus a whole jumble of presents--from a Mr. Potato Head foot massager, to my favorite a stuffed "Birthday Otter" (holding a cake.) Receive some other incredible pressies like the Gryphon and Seville postcard set--really special, and a crazy Star Trek Holograph pic. Spoilt Gryphon. They hide us away in our own room at El Coyote- -Erika wants me to steal the huge seventies era grape lights hanging from the ceiling. Nicole invites her ex--William--very cute Nicole . . . of course all the way home we give her useless suggestions on how to "re-snare" him. Will she or won't she? Finally we end up seeing the "Austin Powers" movie. I'm sure Mary Anne was stealing hip fashion ideas for her next range. What a great movie, go see it-- very funny. The dialogue is addictive.


---
May 12th
Well it's one of those silly days. We make everyone say bits from the Austin Powers movie. Scarily enough Spy Di is starting to sound like Austin (who is a spy--work that one out . . . but Austin IS a man and Di is all woman). Her version of "that's not my bag baby" sounds VERY Austin-ish. Easily movie of the month. The UFO people have left the building and someone taped a huge black "X" on my window. Did Mulder visit and was he wearing his tea cup?

We drive across the border (past area 25) and visit Elizabeth and the adorable Mort. What a ferret and you could tell that MA Pineapplehead misses her's as she spun Mort through the air. M.A.P. is surely Mort's new Auntie--he loves her (must be the Cheerios!) Next we all head to the local "Pic & Save". For non-Americans it's kind of like a discount/last chance to sell it store. You can get such gems as tongue scrapers and giant noodles for your pool. I splash out on "Little White L'Eyes" eyes . . . They have ugly painted eyes on them, that perfect gift. After a giant noodle fight with Mark which is only out done by the various friends fighting for a better camera position, we find some attachable Reindeer Antlers for Hairball the cat. Next Di has a new spy tool to fight evil. She bounds around the corner on a huge blue "bounce ball" and crashes into the drink cooler stand. But wait, the winning item a "Michael Jackson Moon Walker Mug"--it's a tragic reproduction with long arms and shoes on the mug, Michael's hat pops up to pour the beverage in. Tacky--love it, time for a Neil Finn mug and yes I am joking, we could never get the right hairstyle. Finally we raid the fake flower stands and we hop on our knees, arms full of flowers, all for Nicole. As the security camera turns our way, we scream and depart the store. We go see "Volcano"--some good lava effects, but the script-- urghhhh. What did we expect?


---
May 13th
Head to Beverly Hills to try and get some Peruvian money--no such luck. Half of Hollywood Blvd. was closed off for the 12 of us to see Johnny Grant (yes who) put his hands in the wet cement at Mann's Theatre. Finally we found out he was the honorary Mayor of Hollywood. All seemed silly to us . . . coming from a group of adults with bouncer balls and 7 foot pool noodles . . . . . Spend the afternoon with Nic and Di posing for a portrait by Russian artist Anna . . . we know all the secrets now comrade.

The ABC-7 News reader Christine Lund wins our award for Best Drag Queen on TV . . .oh she's a real woman, sorry Christine.

Di flys home, we miss her already. We watch "The People Vs. Larry Flynt" and Courtney Love was great. We loved Reverand Jerry Falwell's quote on Larry: "The depth of his depravity sickens me". We still want to know if Jerry Falwell had felatio with a sheep-- maybe it's better not to know. Sadly, Courtney's scenes of shooting up Larry looked very Kurt Cobainish . . . . . Must have freaked her a bit.


---
May 14th
Wake up early, Nicole is dancing nude around the room . . . OK that's a lie, Mark says she snored like a buzz saw--wasn't that bad. He's so mean today. We three share a taxi, Nicole is heading home and we are off to Peru. Nicole confesses that she IS the Miss July pin-up for Hustler Magazine and has been off the internet list promoting her month . . .we'll believe it. We spent 10 minutes in Houston, then straight onto Lima. Arrive at midnight. Lima is a permanent street festival--we get no sleep (again).


---
May 15th
Up at 6:00AM and catch our flight to Cusco. Our guru and guide Santiago gets us to our flight on time--we admire the 30 people hanging off the 1950's bus that roars past. When we arrive at Cusco a local representative is there to meet us . . . the phones between Lima and Cusco are really crackly . . . the sign he is holding says Mr. Creep--in a Peruvian accent Green can sound like Creep; no OK how about this, Mr. Creep was on our plane and we stole his representative. OK it's me, I am Mr Creep. A week later and Mark is still laughing, about that and the tight pants. Pose for a snap with the Mr. Creep sign--the rep. now thinks I'm Mr. Weird--"uhmm why do you want my sign?" . . .

Our accommodations the Libertodor Hotel is the best in town, nice and central too. We walk all over Cusco, but we take it slow because of the rise in altitude (13,000 feet.) We know we'll get altitude sickness (the locals call it "soroche"), everyone does. One of the best finds is the Cusco Market. It's huge, bigger than Melbourne's Victoria Market. It goes on forever, heaps of bizzare fruits, mangoes as big as footballs, containers of live frogs, great herbs, bags of chicken heads (urgh). The bootleg cassette store already had the new INXS cassete--but he hadn't sold any. No Crowded House, only Men At Work.

Another night with no sleep, headaches and the air seems thin. At 2:00AM I wake up with irregular breathing, gasping for air (cheyne- stokes). I collapse into the bathroom and stick my head into a bowl of water . . . anything with an "O" in the formula (H2O). Take some Panadols and climb back into bed. Sleep by no means comes to soon . . . . .


---
May 16th
Climb out of bed before our wake-up call--feel like I'm on tour. Grab our free American brekky and meet our Mr. Creep guide in the foyer. Several hours later and we are on the train to Machu Picchu. It's only two carriages this time, but in a month it will be 10 as the tourist season reaches it's peak. Mark still has his altitude sickness, but we'll descend a few thousand feet so that should help us both. The "little" station at the end of the line is not so little any more, since I was in Peru last a whole town has sprouted up. At it's peak (bad pun) Machu Picchu gets 1500 people per day. It's still an incredible wonder, we break away from the tour guide . . . 2 hours later we hear "Mr. Green" echoing across the ruins. We give him the slip and explore . . . no toilets in the ruins, and I still feel guilty watching my pee plummet off the 3000 ft. cliff. We are staying up here tonight at the Pueblo Hotel Machu Picchu--all separate small cabin type rooms, white stucco, subdued lighting and Alpacha blankets, a huge spider, open shower, Inca mirror . . . did I say a huge spider?? !! The room service boy removes it . . . into a new dimension (splat). Hope we sleep well tonight.


---
May 17th
The Pueblo Hotel is great, have a really nice sleep. It's incredible to wake up and look out the roof windows and see the Andes towering above you. You can even see the snow capped Cordillera Vilcabamba in the distance. Housekeeping trys to make us leave at 10:00 but I haggle a further 2 hours out of them.

We have lunch on the Pueblo's balcony, the wild rapids of the Urubamba River crashing below us. This is a very cool hotel, so if you are planning a trip to Peru check out the Pueblo. Walk through the small town and grab some bargains, a huge Alpacha blanket and weird hair clips. The train stops for us at the hotel and takes us back to Cusco. We'll miss Machu Picchu and it's charms. Shop until midnight in the main square, drink Cusco's beer and meet a dude in a leather jacket (rare).


---
May 18th
Sleep in, watch CNN--be a slob. Mark thinks he needs a lung transplant because of the lack of air. Wow, it's raining--shopping in the rain. Most shops are closed, but the street market off Sol is looking good. Mark buys this great hand knitted Alpacha coat for 35 sols--about $13 AUD!! Look for a musical birthday present for Neil, could only find flutes.


---
May 19th
Wake up to the sound of Cusconians going to work. Arrive at the airport and we are under siege by baggage handlers. The security at Cusco airport is a joke. The metal detector goes off and no one bothers to check you, some people simply walk around the machine.

We arrive in Lima, it's definitely Cusco's nemesis, Cusco is so magical, clear skys (with thin air), people walking, beautiful old buildings; Lima is crazy with traffic and traffic jams, smog, rubbish in the streets--mad. We end up watching Bridget Bardot movies all night. Hmmm, wonder if we've had our 12,000th hit on the Diary site yet?


---
May 20th
Watch Eric Estrada (ex CHIPS) South American Soapie, it's really bad. Spend the day walking around Lima. The police and military are everywhere, the trucks with the water canons are patrolling the squares--definitely a military presence. Lima seems to be full of jean shops and shoe stores. Lunch is at KFC, Suede are playing over the p.a. Santiago picks us up at 8:30 in the evening to catch the midnight flight to New York. After Lima's mad drivers, the Big Apple taxi drivers will be a godsend.


---
May 21st
Well our holiday is half over. Was hoping to catch up with Deb in NYC but our Continental flight was messed up from South America and we didn't get in until really late. "First Contact" was playing on the plane, I could just stay awake and watch it. The next Diary update will go up when I get home. Take care everyone.
Peter

---
If there are any problems with this site, please contact webmaster@aswas.com.