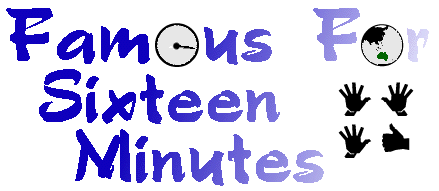 The Life and Times of Peter Green
Archive: 11 May - 24 May 1998
---
May 11th
Well Happy Birthday to me. Another year another wrinkle. With the upcoming tour "stuff", packing boxes and all the other craziness around me at the moment, a birthday celebration was the last thing I wanted today. But like a runaway train it just happened. My Mum called first, every year she never fails to find me and sing that birthday song- someone must be making a lot of APRA from it's performance.....Mum still hits the odd bum note, but she makes up for it in gusto. God bless her. Even Miss Amanda from the office called and sang her "Lodestar" Mix version of Happy Birthday....our publicist playing a Perry Como version of "We love you" down the phone lines. Mazz from BCO- never misses the day... and a drummer singing Happy Birthday is kind of "interesting". The list went on and on, I kept making Rebecca sing "it"- I wanted her Seekers version, in the key of C. Ends up as a Pizza and beer night at Belmore...heaps of plants for presents which I loved. Rebecca knowing my weakness for Chocolate somehow found a Chocolate Cosmos plant. It blooms these velvet looking flowers in the height of Summer and gives out the aroma of Chocolate! It will no doubt send me crazy, I'll be climbing the walls for a Chocolate fix.Spy Di's present is opened and its "The Rock Pack" from the Hall of Fame museum in the States. This cool Rock Pop up book...so many facts. Tania and Jake turn up, Trudy and no sign of Robin, Jj tracks down a copy of Poppy Brites book "Exquisite Corpse" (more on that later) and Frans mysterious present- "fizzing bath balistics" from the LUSH shop. Still too scared to use them...maybe at the next place. For a non birthday it went on till midnight. Older and wiser.


---
May 12th
Find out that Bill our tour manager and Edyre had a baby girl called Molly on May 8th...Two girls now, they are surrounding you Billy. I'm sure she's a magnificent baby- can't wait to see her. Daisy had such a great crop of thick lush hair, so I'm hoping Molly will be equally as furry! Good on you Bill! Spend the day washing Champayne glasses and calling Record stores for LLT. Try finding out dates for the Neil Finn tickets to go on sale, the tour is approaching fast.


---
May 13th
Kevin calls and blows out our 1.00 appointment, Paul was delayed, someone backed a truck into his car. He's ok, the car is a bit mangled. Send Spock artwork roughs for the keyring and square Neil badges for the tour. The keyrings will look great, black and silver,oval shaped with Elroys Skeleton design.Hope Robert is working on tshirt artwork.

Some girls called by and ask to take some photos in front of the apartment, obviously CH fans, am nice to them, but decide not to let them inside....the yard is covered in Autumn leaves so their photos will look pretty colourful. They seem pretty nice, not crazy's.


---
May 14th
Start reading "Exquisite Corpse"...by Poppy Brite. Wanted to read this book for awhile, came out about 18 months ago and is hard to find in Australia. I think some stores won't stock it. The Sunday Times says it all "There is a disgusting fin de siecle lushness to the writing, with its emphasis on the sweetness and the ecstasy of pain". Its a book that reaks of "old money" , new diseases and animal intense passions. Not for the faint of heart believe me, parts I skipped over because they were too graphic...and I was eating at the time. It will really fuck with your head and some people will hate it. The part that scares me is the more you read, the more you can understand the tiny germ that can set someone in motion of the art of killing. It takes me to the pinnacle of excitement and the gutter level of feeling really ill and turned off. BUT I kept going back to finish it, And thats the true success of Poppys writing, you keep going back. Its the type of book that the censorship people would snap closed and ban it, but would sneak back into the room, quickly slip it out of the bin and read it with a torch in the nearest vestibule. My suggestion is to sneak a peep at a book shop first, and if you get a buzz, or are equally horrified get a copy. No I don't own shares in Phoenix Books (grin).


---
May 15th
Jump on a flight to Sydney to drop in LLT stock, and give the new FIDO label a copy of Hellbent to listen to. Melbourne airport is cold and grey and the weather is like that all up the Esat coast of Australia. Sydney airport is equally overcast. Pick up my car and head into the city, with a huge bag of stock. Call into Redeye Records and Waterfront and they NOW have fully signed copies of the LLT cd (Hellbent) so Sydney fans take note. Not many signed copies about so try both these stores. Their numbers are: Waterfront-02-92624140 and Redeye Records-02-92338177. I think both have mailorder too. Ask for Largest Living Things II.(autographed)

My timing is good so I catch up with Sonia for lunch, head to the Retro next to the State Theatre...love their Potatoe Wedges...even if they are impossibly slow in bringing you a glass of water. Sonia sounds like she is enjoying Sydney UNI, heaps of Sci Fi guests and conventions- I think she might also be doing some work! Go to the Amex office and put some money on the card (good Gryphon) it's getting a bit of abuse these days, and I guess we'll be living on it for the first month at the new place.

Drop Sonia off at UNI and head to the record company which is in Pyrmont, one of those silly areas of Sydney that has the Pyrmont Bridge stretching out, and if you make the wrong turn you are history. I made several wrong turns and kept ending up at the Fish Markets and then over the bridge, stuck in afternoon traffic (thank the gods for Triple J radio). Eventually Festival get the LLT cd just before everyone went home. Head to my Mums place and a great baked dinner is awaiting. (oink oink). My sister gives me this incredible suprise pack she made.....heaps of Chockys (Super OINK).


---
May 16th
Hang out with Mum for the big part of the day. It's my Sisters boyfriends birthday so we go to her place for a BBQ. Was a fun night, and our side of the family behaved (phew). I have the best Sister in the world.

A girl comes up to me at the local supermarket and tells me how much she likes Hesters new band, she reads the website at UNI. Tells me that the site has had over 4000 hits. Cool! We should have the details for Neils appearance on the Shed on the site soon.


---
May 17th
Have a horrible nights sleep (lack of it), loud cars on Mums street, and then at 4.00 someone decides to set off skyrockets, so the skys are full of fireworks and loud bangs. Up at 4.15, head to the airport at 4.30. It's dark, there is fog, it's cold and I have the de-mister on all the way. The flight lounge is like a beacon in the storm.....head to the Coffee machine, it's broken.

Can't remember the flight, get home, pick Mark up and we all head to the Elephant. See Dean from the Post office down there and he says you look like you are jet lagged....very close! Spend the afternoon answering emails.......take a melatonin and sleep.


---
May 18th
Feel like it's full steam ahead on the Neil Finn project. Have some very very rough USA dates which the office has told me NOT to release. Looks like the USA tour will start in Miami around July 18th. All up that side of the coast and then onto Canada, and then maybe Chicago (early August) and off to the Los Angeles/ San Francisco run. Texas looks like it might get a  look in. The one thing to remember is that dates change a lot- so even the above could be wrong. I can understand why we haven't released anything yet, the fans will have to be patient. It looks like being a pretty decent tour. After that UK and Europe and we might make it back to Sth Africa.


---
May 19th
Pay my medibank private, I think I'm the only person in private health care.... not sure why, I never really use it. I almost hope for an ingrown toe nail so I can use it.

Foxtell tells us that the new house already has cable connected, we are the only ones on the street.Guess when you live off Chapel Street, you dont watch a lot of TV. Watch some of Foxtell AO show- which is Australia Only- Aussie Music.

Love the 'Gurg's Polyester Girl clip......Mavis's CRY is very Abbaesque..... some good Australian Videos.Neils clips should get a good thrashing.

The office calls and my ticket to the Neil launch is on it's way.


---
May 20th
It's raining like Mad in Melbourne and Sydney has had several days of solid flooding. Neils launch is tonight and part of it is out on the Harbour....I start calling Neil Finn "the rainmaker" because every time we do something special in Sydney it RAINS. Clear all the mail and take Mark home, drive to the Limo service wiping the mist off the windows. Horrible weather but the Grey Ghost gets me to my pickup area. What a car. They give me a gold sports car in Sydney to drive....and the rain has stopped. Check into the Sebel and then head to the CH office. Get there very quickly and Amanda and Grant are in the office. Go through all the album artwork and good ol' Robert Moore has sent down the designs for merchandise. The only one we reject is the truck design- too Mamboish. I like the "skeleton" material design not sure if we have enough time to print it. Amanda gives me my invite...it's a metal tin that has "An Invitation to an evening with Neil Finn" on the front. You open it and there is a clear cd invite inside. Amanda wings off and Grant stays, the phones keep ringing, so I start answering them......finally a few minutes to talk to Grant about the tour, if I'm attending or not. When I leave the office I still am not sure what sections of the tour I'm on....all very confusing.

Back to the Sebel, the staff tell me the main water pipes have broken so only the toilets flush, guess the shower is out. Sharon Finn and Amanda call and we meet in the downstairs food area for coffee. Back upstairs get dressed and Grant (and son Aaron) pick me up in a cab and take me to Circular Quay. We spot the "industry crowd" all trying to figure out where we are off to. I am told to hold the boat for Amanda...so we delay it. The river cat leaves with Grant and myself on the dock, it goes around to the other side. The media all stare wondering if that was it. "Yes guys, a cheap promotion eh?" says Grant. No Amanda so we board, grab my "date" Jacqui from publishing and we hit the deck and have a few drinks and chat about old times. Jacqui was part of the Mullanes era, and works with Neils publishing, shes a good mate, we look after each other in work areas etc. The sun has set and the city of Sydney lights up, like someone turned on the switch, all at once every building was lit- bing bing bing really cool. We said it was part of our promotion. Sydney looked fantastic and it reminded me of the Emerald City from OZ.

The lights on the Ferry dim and we are treated to a video of Neils history... however someone forgot to turn it from tv-vcr and so for the first minute the voice over and music of Neil Finn was up against a bad soapie. I found it very funny...I think I called out "gee Neil looks different" (smartarse).

Eventually the boat docks at Darling Harbour and buses take us to a new location. The Slip-Inn. An oddity of a building, rooms full of antiques and lush tapestrys....we work the room, eat, drink. I find two ladies to chat too, one from TT FM in Melbourne and the other from Rage....really nice. A few other buddies turn up and we all have one main thing in common. We watch THIS LIFE.... the group turns on someone who admits to liking the character "Miles"....urgh how could you, he's such a horror etc etc......only 2 more episodes to go, and no one would let me spoil the ending. An hour later we are escorted downstairs to The Cave, Tony from EMI gives us a huge Neil rave and the crowd is full of media and friends. I spot Bones from the Oils and he gives me one of those Bones-ish smiles. Lovely guy.

Ladies and Gentlemen...Neil Finn. He glides up to the small stage with his trusty guitar in hand....does a quick tune and is humble and very Neilish (in the best possible mix). Starts off with Sinner.....I guess I could do a mini review but i'm sure its all on the Frenz.com Neil Finn site somewhere. I loved the version of "Private Universe"....especially the "every night at 6.00" line about the birds and those damn trees next door to us. They still come there to feast on the Palms. Sharon connects with me on that one and we both smile, knowing that soon we won't be at Murchison Street either, the birds, palms and the Murchison St connection will be cut. (sob).

Go to the back of the room and tell Grant how well its going, and Shawn our publicist for this one, is happy with it- she's done a great job. Neil performs "She will have her way" and the crowd just loves it- I tell Grant that if any song on the album is a radio hit- this is it.

After the "show" we head into the Chinese Laundry, which is the downstairs bar at the Slip Inn. Decide its time to go and am driven back to the Sebel. In bed by 2.00, get an 8.15 wakeup call.


---
May 21st
I debated if I should put this on the site as I'm sure to cop some shit, but what I'm about to tell you happened in the spirit of things, tells you a little bit about me and the general sense of fun that is around the Finn camp.

Today is Sharons birthday, and Neils is a few days later. Its Neils 40th this year and many of us expected a big party in NZ. Sadly Neil is away for promotion, and Sharon is heading back to NZ, so they wont be together for the birthdays etc. The Finns have been marvelous to us over the years and I really wanted to give them something special and fun for their birthdays. BUT what does one give Neil Finn and Sharon Finn. They have everything- great house, great relationship. So I decide to give the Finns breakfast in bed.....the maid will take it to their room at 9.15.  The twist is......guess who was the maid? Yes boys and girls, it's time to frock up in the name of Finn-dom.

The first hurdle was getting a Sebel Townhouse maids outfit- everytime I went to call house-keeping I would kill myself laughing and had to hangup. I decided on a new tact- called room-service, ordered some food and got the room service person on side (which wasnt hard). I also found out that $5 tips work well. So an hour later I had a gaggle of maids up in my room "fitting me out"...they told me I wasn't a huge maid, very petite...in a man-ly way. My back was nice and brown so they got an outfit that showed off my back (and Gryphon tattoo). The whole time I felt like I was auditioning for a rock video. We had the wig, we had the shoes, the maids outfit,makeup and a fluffy duster (with a fake zebra skin handle). Very Chilli Peppers and Faith no More. I headed to Kings Cross ( not in drag) to find a birthday cake....it was dead. Nearly all the shops were closed. I came back with roses, candles and bobby pins. In desperation I called Room service (again).....and they made a huge chocolate cake with "Happy Birthday Sharon and Neil" on it....and were having so much fun that they decided the hotel wouldn't charge me....which was very nice.

9.10 Neil phones and asks if I had ordered brekky (he was very embarrassed) I told him that a very cute maid just called by and its on its way. I frocked up! I can NOT do makeup to save myself, its that Aussie bloke syndrome....so I gave up on the eyes, the lips looked good though and the super pancake hid my well shaved face. Thankfully I had some 1960s deco black sunnys (very Jackie O) and that covered the eyes. Amazing how you can face any challenge providing you are wearing shades. Rupert from Room service (thats the name I remember him as) turned up...he was very funny with his European accent. "You loook su beautifall"..."if youz worked here Idd chase you around evrydayz" I think that was a compliment? I stared down at my tattered stockings and nets wondering just what sort of signals I was giving out here!

We headed to the elevator, a trolly full of yummies, a huge birthday cake surrounded by roses......now my fear, an elevator of tourists......the doors opened and a stunned plumber stared at me mouth aghast. He was staff and I couldn't tell if he was just happy to see me or had a wrench in his pocket! Opps I'm falling into character. Be a nice maid Peter not a slut! We arrive outside the Finns room and Rupert has a plan, I hide and he knocks on the door, the cake ablaze with candles. Sharon opens the door and is so happy...."But there is one small problem" says Rupert "Housekeeping needs to start on your room. If you dont want this you will have to tell the maid your self as she might get sacked". So the maid walks up, I hug Sharon and give her a gentle peck with those huge painted lips....she just pisses herself laughing and is blown away. I spot Neil out of the corner of my eye, it takes him a good 20 seconds to recognise me...(in drag time thats a LONG while)...he lets rip a very huge laugh and this mans smile almost circumnavigates his head. Rupert departs leaving me with the Finns. Within seconds we are all killing ourselves laughing......"what else could I give you guys....I told you the maid was cute".

I plop myself up on the window ledge of the suite- one of the best views of Sydney. The phone rings- Sharon is still giggling, its singer Jenny Morris and she asks what all the laughing is about- Sharon tells her and Jennys Morris laughter ripps through the phone lines......god I think, there goes my reputation.

At some stage Neil talks seriously about the tour, I interupt telling him its so weird to be sitting here in drag having a serious conversation. We both laugh. It goes on like this for awhile, its a bit of fun, and hopefully  the Finns got a laugh out of it. Sometimes, for friends you can do things you'd never do for anyone else. As I leave I'm told that I should do the whole world tour- but I have to wear a different outfit everyday! (I knew that one was coming). So thats my suprise, and believe me I could of given Mr Hester a run for his money as Mrs HairyLegs in the Choclate cake clip. ( I have a cuter arse). Now I had to get back to my room without bumping into the tourists, then again I've been to Elton Johns suite here and he has done more bizarre things then this at the Sebel. My elevator reaches my floor and I'm almost back in the security of my room... (phew)....as I turn the corner I hear some whispers and giggles, a huge platoon of the Sebels maids have turned out and they all clap and cheer me to my room. Its like the royals driving past...all thats missing are some flags. I tell them that their jobs are safe and this maid is retiring! I open the door,go inside and lean against the back of it pissing myself with laughter. Thankfully the water is back on at the Sebel so I dont have to go home on the flight as a Sebel Drag Queen.

As I'm checking out various people like our publicist, Frank from EMI and others turn up early- hoping to catch me out. "hey you missed a great show" I wink as I depart. Deff. a once off performance! Happy Birthday Sharon and Neil (27th).


---
May 22nd
Catch up on all the work, we are getting 70 emails a day and I'm finding it hard to keep up. Mark is working on the Video newsletter #4, we are holding it back to mid June so we can add some new Neil footage. Neil is on several tv shows, one gives him a cake and talks about his birthday. God I think- I hope he doesn't mention it- Mum would just shake her head....and I'd probably die of embaraasment. I think this might haunt me. He doesn't.(phew) Work on a Skyhooks mailout. The Australian Rock and Roll stamps are out on Monday. Prahran post office borrows some of my guitars and the huge framed Skyhooks gig poster for the front window display. Skyhooks have a stamp in the series for their song "Horror Movie" (about the 6.30 news). The stamp series is titled the early years and is basically the sixties and the seventies. We are going to start a letter writing campaighn soon to make sure they include SplitEnz and Crowded House in the Eighties and Nineties stamps for next year. We'll have more of that in the next Newsletter.

Wow only 4 weeks till we move....start boxing more stuff. Our last month at the Woodface apartment. (now I'm depressed).


---
May 23rd
Find out that the Neil tickets for Australia are delayed till May 29th. The NZ ones are probably delayed too. So check with the Venues. LLT have added 4 new dates for Melbourne, the launch for Hellbent will be at The Conty again on July 23rd. This show will be a sellout and tickets are very very cheap. If you dont want to miss out phone and credit card book on 95102788. The tickets are on sale from June 8th. I'm hoping people like Nick will be in town and all the usual associated people around the Crowdies family. It will be a great night and is really targeted to club members and friends of Hester and LLT. Just remember to phone book.

Skip drops me an email, Mental as Anything just returned from the UK, had a few immigration problems (the usual work visa's) but the shows went well. Love the next Mentals single "Just my luck" which is in the stores in Australia June 29th. Classic Mental as Anything. Talk of LLT being special guests at their Melb shows.

Hear on my grapevine that the production of SteelCity might be coming to Melbourne later on. Hope Tims down for opening night.


---
May 24th
A very grey Melbourne day. Last day that I will see Becky before she heads off on the Seekers country tour. Keith from the Seekers turns up at the Elephant and Rosemaree arrives. He even stands when she sits, which is pretty sweet. I've decided that I do like him, ok it's true, all the truth has come out in this Diary site...I have dressed up in Womans clothing and I've befriended a Seeker. Goddess I'll even be nice to the Catholic Church next.(Marj tells me not to set fire to , too many churches. *grin*). But I will never like John Howard!

No Drag Queens at the Elephant this morning (I've had enough Drag this week) and I check with Kath to see if Jed has left for the States yet...he hasn't. The Coffee has no effect on me this morning and I'm very sleepy eyed. Keith pulls out some Burgundy and I decline....Rosemaree is happy for the break as she has been working xtra hours to cover registration etc. I decide on a new name for Seekers singer Judith Durham. LSD (Lead Singer Durham)....Keith grins.....!

Head to the car before the City of Stonnington trys to give me a parking fine. Run into Safeways first and find black tracky panys on special ($6) perfect for painting etc. Rosemaree fills my car up with empty packing boxes and we somehow squash Keith and Beck into the back. Rosemaree gets a peck on the cheek by Keith. She whispers in my ear "I've been kissed by a Seeker" (the same way Fran did a few weeks back). Get home and Mark is working on the Video Newsletter.....he's using some neat effects, so it will be a good issue and well worth the wait. Spend the afternoon going through the huge ammount of club Life Memberships that have arrived. The Life membership deal finishes in 3 weeks...so if you are signing up for this, please do so soon.

Thats all for now.....as the site heads towards it's 28,000 hit I'd like to thank a few people. My friends for giving me some good 'food for thought", Deb for allowing the site to grow at it's own (non-edited state), Mark for doing all the work while I tap tap away on mindless waffle, all of you who really don't give a fuck about Finndom and just love a good gossip, John Howard as we all need someone to pick on, Hairball the wonder cat, my family and my musical family both whom I love dearly. "If Music be the food of life, Split Enz be silverware." What more can I say. have a good week.

X PG

---
If there are any problems with this site, please contact webmaster@aswas.com.