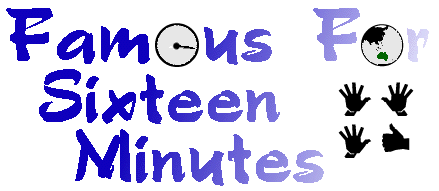 The Life and Times of Peter Green
Archive: 13 April - 26 April 1998
---
April 13th
Easter Monday- Chocolate,God in a Box and a person at Red Rooster in a Bunny Suit. Yieks...roll on Xmas.


---
April 14th
Call the agency and get our names added to the Xmen doorlist....feel horrible going to the Casino, as I don't want to give Jeff anymore money. Email Spock some more details for "The Other Enz" project, so he can paste it into the Newsletter. Looks like it will be out around July/August. All those Enzish people, previously available on vinyl....should bea good one for the fans. It's great having my solicitor on email, I'm probably one of the few clients he has that is.....

Send Deb and Kayt more bits and pieces for the Neil website.

Mark suggests we auction off the Woodface apartment through the club newsletter ...I think he's kidding? Maybe not.


---
April 15th
Back to the Shed, really excited because the Topp Twins from NZ are on. Haven't seen them play for ages. The last time, was at an aftershow party, it was a friendly competition between the Finns and the Topps.....and BOTH mothers were present. They were (in a subtle way) trying to out do each other -song wise.... I think the Topp Twins won that night...Mary Finn was not impressed (*grin*) So they are on the Shed tonight- and I pondered to myself that the Aussie audience wouldn't get their jokes and songs......I had to eat serious cake, they were brilliant, the crowd calling them back for an encore- how rare is that for a tv show. Picture this- one PGryphon-Green standing on the chair near the door with tears rolling down my face from laughter- my jaw actually hurt.....these Twins could kill a man. They'll come up great on the special. We sit in the "Green room" afterwards chatting and laughing. My kind of gal(s)! We take a load of packing boxes to Melissa's place, she feeds us lunch and a new Tasmanian Beer. Her black bathroom is pretty groovy....but she has no porch (a private joke).


---
April 16th
Wow 25 years since Skyhooks played their first live show.....has it really been that long?

Jj drops in with Mark and they work on a Video clip together for one of his songs. Nicole from the States is in town and I'll see her tonight-hopefully she's still not crappy.

Start set-up at the Shed, Raymond J....is so happy being a new Dad- he brings his baby along to dinner and we all applaud the new mother (and dad). All the mothers go and say "Well done"  to Mrs Raymond J.....Sunday Hester is just mesmorised by this baby- she almost climbs into it's carrier. Check out the front and sure enough there is Nicole and friend Julia....give her a huge hug and things are back to normal. Take them inside the Shed.....and have a quick word to Raymond J........"see the girl down the front......she came all the way from America.......(copyright'86)....to make toast".

A hour later Raymond grants my wish and Nicole is up onstage (complete with silly hat) making toast for another full house. Fran counts her blessing that it wasn't her tonight (Next time Chickadillo I promise- we'll have you helping out with "the fruit bat"......I promise). Nicole gives as good as she gets and Raymond J. is speechless (for the first time)> he seeks revenge and makes her read a poem......(its only 2 lines long).

I go back behind the Shed and pretend I'm Nicole's conscience- "Peter really deserves some toast with honey" I whisper....... she is a good sport and she makes the long walk all the way through the Shed crowd and delivers a Crumpet dripping in honey. Thanks Nic. The celebrity list seems to grow every night- old drinking partner Peter Garratt from the Oils is in attendance (again).....it's weird he has these 3 boys that seem to follow him everywhere- but they never approach him. God-stature worship from a far.....scary. Each night the celebs onstage tend to come up the back with us and watch the show.....they seem to enjoy it as much as the audience. Ends up being another great Shed night. LLT play so well- what a great band.


---
April 17th
Noel Crombie turns 45- give him a call. "Just another day" he laughs.

I decide to have tonight off from the Shed- Clare is looking after everything and she does a great job. We do call in and have dinner down there, the cook has created these great potato balls- nice and spicy. My favourite. We head off to the casino.....we dont pay to get into the gig, we dont buy any alcohol from their bar and we don't pay any parking. So Jeff Kennett doesn't score a cent. Our old buddies The Uncanny Xmen are reforming as part of the Mushroom 25th Anniversary. Its the only Melbourne show and it's packed. We catch up with Tania, Melissa, Alison and Kim...inside.....and in a weird flashback way it's very entertaining, just made everyone laugh. Still unsure about the dancer who decided to remove almost everything....and nuzzle Brian's face into her bosom. They put on a great show, and actually entertain the full house.Fun!


---
April 18th
Spend the day cleaning the apartment, and getting some Enz reviews out of storage for the office to use. The neil website is up and running soon, I think we'll make deadline.

Start work on some images for the tour merchandise, I know Robert (who will be playing bass in Neils band) is creating too. Another artist Bass player...... hmm  what can I say ( Robert is great. Last night at the Shed, felt the ending was an anti climax- but who could follow up- Puppetry of the Penis. When he "created" the Hamburger with his dick and balls...I felt pain. The fruit Bat was the last "creation". People are still talking about it- that Martin and Malloy-bad boys.


---
April 19th
Decide I should punish myself and watch the Logies- urghh horrible start- Daryl Somers singing some crappy song- puke vomit,nausea........bring back Bert Newton as we all know Bert is the King of the logies...and Patty the Queen. Daryl sucks big time- just horrible. We notice Ray Martin has used less plastic on his toupe maybe so he won't shine so much in those daggy old Tv Week photos.  While I'm on the subject- what is wrong with TV WEEK- they just continually print shows that are never on, and their internet area is so boring. The guy who writes that column has no idea. TV WEEK sucks.Bring back TV TIMES. Now I'm on a roll........the one good thing was Tony Martin winning a Silver Logie for WildSide......and he got a great plug in for the show. heaps of people would of tuned in for the first time on Wed night......and what happens. The ABC announces "Wildside will not be shown tonight for legal reasons!". All that good work from winning Most Outstanding Mini Series and Actor and the ABC bungles it. Oh well- hopefully Paul Hester will be onstage next year winning a logie for Most Popular Light Entertainment Programm. The Logies would never be the same.


---
April 20th
Drive to the new house/office today to do a few photos....on the way down Chapel St. we spot Nick Seymour and Jj having coffee together out on the sidewalk (Globe).....they are giggling like two ol' gossips.......wind down the window and give them heaps. They are so funny together.

Deanne has to drag me out of the new place, I just don't want to leave, it's so strange knowing this is our new house- it seems to wonderful . I am bruised from pinching myself.

Watch "Primary" play two songs on Elle Mcfeasts show- really good band- nice to see someone making the effort. Both songs are great- I know JJJ are playing one of them, of course mainstream radio is still as boring as ever.


---
April 21st
The Neil Finn site is up today- located at http://www.frenz.com/neilfinn Deb and Kayt and all the helpers have been so incredibly dedicated, and put the time in. It's so easy to criticise people and assume there is another agenda around someone, but at the end of the day- when they create something like this everything else just becomes...nothing. These guys get my gold stars for hitting the nail right on the head- it's going to be a great site, I'm really proud to be working with them- and despite being able to only give them scraps to work with (the record companies are slow with all the pieces) they've created a really good site. As time goes on, and things start rolling I'm hoping we can add information daily. Both record companies- EMI and WORK have said how much they admire the site, you guys- who sites like this are created for- have given us some great feedback. So keep checking this out- use all of its facility's and we hope you find it a useful tool. I hear that one Australian internet magazine looks like giving it site of the month- and it's only been up for a day!(phew).


---
April 22nd
Work on the Blackfire cd launch at the Conty. Hester and the Largest Living Things will be playing on the night as special guest- and it will be nice to see Raymond J. there as well.  Paul produced Blackfires album, and sings on one of the tracks. How to get into the launch- details will be on the LLT site. http//www.frenz.com/LLT


---
April 23rd
Auction sign goes up "This is not a Crowded House.....It's Deco Decadence"! Do a phone interview with Frank re Neils HQ magazine article. Should be out around June when Neils album is in the stores.

Have a chat again with Neils bass player- Robert Moore and it's going to be fun having him in the band. He tells me his favourite memory of me is Dave Dobbyn and Myself as two Caesars at Sharons Toga Party on the Finn Bros tour! Gee thanks Robert- what can I say!!!! Neil starts work on the Sinner video in LA, a few people will be Neil spotting on the weekend I guess.(Go Judy). The clip for "She will have her way" is already filmed and being edited. So we are on schedule.


---
April 24th
Into the city today- pay off Amex card.Lunch at some food court.....only 33 days till the auction. Once I change some washers in the sink the apartment is ready.

The gang turn up tonight and take us to the Elephant as "their shout"- didn't book and it's packed. So we take the outside tables, give Kellie my fur lined LIS jacket.....convince my body system to turn up the heat. Well behaved and only have one sub Can't believe that in a few months half these guys are going to be overseas- I'll miss their faces at the LLT shows. Someone decides that I have to talk gossip all night long- so it all comes out- Football players who have broken penis's from having sex with tv hostesses, Michael Jackson and his 13 year boy in France, Newsreaders and guitarists, it goes on and on. It felt like a  chapter from "You'll have make love in this town again". Fun night.


---
April 25th
Murchison St is open for inspection and quite a few people turn up....one guy almost moves in ,on the spot.

The Neil site has already had 1670 hits, and this Diary site is well over 26,000 (phew) makes me take some time to check my spelling (now that's a first).

Melbourne is getting all gloomy and cloudy, but we have ten minutes of bright sunshine just as Deanne opens the door for the inspection- cool.

The club newsletter is at the printers being created, Spock has recovered from his sickness and decided he'd work on it in bed. So the cover shot of Neil is a bit trippy and kind of tattoo'd. Think it will be interesting....we've put art above his boyish good looks.

Really sad about Linda Mc dying, sad when anyone dies I guess, not just a celebrity. I'm sure it will rip Paul Mc's world apart. She really believed in Vegetarian lifestyles, the first thing she did when they met the Finns was to give Sharon a Vegie cook book. All the stuff around assisting her death etc, if it's true or not- I would do it- if my partner was in pain and dying. I can see some of the good in what people like Dr Death do......dignity and the removal of such pain are not bad things. So even if Paul Macartney assisted it shows an incredible love for his soul mate.

Melissa and Tania take us out for dinner.


---
April 26th
Elephant in the morning- just the three of us today. can't believe that Peter who worked their last night is their again this morning. My darling Becky shouts me brekky, really sweet...........ok what has she broken! What nothing, she's just being kind.......oh ok. No "Becky baiting" in this issue of the Diary site, see that's all it takes- a good coffee and some brekky. Unless you are John Howard, nothing would make me write good things about him. Hope the Wharfies win their case in the High Court. That;s all I'm saying.

Have a chat with one of the waiters about Home Improvement Pin Up Hunk- Jonathan Taylor and how he is just about to 'come out" as a gay role model. Fellow "star" Tim Allen has been trying to suppress the story. Old homophobic bastard that he is. Good on Joanthan for being so brave, I'm sure he just broke a lot of teenage girls hearts as well,but heaps of teenage boys just pinched their sisters posters (grin).

OK I've been sprung- in a recent interview in Tasty Trash Magazine I made the mistake to admit that the first movie role I had was as a frogman in "Airport 77"...yes I was still at school and a friend was working on the script. I didn't have a name, I was simply Frogman #2.  I'd spent a year scuba diving with my uncles and was pretty good, nice and tanned (and a few freckles).......someone pointed out that I'm even on the credits. Wish it would of been the Earthquake movie...........or the Poseidon Adventure- I'd love to hang upside down from that Ballroom table! Sure beats my roll as a killer Zombie in the Uncanny Xmens "Still Waiting" Video clip.....but hey at least I had the common sense to wear red converse runners so I'd stand out from the rest of the Zombies. My face explodes in the clip after drummer Craig Waugh shoots me with a shotgun! Isn't life fun.

With those images running through your mind I'll leave you all now. Next club newsletter goes out , in a week, we've listened to your many "requests" so hopefully some interesting merch. will be available.

cheers
Peter

---
If there are any problems with this site, please contact webmaster@aswas.com.