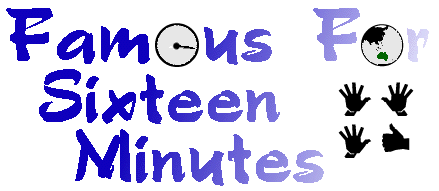 The Life and Times of Peter Green
Archive: 13 October - 25 October 1998
---
October 13th
Neil plays "In the Round" show tonight- we tried to let as many club members know as possible, basically it's a club member audience- so whoever we spoke to at the Festival Hall Show got the info about this tv appearance.

Hmm the LLt site is one year old today- seems like its been up forever, the band will start recording their debut Cd early next year. Paul is currently setting up the home studio and I know they'll be working on demos etc soon, which will probably mean the Halloween Show at the Espy is blown out. The Hessie's Shed tv show starts in Australia on the 31st October as well (10.30) and the first show is the Neil Finn/ Nick and Paul "reunion"....ABC TV.

So here is sit in London town, Fran vacates my room, need an hour or so to be by myself and relax....the last week has been pretty full on- too much partying and weird emotional stuff....so it's good to sit and contemplate. Didn't get woken up by "X"....no doubt running late for todays filming. Courtney Love and Hole rehearsed yesterday so there is no point going along to the Jools Holland Rehearsal......Liam and myself wanted to meet her. Bummer. Love Celebrity Skin CD.

Go check out and crash in the Finns room, bring Sharon some Danish's...feel a bit guilty waking her up. Robbie calls and says we should do brunch. Decide to take them all to "Princess Palace" it's actually called The Orangery and sits hidden away right behind Diana's Palace...in the Gardens. The skys are overcast and it's sprinkling with rain. Arghh London..how I'll miss you.

Robbie gives Sharon this incredible shawl, really cool. he's such a sweetheart. They love "the palace" all earl grey and scones but great decor. Mark Smith and Elroy show up...they head off to more art gallery's. We take Sharon to some local clothes shops but nothing strikes our fancy. It's my last chance to hit Jigsaw....spend 70 pounds on this very cool black mohair "bailey" top..it's slightly punkish. Liam wants the reddish one so I go for the black....he has great taste for a 15 year old. The only thing is it's not really pratical tour wear, the mohair will catch on everything. To my excitement I finally track down some mens thin back singlets. Impossible to get back home, been searching for these for ages.

Go see Grant and he is really great- if he was this way forever I'd work for FREE....ok maybe not (grin). Despite our small disputes he is by far my favourite band manager...I do love the guy. Go see Dee for the last time, his lady is great, wish I could of spent more time with them (and Bill and "E", and everyone else) touring is hard for long moments of friendship....seems you live your life in small bursts around different people. We end up in the bar downstairs having a last drink (mineral water- Good Gryphon...don't send me that Betty Ford info just yet).

Go back to the Finn's abode and collect my gear for the taxi ride to the airport....Neil is in the shower so I get a "goodbye" screamed through the bathroom door. Liam and Elroy go so close to making me cry, it's all weird....all so strange. very quick taxi ride to Heathrow...I feel like a corpse on it's way to the burner. Don't think I want the tour to end.

British Airways/Qantas are real shits and try to charge me 320 pounds in excess luggage, eventually it gets chopped down to half....fuck so much. Last thing I needed. Spend one hour collecting my VAT at the airport and the rest in the VIP lounge. I hate heathrow Airport, gatwick is far better. The best thing is our flight has the new Qantas seats, upstairs in the bubble... manage to sleep for 6 hours drug un-aided. Wake up and watch Godzilla. Guy next to me is ok, keeps to himself . Keep reading the new Anne Rice book, Anne is always my flight companion...love her , especially flying through a storm.


---
October 14th
My special meal just arrived, really good flight crew. Realise I didn't tell the office I'm coming home, I think Amanda forwarded on an email with details. Loose a day flying so I'm home on the Thursday. I feel like a different person to when I left, a bit turned inside out. Think it will be hard to "come down" from the tour. It's a common complaint.....you get home and no one understands where your head is at. Too hard (and weird) to explain. Make a note to ask Neil about it...must be strange for them with the touring time they put in per year. Guess that's another reason why the family travels, they all go through the "experience" together. Hell it's been fun, and despite the complaining I wouldn't have it any other way. We have various visitors on the road, but to go through the full "road experience" you need to be there as part of the collective for a full time. You have to be part psychic to know when to give people the required space. No space you tend to explode. Jules knows exactly what I mean....she gives good "road logic". Should write a book on it.

I sit back on the plane and so many of Neil's lyrics and the tour party's faces run through my head like some strange art movie. Fuck what is in this drink!!!!


---
October 15th
The sun is just creeping above the horizon, time for all of us good Vampires to go to bed. It's 4.55 Melbourne airport. There has been a medical emergency on board the plane and we all have to wait for the doctors to come aboard and take care of the sick guy. Grab some JD for Mark and zoom through immigration, worrys me that the immigration guy remembers me, he asks how the tour went. Bags are off quickly, the sniffer Beagle doesn't jump on my bag (phew) and I clear the customs area in record time, grab a cab and end up home 50 minutes later. A record. Wide awake, not as messed up as other flights. Hairball says hullo and the office is so incredibly "neat"....won't take me too long to mess it up.

Give out presents and head to the Elephant for brekky.Mark has been so efficent.


---
October 16th
Head to the city to pay some $ on my Amex card....Mark finds a fan book and it has this full page photo of myself....ok photo but I can't read the text...its all a bit silly.

Buy the last of the She will have her Way cd singles (with bonus tracks) from HMV. EMI tell me that once this pressing has sold out that no more will be done, so it's going to be one of those singles that people will be trying to get in a few years time......make a note to buy up all that we can find. Could be a good investment?

"Sinner" is at #39 in the UK.....radio still is the problem.


---
October 17th
This is the last gig for Neil plus band, Belgium, should be a good show. After that it's Neil acoustic, I think Bic Runga will be doing backing and Liam may jump in on the odd bit of guitar. Wish I was there to see Bec. The Neil calendars came up really well, so many letters from fans wanting them, one of the nicest pieces of merchandise we have done. have a few left, and EMI want the remaining stock, so fans had better get in quick.


---
October 18th
Macainsh calls and Red is being a bit of a prick around the Skyhooks Shirl stuff. He even sent a letter into The Age having a shot at Macainsh.....Red defending someone- now that's a scary thought. Told Macainsh not to worry about it. Considering Red is such an intelligent person he can be so stupid.

The performing Arts Museum calls and the familys exhibit is on, in the end they just went for the Finns, not the Seymours....because they didn't have anything from Mark Seymour. It's on at the moment at the Performing Arts Museum and it's free to enter the exhibit, now housed in the Arts Centre. New people move into the house next door, 4 kids, well they are in their early twentys, good to have some "young'ens" next door...they do have a stupid dog..that barks too much.

Put in the order for Liam Finns guitar picks, it's his birthday present from us. He doesn't want to do autographs, so I told him he can just give fans guitar picks instead (grin).


---
October 20th
Australian Summer is here, which means BBQ season. Our new BBQ arrives, its a huge round black motherfucker....spend the day building it.....looks like a burnt version of Marty The Martian.

Some people have been asking about Neils acoustic guitars, they are Maton.... really nice sound.

Nigel Griggs calls and we talk about the Enz, Mushroom Anniversary Show, a special possible Enz gig New Years Eve 1999, which will possibly be linked in with the fanclub 20th year celebrations. The Mushroom show won't have the Enz, Neil is playing in San Fran, Tim is recording in USA. Noel wants to do it, we are assuming Eddie does and Nigel doesn't care either way. I wish they would of, they missed the last Mushroom Anniversary.....oh well, there's always Mushrooms 30th!

The Blue Elephant now has new menu's......they are slightly American, as one of the new owners is from the States.....at least there are no damn hash browns on the menu.!


---
October 21st
Have lost a stone from when I first headed off on tour....trying to be good and eat some healthy "stuff".

Get an email from Jules, told her that the Jules bungie-jumping in Auckland photo and some other tour shots are/will be up on the F/16 photo image area.... the Jules shot is great- you guys all know her- she does our keyboard (tech) "stuff" onstage, played with the crowdies and makes a good cuppa.

Went to my monthly "songlines" meeting tonight- a guy (from seventies band Ol'55) owns a studio in Sydney and talked about Recording and the studio scene. Also Paul Kelly was special guest. He's a nice guy, not messed up from selling shitloads of cds...very Neil Finnish. We all had a sing along, like we always do, Paul playing a version of "Love me do" and a couple of his tracks. I was a bit happy, I contributed a few things to tonights meeting- that felt good.... so weird the room goes quiet when you speak and some of the musicians scribble notes like it's words from the guru...very strange.

Run into Nicks ex-lady Julia down the road (she was in the "Mean to me" clip), she's coming to our New Years Eve party....she'd just gotten a letter from Sharon.

Check the in basket and find some invites to the "Under the covers" launch, its the music graphics of Ian McCausland,Graeme Webber and Steve Malpass . Juke writer Ed Nimmervoll pens their stories. All Aussie record/cd covers....... Paul hester will open the proceedings and some Aussie musicians will play.... will have to attend. may go along with Hessie.

Heard from Becky, sounds like Bali is fun, but she's escapeing the tourist area and heading to the wilds of the jungle- good move.


---
October 22nd
Phones are quiet today- still not replying to emails for another week or so. Maz leaves for Men at Works USA tour this weekend, a bit pissed off- didn't call or ask us to his farewell at the Mexican place....then again he probably doesn't know we are home.I forgive him too soon.....should stay crappy.

Speaking of BCO- Jill (god bless her) sends us a copy of the upcoming BOOM CRASH OPERA cd- The Best Things. A great greatest hits package....really cool sound.

Work in the garden, do club stuff.

Finish the Enz design for the new "Spellbound" shirts, they will be ready in ten days. Had to wait for all these extra orders.

Light up the ballet school upstairs and start on this weeks tarot card readings- Rosemaree's is first.....need to peep into the future and see what's coming my way as well. My Druid animal card is the RAM.


---
October 23rd
Get the latest copy of Juxtapoz Magazine. Has a brilliant piece on one of my fave artists Mark Ryden. Hopefully getting this limited edition book of his (only 50 made), all by hand and all pages are screened on material....

Get an email from Chris Burke and the book orders for Something so strong are still flooding in. Deb has the SSS site up on the book- so if you want to know more about this fine bunch of Crowdies scribbles go to: http://www.somethingsostrong.com

Di calls and she will be part of my upcoming "suprise"........

Get a call from Paul E at Sony (NYC)...wants all the goss. He sounds great and is still in love, sometimes I wish he lived in Melbourne so we could go out and terrorize people together...I think he could be a good friend. May see him soon.

Amanda from the office calls, she is now back "home" if Sydney is home....sounds like Holland rocked on the Europe leg. She experienced the crew bus and loved it and now understands why I preferred it to the band bus most of the time. I miss seeing her every day.


---
October 24th
Melissa and Allison drop by and we all head off for Dinner. Sit outside under the stars on lovely old Commercial Rd. Allison makes a quick joke about Melissa and her camp shower (bang)............when the gas went out recently all the army stores sold out of these camping showers. A teenage vampire straight from the pen of Anne Rice sat at the table next to us tonight- his pupils were dotted with flex of gold...he looked like he'd never age.........he'd make a great rockstar. Should of signed him on the spot! Blew another chance.

Back home and we sit on the balcony and watch the circus roll by....what a great night, and the view from home looks like New Orleans. We can see for miles across the rooftops and a walm breeze blows through the tree's. A baby possum makes a dash acros the power lines to our big tree and watches us watching him. More Tarot cards- Melissa's first reading, Allison's a is a regular....it's the return of Madamme Ruby!

Neils Recovery Show is on tonight- one hour. They cut it up a lot- all the in between songs talk has gone, still came up ok- guess it's hard to cut down 2 hours into one hour. So many familiar fanclub faces in the crowd. Notice they really film Liam a lot. They had a promo for Hessie's Shed- starts on ABC on October 31st 10.30. First show is the Neil/Nick/Paul show. Really hot night- no sleep....set clocks forward an hour- day light savings. Get a message from the Office that it looks like Neil will be playing a show in Melbourne for cable tv, and two rehearsal gigs in Sydney (so it's reversed) need to hear from Grant on this, so if anyone spots him-tell him to call home (grin).

The Neil site will keep everyone updated if these shows are happening.


---
October 25th
Early morning sex...nothing quite like it. Fantastic when your body fits into the shape of the person next to you. Skin so warm and salty. Didn't want to get out of bed but we promised a few people we'd meet them for breakfast. Rosemaree is down their on time, we are 15 minutes late, Spock forgets to re-set his clock (Rosemaree reminds him he did the same thing last year) so he is an hour late. Elephant is deserted. Spock is still working with Phil (Judd) more music for Stingers the new cop show on tv. Phil may be moving back to the city.

Miss Jane and coherts are sitting outside a cafe near Hares and Hyena's, was running late so I didn't say HI. Was that Candee with her? Probably plotting the takeover of the World or the next "Big Womans Shoe Sale". Who know's what a Queen thinks at these hours of the morning.

Happy Birthday Elroy Finn....9 today. He's in Norway on the tour- so I need to give him a call. How many kids get to spend their birthday in Oslo.?

Thats it for now, the F/16 site has now had 38,000 hits-incredible.

take care
Peter

---
If there are any problems with this site, please contact webmaster@aswas.com.