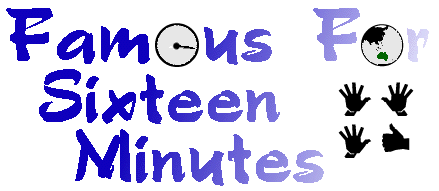 The Life and Times of Peter Green
Archive: 18 November - 29 November 1998
---
November 18th
Go to "Streetlight" used Cd shop and find a mint condition issue of the Enz "Mental Notes".....from Japan- with that very cool lyric/photo insert. What a bargain...a gigantic $2.95! Still a collector.

Spend the day writing, reading, mostly Jean Genet and Yukio Mishima. Love their work. There is a collected works by Genet and I can never find it, hope my Sis or someone grabs it for me for Xmas. Sounds great. Steal Spy Di's bike in the afternoon and follow the river for miles. I ride up and down the jogging track, let my wheels spit out all those golden leaves, get home to witness a great sunset.

Paul from Sony calls and invites us to dinner- will be great to see him again, good to see another NZer doing so well- proud of the brat! He's a good mate, hope his boyfriend is nice, sure he'll be fun.

Spy was so cute today, she came home from work to bring me a sandwich and to check that I was eating right-I'm still her favourite house husband.

Practice the vocal on ASH's "Girl from Mars" for my possible debut at the party. End up sounding hoarse.

Have dinner with Spy at Tsugaru-fantastic Japanese.

Voyager 100th episode tonight- how exciting....Voyager rocks. See some more previews of the new StarWars movie- looks good.


---
November 19th
Honey Nut Clusters are deluxe!

Russia launches the first part of the International Space Station, I think about my friend Kelly who's working on some of the segments- what a great job. Lets hope Nasa get no more budget cuts- Space IS the place. The last piece of the station is to be put in place early 2004- even the date sounds SciFi. The station will weigh a million pounds and stretch out further than a football field. Hope kelly included that spare room for me on board as instructed.

My eyebrow secretes it's first bit of blood plasma-urgh- actually it's not all that gross, just a drop.

Grab Di's bike again and go for another long ride, get back again before sunset. No sign of the phantom bottom pincher....Di was telling me about this guy that rides his bike and pinches lady's bums as he zooms by....it takes all types I guess.

Go see Velvet Goldmine with Spy and just love it. Brilliant music, fantastic costumes and Ewan McGreggor looks like a glamish Kurt Cobain. Those boy to boy glam kissing scenes look a bit real eh Ewan- then again I remember his wife telling us "how she found it very sexy to watch on the set" (grin). No doubt most Americans will hate it, in fact probably most people. I know Mary Ann Pineapple Head will kill to just look at all those incredible stage costumes.

Some good previews- "Celebrity" and " Gods and Monsters"-have to see them.

Feel really great.


---
November 20th
Neil Finn- Chicago

Decide to stay in San Jose for a few more days to relax...it's a good vibe and I feel really positive. Tim's turning up at the Chicago gig as special guest and I know there is some talk about this Enz reformation show next year- it's still being confirmed. Guess the Finns will talk about it at the show.

Mark tells me we had a visitor at 9.30pm last night- the return of Vivienne. She found out where we lived and turned up out of the blue. Mark's jaw dropped and all he could think of was her trying to smash my head in with a telephone. She seems pretty normal, and we have to invite her to the party as a judge (no costume required.....everyday she looks Alien).

Go to Di's hairdresser at 2.15- Good cut and Dye job- a bit of red added, should grow out well. The staff and myself compare tattoo's.

Notice on The Age website that they really slammed the Mushroom Records anniversary concert, think Neil will be glad that the Enz didn't play, it was a fairly brutal review. Diesel told me his part was fun.

Go see "Celebrity" with Di...Leo de Cap. swears a lot during his scenes, good movie but the ending was a bit sparse.

Fave Song- "Outside"-George Michael
Movie-"Velvet Goldmine"
Book-"Area 51- Dreamland" David Darlington
Magazine- Propaganda #25
Venue-"Mother" NYC
Drink-Green Tea
Person- Ben (Ben Ben Ben) he rocks.
Dog of the month- Linda Tripp
Fashion Accesory-Eyebrow Ring
Fave Cd-Lyle Lovett-"Step Inside this house" (Thanks to Erika for getting me into this CD- you were right I was wrong. Lyle Rocks).


---
November 21st
One would hope that scum like Aaron McKinney and Russell Henderson will die a slow and painful death after their gutless slaying of Mathew Shepard. These people make me sick...I'm sure they'll get theirs in jail.

Go to the local mall with Di-really rapt because they have a "Guess" shop- great clothes and bits and pieces. Buy this cool bracelet. Girl at the counter is really sexy and sweet and asks me if she can touch my eyebrow ring! Ok I did get a hard on....too much information....sorry.

Give all my change to the man with the bell from the Salvation Army, Xmas must be approaching.

Drive with Di to San Fran airport for flight to NYC. Say goodbye- really sad, had such a good stay. She listened to all my ramblings, never once asked for her blessing on the "Y" subject but I think she loves me enough to understand.

San Fran Airport Toilet Graffiti- "Whats the difference between the Titanic and Bill Clinton. Only 500 women went down on the Titanic".


---
November 22nd
Arrive Newark- NEVER use Supershuttle, it was a terrible experience, after waiting close to an hour they said I'd have to wait another 25 minutes. Told them to get fucked and caught a cab. For the extra few $ it's just so much better. Supershuttle suck.

Back at the Soho Grand, Rodriguez is a sweetie and even though they mess up my room booking, I forgive him....the hotel covered my brekky.

Nic and Fran arrive and thats good- hope to be alone with "Y" so I thought I'd spend as much other time with them.

Dave Dobbyn calls and we head off to Paul and Matts place, Dave is such a good guy now- more positive and fun since he;'s on the wagon. Paul and Matts place is fantastic, really good to be at someones home. Have to leave far too soon to catch up on the end of tour dinner at Pia Denis (Italian). Taxi drops me off miles away- and thankfully another guy knew where he was going. I arrive and squash in next to Neil- order a very small pasta. Neil tells me they took me literally- as I have 5 pieces of raviolli in the bowl...now I'm eating very little these days but really 5 pieces of pasta!!!!!!! Mark who use to be known as Diesel is next to me and his wife Jep. They are great, hope we do some work with them this year. he starts recording his next solo cd this month in California.

Everyone is here- all laughing and the wine bottles are very empty. Head "home" with Privet and Ben. Privet is our sound man, use to work with Genesis and all these other people, he even made The Roxy sound flash. He's a good lad, tells me all about motorbikes as I'm thinking about buying one next year. Ben is going to teach me how to ride- trust him totally. Don't know if he knows what he's getting himself into to, I bet I'm a crappy biker!

Hmmm sometimes on the diary site I just won't put stuff, about 10% of my silly life is up here, but it's good to keep somethings buried within. The rest of tonight is like that- lets just say that I must be the luckiest man in the world and totally happy. A night like this I wish would go on forever. Thanks to Paul for helping out in this....your input just made it happen. Life is good.


---
November 23rd
Nicoles quote of the day around the NYC sex shop "Buy the big one" !

Neil Finn-NYC-Bowery Ballroom.

Walk down to the Mandalay Palace and buy Nicole,Fran and Ben and myself dinner, cost me a small fortune but they are worth it. They know when to give me my space, well hopefully. Eat dinner on the balcony, lit by candles. Cool.

So much for friends shouting me dinner if I make it to New York. Talk is cheap.

Hey great venue, brilliant gig. No Lou but Mark (Diesel) played. Heaps of club members. Poor Dave Dob was starting to rasp and there was no one to give him water- so I grabebd some from the band room and made a very quick stage appearance. My water bearing cameo.

Neil was great tonight- having a ball- was a bit concerned how he would be with the family absent, but tonight all the pieces were there. gave us all huge thanks and it really touched my heart when the crowd gave me that cheer...of course I sunk low and went red...too shy guys, but thanks Nelfin.

Drinks at the hotel bar- the security guy is so fuckin' rude. Mark and Neil really tell him off....thought a fight was going to break out. (Phew). Privet tells me more about bikes, Paul E. loved the show, alls right in the world.

It's my last night in NYC, my "neutral zone" around the "Y" situation and was hoping for something fairly private. It ended with me feeling my space was invaded and my friends thought nothing but themselves. So I've decided on two things: 1/ I will never encourage or let my friends be part of my work area (aka- tour)- never again. No more passes, no more soundcheck stuff, no more hanging in my room or coming back to the bar. 2/ Give up on the belief that some of my friends even care enough to understand the word intimate, especially where my heart is concerned. It all sounds pretty brutal, I don't want their advice, unless I'm asking for it. I've just erased all this other stuff 3 times now, it will just make them freakout so I'm cutting my losses and ending it here. Just don't feel I can trust them...that's really sad eh? No doubt I'll get some full on email.


---
November 24th
Remember that I have to wake up the crew- Privet is happening, working on his new digital camera....Ben is impossible, he slept in, and his stuff is squashed into all the bags. he's flying out with Neil today, I'm heading off at the same time to San Fran. We all meet in the foyer. Dee our tour manager just hugs the hell out of me, I'll miss the bloke, always been good to me, still calls me Pee Wee like he did from day one. Neil gives me a hug, tells me that I have to become the "elder statesman" of the group. Think all the late night partying, eyebrow ring and wacko stuff is just foreign to him, he just laughs it off, thinking whats next! Tell him he saved my marriage a few times on this tour.

It's a puzzling statement but he gets it.....3 words from Neil (I now call him "Nelfin") can equal huge editions from others. He's a good honest man. Carlos pulls the limo up and I head off to the airport...I wave out the back window as Neil and Ben head the other way. Safe flight guys. I eat at Newarks Aubon Pain (its a branch of Peters House of Pain?), "If I fall in love (it will be forever)" is playing in the background- makes me smile, a nice sentiment but say you fall in love twice?

Call Di from the airport and she is still a bit of a worry wort. My flight takes me to San Fran and then I swap airlines and head to Los Angeles. As we circle LA last nights Ecky takes over and the cities lights are incredible. A trip on a trip? Bad Gryphon.

Arrive LAX and no Erika, feel alone...then bipp bipp, the bmw pulls up with blue-tips and she just makes me smile. She just asks about "it all" and just really cares, no crap, just so easy- a wonderful creature. Arrive at her place and the two kittens go crazy and climb up my legs. She tucks me in and demands I have the bed while she has the couch but only AFTER she comes back from her band gigs. I fall asleep feeling sad about two friends who I cared so much for, and now I feel angry at....I pray for the new day to roll around soon. Sleep well, really deep, but after 3 days partying is it any wonder.


---
November 25th
Didn't here Erika come home but there is a note to Sweet Pea, and I call her at work. Erika's flat is everything I expected it to be. The kittens have grown a bit since LA and spend the whole time following me around. Erikas other cats are Butter and Doreen, both were treated badly before Erika, her healing heart just worked miracles on them, Butter has a way to go but Doreen is happy. Her main aim in her 9 lives is to get inside Erikas linen closet...what for we will never know.

Walk to Vermont and eat at MamaMia- good healthy sandwhich, juice. Still no real appetite, so they bag half of it for me to take home. They play a lot of Donna Summer at MammaMia ("She works hard for the money"). Buy mark his Rolling Stones book and I grab a few new Genet titles.

Erika works half the day and then we head to El Coyote for the ritual...on the way we call into a few costume shops and I find some pieces for my new Years Eve costume....in fact it;'s HUGE. Lisbeth and friends are waiting at El Coyote and we have some fun, I sip one margueritta but end up on water and Diet Coke.

Good Gryphon- healthy is good.

Go home, grab my bags and head to LAX. Erika waits the whole time with me at the airport and we just talk, I leave LA feeling good.

Neil and Ben should be home now, Neil will spend the week just playing his piano, Ben will spend some time working on his new computer.he loves it so. Hmm what will I do- catch up on club stuff.


---
November 25th
Miss a day flying. Sadly it's around this time that a friend of ours from Sydney passes away. His name was Hayden, and I had the fortunate pleasure of being in his life for a short time. He was very young, an incredible musician and one of those smiles that melt butter. An anomaly near his brain took his life and his space in our hearts will never be filled by anyone. So many of us are incredibly sad, but I'm trying to think of the great fun we had, his kindness and those little things that made him special. I hope he's in a better place, because this place is less without him. We miss you Hayden- god speed.


---
November 26th
Customs are nice and don't hassle me. Taxi to Bens to drop off his speakers and stuff. Gives me a "talk" about eating and makes a killer sandwhich....does the trick and I realise how much I miss the Australian food groups- so fresh.

Call home and after awhile I'm back in the office.

It rains all the way in the taxi, and I say to myself- it's so good to be back. Missed you Melbourne. Amanda tells me about Hayden, and I just cant talk. I have to tell Erika as she knew him too. It doesn't feel real. Speak to Maz on the Men at Work tour- he is in Florida, and wont be home till March 1999.

Come home to flowers and chocolates, can't eat the chocolates yet, still being good, but the thought behind it is nice. Call Mum and Sis, tell Mum about my eyebrow piercing...she freaks me out and says "As long as I didn't get my dick pierced" Oh my god, that's so weird coming from ones Mother. Good to see she can still shock me!


---
November 28th
Buy $15 worth of Aids pins from the boy in front of the markets, World Aids Day is coming up on December 1st- afterall this time its ridiculous that the disease still survives and kills so many. Buy a pin or ribbon, the $1 you spend could be the $1 that helps provide the cure.

Update the largest living things website via FrenzCom, it now has the listing on Hessies Shed shows and who is on what night- so go to the LLT site and check out the bulletin board for details.

Mushroom Publishing emails me and sadly they've put back the release date for the Enz sheet music book till early 1999, sorry about the delay, it's out of our hands. Damn annoying though.


---
November 29th
Sunday Morning, wake up early and head to The Elephant. Its a group assembly today, so many people- Spock, Melissa (thanks for the flowers), Rebecca, Tania, Rosemaree, Marky, Keith from the Seekers, Alison, really nice. Melissa stands up and is counted, and we all love her. She's a great gal. She drags me to Outlook Cybercafe and I meet her in some female chat room.....as Pandora. Bernice who runs it, this nice transexual just is a hoot. I can see her singing "She will have her way" in some torchsong cafe....Melissa is just in awe of her. So funny.

head home after 2 hours cyber-searching, and the guys have all returned from the preview of BUGS. They loved it. We talk about the Fembots presentation at the Party, and its going to be fun.

Well thats it for now, apologys to Deb for being away when the FrenzCom auction was on, she works very hard on the domain and we all should support it a bit more. Anyway this is a belated thanks for your efforts Deb. [ed note: my pleasure] She's just about to add some more photos in the Famous for 16 minutes images area, so check out some friendly faces.

Take care all of you- Life is good, enjoy it.
Peter

---
If there are any problems with this site, please contact webmaster@aswas.com.