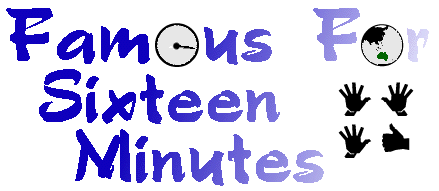 The Life and Times of Peter Green
Archive: 22 July - 2 August 1998
---
July 22nd
A really cold day in Melbourne town, I think of Neil, band and crew sweltering away on the road in the US of A where it's getting pretty darn hot. Hear from our USA contact and it looks like Finn merchandise will be ready around mid-tour. Neil rejected the artwork done in the States and it looks like our Aussie art-work will be used, so I'm pleased about that- now to locate all the parts etc.....hopefully they still have the seperations which will save on time and money. From what I gather the great metal Neil Finn TWT world tour keyrings never made it to the States, so if anyone is after one just email me via Frenz.Com and I'll get back to you with costs etc. I think Arloe may of left the tour by now, so he's home with wife and baby. I'm sure Amanda is flat out, her first American tour- hope she is having fun. I do think of them all daily, while we sit here going through weeks of work...but hey I'm in my own bed!(grin).

The Telstra man arrives today and puts in all the other phone, fax, internet lines, it's starting to look good. Mark installs our "made in China" space phone in the kitchen....every person that see's it wants one. Will have to import them in. Melissa is driving us batty about the phone and keeps offering us mad ammounts of money for it. hey Nicole I should of bought two of them!

All the phone lines are in and the Telstra man-Ron didn't have to dig up the polished floors, they even work. Telstra calls and gives us a discount on one of the lines as they have billed us for phone lines we don't even have yet. Argh privatisation at it's best. Thank god the sale of the rest of Telstra has been given the thumbs down. Another of Howards stupid ideas.

Spend the evening putting up LLT Conty posters- run into a drunken Rebecka and co. on Chapel Street, now is not the place to comment. Hessie, Kevin spot us postering and pullover, they've been rehearsing at Revolver and are on their way to a fast food place. Kevin (god bless him) comes back and drives us home. He has become our favourite THING, too considerate to be in a band. We call by Greville St and stick up more flyers...if nothing else LLT are visible on every pole in the area.


---
July 23rd
Busy day at the office, heaps of meetings. Bungie (Pete) from Boom Crash Opera calls by and they are trying to put together a BCO gig, a lot depends on Tilso and his real job. He also has his own solo project that he is about to start work on. So there is still some life in BCO....just wish they had a record company that made an effort. Spock jpegs over the BCO artwork for the upcoming BEST OF.... looks great, BCO members (from the back) watching a nuclear blast (or are they protesting it)...is it their record company exploding?

Get all the film off to the States, so they will have Merch. Drop the guest list down to The Continental, its a very small list. Run into Hair Claire and we have a coffee and cake and gossip. She comes back home and checks out the new pad. We decide to go as the (fake) Fur Brothers to the LLT gig. I have my new shag "carpet" on and Mark in a furry black zip number.....leave my hair nice and wild and all heads turn as we enter the straight ol'Conty.

Kevin tells us that since we moved back to Prahran we are becoming more bizarre. I take it as a compliment. Young Nick Barker arrives and Dougald is working for us tonight.....loads of friends in the audience, got paid so I shout too many drinks.....Trina (Barrys wife) does well and scores a bottle of champas...give Kass a glass and the girls are off to a fine start. Great to see Louise in the crowd, a big LLT fan...she's just returned from NYC.....curating. We have the idea of the Pauline Hanson exhibit at Linden Gallery. various artist friends submitting pieces on "Pauline". I want to buy this giant "bop the mole" machine where you hit Moles over the head as they pop out of their burrows, but we glue these rubber Pauline heads over the moles so in reality you are bopping Pauline. We'll see....a lot depends on getting pieces in time for Linden to have the show. Could be fun, the media will love it, and probably ol' One nation Party will call in a few bomb threats- that's if any of them know how to use a telephone. Ignorant fucks.

Thought LLT were very average tonight, think it was mainly around the order of the songs, also Fran was in Italy so we missed her. Something night quite right. Kevin was fine, the rest of the band , I'm not sure. Strange gig. Get a wee bit drunk with Mark, Spock and Bungie and the girls. People keep rubbing our fake fur.....sexy and sassy thats us. The club has sold out of Largest Living Things "Hellbent" cd.....Aussie fans should check out the LLT website as some of the record stores might have copies, or if you are really desperate email me and I'll try and purchase a copy for you.


---
July 24th
Mark spends most of the day mailing out Video newsletters, takes forever but we are getting there.

The man at Hares and Hyenas tells me that Poppy Brite is coming to Australia for the Young Writers Festival, so I scrounge up an invite. Hope to do an interview.....just got the Courtney Love Book, penned by Brite, should be a good read. Is it true that another member of HOLE is leaving? Have to grab their new cd, everyone tells me it isn't as good as the previous release. I like Courtney.

Jj and Renee drop in, we are sleepy and in no frame of mind for company, but we chill out and end up watching JEFFREY...Patrick Steward is brilliant, very funny movie. It will become one of those cult movies, you can just tell. Work is underway for Austin Powers II- shagadelic baby! Not sure if the formula can work twice. Maybe we can show #2 at our New Years Eve party. It's a giant theme party- "Austin Powers in Space"......and best costume wins a trip to two to LA.


---
July 25th
sleep in....purrrfect! Finally wander out onto the balcony....have never gone out their before...phew it's at least very solid. Should be a great place to sit during Summer and people watch. The big trees cover the front like a canopy- we can see out but it's hard for passers-by to see in. Mum calls and will probably drop down to Melbourne for a visit after we do the European tour. Spy Di calls and I will get to see her before we fly out for the tour. She doesn't know it yet but we have about 40 people coming to the California Roll class where Spy Di is going to teach us all how to make California Rolls......! Suprise Di. She has to earn the privelege of that spare bedroom somehow.


---
July 26th
We all bailed on the Blue Elephant this Sunday, drove out to West Brunswick to Mel's place to pick up the last of our stuff. Eat Red Rooster for lunch from a very suss looking Red Rooster store....the EK is packed full of books and bags (again) poor old car certainly needs a tune up.

The tour gets in contact, sounds like its a good day, bad day sort of tour- we all half expected this, wouldn't be at all suprised if one or two more gigs are blown out...so everyone should keep an eye on the Neil bulletin board or the tour area. NYC went off- really good show, heaps of media too. Neil will hopefully pen a postcard for the next newsletter (due out late August).

Try to find the right photo for the Enz sheet music book, it's been delayed by a month and a half....a few changes, mostly artwork related. Pain in the bum.


---
July 27th
get an email from Big Boy and the Shed show will start on the ABC November 2nd at 9.30 pm. The Neil show will be either the first or second. The ratings finish around that time so it will probably be shown in non ratings time. Telling all aussie fans to phone up the abc regarding the airing of Neils Recovery special, I'm sick of not having the answer. So ask the ABC when it's going to be shown, their phone number is (03)95242222, hopefully they'll know soon.

The people have moved out next door, it's a similar style house to ours, but they have it on the rental market.....$650-$700 PER WEEK (Phew). It's good for us, but who would be silly enough to pay that much money- it means you could get a $400,000 bank loan, if you can afford that much why not buy a place? Crazy.


---
July 28th
We have been working too hard so decide to take the morning off and head to see the X-Files movie. The cinema has a gigantic 13 people (including us) in attendance. The movie is #1 first week, will be interesting to see how it does here, they've tied in a lot of promotion. Thought it was good, not great, and Mulder and Scully work better on the big screen.....why do the Aliens always look like the standard Alien. There is a plaster/Mould company making big dollars churning out those armond eyed copies.....can't we have a NEW Alien.... please someone. OR can a new style space craft just land, open a porthole and pop a NEW STYLE Alien head out..........god even a bang the Mole Machine with a Pauline head would be an improvement- that's the answer.....the secret of the X Files is really Pauline Hansen......she IS the government cover up. I just knew it. yeah right! Will someone just cover HER up!


---
July 29th
Try Whistling This is still top ten in Australia (for it's 6th week) and we've done around 60,000 units here, so 10,000 to go and then it's platinum. Not bad. Could end up being the album of the year. The TV campaighn starts again in another month and then all the Neil Finn Xmas promotion.

Head into the city, grab some more copies of SINNER. Remember it has two unreleased songs on the single so don't miss out, grab a copy now. Actually it's great that we continue to focus the singles on the fan market- let's hope their are enough unreleased songs to have new "stuff" on each single. The Aussie version of "She will have her way" will have "Tokyo", "She comes scattered" and a version of Sinner from the Abbey Road Show. No release date yet. But it will be good to hear some more unreleased tracks. Hmm hopefully "Spirit of the stairs" will be on single #3????


---
July 30th
Work work work. Start some basic layout work for the first of the famous for 16 minutes Diary books....we decided small is cool, so we are looking at pocket size books. Looks like Spock will be working on the layout etc over the next few weeks...interesting to see how much editing I have to do. A fun project.....


---
July 31st
Mary Ann Pineapple head drops me a quick email about Neils Toronto show, sounds pretty strange, first off some fan is on stage and trys taking off her blouse, next a bra is hurled onstage....really strange- i think because it's Neil.C'mon we need some mens underpants onstage next....that would freak him a bit (grin). Someone take up the challenge! I can see him under a huge pile of knickers trying to come to terms with why this is happening....I know many of you have always considered him the "thinking mans Tom Jones " (grin). More undies please.


---
August 1st
Where has this year gone, when it gets to August I always think that Xmas is just around the corner, the year seems to speed up around this time.....have to ask myself what we've achieved this year. next question. Watch the roughs of the Shed shows, looks like "She will have her way" and "Not the girl you think you are" will be on the tv show. It's the best Neil vocal EVER on "Not the girl"....there is also some Shed Chat with Paul in the Shed with Neil and Paul Kelly. I think Paul is genuinely moved when they talk about him leaving the band ....it's all pretty real. Paul Kelly says very little, I think he feels he's invading a VERY private moment. Yes the Neil, Nick and Paul " reformation" is also on the show (Sister Madly)....think they missed the shot of Nick pretending to trash Barry's (Largest Living Things) Bass....the one thing that comes up is how great Neil is on the show. he deffinately gives as good as he gets from young Paul Hester. A lot of video recorders will be clicking on around Australia in November when it's finally aired.

Greg Macainsh from Skyhooks drops in, and we talk 'Hooks stuff. Doesn't sound like they are going to be playing Mushrooms big Anniversary show......give him some other ideas though....we'll see. The Women in Uniform reissue cd single is being pressed now, we signed off on that one.


---
August 2nd
Had a crappy nights sleep last night, Greville St was really buzzing, too many pissed people walking back from Revolver.....someone had a domestic in front of our place at 4.00 in the morning. Hope it rains tonight as it keeps the pissed mad people off the street. Drop a melatonin at 4.00 and have a strange dream about my Mum and Dad. Phone Mum in the morning and she tells me she had a dream about Dad too, we think it's because it's coming up to the anniversary of his death. Death sucks.

Strange old white haired Bob Katter from the National Party is out telling too many truths today. He actually slams the GST, and tells Tim Fisher he should resign. Fantastic, I'm not sure if he's getting political mileage but he seems to be telling the truth, an honest politican....wow. Everyone just hates the GST (Goods and Services tax)....it's a joke in New Zealand and will be even worse in Australia. Always the poor or people like young home buyers that will suffer. GST taxes even things like basic food. If you are getting your first home and it's one of those home starter "kits" the GST will add up to $14,000 onto the price. Which means less people will be able to afford home, less homes made, less house products like timber, etc purchased, less sales for companies....in the long run people will be laid off. But let Howard and Costello (now renamed the bumbling brothers) try to flog it- it will be their political end, so maybe something good can come from this. Humphrey B Bear for PM I say- at least he keeps quiet!

My friend in Spain emails me that Christopher Skase appeal was dismissed so Skase has 7 days to leave Spain....he can still appeal (again) I think, so he still might escape the Australian justice system. Interpol have been placed on alert....maybe his days are numbered. I don't think they have much chance on getting any of the money back that he ripped off.

...and finally does anyone know what the biggest tourist event was last year... the Grand Prix (NO), The Grand Final (NO), Hessies Shed (NO)......the Sydney Gay and Lesbian Mardi Gra (YES). The much talked about Pink Dollar looks like it is a real thing afterall- $41 Million dollars it created. Pretty incredible. At this rate the Gay Olympics which are Sydney bound (after Holland has them) will probably end up bringing in more $ then the other Olympics. We knew we should of invested in the Pink Tipps hair and beauty salon on Oxford street- instead of the Goat Farm in New Zealand.....damn.We all had our cheques from the See Ya Round tour and what did we do-invest in a goat farm......we could be rich from Pink Tipps and be raking in the gay dollar....oh well, there's always next time.

Hmm I know many of you have been trying to contact us by email, please just be patient, there are a lot to answer and we are slowly clearing them all out. We have our regular jobs, the club, the artwork for several albums and other projects, we are allowing several hours per day for emails.....so we are trying. Just hang in there and hopefully you will get some answers from us soon.

take care
Peterxxx

ps- get well Skip.

pss- Don;t forget to order in your Neil Finn FrenzCom pin (badge)....with the lack of merchandise on the USA tour- this is a great souvenir. So go to the Frenz.com merch page and check out the design and all ordering details are on the site. Don't think there are many left.

---
If there are any problems with this site, please contact webmaster@aswas.com.