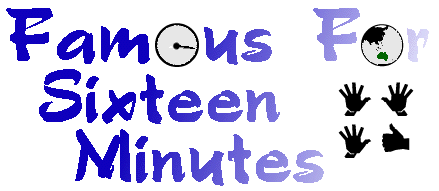 The Life and Times of Peter Green
Archive: 22 September - 1 October 1998
---
September 22nd
Bus to South Hampton with Amanda,Elroy,Sharon and Mark our photographer we have it all to ourselves...scoff on grapes and admire the view. Have some good girlie chats.....love the girls......far more wicked then the boys on the tour (grin)......sadly my balls would end up in a blender if I tell too many home secrets (grin).

The guys are delayed in fog coming in from the Glasgow tv show....so we do a bit of shopping. Another good gig......the tour rolls along happily.


---
September 23rd
Sleep ok on the bus, a few snores last night- at 5.00am I count 7 different snores....all different volumes...Rosie in the bunk next to me has a sweet snore and it doesn't scare you-some of the crew sound like water buffalo's and I'm too scared to go asleep in case I join in the nostril symphony!

Walk to Brighton fun palace/pier with Jules and Marcus. Nice city, great seaside deco buildings. Too hot outside in the bus so I work in the Venue. Sit in the park with the boys and share a spliff. Fantastic day and the park is so incredibly lovely- zen masters everywhere and yoga exercises. Find a mighty oak and admire it's beauty.

Another sold out gig-some Life Members (Dee and Rebecca) are at sound check. Crowd sings Happy birthday to Liam Finn" now aged 15 years. Rosie and Robbie our caterers carry on the birthday cake we all signed (icing pens) Liam almost throws it at tour manager Dee (grin).

The band bus is packed with friends of Liam our buddy Claire and her kids. Go drinking with Andy our MCP rep in the hotel lobby. Starts out fun and then gets scary as we are surrounded by large politicians singing Beatles covers. Michael Barker joins us a wee bit drunk (hic). Another late night.


---
September 24th
Liams 15th Birthday.

Cleaners wake me up early...pet hate! Sit in my bay window overlooking the sea and the wonderful rotting West Pier Amusement Park. (brighton) watch 3 sheep dogs frolic in the waves....nicely chilled out. Think of home and friends....

We take the tour bus to Arundel Castle and have a huge picnic -supplied by Neil and Sharron, in honour of Liams birthday. The Soccer balls and frisbees come out and Michaels elastic plane that was his present to Liam. Really fun,even when the frisbee gets stuck in the 400 year old tree and no one could get it out-despite 2 hours of trying. Mark Little (ex Neighbours was there) and he brought along his tribe. Classic moment- Robert Moore grabs Liams cordless guitar (crew gift) and plays a heavy metal solo on the moat embankment-much to the tourists delight. Liam and Elroy soon take over and do their solos. Liam is just so over the moon....so normal and cool. Great day that we will all remember for ages.


---
September 25th
Depart Brighton on band bus. Neil and Michael play chess most of the time....try to write postcards-too bumpy. Will try and find a backgammon board so I can challenge Sharon to a game.

Looks like rain for Bristol,Dee jokes the venue has no roof....

Very cool night,catch up with Fran, Sal, Steve and the rest of the gang from Melbourne, so brilliant to see then and cured my homesick state. Neillays "She goes on" and "Throw your arms" both paper aeroplanes requests. Privett and Ben both make it sound REALLY good. It's midnight and I'm on the bus,the crew are loading out...


---
September 26th
Very cold, grey day......phone home business as usual, Mark is manning the office and doing a great job. Buy Soundgarden CD (A sides) fave album of the month thanks Ben for encouraging me . Slept a bit on the bus, wander out towel in hand for an early morning shower- but the hotwater wasn't on a brisk cold shower...make that a very cold shower with a nude PG trying not to scream.... hey it woke me up!!!!!!

Exceptional gig, the audience go for it,brilliant singalong version of "fall at your feet". This is one of the best gigs that I have ever been too. The guys play 2 new songs-Older Son by Bob (penned by a friend of Roberts).....and a stage created song (no name) by Neil. Really great show. Play a mean trick on poor old Amanda, Michael B hides in a hidden room and we encourage her to walk in...loads of screaming- boys will be boys. Sorry A.


---
September 27th
Crappy Day, find some vegemite and that improves it. Have hall concessions tonight so they have to sell. Meet some internet people and pass on their card to Neil. Heaps of club members running around too. Finally get Jasons cd box signed. Meet one of the McNamara brothersw too.....meet the Village Bicycle at the local drinking area...very scary! Even the crew are horrified....


---
September 28th
Neil heads to Amsterdam- La La La tv show.......wake up on the bus outside the Marriott in Glasgow...cold and grey (again)Go shopping with Rosie and Robbie,Privett and Ben.....some great bargains at Jigsaw, the best dressed crew in town. Run into Jules and she has the Argos thousand page catalogue for me.....kept me amused all afternoon. Still gossip happening about the band and Arnold incident.


---
September 29th
Great to read about Zoe Balls article in Loaded magazine....Shes probably the last ever good time girl (ok Sally St John is too)....fun fun fun. Fran calls, her and Steve are catching atruck up to the gig from London to Glasgow......hope its in the front and not in the back with the pigs!!!! Crew dinner tonight-more wine, fine bunch of people...no Gas in Melbourne for several weeks, possibly months- very weird- no showers, no cooking, may well stay on the road.....salads only at the Blue Elephant.


---
September 30th
A few hungover crew members today from last nights dinner. I'm fine but no more toxins for a few days....more grey and rain. The Venue is also known at the ARMADILLO....looks like a squashed Armadillo to me......meet some club members and some fans from Aberdeen...they get into soundcheck......Neil plays to 150 people at the local HMV store........

Malt Whiskey presents backstage tonight and loads of dancers down the front (we like that), crew good to see people getting off their arses.....Leave Venue at 4.00 am! The crew work really hard, have absolute respect for them...I couldn't do it.


---
October 1st
Tim Finn recording his new album in Nashville.....Wake up somewhere......not sure where, what time it is or even what day it is.I just laid in the bunk thinking and listening to people breathe. I'm back on the Purple Grape. Decide on a drug free day- no fizzy drinks, coffee, alcohol, no pot.

Neil plays Pineapple Head and She Goes on In the set.....Liam rocks out during I See Red

---
If there are any problems with this site, please contact webmaster@aswas.com.