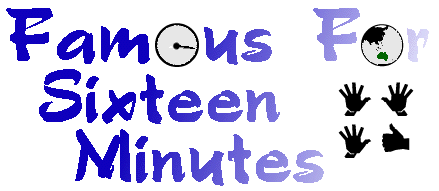 The Life and Times of Peter Green
Archive: 25 May - 7 June 1998
---
May 25th
Have a chat to Robert Moore- the bassist in Neils new band.....rumours going around that the band will be called Neil Finn's Danger! Hmm does that mean that the band will be called Danger? Why do I think of those beach signs that are put up when a surfer sites a finn in the water from a shark...a Finn and Danger might just be apt afterall.....but i think it's a band joke and that's probably not their name...but then again The Largest Living Things was what Crowded House were for a day...and eventually the name WAS used...for Hessie's new band, so you never know. Am I waffling today or what....someone has left the floodgates of my brain on open- apologies.

The Australian dollar just keeps getting weaker, the Reserve bank will run out of money soon at this rate. I pity people like Fran etc who are heading overseas especially to the UK where it's so expensive anyway, even when our dollar is strong, guess I'll have to give them my survival list of "cheap eats", and a survival kit of vegemit mini packs.


---
May 26th
The Australian Rock and Roll Postage stamps (The Early years) are available at the Australian Post offices. Skyhooks made it onto one of the stamps for Horror Movie. Next year they will hopefully have the 80's and 90's series on stamps and we are hoping there will be some public support to get both Split Enz (I Got You) and Crowded House (Dont dream its over or better be home soon)- yes it has to be a song on a stamp.

Find out that the FINN BROTHERS cd has been deleted from EMI's catalogue, send off a fax to try and get it reissued for the tour, its heading close to GOLD sales in Australia.


---
May 27th
LLT are talking about everyones "secret" drag queen names....basically you take the name of the first street that you lived on and the name of your first pet. I found out that mine is Second Ave Princess! (Glamerous eh?). Some others are Spotty O'Connor and Caesar Beatus (sounds rude)...to find out LLT's Drag Names watch the upcoming Video newsletter (these go out mid June) Paul & LLT reveal all! Will have to find out Neil's secret Drag Name- that will be my quest on the tour...maybe it's "Lester Teasdale"?

Speaking of Neil it's his 40th today- he basically celebrates it by having his UK Showcase for Try Whistling This at the Abbey Road Studios (Studio Two). The showcase goes really well, and England is back on track for the new release.


---
May 28th
Well today is Kylie Minogues' 30th Birthday- everyone heads to the Mercury Lounge for a suprise Kylie gig and celebrations. She's looking good, so petite, more like a 15 year old then a 30th year old.

Get a call from Rolling Stone and Neils article will be in the August (late July in Australian newsagencys). Blow out meeting with Mushroom, car is playing up and needs breaks done.


---
May 29th
Book the removalists for the big move, I think they'll be horrified at how many boxes there are. The only object that is a pain to move is the pinball machine. But I'm sure they've moved weirder things...and the stone Sphinx and Gryphon are an interesting few items.

Spend most of the day working on tour merchandise, and decide to use several different designs. At this stage I think we will have- a long sleeve album cover shirt (with an arm print), one of Robert Moores Neil Finn art creations (great colours) and one of young Elroy Finns cartoon style drawings. I love Elroys design, it was going to be cover art for She will have her way, and didn't make the final cut, but I think its great, so young Finn will make it onto a shirt. There will also be keyrings (metal skeleton ones) and square badges. We are trying to get something interesting done, this great Neil Finn Sarong- really cool design...Amanda at the office is almost demanding that we get this item done-"you never have anything for the girls"....I want a shirt made out of the material! Anyway it should be pretty eye catching.

We spend the night packing and packing, up to our 150th box now and the Woodface apartment is only half packed. Is it Grants birthday today? He's so mysterious I never know when he was born.


---
May 30th
Have finally picked a book size for the F/16 Diary books (year one and two). I really wanted something pocket size. So I'm finding out info soon....so it's not to late to send in your Reader "Passport" size photo.....we are creating this huge collage of the many Diary Site readers so please send us a small passport size snap of yourself. Our address is F/16 Photo-p.o. box 333,Prahran Vic 3181 Australia. We will be starting on the corrections etc soon, somewhere in between touring.


---
May 31st
Winter is just around the corner, even the nice days in Melbourne have a bit of a bite to them. The new owner of the Woodface apartment is Chuck! The clip for She will have her way arrives, looks great, Neil Finn giving the 50ft Woman a shower! Expect it on the Video newsletter. Am amazed at how many people know about the "Sebel Maid" incident.....not sure if I should be smiling or hiding.


---
June 1st
Happy Birthday to us......this site has been up for a gigantic TWO years, am amazed that everyone keeps coming back for more. 28,000 hits, what can we say- thankyou. We all have to blame Deb for letting me run riot on the site, and to not censor what I think, which is what makes it a bit more honest. Now if I can just spend a bit more time on mistakes and grammar....sorry!


---
June 2nd
Sinner has started arriving at some of the Aussie Cd stores. We go to two stores and picked up the very last copies, they usually order in lots of ten, so that's pretty good. I can remember the extra tracks from Neils studio when I was their last- Identical Twin is really great and won't be on the new album. But its on Sinner and one of the UK She will have her way Cd singles.

Phone up Telstra and find out that our new home has FIVE phone lines......that's an awful lot- settle on three for the home office. Well tonight we are all off to Kylies first gig on her World tour. Steve (from the C.H. days) is working on the lights and production. We joke on the way about people throwing Kylie undies onstage.....we walk into the Palais Theatre and they are selling (yes you guessed it) Kylie Underwear!!! I can never picture us having Neil Finn underwear, ok maybe boxers (not that idea again) but not Neil Y-fronts....or Neil G-strings. Neil and Tim bra's with their faces on each cup? Always thought we should of had some Finn condoms for the Finn Bros album- what with Neil's sperm painting being on the cover.

Anyway Miss Trudy is on the door collecting tickets, guiding us all to our seats and what good seats they are-5 rows from the front. A very diverse audience, half of the gay community is out in force to "support Kyle's"! The guy to the left of me is about 6ft high with a full length fluff-fur (fake) white show coat and silver sequinned hotpants....I spot a few drag queens in the audience- Tabatha has excellant seats but I pity the people behind her with that HUGE hair extension. Gay boys and girls hug and kiss- someone holds up a huge "Kylie you DID it again" banner. The Mavis's are on first and their sound is shit at best, it's so unfair for supports to get such a crappy sound. Matt trys to win them over, and at least some people clap- just the sound makes me cringe. The keyboard player that looks like a goldfish- well she is just fascinating to look at.....the guitarist makes all the right moves and is a dish BUT what comes out of the Marshalls is crap.....horrible sound...even their minor hit "CRY"doesn't get a huge response.

A quick intermission and the singing budgie emerges from a Pyramid, and by god she looks cute....I warned my friends how petite Kylie is "in real life", she looks fragile like a glass doll but from somewhere in that tiny frames comes a very strong voice. Yes Kylie has learnt to sing, and she has beaten all those critics that slagged her off years ago. This isn't really the place for a long gig review- basically it was a good show, caberat-dance. Two gay boy dancers who wear everything from boas to cowboy outfits to straight jackets- and they have these longtoothed smiles stuck on their faces. Kylie- humble and also smiling, she does well, and even performs a strong rendition of Abba's "Dancing Queen". She is carried around by the cowboys and we smile when she is tilted to the left and all the audience heads move to the left to try and peep up her skirt.....!

A good night, we all head to Ackland Street Cafe after the show...the waitress asks me what colour nailpolish we all have on "Kylie copper" we answer. Tania declares that if Kylie announced that she was gay Tania would become Gay too! Hmm strange quote of the night. Home by 1.00 and I realise we've packed the nailpolish removal.


---
June 3rd
Get an email (and pics) from a space friend of mine- two comets plunged into the Sun this week. Hours after the second one hit the Sun, it (the Sun) spewed out a mass of solar gas, thankfully it was away from the Earth! Do the banking and contract work with nice Kylie Copper nailpolish...run into the $2 shop and buy some removal. Have brekky at the Elephant clean my nails.

Let Scotty (manager) borrow the latest episodes of Voyager (thanks SpyDi) and he almost has a Galatical Orgasm. Space really is the place. Get colour lasers of Neils designs for NZ tour....it seems to be approaching very fast.

The UK dates are going to be announced any second, so we get a fax from the touring company and send it off to Deb for the site. I know this will frustrate the USA fans so I make a decision to release the USA roughs....this is on the back of an email to DEB, remember to tell Marck B. to check with Deb and gets the dates off her. Just not enough time in the day to cover everyone on this.


---
June 4th
Head to the Beachhouse to meet Paul and the accountants for a meeting, they blow out the meeting so it's just moi and Paul. Raymond J (in a lilac shirt) changes the new babies pooed nappy (no weetbix for me for brekky URGH) and departs.

Paul sits and has a natter,He's escaping for a week, which is a good idea...tell him he's lucky. We are getting too many emails, it's around 100 per day now, and I am starting to get some weird anxiety attack each time I clear the mail... it takes several hours to answer them all. We should have the dates for Hessies Shed (TV debut) on the LLT site in 2 weeks. Still editing but the ABC are over the moon about what they've seen so far.


---
June 5th
The courier gets lost (twice) so our parcels of artwork go out late. Find it very funny for some reason that Bob Denver from Gilligans Island (Gilligan) is busted in the States for Pot. I'm sure some cops would be smerking that they "busted Gilligan" such crap- go bust some smack dealers instead you dorks. Who's next Mary Anne and the Professor for hash cookies with their Coconut cream pie desert! Life is strange.


---
June 6th
Neil site hits 10,000 mark and the counter has a freakout and resets back to zero (ed. note - it didn't reset, and it's fine now)! Neil is on Top of the Pops, apparently She will have her way is expected to debut in the UK Top 20. Hope Sinner makes Top 20 in Australia. The Crombies are creating the backdrop for Neils world tour and now it looks like ,your's truely, is carrying it to NZ for the start of the tour. Several duffel bags I'm told...hopefully not too many round "hoop" shapes...I still have nightmares having to roll those fold up columns (Crowdies backdrop) across the airport...they were like giant doughnuts.

Try faxing Grant in Europe and have given up....he is so hard to find. Really nice phone call from my mate Bill Cullen. Looks like his new band Arnold might be special guest on Neils UK tour- hope so, really like their "HILLSIDE" cd...should be out very soon in the UK. Not sure if the "secret tracks" Best Midicine and One tree hill are on the cd.....they are really good. So all UK good music lovers- go to a listening station at your local store and ask them to put on ARNOLD....Neil told me he really likes them too....should be a good double- Finn and Arnold. Hope the usual formula works- whoever supports The Finn ends up selling a lot of CDS (Cheryl Crow is a good example). Go Arnold!

Have a bath in the wonderful deep tub at Belmore- I will miss this bathroom, just lay there listening to rain hitting the tiled roof, the steam rising up into the hanging baskets.....so blissfull.....very relaxed. I feel like one of the worlds biggest secrets is on the tip of my brain cells....a fleeting moment of being really aware...and then it slips by. Very strange, I wonder if I was about to leave my body? Where should I go. Tuscany my brain crys. Think I'll have to get to Tuscany this year- not sure why, a primal urge/calling or just too many mentions on cable travel shows- who know's- glide back under the water.


---
June 7th
Rosemaree calls and takes us to the Elephant. It's a grey cold day, rained all night, and I slept snug as a bug in a rug. Alison meets us there, the rain kept her awake, ping pinging on her metal roof and the neighbours windchimes clanging away. Some windchimes do clang, others are note perfect. We think we noticed Greg from Skyhooks wandering by, just a Skyhook clone. Minutes later in walks Greg. In a different bike jacket- so it wasn't him. We move to a bigger table, talk about Pauline Hanson, how the liberals will loose the QLD election next weekend. Qld missed out on getting the Expo, which was big bucks for the community, it always happens- when poor old Joan Kirner was in power- Melbourne missed the Olympics and a few months later she was outed. I think the Liberals loosing Qld will have a domino effect, and John Howard will go in the next election. I think some of my friends are silly enough to vote Liberal purely because they always have, loyal and blind. They should ask themselves if they have benefited by this government being in power- medical, interest rates etc. last election I voted for the Democrats instead of Labour, this election i think Beasley has what it takes and will vote for Labour again. Upcoming Queensland election will be the lighting of the fuse....the Australian dollar being worth 2 coconuts and a shell, a leader who has one eyebrow and no balls. The Liberals have to go!

Just had a quick call from Nicole in the States...she is still unique- never had a pet so she doesn't have a Drag name...guess she will have to stay Miss July. She tells me that the Canberra Neil show has been cancelled, half expected it as it's the only area where our ticket sales were weak, everywhere else we've sold out (nearly) except for Adelaide which needs to pick up it's game a bit. The 2nd Melbourne show is on sale this  Tuesday (9th)...and the date of the show is July 8th (State Theatre). So that's it- well and truely in tour mode. We'll meet some of you on the road, and hopefully I can do Diary updates whilst traveling.

Take care
Peter

---
If there are any problems with this site, please contact webmaster@aswas.com.