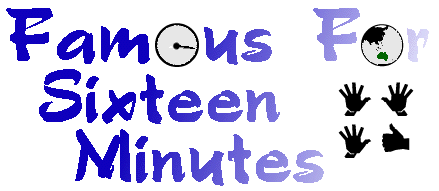 The Life and Times of Peter Green
Archive: 30 November - 13 December 1998
---
November 30th
Have a look around for an original Space Invaders Machine for the New Years Eve Party, think I've found one.....Melissa wants to buy it off me after the party for use as a coffee table.

Have dinner at Kam Pai-Japanese yum. Mark trys some new food. Pig out (oink oink).

Hear from Nick, he will be back in time for New Years Eve, wow he turns 40 soon. Will shout him lunch as his birthday present.


---
December 1st
Paul T. drops in, our brilliant young movie producer, he's filming "The last great party" mini movie.....we have some good ideas etc, hope it all works out ok. We joke that it may be "X" rated.....it mightn't be a joke.....YIEKS!

The Fembots do their first rehearsal tonight, I fill in for missing Fembot #4, we all drink loads of Vodka and Allison cracks the whip and counts us in. MG films part of it so we can see how good/bad we are. These Fembots have BIG breasts. It's fun.I have no breasts...I am a sad Fembot!


---
December 2nd
Speak to Ben in N.Z., sounds good, miss him and the rest of the crew- "Fat Bastards Club" Rules! We had to change the name to Fat Blokes Club when Elroy was around....Elroy Finn is the leader of the club. The Mascot. I'm getting to skinny to be a member.

Bic Runga's Manager Campbell calls, looks like we'll be working for Bic possibly in 1999, her new single "Suddenly Strange" is out now, has some great extra tracks, Love "Welcome to my kitchen" which is a brilliant Bside.....so everyone should buy it- get some quality music into the charts- the last single went Top 10 here. We'll keep everyone up to date on what this great lady is up to. She hits the road as special guest for Paul Kelly in Jan. See you at a show. her album is a neat chrissy present.


---
December 3rd
Get some deadlocks added to a few rooms, just so no one steals at the party, I want some of our house and office left. $230..for two...expensive.

Brekky at the Elephant and who should be there but Miss Candee. Mark begs me not to sit in our "usual" table (which is right next to her). She is asleep, in black leather and a 2 ft black wig...snoring . Eventually a heavily mascara'd eye opens, and blinks at me. "Good morning Candee...had a sleep did we"...I chuckle. She slurs something...god she's had a big night. For the next hour she makes us laugh, trys to pick up Mark, wants to come to the party and do some "show tunes"...."I"m a fucking star" she bellows. Telstra did a 5 hour makeover job and she may be used on the new Telstra Phone cards- go Candee! I put my business card in her bag and find a can of VB in the bottom of it (grin). She stays at the Elephant till 4.30! The poor staff, they secretly love her.

Scotty drops by and invites us to the opening of their new place "Jacqui O's" at St Kilda, sadly we'll be away in Sydney with Neil.


---
December 4th
Crowdies "Intimate and interactive" was on Cable tonight- wow Paul is just so dark in it- you can tell he wanted out.

Have food with Toija and Jj.

Get my ticket for the flight to Sydney. I must own a few Qantas planes by now.

Stupid rumor on the TITM list is that CH are reforming...sorry not true, sounds desperate to me....let it go guys.


---
December 5th
Just checked the LLT site and I was hit # 6666...it's true I AM more evil then Marilyn Manson (grin).

Get a call from Robbie and Rosie, they leave a message on the office machine "Oh you Old slag you're not in".....my friends are so sweet to me. Call them back and we have a huge chat, looks like they are coming over in the new year. They are currently on Tom Jones tour.....he's crooning in the background.

Just remembered that Mum and Dad would of been married 39 years today. I think of him a lot these days, don't really talk to his side of the family, I adore everyone on Mum's side, the Uncles are great to me. Send Mum some flowers.


---
December 6th
Go to see LLT and call up "Y" who lives close by. Was only going to say Hi but end up staying 4 hours, cooks me dinner for god sake, very spoilt. Leave feeling content and happy...just makes me incredibly happy. Arrive late for LLT but the park is a jumping. heaps of people, nice day and the band are in fine form. Do some new photos for the website. I love these guys and the wives are just lovely.

Finally get home, Mark is strange, take him to dinner. Alex Dimitrias from the movie HEAD ON is sitting next to us....he looks a lot older these days.


---
December 7th
So much gossip zooming around- the lead singer of Savage Garden running of with a boy, and leaving his wife. Whatever gets him threw the night. Is it such a big deal? Christie Eliezer from BEAT magazine made such a big deal out of it like it was a tabloid feeding frenzy....hey Christie it is 1999 almost. It's no big deal.

Trudy drops in with the testubes for New Years Eve...these are for the drinks for the Asteroid Girls....very cool. So Miss Trudy is seeing a man...she just glows, it's great. Sex Sex Sex.

Erika mails me a great Marilyn Manson poster..it's HUGE.


---
December 8th
OK how much do I LOVE the crew....I wake up at 4.00 in the morning, after going to sleep at 3.00. Dougald arrives, so good to have him back for a few shows, and I drive him to the airport. he's a good friend. Ben and Marcus stumble onto the plane, Ben looks a bit sick...or maybe its too early. Drop crew off at Sydney rehearsal area, I head to the hotel and check everyone in. have dinner with Doug's at The Rocks, great food place, big BBQ out back.

"Y" is in Sydney and comes by, falls asleep on the bed, so tired. Phone wakes us up. Just want to snuggle up to the body on my bed. Neil ,Liam and Sharon fly in, Elroy is over touring and wants to stay in NZ.


---
December 9th
Neil Finn- Metro Sydney (#1)

Both gigs have sold out, so that's good.

My friend Merelyn calls in the morning, and we chat for an hour. Known her for a long time, her and Jen.They know all my secrets...our conversations always start with "Remember when we did this....".

Soundcheck is at 4.00 today- head there with everyone....great to see the band again, Robert Moore has lost weight- looks good except for some horrible bushy beard...poor Nat, would be like kissing a tumbleweed.How does she do it?

Two new jobs tonight-catering and stage security. All the food arrives and is just sitting there so I take over and do catering. One minute I'm on the phone talking some press stuff , and I'm sitting pealing carrots. Only a highly skilled person like myself can do both (grin). I have no pride. The Venue decides we do need stage security (no crash barricade), so I do it.

Spot Marilyn and Sonia in the crowd- like those familiar faces. Doug's is good, Ben is moody because the gear situation with janz is fucked....poor bugger, not his night. Still he gets a great sound out of the monitors, Priv. and him, so talented.We have to keep these guys, in fact the current crew is great, I do miss Jules though.She rocks. Neil isn't happy at soundcheck, the piano fucks up,sounds weird. Eat Japanese with Amanda,we are both at strange stages of our lives. Just two big girls thats us.

Gig is great, everyone is now in a good mood, fantastic crowd. Two encores. They play "808 Song" for the first time. Liam drums incredibly well, he is great on the drums. Heaps of club members after the show. A few got to meet Neil.

Sleep by myself....pillow love talk!


---
December 10th
Neil Finn- Metro #2-Sydney

No real sleep again,must be road fever. My male periods arrive, two days of moods....bad timing. Really emotional, and need to talk to "Y" so badly it hurts. Stomach is in knots. Hate this shit.

Robert Moore phones my room, looking for the crew and doesn't ask me to go to Bondi with them, cuts me a bit. he just wasn't thinking and apologies later on.

Marilyn shouts me lunch, it's her turn, it always ends up the same price $33, like 3 times so far. She's good, our usual Cafe-The Retro. Back to the Hotel for the 2.00 Award Reception, some are still being made, so I end up holding Triple J's award in the photo for the press. Neil gives me a hug and is just in a sweet mood. Great to see Mardi and the gang from EMI, they are some of the few good record company people. Thats hard to find. The awards are not your usual square things- this time they are clear with Sharons Mosaic design on them.

Off to soundcheck, in the Foyer at 4.30. Find some great Italian glasses under the fridge door, no one owns them- they are now mine. Wow they are prices at $120- I like that. Another great show, backstage Russell Crowe is being himself (drunk?), Bones from the Oils is there and the rest of the family. Good to see Jed from the Enz crew, after all these years.

Just horrible to "Y", decided to be honest. End up going to The Sebel with "Y" goes from strange to concerned and just lovable, talk for an hour and I'm all fine...must be past midnight as my PMT has gone (grin). Head to Robert Moores Room (Bobs Bar and Grill)..take some great Pot along...smells like Skunk.

Everyone is glad I'm happy again, Privet is an Angel and just such a deluxe geezer...really worried. Touched my heart, he's such a pussycat under that hard road exterior. Leave Roberts room at 4.01 after he shows us his mini art display.


---
December 11th
Neil stays in Sydney to record Triple J's Live at the Wireless. Its an acoustic set at Tamarama Life Saving Club. 1.00 - 1.30.

Well the new Star Trek Movie "Insurrection" is released in the States today, I hate that title...sucks. Hope it does well. Jonathan is a good producer.

Arrive at Melbourne, so hot- hottest December day for 130 years. Call into EMI for my meeting, and finally home. Have a very cold margeritta at the Elephant. Still haven't slept. Leave a message for Neil to write a note to the fans for the newsletter.

Wow crazy Sex tonight...too much information...OK I'll stop here.


---
December 12th
Neil Finn Festival Hall Melbourne

My sleep patterns are fucked up...its hot-wake up very early. These big shows just kill me, seems that I do more and more things. Drive to "Festering Hall" hot and sticky but get a park right by the door. Walk in 20 Life members and all the Fox FM winners, they get to watch s/check and some meet Neil. Great to see my old friends Laura and Sue.

Nathan (Ex Enz manager) is at the soundcheck, his band is on the bill- Mr Brown. Talk to the lead singer of Leonardo's Bride, she's sweet....we talk about Aura's and healing and PSI etc etc. Trippy. She gets up and sings with Neil. Good gig, but Sydney was better. Neil smashes his Matan Guitar..some sort of statement, it exploded really well. I spend most of the night getting water for the front rows.

Bec and Mark do a great job with merchandise, we only had a few things but all went well. Tania and Melissa came along, Melissa was in the phone box a lot.... I think she has a second job doing phone sex (only kidding).

Gig over and I carry some gear into the band room, Neil suprises me with an early Xmas present, a brand new camera. Really fantastic and its the latest Polaroid, I go snap happy and within one minute use up all the film. They are so good to me, I hug him and get all teary eyed. I love this family of people, crew and band, it works. We rock.

Drive everyone home, Tania takes me back to the Hotel and we party on. Was only a bit bad, Privett just orders me three JDs...god, so I pass them on. Ben takes me for some much needed food, I think he's decided to be my private dietician and trys to make me eat more. He's the youngest member of our crew and has a heart of gold the size of a football field. Good mates forever!

Spend some time with "Y", things are strange not around me just generally, hope it improves for "Y" sake.

Get home and the sun is rising.Walk outside in the rain...love it. Decide not to sleep.


---
December 13th
Well today is Privet's last day in Melbourne so we give him a good send off. Dougald, Ben and Myself take him around St Kilda, bar hopping....the beach everywhere....just crazy...too much drinking, well it is a send off, we were like maniacs. A friend said we were like 4 wise monkeys. It goes fast, and soon we are all saying goodbye, will miss Privet a lot- he's like my older brother that I never had.

Drive Ben home and just chill out. Decide to think about the tour for the rest of the evening, the highlights, my new love, my friends, even my friends that let me down I still love them just need to forgive them, in their minds they probably don't get why I'm even angry, seems like a long time ago. Neils music is heaven sent,if any albums says how I'm feeling at this moment it's TWT- just pieces of songs. I'm still wired for the road, so I have to go swimming, or sign onto the gym this week and put that energy into workout. Lost 1 and a half stone and chocolate is no longer in my life -which is incredible.

Xmas is around the corner, home is great and "X" is so understanding, just content. 1999 will be fascinating.

take care
Love Peter

---
If there are any problems with this site, please contact webmaster@aswas.com.