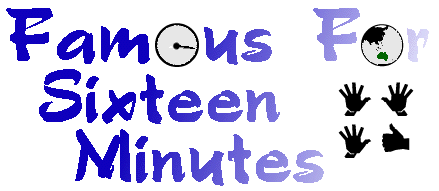 The Life and Times of Peter Green
Archive: 3 August - 16 August 1998
---
August 3rd
Spend the day mailing out videos and club stuff. Maz from BCO is lining up at Prahran Post office,have a chat and he says he'll come down to the house with his friend Mark. Give Jj two bags of his junk which have found a new home in the boot of the Grey Ghost....he leaves only one bag and I wonder how long it will sit in the back, after the bags lived at Becks for six months. Hopefully he'll get it soon. Just as Jj is unpacking Maz and Mark turn up. It ends up being Mark Seymour, i think Maz and Mark go jogging together. Seymour is looking great and he's really relaxed, Nick is no longer in the band (maybe that's why- *grin*). Tells me how much he enjoys doing the solo gigs, and he's happily been doing promotion for "King without a clue". Mushroom of course are interested in Hunters & Collectors playing at their big Anniversary show, but Mark doesn't think he should be the one to call everyone up etc, doesn't sound like it will happen. I don't think SplitEnz are going to do it either as Tim was heard on radio earlier on today saying no. As Neil said it would of been nice if Mushroom "asked the Enz" instead of us picking up the paper and seeing that Skyhooks, SplitEnz and other groups look like doing the Mushroom show. It's kind of rude for them (Mushroom) to assume, or to say it just for media headlines. Briefly mention to Mark maybe doing a 'Hooks song....."Women in uniform" seems to be one of his faves......would probably suit his voice too. Maz is heading off to Sth America with "Men at work" for a month or so, he declined the last two trips, and is regretting it, so I;m glad he's following his nose and looking after himself....especially with BCO's future being so uncertain.

Haven't heard from Grant or the tour for a week now.....need answers for questions but I know how busy they are and being on a bus makes it difficult.


---
August 4th
Speak to our other travel agent and pencil in my flight to Ireland for the start of the Neil tour....Grant calls and it seems like everything is "go"...just working out which company to go with.

Spock calls by and we look at some of the designs for the small Neil desk calendar, just need some quote$ and then we get it underway.Each month a full colour Neil shot. Should come up well.

Spend the day working again on club "stuff", Mark plays this great cd that we pressed on the Pioneer PDR 05 cd machine- really nice to have such a collection on one cd. A huge batch of Crowdies demos and rare tracks. Starts with "Convent Girls", "My legs are gone", "Time immemorial" and basically is 21 tracks of super rare Crowdies. Hopefully next year will be the release of a possible rarities cd, spoke to Neil briefly about it on the tour and I think we'll start putting it together, or at least finding the parts when the tour finishes. Guess it will end up as an EMi official release.

So many good songs that never made the light of day. Sadly the only one that never reaches it's "live" quality is the Finn Bros doing "Throw your arms around me"....the studio version is a bit limp, especially with the few great live versions. It just didn't work on the recording that we have, something is missing, then again it's only a rough.

Spend the afternoon doing strange things with all the cardboard boxes.....yes it's recycle night and we are trying to finally get rid of the last of the cardboard packing boxes. How did we end up with so much shit?


---
August 5th
Hear that the working title for the next StarTrek next generation Movie is called "Startrek Insurrection". What a crappy title, sounds like a bad Aliens movie, think they can better then this. Mark just tells me that this IS the title...urgh....why dont they just call it StarTrek Erection!

The courier company calls and all the Arnold 3 track cassingles have arrived in Australia and the government are trying to bleed us with sales tax....I remind them that they are promotional and not being sold....and I stand firm on refusing to pay. So they say that's ok, sounds like they were just trying to milk us. We are sending the free Arnold cassettes out to fans with any orders that come in and we can squash them in (cassettes). Arnold are looked after by our friend Bill and Neil liked the sound of them so they are special guests on the UK tour. My fave Arnold song is "Fleas dont fly". I think it was their first single. The albums well worth a listen.

Mark just walked in and shows me a picture of the new Lamborghini Diablo SV.... it costs the same as our new house! far out, all that for a car...that you shouldn't be driving at that speed anywhere! Give me my EK anyday.

Spock calls by and he is "artist in residence" at one of the colleges.....its the same campus where Crowdies crew member Dougald is doing his adult study course....everyone is heading back to school.


---
August 6th
Well Tim was suppose to drop in today and ok some artwork for the Enz sheet music book but he is beingd elayed with interviews and press stuff for the opening night of "Steel City". So he ok's them down the phone. He makes both news channels tonight. He even did the Bert Newton show. Tells me has some tickets for us for opening night.


---
August 7th
Head to the city and get some more Sinner stock. Go looking for a gold budha but alas the golden one has fled the shop. Wasn't meant to be. Have dinner at our new cafe- Alternative on Commercial Rd, they make a killer Pumpkin soup and have a nice fire going....just sit in the front near the window and watch the talent (and non talent) cruise the golden mile. Humans are such funny creatures.

Running late and we run home and quickly get changed and head to the opening night of Tim's "Steel City"...we are very late and all the parking areas are full. Get our tickets and miss 20 minutes of the show , still what we did see we enjoyed and they got a standing ovation. Thought it was amusing how an EK was the main stage prop. Tims music suits the metaloid tapping and scenes, but it's nothing major....still an ok show. Miss the aftershow party because we are parked illegally....no ticket thankfully.


---
August 8th
Try to sleep in but the people start working on the garden at 7.30 and ring our door bell at 8.00 to lob some of our tree overhanging their yard. I mutter something, not sure what and go back to bed. ZZZZZZ Overcast, and boring. Read and sleep.


---
August 9th
Wake up early and drive to Camberwell, the club will have a stall at today fair, and the doors open early so we are not together. Heaps of club members and new people. A lot of "goodies" go early. Tania is there and "I Fink" (thats his name) who looks like someones Aunty. I behave and the only item I buy is a photo book that our buddy Marilyn in Sydney has been looking for....I hope it's the right one. I haggle the vender down to $11, from $15....she will be happy.

It's a long day, and finally when I get to the car, I have a flat tire. I open the trunk and my spare needs some air too. As I'm walking back to the hall I notice a guy with his car bonnet up and he desperately needs some battery chargers, so i give him mine and he tells me the racv are on their way. They get their and I plead my case with the racv man who is an angel and decides to look at my car so I don't have to wait the 2 hours....phew. He puts some air in my tyre and we drive home on the spare. The gods are smiling....!


---
August 10th
Jen and Merl call and we decide to meet up at The Elephant. I drop my car into Bob Janes and splurge on new tyres, the guy that looks after me was Minny the drag queen at the street festival, he looks so straight with his tyre job, its a funny transion....loves my car and says he'll look after it/me? Just it I assure him (grin). Jen and Merl have their baby boy Matt with them, he's grown a lot and now loves walking, wins all the staff and patrons over. The girls are happy and we head back to the new office....

Send the discography for Crowded House Complete, which I assume is a sheet music book, released in the Uk later on....have to pen the bio soon. Call Grant who has just checked out of the NYC hotel....always seem to miss him by minutes.

Chat with Beck and encourage her to have a holiday soon, she seems at loose ends and as they say a new job is as good as a holiday, so thankfully she took the holiday instead of a new job. Bali- the place where all the Australians go! (sex and drinking....drinking and sex....). Thankfully she will see some of the real Bali and not just piss on at Kuda.


---
August 11th
Send Mum flowers, haven't done it for awhile. Get the florist to pack a box of living plants so she can put in the garden....the florist lady can only just lift the box...think i went overboard. I always worry when it comes up to the anniversary of dads death...same day as Elvis.

Notice Hares and Hyenas have a Poppy Brite display in their window. I bet after her visit Poppy will become the new 'cool". Had to happen.

Hairball is getting into the habit of "visiting" the library every day- we keep finding her in their-, she visits that room more then we do. I wonder what book she's reading? She's a funny cat.

Try Whistling This is still in the Aussie Top 20 and is really close to platinum....the next run of promotion starts soon. September should be the release of "She will have her way"....with all those cool bonus unreleased songs. Glad they included Tokyo on the cd single.


---
August 12th
Michele Mclaughlin finally got in contact re claiming Neils shirt from the Auction 2 newsletters back- she's been overseas.....so it's now in Sydney, and she'll love it- it's gone to a good home.

Rosemaree gave us these brilliant plants for our birthdays- we've lined the walkway with them...the blood coloured petals look the best. "Amazing Grace" walked past with her little doggy and commented on them. Grace is cool, I hope when I get to 75 that I'll be doing as many active charity related things as she does. She has a wicked sense of humour. She's a good neighbour.

Jen from Sydney sends me a postcard from the Amsterdam Gay Olympics, she's part of the Sydney Choir that opened the games....she's staying right near the Bulldog, sounds like she's having fun.


---
August 13th
Spy Di calls, she's bringing over my supply of Edge shaving cream....she always manages to find it on special with the bonus 20% in the can. Says the Fillmore show went off- and it was a sellout as I predicted. San Fran area has always been a stronghold for us. Wonder if Crissy and Co from Pansy Division made it along for the gig.? They use to play Woodface a lot when they were touring the States a lot with GreenDay. heard Liam sang "Empty head" again in the encore, he has a demo version of it on a cd that we might be pressing for him (sorry only the 1 copy).

Avoid the office in the afternoon and go out walking down Chapel St with Mg. Buy a Lost in Space Jupiter two (sixties version) Model kit...but none of the stores have paints. Desperate to get the LIS minatures that Johnny Lightening have out in the States but they are too expensive here, I know how cheap they are in America....would be great pieces for our Austin Powers in Space new years Eve Party.

Northcote byelection is on tomorrow and despite Jeff Kennett's promise that the liberals would stop One nation at every corner they haven't even placed a Liberal candidate. Kennett seems out to get ALP candidate Mary Delahunty. Kennett's still pissed off that Delahunty asked about his affair all those years ago when she was interviewing him for tv. Labour delivered and cruised to Victory receiving nearly 60% of the vote. Great to see Ken Saunders the Democrat candidate doing so well, he's a really good politician...yes they do exist. Thankfully One nation got it's sorry arse whipped.

Only a few days before Bill Clinton faces his moment of truth.....out of all this I think Kenneth Starr comes across as a real prick, totally obsessive , I'd love to know what skeletons HE has in HIS closet....but hey he's not the president...but I bet he has a blue dress too!!!! Cmon Ken we all want to know.


---
August 14th
Erika from America calls and just tempts me so much, I go as far as calling my travel agent to find out if I can jump on a flight to Vegas! Sadly only expensive seats left, so while all your guys enjoy Neil and Co I'll be hearing in the office ): She tells me the Los Angeles radio show went really well, he even played "Throw your arms around me". I'm missing the tour (a bit). had a plan to rent an complete Elvis outfit and just walk onstage and give Neil his guitar, that would throw him.

Nic calls just after Erika, and I think I leave her with the thought that I may be at Vegas.......after all this it had better be a hot show.Wis I was their.

The German tv man- Hans and his son turn up to fix the reception on our tv. They have the "latest german equipment"...but Hans pulls out this weird deco box with B/w monitor etc...he is trying hard to impress.....we let him run riot through the house, and can't believe there are 14 tv antenae connections and 4 cable/optic fibre lines. he'll be back to "finely tune" our picture!!!!!!!!!

Wow the Diary site hits the 32,000 mark....Neil is catching up fast- 31,500. Had to happen.


---
August 15th
Senator Amanda Vanstone admits that yet again Christopher Skase has slipped through the governments fingers and he is no longer an Australian citizen but he has become a citizen of the Carribean state of Dominica. As Senator Bolkus said- "the reality is that Skase and his lawyers have worked out the system much better then the Australian government".....

Melissa turns up in the evening and we head to Alternative for dinner, its really packed tonight. Next stop is the X-change as Candee and crew are putting on a free show. She stumbles past us, followed by some young man carrying a pride of wigs and dresses. Only 5 minutes late, they do all the classics and special guest is Millie Minogue who doesn't sing a Kylie song- some disco diva number instead. The cordless mikes keep stalling and spluttering so the first set is cut short. Candee looks at the petite Mingoue and says "I too can look thin with the right lightening". The lighting man makes the stage BLACK......much to the delight of everyone. "See" says the invisible Candee. She's in fineform and is happy to be the target of her own humor....that's why we love the old cow. Hopefully Candee will be one of our judges at the new years Eve party.

We leave the Xchange early and fight the elements and get home and.....watch the wrestling. We decide this year we will manage a Wrestler. It's one of those perverse things one does....I remember Cyndi Lauper telling me how fantastic it was, and everyone should manage a wrestler. Now which friend should we convince to become a wrestler....we write down our list, but the winner has to be Candee the first ever wrestling drag queen-shit she's done everything else! This could have potential. We did think of everyones wrestling names but if I print them here my friends would deffinately give me the "pinch of death" I'm not that brave.


---
August 16th
Sleep in, no workman plastering next door...peace and quiet. The Elephant is only 5 minutes walk away, so a quick shower, grab the Lonely Planet guide to Bali for Pleasure Booth (soon to be Bridesmaid Booth) and head to the Elephant. Rosemaree is on time, and she tells me about some terrible bomb blast in Ireland and Becky calls and is running late. One of the Elephant boys was convinved my name is Gary! I do look like a Gary.......

Rosemaree goes to Greville Records to purchase a Hellbent cd for someone and apparently they have sold out. Cool means they owe the band a cheque. The club has also sold out of all it's copies....so Hellbents nearly gone. Start work on the next newsletter on Monday, think it will go out late August.

Just over 3 weeks and then I'm in Ireland for the start of the tour- still no Europe dates except for the one show in Holland at the Festival. Hope Grant comes up with them soon.

better go, answer some emails. Take care everyone.
Peter

ps- The club will DEFFINATELY not be releasing a live Neil cd....despite the rumors, wishful thinking on the part of many I'm afraid. Hopefully some live Neil tracks will appear on a future cd single....but nothing is confirmed.

[ps from webmistress: PG has asked me to "turn off" his ability to receive email through the peter@frenz.com address while he is away so he doesn't return to 37,000 mails. if you have a question or issue, it's best to try to catch him over the next two weeks - or hold your peace/piece :) until later this year]

---
If there are any problems with this site, please contact webmaster@aswas.com.