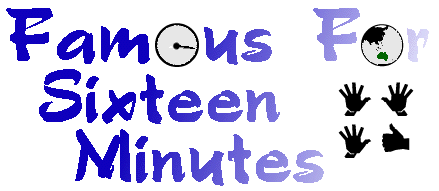 The Life and Times of Peter Green
Archive: 8 June - 7 July 1998
---
June 8th
Our first chart position for Neil with "She will have her way" in the UK. It debuts at #26....I always worry about the Uk charts as we enter so quick and then zoom out just as far, really a case of radio and the general public locking onto the song after all the true fans have bought it.

Today is the Queens birthday... heard that she now has a sense of humour..thank the lucky stars. Apparently the Queen was attending some function and met a very young guy who was non too impressed with royalty (not sure what he was doing there- mooching all the free finger food I guess)and way her royal highness the ice queen asked him what he "did" for aliving. he turned around and said "well WHAT do YOU do!" She apparently was very cool and calm, and stilln ever so polite said "a bit of this, a bit of that". Her majesty was heard telling an employee later she wanted to say "I Reign"....I thought that was king of cool, hell the royals with a sense of humor. Scary. Anyway we are working on the Queens birthday holiday- a/roll on the republic and b/ it isn't even really her birthday .

Jj and Renee call and I meet them at Revolver upstairs for coffee. The venue is closed today so we have it all to ourselves- I sit back and they make some great coffee and we talk for a few hours- with the stress of moving I need this.


---
June 9th
Neils second Melbourne show went on sale today, the tour looks like having a few sellouts which is good for him.

Spot this amazing Budda statue on Chapel ST, and decide to blow any tour wage I get (in advance) on the statue. Really great. Wow only 10 days to go.


---
June 10th
Sinner debuts in the Australian top 100 at #40, I think thats ok considering we had a public holiday and some of the stock was late. Have coffee with Toija, her Drag name is Emily Ferrie. Sensational. Big Boy of LLT Kevin drops in this afternoon, Kass and Kevin are really great just feel very relaxed around them, one of the many things I must thank LLT for as I possibly wouldn't of met them.


---
June 11th
Neil is on top of the pops tonight, should be replayed in Australia next week. Go to office works and get some new filing cabinets and other work stuff, its so great, just like a giant office supermarket....want to run down the corridors filling my basket. Mark jumps in a new office chair with wheels and goes zipping past, someone points to the security camera but we all know that office works has fake plastic ones that are not connected. Have a chat to Robert Moore, the bassist and artist from Neils band; Deb has now put a bit on Robert and some of his art...go to the tour areaand click on his highlighted name. We are going to try and have info on all the new band on the Neil site.

Have a meeting at Mushroom and run through my coverart suggestion for the upcoming Skyhooks album, should turn out great.


---
June 12th
Just work on club stuff all day and start packing up stuff...only a week to go to the big move. We book the largest removalist truck in Melbourne. Neil seems to be appearing in all magazines...I can;t remember him doing so many interviews.


---
June 13th
Deb sends us the FrenzCom Neil square badge/pin art..really good. Liam (Finn) gets in contact and is happy to let them use one of his photos on it. i know many of you have been visiting and revisiting all the areas that make up FrenzCom. Deb and Kayt do it as a labour of love and as you can guess there are site overheads, so buying a Neil Finn website pin will keep the site going and most importantly expanding. Neither Deb or Kayt (or myself-drat-(!) get a cent from the badge/pin sales all $ go to the site. Thanks to Neils management and Liam for all their support on this one.

Neils band arrives in NZ today to start rehearsal.


---
June 14th Get a phone call from Tim, he's in Melbourne and gearing up for Steel Citys season in Melbourne in July.Nice to hear from hi,Marie and Tim are dropping in with baby Harper in July.

Go shopping with Rosemaree to our new favourite shop- Texas Ink....spend too much, and Rosemaree gets this great metal candle holder for a steal. Rebecca calls from Cairns, we've poached two of the Seekers crew for Neils tour....opps! She's having fun, had dinner with Maz (BCO) and his Mum. Nick Seymour still hanging out at Revolver on Chapel St.


---
June 15th
All we are doing at the moment is packing and getting ready for the move. Wont be replying to any emails till late July...will be good to have a break. At one stage we were getting over 100 per day.

Call into Rasi Rani and look at my Budda, was going past and just had to say hullo.


---
June 16th
Pick up the Neil Finn world tour keyrings- they came up really well, they weigh a tonne and add these to the stage backdrop and my luggage will be way over the limit.


---
June 17th
Had a great night tonight- have signed on for the Artist Development Programme and we had our first meeting tonight. Has several goals, basically it's to help out several Koorie bands and artist. If we asked the average Australian to name 3 indigenous bands/artists they would be lucky to name one. Anyway it went well and the various artists also jumped up and had a play....will let everyone (worldwide) know how they can get more info on the bands and the project at a later date. It's a really positive thing to be involved in especially with the weird political state of things in Australia at the moment. Inspect the new house....it's so magical I could cry.


---
June 18th
Have lunch with my band manager Carolyn and get the final cheques for the house, call in and see my solicitor- he tells me how much he's enjoying Neils album..Dont sleep at all tonight-too excited at Move day.


---
June 19th
Happy Birthday Alison...what a horrible way to celebrate it- moving our house! We all look like shit from lack of sleep. The day is close to a disaster-the removalists arrive an hour early, the people at the new terrace are running 3 hours late, we fill the huge truck but there is still heaps of stuff left. We end up moving till 3.30 in the morning, the EK's lights go so I have to drive with my foot on the highbeam button.

But there are some great things- the house is just incredible, we arrive and Spy Di has sent us an incredible basket of garden plants...Spock turns up with champayne and thanks to Toija, Rosemaree, Spock, Jj and Renee,Alison, John and Caroline and good ol' Fran who work their arses off lugging our office and house up and down the Woodface staircase. Moves like this you know who your friends are. Mark is exhausted, I damage the same leg in the same area when the ground gave way at the Grand Canyon. So I spend the next few days using a cane.


---
June 20th
Wake up in the new house, didn't sleep too well, my leg was having spasms, hope it's better by the tour.Texas Ink delivers Marks huge wardrobe and god knows how we will get it up the staircase...my next door neighbour bumps my car, some bleached madwoman bangs it again in the supermarket carpark, I'm beginning to think there is a "please bump me" sticker on my fender.

Different people call in today- Tania and her son Jake pick up some empty boxes for their upcoming big move. Glad it's not us. Becky sends a huge bunch of blood flowers...we feel very spoilt. Drive back to Belmore with my "pirate leg"...all I need is a parrot. Pirate Pete ...here to collect the last of our plants.....Caroline helps jam stuff into the car, I am surrounded by plants as I drive back to Greville St. I salvage the computer from the office and set it up on the floor and make a huge effort to tap out this update- not going to correct any mistakes, need some sleep.


---
June 21st
Spend the day trying to get things in place for basic living...we cant find the soap.....cave man days!!!!


---
June22nd
Wake up at 7.00-phone Crombies. Sally Crombie is calling by with the backdrop and taking me to the airport. Its still dark down the stairs, but I can hear some birds chirping so SOL is rising soon. Sally arrives, gets the official tour of the new house and takes me to the airport in her Morris.

We squash the backdrops and bags onto the trolley-thankfully they are a lot lighter then I suspected..makes it easier to handle. Score a full row of seats,notice Australian Way magazine has a 3 page Neil story. Stay at airport Centra Hotel-no good movies but they make a mean BLT.

Steal the chocolates and have a restless nights sleep-karma?


---
June 23rd
Neils album debuts at #1 in Australia,NZ and #5 in the UK. She will have her Way debuts at #25 in the NZ Top 50.

Up again at 6.00,shuttle to the airport with all the business men and climb aboard my Dunedin (via Wellington) flight-which is full. Are all these people going to the first gig? No one to pick me up at the airport-which is a bad sign,so I fill up a taxi with the backdrops and head to the Hotel. Walking around Dunedin I spot Jules one of our tour crew and Ch keyboardist, its nice to see a friendly face. Back at the hotel,we load the backdrops into the van,Arloe is with us on the road which is good. Watch a doco on Sperm Whales of NZ ,take my melatonin and have an early night.


---
June 24th
Sleep in, the first time in what seems like months. At 10.00 the Sun is shining over Dunedin,slowly breaking up the misty shroud that settled over the town that night. TWT is #1 in NZ. head to the Venue for soundcheck,first gig, heads down arses up...very focused and loads of work to do. Problems with the wahwah pedals,and the odd guitar is swapped. Liam confides in his brother Elroy that he is shitting himself playing onstage. But he does really really well. Manage to catch some of the set and the show is great. The album tracks come up nicely (better?) live. The odd song seems out of place but it's still great. Even "I Got You" is polished off for the encore. Actor Sam Neil buys a Finn tshirt. End up at the bar,awake when the crew arrives back at 3.45..long night.


---
June 26th
Wake up at 8.30,it's suppose to snow today-seems ok to me. Think the weather man was wrong. Easy day today,we are all on the 12.40 flight except Neil and Elroy who are returning to Auckland for El's soccor match. Sharon and Liam stay here and work on the show. Sit next to Jules and Robbie on the flight-two of my fave people...Jules has a greats ense of humour-we laugh all the way to CH/CH.

Walk around CH/CH with Amanda- some shopping and its all a bit freaky as TWT is getting played in every store. Our keyboard player Niall is working on his stuff for the website.


---
June 27th
Wake up very early to the sounds of cheers and laughter-several unnamed crew members are watching the soccor and obviously England won! (Eh Jules?) Go shopping again with Amanda..she buys a great top- really looks brilliant on her.

Off to the airport with Amanda and tour manager Dee, to pick up Neil- his flight is only 10 minutes late. he walks off, gets a few glances and we wis him into the van. Grab Dee a coffee in a real glass- he is impressed. Everyone is watching the NZ V's England Rugby test- the all blacks won, but England made an effort at last. HUGE Merch area...Stero Bus our tour special guests sell a lot of cds...nice band, so easy to get along with.

A few light problems tonight- think Sharon is dying to get to Oz to use the other light system. Neil and band play a 30 second "rock attack" in the set...barrage of noise..love it-wake a few people up. Liam plays really well tonight.

Only 2 hours till my flight so I decide to ignore sleep....my batteries still have some charge in them...so I'll stay awake.


---
June 28th
Very very early flight- all of us look like shit. Shuttle arrives late and we all hassle the driver...next to Jules again on the flight-we'll be "doing it" soon at this rate. Our buddy Nic is at the hotel- the room next to me. I get the corner room which is nice because you can sleep on the window sill on the 13th floor...

St James Threatre is really nice, I love our shows there. Great stained glass columns. Band include ASTRO in the set and we discover there is a ghost (who esses up the piano electricals) Neil names him Kevin.

Nic helps with Merch...end up at Finnbar till 4.00...very drunk, mostly Dee;'s fault and we all walk crab like home....Toasted sandwhiches in my room, helps soak up the drink....Neil calls and oks a quick hullo to some Life members tomorrow.


---
June 29th
Nicole wakes me up early and makes me a bit crappy....non tour people just dont know how precious and (how little) sleep we get. Take a bite of the final stale cheese sandwhich....loads of Spiralian for brekky methinks. Neil is everywhere in the press....really good gig review of last nights show in NZ Herald. Sharon and Arloe will like their quote "The light show was as dramatic and darkly moody as the new songs".

Go shopping. Nicole and myself meet the life members at the venue, they have been to Kare Kare. Sit on soundcheck...the band plays Spirit of the stairs,which will be in tonights set. Neil comes over and chats to the fans and we head upstairs for a photo session. Good gig but I wish more people would dance- nice to hear Love this Life again in the set....

The Finn clan are all in town-Richard and Mary...and the sisters Jude and Caroline are in attendance.....neil is presented with a Gold Record for the cd (NZ) its also Gold in Australia.


---
June 30th
Wake up at 8.30 pack bags,finish accounts. meet JP and Nic in foyer and they drive me to the promoters so I can do the payout. Walk to Aucklands Tower and go inside- good $15 view. Jules rolls up with 2 minutes to spare....shes been shopping again, and filling up that new roadcase.

Long flight, very bumpy. The lady next to me has never flown before so shes excited- glad one of us is. Young girls on the plane mob Neil when he walks through the cabin, kind of sweet, one of the mothers keeps pushing her kid to go hassle him for an autograph- the kid doesnt really want to but the mother is obsessive...really horrible.

Staying at the Conrad International....Niall and Michael from the band are driving..great hgotel- my room has 50ft ceilings, 4 poster bed and a chandelier.

TWT is still #1 in Aust and NZ second week and heading towards platinum. Nothing but porn on my tv...feel like Fox Mulder.


---
July 1st
Wake up at 9.00-cant sleep my brain is ticking over. Nelly from EMi calls and we run through info on the Recovery show (Melbourne) Neil will be playing an hour set. Work on the audience area. Jacqui from EMI drops in with 12,000 Neil sticers...(phew).

Call Neil the album has already sold 45,000 units in Australia. Go to the post office 3 times in the one day and do various mailouts...work work work. Use Amandas computer while she fades in and out of sleep in her room. No sign of Grant where is that manager. Give in and have my first bit of Junk food on tour....burger- bad Gryphon. Watch last episode of This Life and get to bed before midnight.


---
July 2nd
Malcolm from Parlophone is here for the tour. Bic Runga is our special guest on the Aussie tour and there she is at the venue sitting in row 3 watching soundcheck...she is so cute. The crowd really like bic and ask us all night "who was that girl with the funny name". Its an easy night for me, the Venue does most of the work,Neil is yet again in fine voice and the set and lighting are well received. Qld has a great audince as far as the Finns go, always a good show. Really brilliant version of "Private Universe" tonight and "Addicted" works well too.

Neil meets a dozen Qld Life members afterwards. Our Targo is misplaced but when it finall arrives we are over by 2 people so we squash in....Michael (drums) drives us round and round and we loose the cars that are following us. he's make a good Austin Powers!

Neil comments that all the fans are VERy different.


---
July 3rd
Do photos of Niall in his spacious room for possible internet use. Robert and Nat arrive with their cute dog...more snaps.

Nice quick flight. Off to the Sydney office with Grant. Shawn is getting so many requests for Neil interviews, would be great if we could keep the album at #1 for the 3rd week....seriously doubt we will but as long as it went to #1.

Bic gets a huge reaction tonight- we all stand up the back and cheer her on. The tour moves into a higher realm...its up another notch and the band are tight. We sell 3 times as much merchandise as Kylie Minogue and there are about 100 club members trying to get backstage into an area that holds about 10 people. Neil zooms off early to tuck Elroy in. In bed by 1.00 bypass the Sebel bar. Highlight of the night is Neil dedicating "Not the girl you think you are" to Pauline Hanson....


---
July 4th
Sharon from Wollongong calls and wakes me up...snooze on and have too much sleep.  Jules arrives and has coffee and food and then ben our silent and mysterious monitor engineer calls in next. he's out getting passport photos for America. I may do some of the tour but deff. not the first few weeks. (Sorry Life members).

Liam features heavily in the newspapers. Love the small piece in Daily Telegraph, how Liams work counsellor asked him what he wanted to be when he left school and he replied "a musician" and his counsellor said "there's no money in that"....obviously he didnt know who neils Dad was.

get some Life members and regular clubbers into soundcheck. Neil plays a new song. Another sold out show- young Elroy hands out Neil stickers...he's a good kid. Makes us all laugh with his impersonations. Neil slips out the back door- no autographs.


---
July 5th
Drive to newcastle....the first van is really Suss, just about to say to neil that I dont trust their driving- something suss is happening when it's too late when our Van is pelted with eggs. Yes the "egging" is happening...Dee his first time driving in Oz and first egging experience almost flips the van, but he reacted well...and we were safe. We zoom into a service station and quickly remove the eggs, so the first van wouldnt gloat. Egging is a typical tour stunt not recommended and we believe it was Robert Moores doing so he's our target. Ddecide to play head games and we just smile at Robert. Neil talks revenge onstage. All fun.

Newcastle goes off the crowd are dancing, just a really good show.  Neil signs autographs out front, the Two marks help me with boxes...reward them with abeer and a shirt. Drive back with Amanda and her boyfriend....long drive.


---
July 6th
We break the record on Neils Golden Wing card, with how many people we can sneak in that are not members, get about 12 of us in...we pig out on the free bickys fast.....but being 31 and Neil Finn he gets away with subtle murder. Spoilt, nah i think we are the ones keeping Ansett afloat with all the flights we have booked with them.

Direct everyone to the hotel, ask the manager to get me a taxi so I can get home, they decide to drive me home in their mercedes- feels good-wish I lived further away.

Work in the office.


---
July7th
Recovery is today- have the exact amount of people they need-135 clubbers and lifers...all the club members are very patient and like all tv its running late.

The Crombies created the set which looks fab. Filming goes ok, a few retakes but not that many. Starts with Last one standing and we do a retake at the end, so it finishes with Last One Standing.  Not sure when its on, but hopefully over the next month...they promised to let us know.

Chicken for dinner and work on the many weeks of mail...wont be touching any emails for at least 3 weeks.

Hope you guys all enjoy the Neil tour....sorry about any typing errors, this is very rushed.

Take care
Peter

PS- Just a quick reminder for all of you who frequently visit the great FrenzCom domain....we have a limited run of official FrenzCom (Neil Finn- badges/pins) done and you can get order them via the internet (or fax or mail in your order). Credit cards accepted! So just click on Neil Pin and you can access all the info. Hope you all support this as the few $ will keep the domain up and running.

---
If there are any problems with this site, please contact webmaster@aswas.com.