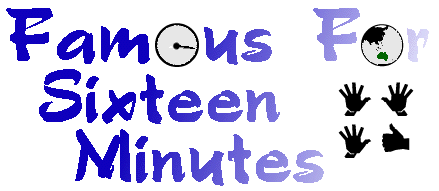 The Life and Times of Peter Green
Archive: 9 November - 17 November 1998
---
November 9th
Well at the eleventh hour I get a business class seat on a flight to the US of A. The last few weeks at home have been weird, strange feelings, emotions and still a chronic case of road fever. Missing "Y" a lot- isn't a day that goes past when I don't think about what everyone is up to. Mark has the office functioning on all cylinder's, and knows I'm not too happy to be home.....even Hairball is coming up to me "talking" asking what's wrong in cat language. Can't explain it- just need to run......and throw myself back into the tour area. I wonder if Amanda has settled in from the tour and what she is deciding about her relationship.....god touring can be destructive.

The flight over is ok, sit up front in seat 4A, United isn't as good as Qantas, but hey I'm airborne. The guy next to me is fairly quiet, till he falls asleep for SEVEN hours and then starts snoring. Ok we ALL snore...but really I put on my super stage-plugs and covered my head with a pillow and he kept me awake- even a double hit of melatonin didn't help....! He finally woke up when we were landing and asked me if I got any sleep. I was nice.....and didn't tell him that his nose could be used as a leaf blower!

I arrive at the Marquis, haven't been here for awhile and thankfully our wonderful tour leader Dee has booked me a room.....LA is totally booked out-hundreds of conventions, but somehow he found a room for me. The Marquis staff are deluxe...and treat me well. Walk to Tower and buy a few cds for the New years Eve party. Don't feel jettlagged. Come back to my room and Erika from America has called, she's coming by with two new friends. Her friends end up being two real cute 2 week old kitties that she "adopted". They are soooo cute and run riot around the room.

I am the only member of the touring party that's arrived, Erika goes to move her car and runs into everyone checking in. Only Dee knows I'm in town, thought it would be a nice suprise. She gets cornered downstairs and tells me she felt horrible like a stalker (grin) ....cmon Erika you are more crazy then that (just kidding sweetie).

Call Ben and pretend I'm phoneing from Melbourne....he tells me he just arrived and is starving.....so I say "Lets go eat then"......and confess that I am in town. He comes running down to the room and its brilliant to see him again. I wish Marcus was on the tour too- they are just really great guys together- sometimes on the road you just click with people. "Y", Erika and myself were going to head to El Coyote but it's just about to shut, so Erika takes us to another Mexician place on Sunset......they probably have the world's biggest Marguerittas....I could do my washing in them. I am just so happy to be "Hanging" again, and dinner is great.....per usual it ends with Sambucca BUT they are the strongest Sambuccas I've ever had....rocket fuel.

Erika is safe to drive and I can faintly remember climbing halfway out of her convertables roof as we cruise down Sunset....free as the wind baby. End up in "Y"s room and have a spliff, drink a lot and I confess too much, I think we all do, like I said last time, I never thought someone would get that close to me .....very very scary.......I leave in the wee hours and would of killed to stay but the room went upside down, and I ended up having a horrific few hours.....never again am I being THAT stupid. "Y" tells me next day that I should of called and ....help would of been on the way. There was no way I wanted anyone to see me this fucked....all I can remember were the concerned little faces on Erika's kittens as they stared at me being sick......

Occasionally I'm an idiot and mixing that many drinks proves it......Erika sneaks in at 6.00 and collects her two treasures and heads home to shower and go to work. She looks the same as ever...........!


---
November 10th
Feel very seedy, go with Ben to the computer store to buy his new Mac computer. It is so fuckin' cool...Mac rules. It hadn't arrived by the time we were there so we head to the Japanese diner next door...green tea is the perfect solution. Finally the computer and all the bonus "stuff" arrive.....it's the best.

Taxi back to the hotel to say goodbye to Sharon, Liam and Elroy- they are heading back to NZ today. Neil is swimming in the pool with El so we all congregate in the deckchairs, coffee for moi, and Privett' goes off his alcohol free diet and has ...a....margueritta..... so naturally the water and the Tequila made Peter Green look mighty Green.

It's such a sad farewell, Elroy is going to miss Ben a lot, but I think Ben will miss El. Kids can never be fooled and El just admires this new tech- and it's probably because Ben treats him as an equal. Grant is no where in site, business calls, its cool to be here, but because I've had a few weeks absence I feel a little stronger then the rest. The car arrives and Neil goes to the airport with the family- I seriously wonder if he'll come back.

Spot Johnny Dep and John Hurt in the bar area.

Watch "LA Confidential" in "Y's room, sit outside on the balcony on a balmy LA night and wish it would be like this forever.

Neil did return, didn't have to send out the Posse'.


---
November 11th
Sleep well- comfy pillows .....I wake up snuggling one to death...somewhere in my head the phone is ringing.....my eyes click open...and I reach for the handle. It's Spy and she is on the early flight....fall back to sleep for another hour.

Call Marck Bailey and let him know he IS on the guest list for Chicago. He was a bit concerned, it's just easier to get it done while I am here. I won't be on all of the tour, I'm really on holidays, so it's just some gigs, I'm keeping away from the fan stuff, life memberships and the club. I need to be me , Joe Blow, just to watch a gig in the crowd would be nice.

Di arrives and that is fantastic.....we drive Neil and Dee to Soundcheck at 4.15. Spy makes an incredible burn out on Sunset and is encouraged by Mr Finn..."now there's a driver" he grins! We head back and pick Grant up- no cars on this tour. Can't find our way into the Roxy and I run into some club members out front- totally taken by suprise and didn't know what to say- Gt is impatient to get in for s/check, I turn fast and nearly knock Di over.

Theresa and Judy are inside and thats brilliant. Their coffee shop in the town of (wait for it) Intercourse.....yes the town IS called that . Anyway its called the Kia Ora Gallery and Cappuchino Bar (http://www.kiaoracafe.com/)possibly the only good coffee in the states.

Sheryl (Crowe) calls by but my fave guest is Wendy Malvoin. She is great and just so full of life. GT sets up a private table for the Finn internal family and we guard it. I suprise Elizabeth- I thought she'd be coming along, sadly like most gigs you just cant talk. I try to relax and be a punter but people kept coming up, and the gig lost some of its magic because of this, end up sitting with Privitt- (thanks buddy) and filmed some footage from my perch. Dave Dobbyn played a great set, think these gigs will be good for him. He should however just focus on his set, feel its overcrowded with him onstage with the others and Neil. Privitt thinks Wendy really fancys Neil, and I didnt have the heart to tell him that she bats for the other team.....but hey thats part of several peoples fantasys.

Like Neil said she deserves a record deal. So maybe one of you record company people reading this should investigate this talent- SHE IS BRILLIANT! (Even ignoring the Prince Pedigree from Purple Rain).

Michael Stipe is at the gig and Erika and myself almost knock him over when we run off to buy Ben some papers. Its fun running down Sunset with Erika From America holding my arm. All the heads turn.

Sheryl is escorted out the side entrance and is running off to catch a flight to Europe.

Mark Hart and his daughter have a chat with us, and it looks like the club might be releasing Mark Harts solo cd in early '99.

We all head back to the Hotel bar, have a drink with Neil and Mark, Erika and Di- its packed and I head back to the room with the girls. "Y" is sidetracked and doesn't show, which was sad, but hey thats just greed on my part- things feel better when Y's about.

Di scores the Red Balls Melrose Dress...it looks great on her...feathers arn't my scene baby (grin). Classic moment of the night- Grant visiting and Erika gets him in a strangle hold leg lock....."In the blue corner Ms Erika From America". No matter how hard Grant tried he couldn't escape (and it wasn't just her womanly charms *grin*). Then again Grant did say "what makes you think I was trying"....oh he's a smooth operator that manager of ours.


---
November 12th
No sleep- really crappy.....brekky at Mels. On the way back we run into Dave (Dobbyn) and have coffee with him....well several and a long chat. Dave has never been better. Neil is busy doing interviews in the corner.

Drive to Aarons and the Beverley Centre, no Tori Spelling this time at the Beverley, hmm that's strange- The Beverley without Tori is like Pamela Anderson with clothes on....very rare indeed. Buy some extra massage oil. Certain friends and band and crew need a massage. Spy Di is the first...find out she IS tickle-ish!

Ok we interupt the Diary for a small political joke......sorry I just had to tell this one. "What's the difference between a catfish and Ken Star?" Well, one's a bottom-dwelling,scumsucking scavenger. The other is just a fish".

Catch up with Di and Ben for Dinner...Tenmasa our fave Japanese place opposite the Roxy. Ron Silver from Veronicas Closet was sitting behind us and all these old Jeffereson Starship or whatever rockers were on the other side. They messed up the order and we had ALL this food. Go Ben.

Amazed at how quickly he has worked out his new computer, Dave Dobbyn has helped a lot, I have helped, in a micro way, but Dave rocks. His whole family is into the computers.


---
November 13th
Wow Clinton pays off Paula Jones- $850,000 US...not bad. I'll be next.

Wake up laughing and smiling, "Y" is just the best, never been this happy in a long time. Funny I thought I was always happy, but somehow I've suceeded my happy limitations ...god I'm rambling.

See Neil in the foyer and tell him we'll catch up later on, have to catch a flight to San Jose with Spy. We just giggle all the way...and have our contest to see who can find the weirdest "item" in United Airlines "High Street Emporium" catalogue.....I win. On page 241 i DISCOVER......"THE SMOKE HOOD" this weird yellow plastic bag that wraps over your head with a red breathing snout AND they are available in family packs...Spy calls it the Condom-Head....its sooooo silly looking. For the next week we pull out the advert daily and we just crack up.

Looks like the Diary site will be out on our own new book label "Rocket Pocket Books", great name eh. We'll have details late December.

Arrive San Jose and Spy drives us to Los Gatos to this incredible bakery called "Icing on the cake"...its the best place for muchees and the staff are incredibly sassy and sexy. Everyone should eat there......what is this a free advert...you bet! I begged to live in their kitchen...but I couldn't decide on whether I should be Lynns or Vince's Sex slave... either I guess providing they keep me in those damn nice cookies! (oink oink).

Dinner with Spy at 29 East Main....they fuss over my accent. Cute.

A michael Basquiat self portrait sold for $3.3 million today at an auction in NYC. I met Basquiat ages ago, he turned up at the Warhol show, he was one of Warhols proteges. He died around'88 and was only 27- that's so young.


---
November 14th
Neil Finn-San Francisco. The 7th Note.

Wake up at Spys groovy pad...have "Honey Nut Clusters" for brekky. This is the life. Check into the Triton, Neil and co are staying elsewhere, the Triton is super hip. The foyer is a cross between Alice in Wonderland and a week on Ecstasy. Byron is at the desk and tells me how he really likes Neils new CD....and he hopes we are still there at 5.30 for the free beer hour and the free Tarot card reading. Cool.

Curl up on the bed with Spy, set up the micro video player and we talk seduction methods....for a small sum of money F/16 will make them available to ....NO ONE! I have little enough friends left without losing another. eat chocolate truffles off each others bodies! Wow sexy eh? Especially Di's Madonna pointed Coffee Creams.

Erica and Alyssa turn up. Alyssa is married to Chris the guiatar/vocalist from Sonichrome. The video pans left and catches Erika in full flight, blue tipped hair full of silver butterflys and bloodred lips, Alyssa strolls by her amazing eyes peeping out from her rustic fringe... this is a great camera.

Shop with Spy and buy some blue fur material...it's called "cookie monster blue" for the obvious reason.I'm going to coat a 4 legged tv in it for the Zen room at the party. Every hour the theme in the Zen room will change- from Porn to Rubber. Di invests in a yard of silver padded for the rest of her costume.

We finally arrive at the gig and get a park...the queue is already around the block, security lets me walk in with the gang. We spot Nicole outside but they wouldn't let me bring anyone else in. Mary who tried to get the Crowdies USA fanclub off the ground was there, didn't have the heart to tell her that Spy and Nicole were two of the people who paid money and never received a thing from the USA club. They dont hold a grudge and if it wasn't for the USA club falling apart so quickly I probably wouldn't have connected with these two darlings. It was good to see her, I think she is focusing on a new music project, hope it goes well for her.

Neil finishes his s/check with Grant Lee Phillips- and they have the best combination of voice. They should work together and bring Wendy Malvoin into the deal too....just a dream. Neil comes over and says Hi, United lost all their bags, and the taxis were 45 minutes behind- so he's playing in what he's wearing and not leaving the Venue. Its Pizza for all of us. Tells us that Tim is the special guest at Chicago. Wonder if he'll do any new songs.

The NOTE is packed, 800 people, sit upstairs and watch the gig from the front table on the balcony. Neil dedicates "The Devil you know" to Erika, she starts crying, god then I start crying at Erika crying....totally fucked....I really am. What a softy.

Start getting people coming up when I head down the stairs to use the bathroom, and what was one or two becomes a group....escape side stage and try to watch it. Felt I was hassling Ben being there, no where to run. Dobbyn asks for a smoke, its meant to be no smoking. Find one upstairs , light it up and the security lady springs me and screams at me.....just gets more tragic. Grant corners me and tells me there are some internet people I have to meet. I'm in a grotty mood and just want to be left alone......its my fault- no one elses. But I follow him and they are ok....have to try and get cars organised to give people lifts. Send the crew off, stand in the cold with Erika , we wait and Spy Di zooms up.

Back to the Hotel, the bar is closed, nearly everyone has gone to bed, need someone to pull me out of my "mood". It's so rare that I'm this dark, just want someone to calm me . "Y" is looking tired, long day, I change my mind and want to be anywhere but here- dont want my dark cloud to be passed around. I'm really overheating, take off my jumper, remove my wallet and crash on "Y" bed. Needs sleep, I just go to leave, really twisted. Kind of know why.....need sleep.

Look for the guys and Neil, some fans in the foyer tell me that they went down the street, I go after them, a bottle of scotch in one hand and a bag of pot in the other.... I was so zombied I didn't even hide the pot. Cant find anyone, the two fans drive past and tell me they forgot to tell me that everyone came back......I keep thinking was this before they told me they'd gone up the street. If so I was really pissed off......they were lucky I didn't throw the scotch at them. I'm now reaching Paul Hester stage dark.........

think they might of headed to Neils room, so I go use the house phone and call him. Thankfully he's not asleep yet, but he tells me that everyone just splintered off and went to their rooms. He makes sure I'm ok, and I tell him that it was a few things he said that kept me "focused" tonight, and out of trouble. Neil Finns (unknowing) advice in a few words is sometimes equal to whole chapters in the self help books. I owe you one Fang.

Head back to the Hotel via the limo service. Get to the room and everyone looks tired. Have a two hour girl session and it ends in fits of laughter. Alyssa who is our latest "member" is just great and kind of sound. For some reason the words "Fiddle" and "Camp" just set us off into hysteria.

They all sleep, I sneak out of bed and read in the bathroom for several hours. As the sun comes up I emerge and sit in the chair, like a Vampire protector of my ladies three. For some reason I can be really tired but just don't fall asleep. I look ok, my skin looks ok....my energy level is fine, just less sleep needed. Weird eh?

San Fran was a great show, apart from Erikas request and some fine singing/playing, the other mention was about our silent gentle giant Ben. Neil went out of his way to make Ben come onstage and dance. He got the audience chanting "Ben Ben Ben".....he kept saying "what is that all about". Maybe he'll dance at the last night in NYC...we can all only hope that he does....


---
November 15th
Nic calls and we all have food , at a restaurant on Maiden Lane. My water had a fly in it-urgh. Go to pay with my wallet and uhmmm it's missing. I've never lost a wallet, especially one loaded with credit cards......only slightly worried.

We head to Betseys to try on some fashion, $2000 jackets, in velvet, feathers and rhinestones....very trash, very Marilyn Manson. Next stop maceys for sunglasses and accessorys......

Say goodbye to Nic, Erika and Alyssa...decide to call into the hotel and pray "Y" had my wallet and jumper and left it. No sign of it, but I did retrieve Bens learning remote that he left in his room. Erika tells me her fave seducer perfume is "Raspberry Fantasy" she uses it every day! So thats the one girls.....

Crew and Neil have now departed for Canada...miss them already. Arrive at Di's after a real soul searching session in the car......don't want to go home yet. Decide to pig out on fried chicken, good to have some junk food now and then.... tastes great except the burger- refused to eat it.

"Y" calls thank the goddess and tells me where my wallet is, I'll get it in a few days- says Toronto is really cold. I'm now relieved. Good mood.

Di gives me the latest copies of Voyager.....great Sci Fi, the 100th episode is coming up this week.


---
November 16th
Sleep well, my first time in ages, my first day of calm. Every other night I felt that I was leaning in my bed, never quite right, everything has changed.....as Judd and Finn once penned: "my bed is leaning to one side Can't sleep, now that I've lost my pride"...... Ok its not that bad.

Get an email from Amanda, she has made a decision about her future, and has split from her old boyfriend and is now in NZ with Mark S. Really happy for her, I tell her it was "something" in the water.......she understands me a lot these days- allies.

Off to the Budist Church with Spy,The Reverend opened it up for us- he must of looked into my eyes and thought "boy he needs salvation" (grin) So tranquill, I asked to be judged and I think i got the answer...feel better. Dont feel evil as I walk around japanese town with Spy it feels ok. I feel the need to see some forests, so she knows me better then myself and I find out we are already heading that way. We drive via the Cruz mountains and are heading to santa Cruz. The forest gives out the scents of redwood and pines and I breeze it all in. A wise crew person told me I need to be near more trees, and some forests-he was right.

We head to the ocean as well- gee Di is set to recharge me if it kills her, we sit on large rocks and smell the ozone and seaweed and god what is that pong (grin).... I love Santa Cruz, feel very at home there, so much youth, wow so many are pierced. Talk to the waitress at the "Double rainbow" and she has great piercings and hair and tells us the best place in town. We find it- "Staircase Tattoo and Piercing" and Jon looks after me. Yes its time for me to get my eyebrow ring. He talks me through the procedure...I've wanted this for awhile. Di still can't believe it I think.....the needle punctures through the premarked spot, kind of a sharp pinch as it penetrates the skin, the small eyebrow ring is quickly inserted. Money well spent, I like it. A very different pain to that of my Tattoo, don't enjoy it nearly as much.

Time to eat heaps of green, still no chocolate. People keep telling me chocolate is a love subsitute, so I've stopped eating it.....maybe I need to find some more love? heavy trip Green. Spend the night working out all the ways to keep this eyebrow ring clean, phew- big effort and at first it stings.


---
November 17th
Neil plays Toronto- Reverb Room......he's in the cold, I'm sitting on the top step of the apartment in San Jose's sun. Deb emails me and asks me to fly in, I'd normally jump at the chance but I need to be stable and focused for a few more days, I know she of all people will understand. Nicole asks me to come up to see her and its the same, while Spy goes to work, I write, relax, washup, read and do a lot of thinking.

Call Paul at Sony but his machine is full of messages so I dont think he's about.

Last night at 4.50 I rolled over in bed and hit my eyebrow ring- now that woke me up. (ouch). It seems to live happily on my brow...no grotty infection yet (thank the goddess)

Di comes home for lunch and we eat down the road, healthy, no cholcate or sugar (white death). Decide not to write any postcards, my friends will understand, and most of them are on the internet and will read this anyway- so HI everyone- I do miss you all, but feel a bit free and need to roam. I feel some guilt around the office as Mark is probably working his arse off, I'll make it up to him with some long term time off.

Quickly speak to Mum and Sis, let them know I'm ok, and mention a 2nd piercing....Mum says as long as its not some gigantic ring! (cute woman my mum). The Meteorite shower is nearly over and is really boring.....all satelites seem to be safe. The local san Jose radio station plays a joke and says a huge meteorite landed near the freeway...it was a mock up.

Nicole calls and it looks like Erika wont be making it to Chicago, its soooo expensive to book a few days before- phew- $1000 usa. Hey at least Spy and Erika are coming to the New years Eve bash in Melbourne, wish Nic could find a way.

Go eat at Togos with Di, she's worried about "X", like most of my inner family.....we'll work it out.

Still waiting to see what month Neil, Nick and Paul are getting it happening to work on the Crowdies Bsides and unreleased tracks cd......wont know for awhile, I'm sure neil wants to work on new songs for his 2nd solo release and also some time off.

Well thats it from san Jose, I'll be back on deck answering mail and emails from early December. Take care everyone and live every day like its your last.

x
Peter

---
If there are any problems with this site, please contact webmaster@aswas.com.