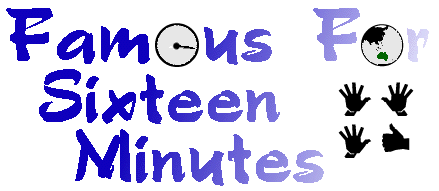 The Life and Times of Peter Green
Archive: x - x 1999
---
July 12th
Spend the day trying to get a full page article in Inside Melbourne, on Pete & Susan's upcoming art show. I think the office is doing an art related event every 4 months, trying to encourage the lovely Miss Renee to have a showing of her art in early 2000.

Find a Patrick Gale book called "Tree Surgery for Beginners"...one of those masterful narratives that makes you laugh and makes you cry. I've liked some of Gales previous writings- especially Kansas in August and Dangerous Pleasures... This one is about a likeable tree surgeoun called Lawrence Frost who has this horrible wife and a very full on mother. He ends up having this affair with a 6ft tall transexual called Lala...a good one to read on the way to work or long train journeys. Plus it was a cheap $3!

Watch "Pleasantville" on dvd, loved it. The best thing about dvd's are all those extra bits and pieces and never having to rewind it when you are finished. Loved Fiona Apples version of "Across the Universe"...the clip is on the dvd as well.


---
July 13th
Speak to Ben about the drive tomorrow, we are heading up to check out this property. Some talk that the three of us might own a bush escape, little Pink has been mailing us "propertys to look at" every few days....Peter Green is feeling very (uhm) Green! Have the urge for tree's and the great aussie forests.

Pick up all the Enz See Ya Round cd covers and get them sent to New Zealand for the Enz boys to sign them. Might as well get them while they are all in one place.

Mark is watching Spice Girls at Wembley Stadium....and the entire audience is made up of 5 year old girls- totally "pissing themselves" as he said....and he pointed out that Baby Spice and Posh Spice have been eating too many cream cakes. They come across as a female version of The Wiggles. But hey the kids are having fun- so that alone is a good enough reason to stop slagging them off... bad Gryphon. I noticed Sporty Spice now has blonde hair and looks like she just did all the dishwashing on tour. Mark reminded me that I have so far inpregnated TWO of the Spice girls.....!!!Watch out Baby Spice you are next! Down Boy!!!!


---
July 14th
B calls and meet him at The Night Cat Club at Fitzroy- he's setting up the sound for Dave Graney's show. Our old friend Billy Miller is in the band- he gives me one of those "what are you doing here" looks, the owner use to work at Greville Records, it's like some old flashback reunion. They are filming some commercial at the venue too, so all these camera crews come in and the whole venue is just full of people. Dave Graney plays the same song over and over and over and over... I think I'm going out of my mind. Ben gives me one of those "please shoot me now" looks...we eventually escape to Cafe Nova....where I'm spoilt with homemade cheesecake. Thanks Big Bloke.

Zoom to the city and run into the lead singer of EVEN- his name is Ash. He is very handsome and reminds me of Seth Green from Buffy the Vampire Slayer. At first I had no idea who this guy was that was stopping me in the street, he started talking about Vali and Tim Finn and all these other people. Then he said "you have no idea who I am do you".....I owned up and said "noooo" very embarrassed. He told me about EVEN and I knew straight away who he was. EVEN are possibly the next Big Thing...we like them. They are playing a show at the Prince of Wales soon- (July 23rd) I avoid The Prince, but I may just wander down for EVEN. Cool band.

For some reason I felt very much like Andy Warhol today... I just pretend I know people....Andy is evil! Andy is God! Andy is with God! The Catholic Church is evil! Gods Urinal! Wow heavy PG...people are freaking out.


---
July 15th
Well the Australian Internet Awards Voting (ONYAS) finishes today....we know the results early August, so many people voted for our sites- really cool. Just great to get nominated. Thanks everyone.

Pick up the HireCar...yes the red one again and head up to the Forest house. The agent meets us their and we negotiate...and it's looking good- even better then we ever imagined (price wise). Ben steps in and haggles and we end up with a generator , a tractor and a fridge! The house/ cottage is brilliant, all mud brick and solar powered on 6 acres. It has a permanent creek- which is crystal clear, a barn and what looks like an abundance of wildlife ...from the big animal droppings- lions and tigers and bears....ok-wombats and Kangaroos and foxes....but it's as close to Oz as we can get. I ca't believe we own a tractor. It's Blue and we decide to call it Lara...because it is sexy and purrs like a good friend of ours! I think Mark has a huge crush on Lara....the tractor we mean...who did you think we meant? Cmon Mr Gouldingo time to own up!

We wander through the bush tracks- amazed that the property just goes on and on and eventually backs onto the State Forest. The ultimate escape. It's like having a 200 square mile garden paradise!

Arrive home , very calm and stay up till 4.00 in the morning working.


---
July 16th
Fran and Lara turn up and we head to The Continental for dinner. The girls are going to see Mark Seymour play- we were planing on it but it's a packed house and felt a bit rude asking for our names on the door list- as we are sure it's a huge list already.

We see Louise wander by, and a few other familiar faces. Ben bounds in and is doing the monitors tonight- says we HAVE to come to the show- so we give in. Like who argues with the leader of the FB Club- Mr Ben Shapiro? Not us. Deb the light girl comes over & offers to put our names on the door too, she is really sweet and I invite her to the art show. She tells me she might bring her sister who is an artist. She starts her circus course that night- she knows how to tumble and use to be a gymnist. Cool!

Mark Seymour plays a lot of new songs in the set, about half way through I start feeling fatigued from lack of sleep...and bail on the gig- MG stays with the girls...just totally worn out.

Get a call from a good fried who wanted to make sure I was ok, and I just felt extremely happy. Call Nicole in the States and chat to her for awhile.

Sleep a deep sleep....like a dead person.


---
July 17th
Speak to my solicitor about legal stuff, he's such a big music fan and always gives us free legal advice. It's a rare thing. He rocks.

We head to the Arts Centre- to do some work around tonights Songlines Show. Mark fights me, on wearing a communications headset- more people look at him making a scene then wearing the set and he eventually gives in. The crowd is small but the artists are passionate. The Koori artists are just amazing and incredibly professional. In total about 40 artists and we keep them on time. It's a good night and the acts are blissed, we are again worn out....the acts hug us, all vibing. I remember walking over to Mark side stage and Paul Kelly is asleep behind Mark- every so often P.K. would wake up- sing a few lines of a song and fall asleep again. He was on last as special guest. We wimp out on the party and lovely Sarah drives us home. Thanks to those of you who came along- hope you had a good time.


---
July 18th
Rosemaree is at RamJets as is Tania, her sister and Jake. Jake is hyper...the only time he sits mesmerised is when Miss Candee walks in, in her huge red fake fur coat......I tell him to go and sit on Aunty Candee's knee......and he bursts into hysterics. He's knows a fake woman when he see's one...not bad for a four year old. Candee winks at him. He winks back.

Here are my favourites for the week:

Fave Book- Tree Surgery for Beginners (Patrick Gale)

What to take to a desert island or to carry around after 01.01.00...Readers Digest "Back to Basics" Book. (Aussie edition). A practical guide to good old-fashioned self-sufficiency.

Person of the month- Natasha Stott-Despoja- Australian Democrats. Too good to be a politican. John Howard should fu*k off and give Natasha the job.Go Girl!

Creep of the month- I did type in Red Symons and then I thought about it and he's not really a creep just believes his own bullshit. Hmmm Creep of the Month....a friend of mine's Boss could fit the bill.(Is that a train whistle blowing?). She knows who I mean! Australian radio programes for not giving "I can see clearly" the airplay it deserves...and blowing the chance to give the Fred Hollows Foundation some decent money to continue doing such a grand job. Shame Aussie Radio.

Fave Fashion Statement- Original silk shirts from India, complete with buttons that unravel and fall off. Anything by Issey Miyake-but especially his african tribal wear and Japanese farmers cloth.

Favourite Shop- RASA RARI- Chapel Street-Prahran.

Favourite Band- EVEN. I'm really fucked in the head award- Michael Jackson- yet again. He makes Scary Spice look like Normal Spice...Michael is VERY Scary!

Nail Polish- Blue Black...with glitter.

Hair colour-nutmeg with chrome brown.....via Tony/Cher.


---
July 20th
Well the Enz entered the studios today- to jam away and maybe work on a few songs. Classic- heard that Eddie locked in a band meeting with the promoters- and the only person who forgot to turn up was....you guessed it- Eddie Rayner himself. Still no word on Gisborne. I'm convinced the Enz will play, but it would not suprise me if it all moved to Auckland- just a gut feeling. No official word on this yet. Hang in there people.

Mark drives with me to the agents and signs the contract...it's official the bush escape is ours. very cool. We make it to the creek, a bit of mud around this time of year(wet season) but it's just great- we have our own rainforest.

The creek is crystal clear...we are convinced it contains Yabbi's! Talk about building a platform called "treetops" where people can sit in this natural healing area and just recover from the outside world.

As we head out for the forest another car is by our new home and it's another lot of people who were going to buy it- they look upset when we told them it's sold.
We find some big wombat holes by the west border. It's wombat city.

Am thinking of a new name for the property and was thinking of Arcadia. From memory I think that's where Pan came from- guardian of the forest. I'll have to learn to play the pipes!!! Still not sure what to call it.

Get home to find a message from Neil- he needs another copy of the CH rarities cd that we did for him- the other one has gone missing in the studio...but at least he's listening to stuff- so the project is slowly moving ahead. meanwhile the Other Enz people have asked us for dats of various tracks for the cd, so that too is rolling along. So I guess both will happen. More music, we like that

...dying to hear some other Crowdies tunes, there are tracks that we haven't even heard. That Neil Finn must have hoardes of songs.


---
July 21st
Happy Birthday to Trudi and Fran.

Call Fran at work and can not find Trudi- she is hiding from the world methinks. We'll celebrate their birthdays at Markys birthday dinner next week. We have their presents already...Fran will like her..it's a ****** ****** cmon Fran you really didn't think I'd tell you did you? Trudi's is neat too.

A really great doco is on the ABC- "The Planets"...tonights was on The Moon- just the best footage, totally fascinating. Notice the Space Shuttle mission was cancelled again due to bad weather....that female astronaut just climbs back out of the capsule, nothing shakes her...she is Janeway material. She'll get there.


---
July 22nd
Head to the city, use the last of my money to pay off my Amex card. Catch up with Campbell who is Bic Runga's manager. Bic's sister Boh Runga is here with her band-I think they are called Stellar???? Boh has crazy red dye and those same lovely eyes as Bic. We all head off for food, poor Campbell looks fluey. I tell them I have to drop in on Vali...she is in her studio. They all come with me and the Queen of the Ferals just blows them away.She holds court like no other.Later on they freak when I tell them she is nearly 70 years old.

We go off and eat, opposite Fat Bennys in the alley. I head back to hang with Vali for a few hours. We sneak a few coconut roughs..our secret. Chat about the future, her art and how to keep the wildlife oasis going in the later years. I think I'm part of her big picture. She has my loyalty. I vow to myself to help her. Walk her to the bank and catch the train home. Before I leave I chat with this groovy art student and we both do a "show and tell" with our tattoo's...all very primal. He is blown away by the detail of my Gryphon and asks me for my Tattoo mans name so he can get his finished, he's coming to our art show so I'll pass it on then. Something magic about him, not sure what it is....just seems like an angel in human clothing. Weird eh? Reminded me of "the man who fell to earth"....maybe he's a nice alien? Why are so many aliens made to be evil?

Tonight-finally "Will & Grace" is on Australian TV. It's been given some great raves. So long since I've watch regular tv and not cable. Fun show. Try to buy Mark the talking Austin Powers doll from America but apparently it has sold out....does anyone have a website address that sells these...all I can find is MiniMe Dolls!


---
July 23rd
B calls by and fixes the internet stuff on the Imac, we sit on the balcony... and watch the passing parade...the Wesley Girls are cute. Are we becoming dirty old men- gee hope so (sorry). Our dorky neighbours go by- one of my informents tells me that they are into some really full on "stuff"....even too freaky to mention here....when we see them-Mark looks at me and we just smile and shake our heads...we know YOUR secret!Knowing a BIg secret about someone is even better the telling them they are an arsehole! It's far more groovy!

Our friend Robbie Porritt-artist and Mr Mirror Ball man himself from The Furry ones, drops by, I swear he keeps growing. He picks me up like the hand of god and gives me a squeeze. he's working on the Video/techno project for us to promote in Japan. It's so wild.

Bill our old tour manager calls, the family are back in Sydney, Bill is great, he is just a lovely guy and I trust him with my life. I know that everything will be done right when Bill is around- total respect from me, and that's a rare thing. He's also loads of fun and has the best relationship/family. There should be more Bills in the world. You know when you get along with someone ad you'd do serious damage to anyone that tried to hurt them- well thats how we feel about him. So happy he is back in the office.Hope he comes with us on the next Neil world tour. Bill Rocks!


---
July 24th
Talk to Becky and it looks like she will make it to the U.K. on the Seekers tour next year....I promise to catch up with her next year in London and then we will head off to Egypt for a week. Hope it happens, I miss the place, it's been too long. Will have to get her climbing with me into the lower areas of the Pyramids all that dried up bat dung, and the dust of ages. I use to be able to read some hieroglyphics, just the different conventionalised pictures from the upper and lower Nile. Hey maybe some of it will come back. It's in my brain somewhere, kid of like the pyramids themselves, just have to find the right way in.

Get up early and carry another bag of Video newsletters to the post office..the staff keep saying-how many more? About 100 I say.

Work all day, and take time out to watch Aliens on DVD, it is the best of the Alien movies. John from Murchison Street calls and he' s fairly sure that they won't put a bid in on Tims house. He is catching a flight to N.Z. tomorrow but Caroline might go to the auction anyway.


---
July 25th
RamJets opens later now, so we all get to sleep in- we are still the first ones to arrive. Rosemaree drives us to South Melbourne Markets, she is rewarded by finding $5 just sitting on a trestle- with her name on it! Mark buys some black levi jeans that are actually made in Australia. I buy a huge daisy bush for the garden. We drop Mark off and head to work.Thanks Rosemaree, where would we be without you.

Work all afternoon, yes it's Sunday...sacrilege!

Caroline calls and....they bought Tim's house! She was just standing there and this little voice said "buy me"- so she put in a bit- and hey presto they own it! They are doing what we did- following those Finns! They bought downstairs at Murchison Street-underneath the Woodface flat and now Tims. John will love it, as there is a lot of work to do but it's a great deco house. I joke that if they find any "Lost demos" under the floor boards they are ours.

I speak to Sharon and Marie (Finn and Finn) in NZ and they thought this horrid "other lady" (ahem) had bought it- so they were overjoyed to know it was John & Caroline. Sharon tells me it's a full house in NZ at present, Nigel has been sleeping all day and wandering around all night! All goes well- some magic Split Enz sounds are being created. It's still early days but everyone sounds happy.

I speak to Little Pink next (Pinky has been in shows like Prisoner and now works as a fairy-part time!)...she was Nigel Griggs girlfriend for awhile and is still his best friend. Pink is the girl in the "Never ceases to amaze me" Enz clip. Anyway we chatted about the new bush escape- they all live up that way too- and there has been some talk that Noel and Sally Crombie might join us all up in the bush too. Maybe Melbourne is going to burn after the new millenium!? Pinks looking after Nigels cats...while he is in NZ.

Well that's it for now, Mark is watching some movie on Mount Everest and I have to go watch it....Hairball is lying on top of the alpacha blanket and she has this weird habit of licking the alpaca wool....I'm sure she will end up with Llama furballs if she keeps going. Have to go give her a cuddle, at fifteen she is still a gorgeous cat.

Hope everyone is good......and happy. I know that from time to time the diary takes on a dark edge..and the odd bit of sadness- well as we head towards the year 2000 life for me is just pretty damn good. The odd crappy day, the odd person who just wants to stay miserable, but not this little black duck- I'm staying positive and holding onto this real happiness with all my might! What a positive bastard arn't I- bet the #64 tram runs me over or something. Just as long as I'm wearing clean undies-right Mum?

Love this Life!

Peter, July '99

---
If there are any problems with this site, please contact webmaster@aswas.com.