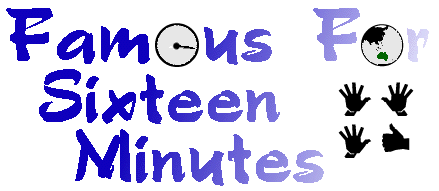 The Life and Times of Peter Green
Archive: 13 June - 26 June 1999
---
June 13th
Well Neil plays the Freedom Tibet Gig today....it is a fairly young crowd but the reaction to Neil and band is very promising ...the crowd goes off. Both Ben and Dugald say that Jebidiah, You am I and The Living End just rock...good to see that You am I are back on track- the few times I've seen them they have ran hot to cold gig wise.

Nice to hear that some fans worked out my subtle hint on the Neil bulletin board about the Sydney warmup date. Grant made me swear that I would not mention it to anyone- so I had to keep my word. yes it was at The Bridge Hotel.

Speak to Marie Finn and she is sending down a new Tim bio for the website. He's selling Sydney too (the apartment not the city) so the move back to N.Z. is sounding pretty permanent. The family seem pretty happy though, so it is a good thing.


---
June 14th
Check out Vali's section on the Geek Girl website...April-May 1999 issue. Ithink Rosie who runs Geek Girl is creating a full Vali art site...should be good.

Paul is still in Melbourne so not sure what that means as far as the Crowdies Rarities cd...there is no time frame, I know it will happen it's just a case of everyone getting their bits and pieces out of the way. LLT have a new album to finish. Am going to try and check out some of the 2" masters before they are all packed up....I'm hoping to discover some lost Crowdies masterpieces....or some brilliant studio patter...that sort of stuff always comes in handy.


---
June 15th
Brilliant that both the Largest Living Things website and the Neil Finn website are nominated in the upcoming Australian Internet Awards (The ONYAS). The voting finishes July 15th and it has to be ONE vote per person, so please make some effort and cast a vote for BOTH websites (they are nominated seperately in the first two voting areas). Voting information is located on the LLT websites bulletin board-found at: http://www.frenz.com/LLT/ We are just over the moon to get nominated, and some band like Silverchair with its young teenage passionate fans will probably get voted in....not that I'm saying Neil and LLT fans are old crusty bastards- it's just I wonder if everyone will vote. Guess I'm saying you ARE a crusty old bastard if you won't make the effort (smile)....bet I get a few emails about that comment. Reasons to vote, you can win a IMAC computer. The voting is open to everyone around the world, not just aussies. Thanks to all of you who have emailed me that you did cast a vote....those who haven't-there is still time...to redeem yourselves.


---
June 16th
Wow Austin Powers -The spy who shagged me, is kicking butt....bumped StarWars off the #1 spot in America. Go Austin. I told Mark it would do the same in Australia, the publicity has been huge. "The Spy who shagged me" opening was tonight, everyone headed to the Jam factory on Chapel Street, all the groovy guys and chicks ended up back at Revolver for drinks and a chance to win some prizes for Best Costume. Oh behave!

Paul Kelly was locked in today to be one of the artists to play at the Melbourne Songlines Music Festival. It's at Melbourne Concert Hall on Sat.July 17th. heaps of other people are on the bill including the brilliant Kutcha Edwards and Illana Atkinson. The media hasn't started yet and tickets are dirt cheap so you can get some fantastic seats from ticketmaster. Marky and myself look like doing the artist/stage "bit" on the night. With our new "rock" torches we'll guide them to their musical launch pad. See you there.


---
June 17th
Wow our artist friend Robbie Porritt is back in tow...from his wilderness in Western Australia. He is busy working on the "Furry Ones" video project. There is talk that I am meant to be a dancing Giant Panda....dance music basically. Could be fun....at least I'm in disguise.

The Solar men arrive today as well....we are going to be one of the first houses in inner Melbourne to be powered by Solar. It's all pretty neat. The solar panels have what is called "net metering", which is where the meter records the total electricity used less the solar electricty produced. We end up paying for the remainder. Sunlight is made up of photons (particles of energy). When the photon hits a solar panel net, they cause a movement of electrons (electricty). An electronic box called an inverter converts the low voltage electricity from the panels to the regular 240 volts that we all use here to power our houses . Any excess power goes off into the "main" grid....and is credited to us. Such a great enviromental programme..eh? Science talk over..back to our regular programme. I think I got it right!!!!!

Well we might pass in our science area but we failed in computer- our Eudora crashes severly..."like wipeout man".. No emails for me.

Fran and Steve call by, we head off for dinner. Sit with Fran on the balcony, Mark joins us...squashig in next to Fran. I get them some big blankets so they can stay warm against the Winter chill. They look like a cute old couple. I am tempted to buy them both some old peoples "slippers"...and pipes. Light up the canndles and the balcony is aglow...we are very civilised and sip tea and chat. Nice.


---
June 18th
The Crombies are meant to call by but are no shows.

Robert Moores mini-band member site (on the Neil website) hits the 1000 mark... it's been a year.

Bungie calls and Boom Crash Opera are doing a one off gig at The Casino on August 6th. Spock is also jumping up to play keyboards so that will be nice. Haven't seen him in ages.

Favourite Book- I'm re-reading Stardust-the life & times of David Bowie...it's by Tony Zanetta and Henry Edwards.

Fave cd- Tim Rogers & the Twin Set "What rhymes with cars & girls".

Nail Polish- this is cool. Back to that Liam Finn Grunge green that all of us loved so much on the tour bus. But I've added to the formula and Daniel from Silverchair you take note of this as it will go really well with your spangly silver shirt in the next clip. Start with some crappy $2 La Femme brand #40- (Racing car green). Apply and let dry. Next use some $2 La Femme brand (no #) but it's glitter forest green. Put that over the top of brand #40.Looks hot.

Creep of the year- Well she's not really a creep more of a sellout, the leader of The Australian Democrats. It will cost them thousads of votes at the next election by allowing baboon features John Howard's GST to get voted in. A sad day.

Hero- The debuty leader of The Australian Democrats for crossing the floor and voting against the damn GST. She might be young but she is smart and pretty damn honest. One of the few bright stars in Australian politics.

Outfit- Dangerfield have redeemed themselves. The new nylon body tight long sleeved Anarchy shirts. I wore it out and Ben Shapiro told me it wouldn't fit over his arm.....yey I've lost weight! Big points.

Comparison of the week- I am Angie Bowie this week! Watch out world. My mouth is open wide and tongue firmly planted in my cheek. Crass, trash and some flash...its the nailpolish.

Drink- Soy Cappuchino as only Paul at RamJets can make it& Caramel slices.

Food- I was bad and shared some coconut roughs with Vali...yes weak I had chocolate. Hell it was great. Bananna Malt paddlepops are high on the agenda too...Rosemaree's Pasta.

That's enough , is that enough? I think so.


---
June 19th
Pete from Mental as Anything calls and he and wife Susan are doing a Gallery show in Melbourne, so I'm looking after some parts of it. It's good to do an art show every quarter. Opening night is the best. Think I'll get paid in some art. It's at The Jackman Gallery 33 Grey St, St Kilda...July 29th- 15th August.

Happy Birthday Alison.

Have a late brekky with my friend Simone Buck...well she's an old friend, I had't spoken to her for twenty years....we gas-bagged so much it took 2 hours to order our food. Bibbida is good for lunch. Nice to catch up.


---
June 20th
A friend calls from the States and tells me that Stephen King was just admitted to his hospital- he was hit by a van near his home. He's in serious condition. He's a big Crowdies fan, I remember seeing him wearing one of the fanclub tshirts on usa tv, ages ago.

Had to decline on the Finns Pool table, we just could't fit it in, without getting rid of our dining room table....and our table is just too good to get rid of.

Have you voted for our websites in the ONYA awards yet.....cmon you've had all this extra time......! You are very bad. I'll know when I see you at a show, you will have that ring of guilt around you.

Lynn has tracked down "Gods and Mosters" for me, which was nice of her....can;'t wait to watch it. Thanks Lynn.


---
June 21st
So what should we talk about. Nipple Rings? A friend of mine has a nipple ring and I have to admit every so often I just want to reach over and pinch it. I do control myself.....maybe I'm just saving "it" for the right moment. You know who you are!

Send Mushroom the rough artwork for the Skyhooks street posters, not sure if the wardrobe image is strong enough, but the art department will have a better idea. As long as the main body of info is on there.

Ben calls by and starts repairs on the Mac. My poor computer is in such a bad state. We have banned Jj from going within 500 yards of it. He repairs most of it, still heaps of bugs, will just be good to have email access again. Hell knows how many have built up.

Matt drops in with him and Nicole makes the mistake of calling while all 4 of us boys are in the one room....oh Nic. you know we were just being lads! She was a good sport about our boyish teasing and gave as good as she got.


---
June 22nd
Run into Gabe on Chapel Street and have coffee. She spills the beans that our friends Toija and Marco are engaged, possibly why Toija has been trying to track me down. We love T&M...really good friends. Very happy. Head into the city and notice that our "I can see clearly" stock is in the stores....the money from the cd single sales goes to The Fred Hollows Foundation. Get our stock soon and zip it off to NZ for Neil to sign. he'll probably hate me.

Call in with our digital camera to start filming Vali Myers talking about her art. It's going to take months but she says she trusts me. Three women arrive & chat with her, then a boy comes in...he looks like an art student. He just looks like he wants to offer himself to her....I'm getting comfortable hanging out at the studio now. I just watch the endless flow.....

She talks to me about the Warhol days, living at the Chelsea, Lou Reed and the whole NYC scene...which she tried not getting involved in. So many storys....I picture her brain being this mammoth row of shelves full of jam jars, thousands of them, and when you open a jar you get a story (and usually more then you bargain for). Three hours later I jump in a cab and arrive home. Change for dinner. Mark wears his new coat..even more fake fur...looks great. The babes love the coat. (grin).

The restaurant is full but they always keep this table for us.....spoilt. I feel pretty glamerous tonight...not sure why. Wish i could bottle it.


---
June 23rd
Jackie from Qld calls about the movie, meeting next week. It's all on...... Still grumpy at Grant. Amanda calls from NZ and it's nice to hear from her. Haven't heard from Jules for awhile, maybe her email is in the IN box that is broken....I think there could be a few in their. Will have to email her soon.

A real nothing day today, worked and worked. Had a vibe for it. Found a new attachment for our vacumn cleaner and it does the stairs in half the time.... don't be rude..I ONLY did the stairs, I'm not that sort of boy.


---
June 24th
Brekky down the road...starving- think it's the cold. Come home and Ben has called about my computer- he just knows what he is doing. Mark gets along well with him and I know why- they are very very similar- far more then each will know. So Ben has some prices for me. We end up heading off and I buy a new computer. There goes my Amex card. This computer rocks- it's a groovy purple body (Imac) but it has the internal parts of a G3 with extra ram. Just kicks arse. You could have sex with this computer it's just really raunchy.

Have some japanese for lunch and we rush home and install the new Mac. I even get a few hours a day free interet time for a year.

Clive the journalist turns up and picks out some colour shots for an article he is doing. We end up watching "Frantic" with Harrison Ford...and even though I love the movie I am just totally fried. Sleep calls....


---
June 25th
Happy Birthday Tim...almost forgot. Well he heads home to NZ today.

Marky invites a few friends around for his Austin Powers/No.96 movie night. He could only invite a few...and just didn't want to ask people who would say no and dick him around- so Fran and Lara turned up...salad in hand, Rosemaree made her best ever Pasta...I think we need that recipe Rosemaree, and Tania turned up with desert. It was a nice night....I noticed he stopped playing them on the pinball machine when they started to beat him. Typical Leo. Rebecca hates Austin Powers..she doesn't get it. Fran said it was a "guy thing".

No.96 for those of you who have never heard of it is an Aussie Icon tv show from the seventies. It was about the life of these Sydney tenants in a block of flats at...yes you guessed it No.96. Not sure what the name of the street was. It was gigantic, probably because it was the first ever Australian tv show to feature full frontal nudity (this is 1974 remember)....a mad inventor called Les Whittaker, his big bossomed wife Norma (who ran the wine bar downstairs), Lucy and Alf Sutcliffe- two English Immigrants....Lucy ran the laundromat, Alf drove a cab, their lodger Arnold Feather-who was probably the first real geek on aussie tv, Don Finlayson...Australias first ever gay tv character (he played a lawyer)...he also released a solo single!!!, Jack Sellers- the local playboy ...who showed he had very bad taste in underpants....Vera Collins- sultry and sexy and alwasy being beaten, raped, taken advantage of....she was a fashion designer,& of course Dorie and Herb Evans...the buildings landlords...Dorie was a total stickybeak/busybody..& always walked in on naked men..she was about 70, Herb was this little fella, and their boarder was Flo Patterson...another pensioner but one with a fun attitude (played by the sadly departed Bunny Brooke). Add to that Maggie Cameron...the local bitch who would give Joan Collins a run for her money. The show possibly still holds the highest ratings for their infamous "BOMB exploding" episode. Many of the stars were killed, and the Australian public tuned in next week on masse, even more so then the moon landing. A classic.........and just seems hysterical in 1999. The clothes, the wallpaper...those underpants. The No96 people were some of the first celebs I ever met when I was very young...they were on their way to the Logie (TV) awards I was starstruck from that moment on.


---
June 26th
Sleep in....go out shopping for an engagement present for Marco and Toija... find a great wine rack...and we fill it with bottles.

Run into Rebecca at the supermarket and sneak up and scare the hell out of her. She's out shopping with sister Bronwyn....nice to see.

Come home and fix the old computer....clean up the office and answer emails.

Watch The Breast Men with Mark...its the movie on how breast implants were created and what happened to the two main people involved. Pretty full on.

Life is good , no make that great at the moment. I can honestly say I've never been happier, wondering if the bubble will burst. Just realised it's six months till Xmas....which means it's just about six months to Gisborne 2000. It's all moving along way too fast.

take care readers and be nice to yourselves.
Peter.

---
If there are any problems with this site, please contact webmaster@aswas.com.