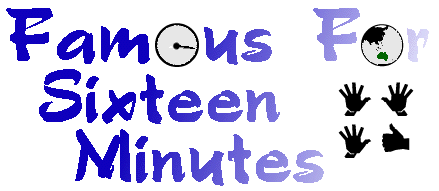 The Life and Times of Peter Green
Archive: 16 May - 29 May 1999
---
May 16th 1999
Wow fantastic the GST is in doubt, how fantastic, I still think (sadly) it will happen...but I hope it's a fairer package....a GST on food sucks. We are continually being told how fantastic Australia is doing on a world market by treasurer Peter Costello- so why is he bringing in a GST if we are doing so well! If it ain't broken why try to fix it.

Greg from Skyhooks gets back today, so he'll be doing the press rounds this week quite a few people are lining up for interviews. I love all those trashy shows like Bert Newton...Bert is such an icon! Greg and Bert, sounds like the Muppets.

Ramjets are starting to get soy milk in, they must be sick of me asking for Soy Cofffee's every day. They tell me that most lesbians drink soy....what the fuck does that mean? Am I becoming a lesbian? Confused.


---
May 17th
Our cd company calls and the Tim cds are ready within ten days. Tim will be happy. He didn't supply any backcover art, but the inside cover opens out with a message from Tim. Should look ok. Can't get "Some dumb reason" which is on this 5 track cd out of my head. That and "Death of a popular song". Can't stop smiling all day, why is this....just feel myself slipping away into these daydream type "states"....happened all day. Weird Gryphon. Senility?

Paul Hester calls and has finished painting the inside of his studio. I tell him he should call it "Little Cuba".....maybe the name will stick.

Melbourne Weekly calls and asks for a Tim Finn photo for a piece on his show. It's selling really well, there may be the odd suprise each night. Don't ask because he made me promise not to say.

Hear from my friend Alison and they kow what's been messing up her memory, so that's a good start, at last. Hope it all improves from now on.


---
May 18th
Well Big Bloke came back and sang Happy Birthday....need to sit on a hill....and talk. get rained on and meditate. Nice start to the day....even if it was out of tune (grin).

Head into Mushroom for the Press interviews, Paul Stewart is doing a major piece for The Sun on the Skyhooks cd....pick out some great 1975 photos for him. Should be a page and a half. A few phoners etc.

My favourite cake shop is gone.....they had these great "tea cakes". I'm now devastated, what reason is there to go to Albert Park.? No more tea cakes ):

Advertising Agency totally stuff up the I can See Clearly artwork mailout for us, and we never get it, so the art doesn't make the newsletter cover. I think the girl in charge knew I was crappy. Useless would be a compliment.


---
May 19th
Well Bongo returned from his 3 week jaunt with Ronald Biggs, spoke to him briefly, I don't think I should of mentioned it in the press as customs gave him grief whe he entered the country and I wonder if that was the reason why.

Head to the Astor with Marky. See "HighArt" and "Opposite Sex", thought "High Art" was the better of the two, but SEX was good !!!!! Wonder if "HIgh Art" is on DVD.

Really relaxed today- my Massage technican-Jen dropped by with her table and magic hands and worked me into shape. Purr Purr. Massages rock!


---
May 20th
Really boring work day, prepare for being flat out.

Work on some Gisborne 2000 stuff. Chris Bourke god bless him has created a mini bio for the Enz....he's "good" family. I hear that he is almost out of Something So Strong, if you've been sleeping in a tree trunk for the past 2 years and haven't bought this great C.House book (in my mind The ONLY Crowdies book) grab a copy. Good insight into the music industry.


---
May 21st
Happy Birthday Sharon Finn. Have a great flower shop in Aucklad that is now doing good business from us. (grin).

Call in and see Vali and we talk about setting up a Trust and a few other projects. It's going to be fun working with her.

Found out that Paul fell asleep in his big chunky armchair so he never made it to the "wig party". Explains why I was left with a long blonde wig on my bed.

Hear from the lovely Jules, and she is sending over some of the StarWars Party photos that the Robbie Williams crew did on their bus.....yes Jules I'd love to be drum tech on the tour......take me away! Certain hairy crew members that we know would make a great Chewbacca!!!! .....and a few managers I know bare a striking similarity to Jar Jar Binks! I of course look a hell of a lot like Ewan McGregor (yeah right). I heard that readers........


---
May 22nd
Wow my diary page is empty today...hmmm what should I write about- I know school holidays at Xmas and heading "down the coast". It was a family tradition that on boxing day (after Xmas) our family would pack up their tents and camping gear and head off down the Sth Coast. This had been going on for several generations (genetic I'm sure...from the great caravans of Zin Zha Gwari...an arab brach of our illustrious family tree). The family- aunts uncles, great aunts,grandparents and us kids, have been going to this same camping area for about 50 years. Now my relatives can CAMP. They had fridges, foldout beds, showers that ran from water heated in the open fire, they cooked mud crabs, king prawns, drank beer and played music to the wee hours of the morning. They sang and danced and joked and fought and loved. It really is my favourite memory. For three weeks I was incredibly happy- swimming, fishing, hiking, paning for gold, going to Mardi Gra (no not THAT Mardi Gra a coutry street one). I can never remember anyone ever being sick, no talk of skin cancer and we were all golden brown from days of boogey boarding in the surf, doing "the twist" to bring up "pippes" for fishing (out of the sand)...all simple stuff. These days I can fly anywhere in the world,usually business class and stay at exotic locations, but I look back on those days of growing up- simple pleasures and I miss the innocence.

That's my little story...ok boring...sorry.


---
May 23rd
Meet up with Marky and Rosemaree at RamJets....it's pretty quiet today, no clubbers or Queens from the Golden mile. Wear some metallic nail polish and my romper stomper boots. I look dangerous...a man with a mission.

Jj calls later and I catch up with both him and Renee at Bibida. She has locked in some modeling jobs and Jj is having some photo shots done for some demos.

John and Nick call by on their bikes, hang out for awhile. It's busy today.

It gets dark quickly, watch movies and answer emails.

Leanne calls from Perth and we talk "girl talk". She has located about 8 spare copies of LLT's "Hellbent" cd so if any fans need this cd email me and we'll work something out...


---
May 24th
Paid our water rates. Someone once told me they calculated that they save $80 a year by using toilets everytime they go to restaurants because it's less water usage at your home! I'm more amazed that someone would work this out!

Head to Gym, it's been a few weeks, very slack, very busy.

Just finished the Phantom Menace and halfway through the new Ann Rice Book- "Vittorio-The Vampire". It's basically a story of a sixteen year old Vampire from The Italian Age of Gold! Set amongst the backdrop of the woders- both sacred and profane- Renaissance Italy. Quite good. Favourite Cd at the moment is the latest release from Spiderbait...slightly Glam.


---
May 25th
Drive and pick up our artwork and film and then take the hire car down the coast to Wonthaggi to our printers. I get the usual red hire car, always the same one.

Nice drive and the town has changed a bit. We drive out to our stone house by the beach, and all the spare land around the house is now built upon. There's even a Tavern. Head to the tracks and end up at one of the remote beaches, it's windy and someone has spray painted "fuck off ya cu*t" on the lookout fence. We say Australians are a classy lot! Laugh ad shake our heads.Charming.

The one thing that still sucks down here is the coffee, they just can't do it right. Back to the city. We notice the "Giant Worm" now has the "White Jaws of death" display, trout fishing and emu steaks available. They've branched out.

Get home as the sun is setting.


---
May 26th
Happy Birthday Robin Mac...as old as I am (good).!

Work work work, totally flat out. Horrible day. Topped off by a local newspaper report that Interpol has been alerted to the fact that all these suicide cults are heading to Gisborne on New Years Eve to kill themselves as they think the world is coming to an end. Gee just what we need....ahmmm deadbeats it's not even the real millenium! Kill yourselves next year, not at one of my shows. Losers.

Advertising is now ok'd and full page adverts for Gisborne 2000 will be in this weekeds NZ papers. Still have no idea how many tickets have sold.


---
May 27th
Happy 41st Neil Finn.

Have no idea what to get him, in the end we send him a rare breed of orchard, thought it would be good near the piano. All his birthday cards have been passed on, really liked the idea of people not sending cards but making a donation to a charity instead. I gave the Salvation Army $10.... I think they thought I was rich. It left me with 55c.

All my meetings fell through today- all no shows. Meant I could get some work done. Hear from Gary the Screaming Jets manager, they have a new single out early July, he still keeps bating me because I called him "the worst manager in the world"...he lost the title, he's been too efficent lately.


---
May 28th
Hessie calls by, in really fine form, we talk about the tv show and the LLT cd. I start work on the LLT side of press for the show in a week. Hope he stays like this as he is a real joy to work with, seems to be the happiest Crowded House band member...well non member I guess seeing there is no more C.House.

They delayed the work on the rarities for a few weeks, just pulling parts in and other commitments. However the wheels are turning. I can see it becoming some sort of pre Xmas release but it might be earlier. We've all waited this long and it's nearly mid-year already.

We spend the day and night mailing the Newsletters and Tim cds....fill up 10 mail bins, thats a record....we've never reached double figures before. Means that no one in the area could mail anything as there was no room in the bins.

Take 2 hours off to watch Con Air on DVD. So nice to be able to relax. Went to bed, got up and worked for another hour and then went back to work...too hyper. Had dinner at the Woodapple.Chapel Street. They finally had more Pan Rolls on the menu. Yum.

Was very brave toight, ventured down the candy aisle at the supermarket...slowly and didn't buy a thing....still have very little chocolate in my life.


---
May 29th
It's raining, really nice, the garden is looking lush. Buy up all the stamps at the post office and continue with the mail out. Looks like we might be buying Neil and Tims Pool table from Periscope. The Finns bought it when they started the studio, and now the studio is finishing up because Tim is moving back to NZ.

Well the Pool table is ours. All the other gear goes back to Neils studio. The main problem is where to put it.....I've lost many a game on this table! So I need the practice.

Great to see the LLT site get nominated in the ONYA AWARDS......so remember to go to the ONYA website and cast a vote for the Largest Living Things website.

That's all for now, can't believe that it's almost June. New Years Eve is only a stones throw away. Yes Mr Bowie I have ironed your shirt...and cod piece.

Peter

---
If there are any problems with this site, please contact webmaster@aswas.com.