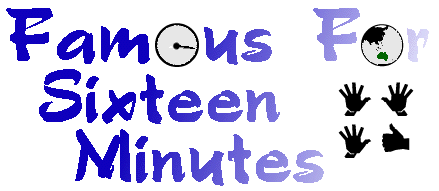 The Life and Times of Peter Green
Archive: 19 April - 1 May 1999
---
April 19th
Head to Chapel Street Bizarre to find a house warming present for Bic Runga, decided on the only piece of Czech green glass that they had left, a long deco-ish cake/biscuit holder. Nice and chunky and green. Funnily enough it was from the same guy that sold her the Czech bowl set...months ago.

Jump in the EK and head to The Galleon for a brekky meeting with LLT. Barry is cooking away behind the counter. Paul is there early and we have a gossip- I grab Michael Barker off the street so he sat with us for awhile. Get Paul to ok the LLT track for the Other Enz double cd. So thats all out of the way, Kevin says "just do it" so we do.

Get home and the NZ promoters have sent Noels ticket info to our office so I call the Crombie's and forward it on. Noels staying a bit longer the the rest of us. Well except Tim and Marie and Harper Finn- yes Tim has bought a home in NZ and will be moving back for awhile. Like Neil I guess he wants Harper to grow up in that wild NZ surrounds. But shhh it's a secret.


---
April 20th
Call Dugald and have a chat about crew etc for the "big gig- Gizzy 2000"....we both have the same people on our lists, but who knows what the Enz want, probably locals.....will soon see. Sad because our regular crew work so well together. Call Air NZ and get my ticket organised.

Mark reminds me for the 9th time to buy some duty free Jack Daniels to re-stock the bar. They have those scary 2 litre bottles at NZ duty free....which scream out "hey look I have a drinking problem". Thankfully I don't...but i still have to lug this huge bottle around.

Really want to get a Video interview from Tim, but may have to do Neil instead in NZ. Just that Tim is about to record again in the States and it's a interesting time for him, so I'd like the elder Finn. Feel we've exhausted Neil solo for awhile. (sorry Fang).


---
April 21st
Neil website is one year old, it's done really well, nice and healthy amount of hits, we are keeping the info up to date. Well most of it.

Have bad PMT...male variety- feel crappy and horrid.

Put the last of my pay on my gold amex card. Goodbye pay.

Mark and myself head to Myers and buy a new tv....got a great deal and the guy delivers that night. It's the motherfucker of ALL tvs....we can just lift it. It is crazy how heavy this tv is....it could kill you if you dropped it on yourself. Now Mark has to put all of the gear back together- 2 vcrs, a 8mm player, video editing suite, dvd player, amp, 2 cd players, cd recording machine, and god knows what else, all inner connected. I couldn't do it....even Ben our techno stage wiz would have trouble. Marky is just great...still it doesn't all work and then he swears at electrical gear ad I hear him muttering like a mad thing.

My pmt gets the better of me, and I feel ugly and small and hide in my room. The size of the room overwelms me and I seem to shrink even smaller. Hormones suck! As a last bid to make me feel better I re-dye my hair, it's a new colour that arrived called "rum"...hope it doesn't smell like rum. Looks great. Dar reds and not too brutal on my pale skin.

Long legged Trudy calls by and is off to the States soon....she's buying me my Edge shaving cream. Have enough to last till she returns. Spend the afternoon throwing gear into a travel bag and digging out my passport.


---
April 22nd
Noel and Nigel leave before me, thought the Enz should have some time alone at the meeting. My flight is at 1.10. Watch "Waking Ned Devine" on the plane and it really is superb. Funny and just lovely. See this movie. I think it's Liam from ALT singing "The Partying Glass" (yes the one that the Finns use to sing). make a note to buy the soundtrack. Is that a WaterBoys song in the movie too??? I'm sure it was. Cool movie.

Arrive Auckland and pick up my SILVER hire car....broommm. Have never driven to Auckland city by myself....always one of the crew drives me.. I get to my apartment that Ian Magan has booked and the first person I see in the Foyer is Tim. Calls out and gives me a huge hug. He looks great, really healthy. As a joke I do the #1 sign- like the Enz use to do on tour- it was a strange band joke, walk past each other in the foyer and hold up one finger- #1 again for the 2nd week etc etc. He got the joke straight away. Tells me we are all meeting in the bar.

Ian calls and I wander down- Grant is there- Noel, Nigel and Eddie. Eddie says something expectedly camp....gives me some shit about my eyebrow ring and Neil emerges from the bar. Gives me another Finn hug- equal to Tims. Spend the next few hours chatting.

Have a coffee with Crom and Nige...which was stupid as combined with the time difference leaves me awake ALL night. Watch ALASKA which is the tv movie for the night. Great scenery.


---
April 23rd
Grab the mail for NZ and post it down the road. Fruit salad for brekky. Tim takes Nigel to Neils and I try to find Noel. He calls and we meet in the foyer- give him my keys to drive.

The Finns house is crazy- workmen everywhere....it's like they are rebuilding Buckingham Palace. Great to see Geraldine again (Robert Gillies ex-wife, always liked her spirit). Sharon is the same, that twinkle in her eye, check out the latest project and what she's making Neil for his birthday. A recent reader of this site asked me if I had a crush on her- kind of made me smile all day. She's just a great mate. We both talk about commitment, and all that but I guess I just cherish her a lot.

The Enz meeting is underway and I'm taking the minutes- Neils suggestion, which is great. As expected the Enz might be doing a bit of jamming soon, maybe something NEW will come from it- but they are their own quality control so if it doesn't produce a tasty fruit (aka great new song) then it wont be released. But for all of us fans (and yes I'm a fan like so may of you) I hope all of this might lead to some new material.......but I'm NOT saying it will, let me stress that now. But you never know.

The best part of the day was watching all the Enz members slip into their characters...these are some of the best people I have ever worked with, and I'm just happy to be around them.

Another good solid meeting.

Hang out for awhile and Neil asks if I'd like to see him play at a school gig/launch for Liams school. Sadly I decline as I want to catch some of Placebos set at Aucklands PowerStation.

Drop Nigel off at the hotel, he plays this Enz dance type cassette he made- very bass and drums and can only best be described as tribal Enz.

Head up the damn hill to Real Groovy records and only end up buying a 'trainspotting' dvd. Nothing else I really wanted.

Placebo are good, not great, think the first album is better then the latest but the singles are great. Shapiro keeps quoting me " a friend with weed is a friend indeed"....he likes that line. I wonder why?

Have a horrible "b.l.t" at the hotel....but room service girl is gorgeous and hangs out for awhile.


---
April 24th
My Auckland apartment is the best, it's 12 floors up and overlooks the main walk of Auckland- Queen Street. At midight I was dreaming and the rain woke me, so I opened the windows and looked down amongst the neon and watched the girls in their black plastic macs running for cover. It looked like a sceen from some french movie. The hotrods do burn outs and the neon changes from blue to red. The street boys look tough but they are all pussys under their jaded exteriors. Someone is playing a saxophone and the notes rise up to greet me like smoke. I love nights like this. Corny but kind of sexy.

Stumble out of bed, call Bic, and she says she's been waiting for my call. Bic and Chuck pick me up for lunch. Check out Bic's new house, it's a great new "home" feels fantastic. Go shopping and we buy a Gramophone- she spoils me and buys me this incredible pewter shell sunglass holder. Really neat....and we have coffee with a cute boy that was in her video. I think I know him from his busking days in Wellington.

Find this park and we both jump on the "flying fox" and zoom off into space. I love encouraging silly things. We laugh all the way home.

Really nice day with her friends dropping in, and we see Alanna from the Thompson Twins. Her and Tom are living in NZ- Alanna looks the same as ever, she has two kids now...Toms the father.

Bic talks to me about doing some songwriting- I suggest "Gramophone Girl" for a title.....she smiles. What a great smile.....people would throw coins for that smile. She's smiling more now that the long touring is over.

They drop me off at the Apartment. Decide on toasted sandwhiches for dinner, Ms Runga had fed me all day. Mostly write all night, call Mark and his vampire tooth is aching so he's off to the dentist. Tooth aches are horrible, they just destroy your whole day.


---
April 25th
Fall asleep at 2.00...wake up call at 4.00. Feel like I am having an out of body experience, feel very light, probably just sleepy. I'm on the lovely "Redeye" flight (ych)....so I have to be at the airport by 5.00. I can't even remember driving their, but I make it. As I clear immigration and buy the jumbo bottle of J.D. I find this cute small shop. Spot two fanastic Koru.....made from jade. They are a spiral pendant. The spiral koru means new life, growth, harmony and peace. Get one for MG too. Even though they are expensive they are somehow worth it.

Walk down the aisle and all the fire alarms go off in the airport, so we sit on the tarmac waiting for Auckland airport to burn down. It doesn't and evetually we board our plane. Boring flight....seat to myself. Read Startrek novel.

Clear customs, call the Limo service and get home to the Elephant in time for coffee...with Rosemaree and Marky. A familiar gaggle of drag queens is sitting next door- Miss Candee, Millie Minogue and Ms Jane. Candee booms "can Miss Jane take her shoes off". I smile at Jane and say "Miss Jane can take it all off honey....." well what does one say to one of Australia's leading ladies? I tell Candee that I have not been able to buy her phonecard anywhere. She suggests "Hares and Hyenas" Bookstore. I make a mental note to ask them.

Go home and clear all the emails....have an early night.


---
April 26th
All excited as Mark has put the huge old tv and a new vcr into my bedroom- the ballet school. We squash it into one of the eight wardrobe doors so its hidden. I am so over the moon, I can now watch one of the ten Voyager video tapes that have been building up....and snuggle in bed. A very rude popstar person suggests that I can now film my own porn and put it directly up on the screen. Lovely people I hang with.

"Y" calls and is working locally....asks me to come on down. Arrive in a happy mood, which is strange as I still feel crappy. "Y" is working so I go book shopping, feel like runnig away to Katmandu so I start looking in the travel section and end up with the Michael Hutchence book instead. Awhile later I feel a bit weird about buying it as all I can think about is having to tell Nick Seymour that Michael is dead, just hideous.

"Y" takes me for a coffee and I actually cross the mark and ask about this "thing" that we have ..........which is not good timing.. It can only get worse and does, as I call home and find that my Mum is in hospital (shes ok now). Everything about the last day is fucked, it's such a horrid feeling, I'm sure some of you know what I mean. It's like if I had a 99% chance of wining a prize...I'd still fail.

I head home, call Sis and escape into the realm of Voyager and my snug bed. Call the venue and find out that I still could catch "Y" , so I de-red my eyes, change my shirt for the 5th time today (whats that all about) and race to the gig. My timing is ok, catch "Y" leaving and ram my pinky into the keypad security door before it locks. Some strange demon inside my head says "end it end it"...(go on reader say it...with a tribal beat).....and thats the direction I head. "Y" looks so incredibly sad, and even as I'm saying this I want to take back every word. I'm driven home, I stare like a deer caught in headlights, and once again try to hide- this time in my thick bikers jacket.

The words "fucked in the head comes to mind". I need some space and say goodnight and hide in the shadows. As you can guess I didn't have a good sleep. I tend to hate all of this, I'm usually a tough little shit- but this one meteorite as sneaked through my starwars defence system and it's making havoc with my life....now saying all that the other side of the coin is that the moments (and there are many) of happiness are just the best. My life bond partner is incredible and so understanding- more then I would ever be. Somehow it's made what we have even stronger.

Hmmm I just realised I'm spilling my guts on the internet to god knows how many people......arghhhh just ignore this bit. Guess it shows I'm human. NEXT!


---
April 27th
Mail off Janet Carella's parcel (our lucky 50,000th hit). Weighs a tonne.

Spend most of the day working around the Enz Gizzy 2000 thing. Have some good news regarding the Crowded House Rarities cd. Looks like it's all going ahead, Paul Hester leaves in 2 weeks to work on the cd, think he's redoing the drums on one track called "ANTHEM". Paul has been listening to a bsides tape we gave him ages ago, plus some other stuff. I think Mark (from my office) is putting together a rarities cd for the CH boys to listen too, in case they forgot to include some unreleased tunes. It will have a 1999 release- no exact month yet. For all you trainspotters in the crowd, Anthem was one of the tracks done when Peter Jones was in the band.

Pick out some videos for the Enz tv commercial (Gisborne 2000)- decide on Bold as Brass, I see Red, Dirty Creature and Message to my Girl. I kept clear of History because Tim thinks its too new romantic....clothes wise. I kind of like Strait old line too- so thats another choice. Email and fax these choices to the boys.


---
April 28th
Tim calls and he is dropping in next week with the parts for his "work in progress" 5 track cd- so it goes to the cd company very soon. Should be mailed out mid to late May. So any club members that are after a copy email me (peter@frenz.com).

Shirlee from the States calls and reminded me that Neil will be on "sessions at West 54th" (re-broadcast)-June 5th on PBS. This channel is available continent wide so Americans and Canadians can view it.

Hey remember everyone that voting in the Immedia Australian online music awards starts May 1st. Remember to cast a vote for either the Neil website, Split Enz website, Largest Living Things site or Skyhooks website. The catagories and other stuff is online at http://www.immedia.com.au/onya Please can every single person vote for one of the sites. Would be great to be nominated. Thankyou. Strictly one vote per person and you can win an IMAC computer.


---
April 29th
Grab the hire car and head to the Dandenongs (Melbourne Mountain range) to visit Nigel. Our usual red hire car is being serviced so they've given us something bigger....jade green. We take the long route and eventually arrive, Nigel Griggs moved up here about 3 years ago....he has this great backyard full of trees and herbs and vegies and heaps of cats. I do some photos of him with his soccer ball that Isabelle from France sent him (the first French fan). One of Nigels three cats 'Voodoo'...runs around like a mad thing- he's a frisky young male puss... and just loves the bush. His other two cats are Tash (silver grey) and poor little Gollom who will never grow up....

Gollom manages to take over the video interview that we are doing- climbing all over Nigel ad making strage noises, at one stage it starts to cough up a furr ball. We talk about Liam Finns recordings, he's up to around 15 songs now- I just love the fast tracks- so GreenDay ish...just love the songs I heard.

Little Pink (Kylie) calls by, she's a great mate and we talk about flying saucers all day. You might remember her from the Enz "Never Ceases to amaze me" video that was filmed at Melbourne's ZOO. Shes like a fairy princess and twirls the fairy floss in the clip. She was also in the tv show Prisoner. Pinks dog Marty is just crazy over Mark and smiles with his top teeth. Once again its Mark and his animal friends, he'll soon be buying clocks for Hairball (a la' Bubbles the chimp).

The sun is setting and the temperature has dropped so it's time to go, call into the local nursery (Wombat)and buy some huge box hedges for our house. Its a great nursery. Get home in half the time and pig out on Pizza for dinner.


---
April 30th
Bongo from the 'Hooks leaves today. He flys off to Rio to hang out with Ronald Biggs for 3 weeks. Yes the great train robber and the great guitarist are reunited.

Speak to Mushroom and the Skyhooks album THE COLLECTION is out May 17th. Bongo got a glimpse of the cover art and just loved it (phew). I'm glad they are happy with the job we did. So kids tell your parents that Skyhooks have a great new cd out soon!!!

Catch up with Jj and Renee at Revolver, Renee is behind the bar so she makes me a lovely cappuchino. She says that the sound at the gig for Suzi DeMachi was great so Ben will be happy to hear that.

Tim calls and he will be doing a mini interview for the Video newsletter afterall, so its great we have Finn Snr as I wanted.

By my Mums Mothers Day present...some great skin cream. Gee my birthdays on May 11th, I probably should of kept it for myself- another year older. Hope someone sends me some black socks that don't fall down. All day long these socks annoyed the hell out of me by letting gravity take a hold....and ended up in the toe area of my Docs.

Go for a walk with Mark to Pattersons Cakes...this really weird guy was at the tram stop making honking noises like a flock of geese.....very strange- in fact we noticed heaps of "them" out today- who needs to go to America....we have quite a decent batch of weirdo's here thankyou very much! Hmm then again I guess I don't fit the average "punter"mould either.

So "I can see Clearly" will be released as a cd single in Australia, all monies raised go to the Fred Hollows association...great cause. No release date yet but we'll have it on the Neil website soon , and yes it will be available via the club. So finally everyone can stop asking about this, and yes it will be available to club members.

Buy "Dog day afternoon"...still a classic movie.

Fred from the 'Hooks calls and mayb be letting us auction off one of his platinum record awards from the seventies. Some gold records can be dust collectors, I still like the gold record awards though compared to the gold cd awards.


---
May 1st
Wow the year is zooming by. Have too many dreams last night, was due to the weird combination of foods that I pigged out on. Get up and start putting in the box hedges. Takes forever but they will look good, hope they grow huge.

Play loads of cd singles today-Garbage ("Special"), Custards ("Girls like that") Suede ("Electricty"), Greenday ("Nice guys finish last").

Start work on the next newsletter tomorrow, think its a mid-May release. Tomorrow is our last Sunday at the Blue Elephant and it closes soon for renovations......what will we do?

Thats all from me.
Be nice to yourselves
Peter

---
If there are any problems with this site, please contact webmaster@aswas.com.