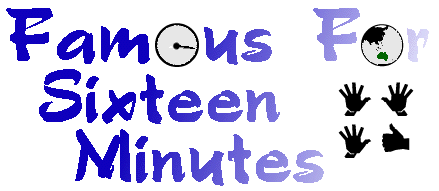 The Life and Times of Peter Green
Archive: 1 November - 14 November 1999
---
November 1st
Get a call from Tim (Finn) and he has organised for the Say it is so C.Ds to be sent to our Australian office...guess we'll have them in a week or so. Will be good to have a new Tim c.d. in our hands.

Well we officially start work for Mark Lizotte today, another new artist for the office. Some of you would of watched him onstage with Neil at the NYC Bowery Ballroom show. He has a new c.d Soul Lost Companion out, has been top 20 in Australia. Nice guy, think we'll have some fun working with him.

Well my mini solar "seed grower" is doing well, 3 types of Tomatoes are springing up, corn, one sad snow-pea vine, pumpkin and watermelon. By the time we get the Forest House I can plant them.

Wow November already, Xmas is just around the corner and only 2 months till the Enz show.


---
November 2nd
Suppose to be a public holiday but we decide to work. It's Melbourne Cup Day in Australia, the day the nation stops for a horse race. 104,000 people turn up for the race (no not at our place). I pick the winner, tell all the family to put money on it and of course they didn't. They never listen to me.

Run through some poster art with EMI for the "mini poster" that looks like being included in the Crowded House Afterglow c.d...think it's only in the Aussie copies.

My "Blair-witch project" dreams have stopped....finally. Mark was telling me about this really young Australian kid who had a sleepover at a friends house and they watched Scream 2 and she ended up going crazy and the poor thing had to spend some time in a padded room.....scary.

Been getting up way too early. Can't sleep in anymore, I surrender to being an early bird. Refuse to go to bed really early though...I love the nightlife......gotta boogie!


---
November 3rd
Up at some silly time and the courier collects my original Reg Mombassa art for "Farewell to the world".....you know the one the dog on top of the earth with a guitar plug heading towards it's butt! Really nice colour tones, all earthy.

My bank manager calls into the house, how many bank managers do things like this. CJ is great, I trust her- how many bank managers can you trust!

Get an email from our tour manager Dee, he is away in the States at the moment, a small part of me is missing touring. Other "young bucks" that I know miss it more than I. No names please Mr Ben Shapiro.

Mark spots the Kylie Minogue book and throws himself in front of a car on Commercial Rd to obtain the first copy. I love the book, he thinks it's "o.k.". More of a good Coffee table book. Kylie is just so cute.


---
November 4th
Jj calls and tells me to check out the Velvet Goldmine (VENUS) site, it's a good one. Gotta love it. The movie is becoming such a strong cult movie- heaps of sites springing up.

Head across to the pub and we decide to eat there, not bad because the food is ok, fresh and almost healthy.

One loan "Chilli" plant is springing up in the Solar seed house....that's a bit pissy.... I know with a few seeds it's good to blow smoke on them to get them to open up...... maybe I need to do this to the chilli seeds first. bet the one seedling dies on me!!!!!!

Haven't heard from Neil Finn for awhile..

... Speaking of 'things Finn" (try saying that with a mouth full of soup)...the total combined length of all the roots of a typical Finnish pine tree extend for 49km (30.4 miles). This is also the approximate length of the total amount of shelving in London's biggest book store, Foyles. Just thought you'd like to know that......


---
November 5th
Nothing happened today.

Ok we did look at some crappy lamps for the Forest cottage, decided that I should recycle one of them and make it's lifer worthwhile again....but they were just so damn ugly and wobbly that I gave up.

Streets have stopped making our favourite Paddle Pop icecream, and they have a new one called "mud puddle".....which ends up being pretty messy. Kids will love that.


---
November 6th
Go off and Vote.....don't think the YES vote has much of a chance, mostly all the old people voting NO. Plus the preamble was kind of stupid etc etc. But Victoria surprises everyone by leading in the YES dept.....and Canberra too. Loads of postal votes so they will probably push the No vote over the line here.

Will be ages before Australia has a chance to stand on it's own two feet again. Years down the track when people ask why we are stuck with the Queen, at least I'll know that I didn't vote for the old bat. The Sex Pistols were right..."God save the Queen she ain't no human being...". Bring back the Queen Mum I say!

Get a late night call from a friend in need....


---
November 7th
Up bright and early(ier) for the c.d fair. We are having a club table. basically it's a chance for the fans to hear the new Crowded House release. Mark will set up a listening post for the new c.d. AFTERGLOW. A lot of new faces, and the first two hours are insane. Have a cup of tea with Louise and friend....nice to have a few minutes off. Was going to be the last time we did the club stall but every person kept saying 'this can't be the last one"....we'll see. C'mon guys let me sleep in for at least one Sunday.

Harry gives me this fantastic Bowie c.d from the recent Storytellers show, really nice of him....and Bowie is so funny. Love "Thursday Child" one of the new tunes.

Found out that there was a table full of bay City Roller stuff.....after we left, Rosemaree would of killed for it, and only a few tables down from ours, I stayed behind the club stall all day...so I never spotted it. Oh well she should of turned up.... not sure if the size 4 tartan roller socks would be a good thing to wear to work Rosemaree. Though I bet you would.


---
November 8th
Peter Farnan and partner Jane had a baby girl today- called her Stella...yes another Stella...

The Estate Agents have organised me to drop into the property and check out the Solar panels etc....how to drive the Tractor.....get the water system happening.....all these new skills. If Melbourne crumbles into the Bay, at least we can live at the Forest place... now if I can just grow more then one Chilli plant!

Have a chat to Dugald, at least he will be in NZ on NYE....not long to go, think the 2nd Enz show has nearly sold out.


---
November 9th
Drum roll...today we have been in Melbourne for 20 years. Incredible, we have survived. Feels amazing. 20 years of fun. Best decision we ever made to come down here. it's only been 10 years since the Berlin wall came down. Bowie has this great little story about living in Berlin. Iggy Pop was out all night and he had coffee with David in the morning. Where did he go. To a Punk Party in a Warehouse, someone had made this copy of the Berlin wall, and at midnight all the punks threw themselves against it and pogo-ed on it , till it crumbled. Iggy tells how later on the Punks were all standing about with tears in their eyes because (at that time) the wall (outside) remained intact....sad.

Mark Lizotte calls and he is really happy. Some fans cornered him when he was on the phone to me, so he was signing c.ds.


---
November 10th
My Press piece for AFTERGLOW makes it into In*press magazine....a week early. At least they ran the cover shot.

Get a call from Ex-Schnell guitarist Michael Den Elzen, he is working on the music for "Rodeo Road" a t.v mini movie filmed in Broome. he said the music is sounding like the Bonanza t.v theme. New Deadstar cd is a total stiff, not much promotion for it.

Everyone is calling in for Dinner before Vali's art show on Tuesday, all the friends are excited, going to be a fun night. We are all having Dinner at the African Restaurant. It's a fairly exclusive show.... and Vali' is showing the originals. Really nice to go out and see some real art. I love Gallery shows.


---
November 11th
Was having coffee at Babble and some Guru on the radio was talking about birthdays and he said "people born on the 11th are "master figures" (do they mean in the "I dream of Jeanie type "master"????). I always wanted to be a Master Figure.......

Have a list a mile long of stuff I have to get for the new place.....need a really huge cactus near the door if I am truly going for the South of the Border type look. Should be able to paint the white Stacco "feel" quickly..... will be done in one day. This is better than a holiday.

Looks like Australia and N.Z. will be the only two areas to get the new Crowded House rarities cd (Afterglow), we've received no release info for anywhere else, so I guess places like the U.K. etc release it in the first few months of 2000. We get our stock Dec. 1st.

Liz Hurley and Hugh Grant are walking down Chapel Street...Liz is looking great- Hugh is just a total fuckwit...why is she with this wimp? C'mon Liz you can do much better, send him back to his Hookers.


---
November 12th
Head into the city and pay off the Amex card, will be living on this all month.....decide to do the "big shop" for Beenami. End up looking like Zsa Zsa Gabor...with three shop assistants following me around- "Yes Mr Greeen, No Mr Green..." ok it was only Bunnings and NOT Harrods. Bought GumBoots, and Rose arches and chainsaws and hundreds of flower seeds, solar lights, Composs Bins, and christ knows what else (he does you know...Christ knows everything...wish he'd tell me the Lotto numbers). They book a truck to get it all to the house....I carry the seed packets home.

head to the 7th Floor to visit Vali and get her a coffee. She is framing away like crazy and the originals just look incredible...I almost cry (and I thought Hugh was a wimp).. just great. Help her with the frames...I miss the studio.

Home to the office and I head off with Mark.....his stomach is eating itself.....this is a regular Mark comment....poor starved man.

The record company returns my call and Recurring Dream has now done well over 600,000 units in Australia alone. Heading towards 10 platinum awards! Not bad. Ask GT why we haven't received any Platinum cd awards yet.


---
November 13th
Up early and pack up stuff for the Forest Escape. Mark helps me clean out the lockup and we find many useful items. We decide not to take the lifesize Kim Wilde cutout or the stuffed bats...they don't seem very "Spannish mission".....

The Eiffel Tower in France would be shrinking by now, each year as Winter approaches it shrinks by 6 inches as the metal retracts from lack of Sun. Just full of interesting information .

Have the "dreaded chicken" for Dinner...we have both been avoiding this for a few days, but we hate to waste food. Wasn't too bad. There are people starving....

Watch CONTACT on DVD, just love it. Better with each viewing.

Mark is kept awake by some bad dance music pounding away.....


---
November 14th
Sleep in till 9.00...no CD Fair. My new blue black hair looks VERY Robert Smith-ish today.....must of had some Cure type dreams last night to get it to look like this.

Lovely day, Fran calls and is making the trip with us to the Forest, Robin and Trudi are driving the truck, and I think the EK will make it. Mark goes a bit freaky that I have bought these amazing wooden chairs and table, he says they are too good, but I just love them.

The Frenz.com auction should be on by now, will have to check it out, and lend some support. Not sure why people were freaking out but I thought it was a bit pissy, always someone having a whinge (snore). Frenz.com has proven it's worth, and that is the bottom line.

Hmmmm wonder if rumors are true that Neil Finn solo II hits the road in March? I haven't been told yet....but it seems about right. keep reading the Diary for updates.

Take care all
Peter

ps- Melbourne Readers- Vali Myers art show is at ROAR Gallery- 115a Brunswick St, Fitzroy. November 16th- DEC. 12th. No entry fee....11am-5pm.

---
If there are any problems with this site, please contact webmaster@aswas.com.