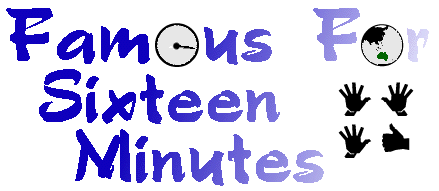 The Life and Times of Peter Green
Archive: 20 September - 3 October 1999
---
September 20th
Heard from Nick and Nik... Scrote is in Wales producing a new band called Juniper... apparently their name will change soon....not sure to what. He did a huge part of the Crowded House Rarities artwork but had to handball it to the U.K. to be finished. No news on when he is back in Australia, guess it's in time for Xmas? Miss the bastard..... he must be dying on "gossip -build up' with no one to tell it too *chuckle*. Barry from Deadstar has been trying to track him down whilst he is over that side of the planet. I doubt it's to ask him back into the band.

Watch "Cruel Intentions" on DVD...this is Marky's dvd of the month. Really good movie- inspires me to be more cruel! Watch out world.

"Erskineville Kings" has been released, have to see it soon- interesting Aussie movie, kind of in the vein of "12 angry men" and "on the waterfront"...it's received some good reviews. Erskineville is an area in Sydney- post-industrial. Hugh Jackman is in it and has the weight of the world on his shoulders. Heard that Died Pretty are on the soundtrack- track I heard was great.

Mark points out that Hugh is really a model and not a very good actor- from what I've seen he's good in this......he is so anti-model-ish.....I think Kennetts moron son made all Male Models look like fuckwits. Only takes one...

Playing Spiderbaits "Grand Slam" cd whilst I'm typing the diary today.... Nineties Glam Pop... nice to hear a band that isn't miserable. The first 3 tracks are just a rush- "Cracker", "Glokenpop" and "Shazam"- I like Spiderbait.


---
September 21st
High up on the 7th floor of Vali's studio, open all the windows and play Bowie's new tune "Pretty things are going to hell" nice and loud- it's not a total return to form but it's ok- thankfully Bowie is not playing any noticable Saxaphone in the song (phew). Good title for a song.

A major Earthquake in Taiwan...the world is just falling apart. Enjoy today...because there might not be a tomorrow. Hmmm maybe SpiderBait should be writing Glam-end of the world tunes.

Play a lot of Velvet Underground today ... still one of the best bands ever.

Scribble down a list of titles for the rarities c.d.... can't really come up with any winners- "Dust from a Goldmine", "House rules", "Kitchen Sink", " Best and the rest", "Lost and Found".... the food boys at Babble suggest "Storm in a teacup" which blows all mine away. Hope Neil comes up with a sassy Crowded House title.


---
September 22nd
Speak to Vali in Italy- she said it's been really hot and took her a few days to recover..then again she is nearly seventy, just completed a 17 hour plane flight, 4 hour taxi ride and hiked over the huge Italian hills by herself......most people would be dead!!!!! She told me she just mailed a letter. She has nearly finished a new painting "Foxys wedding". It's the one she was working on before she left. She'll be showing it at her ROAR Exhibit in Melbourne Mid- November.

Watch "Romy and Michelles High School Reunion", Spy Di mentioned this to us ages ago, and she was right we loved it. Really really loved it- silly , eighties, the two girls are just so hot, and Rebecca should sue someone over using her "image" in the movie........! So far everyone has picked the Bec character....but it's not an insult- she wins out in the end. Not sure if everyone will "get" this dvd.... Leanne in Perth hated the movie- but we loved it. Great when you don't want to think too much- really nice soundtrack...the good and the bad of the Eighties.

Wow finally see a multiple angle dvd..... you can see the same scene from heaps of camera angles... hmmm ok it's a porn DVD! How did they get a camera in that area is beyond even me! So weird it's always either Porn or heavy metal that has Multi angle.....one and the same I guess!

Enz show is finally coming together- just waiting on the band to agree on the sponsorship side, then we can announce it.


---
September 23rd
Do our tax today- even our company tax.....good to see Mary is still looking after us. She thinks I'm odd because I don't milk the tax system dry- but I don't mind paying.....I am one of the few honest clients that she has.

Mark finally comes out- he said he wanted the readers of the F/16 site to know that he is : TRI-SEXUAL........ does this mean he will tri(y) anything? Time to hide the cat!...and the Kylie Minogue cardboard cutout!

Work on my projection for the Forest House..... been horribly good and saved all my pay and stock market $.... saving really does suck. But I'm doing it....can't wait till it's all over and we own this damn place, the stockmarket work is driving me batty- so I'm counting the days.

Thinking of heading to Positano-Italy to complete the filming of Vali for her next release. I need a week off. ...and filming is easy, providing the weather holds. Doing so much Crowded House work -for free at the moment, hope Grant appreciates this, he probably doesn't even know. Oh well it was my decision, and sometimes it's good to just 'do it" because they've always been good to me.. I wonder if anyone else around the band would work for free for three months?


---
September 24th
In the city today- Football Grand Final Fever is everywhere- 100,000 people fill the streets, on this Sunny September day...I decide to watch the Footy parade from the seventh floor, open the window and sit on the ledge, some tv crew films me- I think they were hoping I would fall or jump! Not that I really give a shit about football- 20 years in Melbourne and it has not rubbed off on us.... I just tend to like the madness of the fans. Some fan punched out the Kangaroo mascot, well kind of- the person inside the suit probably didn't feel a thing with all that padding. I didn't even know the correct teams playing- Nicole in the States corrected me...I thought Geelong was in it (grin) but that was just all the press around the Liberals loosing Geelong in the election!

Dean from Melbourne UNI drops into the studio- fun. Who's Who of Australia book arrives and Vali is in it (page 1246). All the other people are so damn serious- straight sounding recreation- tennis, golf, bowls.......Vali's reads "Dancing, drawing and raising hell"...had to chuckle over that. So true.

C'mon the Blues! (Whatever that means). Why would anyone want the blues........ oh not that type of blues..ok! I'm suppose to spit after I say this. I love being an Aussie. (hack).


---
September 25th
While Melbourne stood still for the Grand Final..... we snuggled under the blankets and watched the Buffy the vampire "Slayer Fest." on Foxtel! Cordelia is sooo hot and we both decide that Faith can inflict as much pain as she wants on our various body parts! We are becoming sad grown men! Whip me, stake me just don't say you love me. Girls kick arse is more sexy then hairy legged men kicking a ball around- sorry I am right!

Rich and Marilyn suprise me with a jpeg ultrasound of their baby- it's a boy! very cool!


---
September 26th
All the uncles will be pissed off as Melbourne "Storm" beat the Sydney/Wollongong team in Rugby league Grand-final..... wish I was going home this Xmas so I could stir them all up..... for Melbourne to win the Grand-Final is just the final straw. Wars have broken out over less. Still don't have enough flight points for my Business class Oz- Italy ticket......dig through the drawer for more receipts for Qantas....I am a desperate man....I only have 190,000 points and need 5000 more...wonder if Grant would pay me in flight points- he has a million of them!!!

Speak to the Enz about the show and it's on. America's Cup Village- Auckland. Only 3000+ tickets will be on sale- in about 2 weeks (via ticketek- 9-3075000) Seeing it's New Years Eve the Enz won't be onstage till 9.30/10.00. Told Ian it should be called Enz of the Millennium, so I guess they will use that title- obvious but good. Am really looking forward to this show- especially with it being so small and intimate- hope all the Enz fans make the effort to attend- would be great if it is fun as the band might do more shows- you never know- but a lot depends on the reaction from the fans.


---
September 27th
Decide today that the forest house should be more Tex-mex... might redo the inside walls in white stucco instead of the current mud-brick earth colour. Hit a few stores with my Amex, buy some great Mexican rugs that were 50% off....couldn't work out if it was the love of the rugs or a desperate measure to get flight points for Italy. Check on costs of a business fair to London, Italy etc and it's nearly $9000 so...flight points is the ONLY way for me to do this.

Wonder if I can somehow zoom via Mexico...no no ...all sounds expensive. I just love having a new place, it's like a clean white canvas- nice and subtle South of the range look...... some huge flowering cactus would be great. Haven't talked this over with Mark or Ben, hope they trust my eye ...and taste (bad). I never ask...I just do it.....just an evil demon child with a gold amex card that's me!

In the studio again today- I decide to make this "best of..." solo artists today- play Best Of Nick Cave , Andy White and of course Morrissey. Still love "Everyday is like Sunday"...... stand on the balcony and sing out "come Armagedon, Come Armagedon...come".....Morrissey is such a miserable bastard...gotta love that in a songwriter. Couldn't bring myself to play Neil....all Finned out this week.

Rosemaree turns up at the studio, am doing an 'art talk" with three Myers fans when she walks in... everyone's first time at the studio is always odd, like they have caught you masturbating or something- it's such a personal space.........think it's the "bed" in the corner that throws people. It's not really a bed, just the bed head and rugs but I always work their. Plus the huge pieces of art showing vagina's and breasts and snakes and foxes!!!! Vali's doesn't paint many cocks....only the rooster type!

Have some coffee with Rosemaree at one of my fave "laneway" haunts. My usual coffee house is full, so we head next door- the girls give us great table service...but I notice my carrot cake is rather mouldy....which totally freaks them. I think its funny. We change the order to chocolate, that ways we can't see any mould that we are eating.

Pay amex today....... hope my Jets wage cheque arrives soon. Too many bills to pay.


---
September 28th
Ben and the Gurge boys call in and see Lazy Boy play in New Zealand. Liam Finn and the band are really excited by this, what a great way to start your career....familiar faces and the odd musical hero watching you do your thing. Heard the gig went well. I don't even think of Liam being Liam Finn.... they are just a good band, and they have the songs. It's kind of like a band's first album- has that fresh pure quality ..... nearly everyone looses it by album #2...... it could be an exciting future....as long as they get airplay for what they've achieved, and people buy their release because they dig the music. Can't wait to see them play...christ I sound like a proud parent- imagine what Neil thinks. Interesting times ahead for Lazy Boy.

Get a letter from Il Porto Positano- Vali says she is just happy to be back in her wildlife oasis, she knew she was home when her huge pig Ruby poked it's snout in the window and ATE Vali's toothbrush!


---
September 29th
Spend the night watching the sky. Not sure what I'm looking for, sat up out on the balcony all by myself. Decided if I die I want to 'come back" as a neutron star.... like the crab nebula. The crab generates the energy of 100,000 suns! Hippy shit....time of the month.

Looks like the Crowdies rarities c.d will be called APPENDIX. I'm sure everyone will be dark on me for saying I hate the name. So boring. But it's the music that counts. GT sends me some artwork roughs...I love the 2nd bit of artwork that has three HEADS on it.... I tell Grant it's like Crowded House meets DEVO...reminds me of the "Are we not men" Devo cover...well kind of. At least the cover is nearly completed. Sadly all this artwork comes in after the newsletter has gone to the printers so we miss having it in the issue.... our timing is out again!!!

My other concern is release areas, I just have this odd feeling that America will once again be a later release...if a release at all. But the fans will be able to get copies via the club, so they will be looked after..... then again there are new people at Capitol so anything is possible. We'll keep everyone informed. It ended up being a STUDIO version of the "Lester" song, for some reason I kept thinking it was the live version going on...so it's ALL studio. As long as Time Immemorial is on there- love that song. So we will all have a new Crowdies album by Xmas....nice!


---
September 30th
Pay my house rates today....$180 for a rubbish bin. Thanks Jeff!

Have some Indian food with MG, and we see Chrissie Amphlett wandering through the Prahran car park.... I can't believe she is still in town doing "Boy from Oz"... she tells me she is in a "safety zone" at the moment..... so she is still diggin' it. She's an odd one, which I don't mind. Run into Vivienne at the tram stop- her hair is still "naturally" purple, even more so in today's sun light. She has these huge headphones on....she reminds me of one of those contestants in a sound proof box...... tell her we will have coffee soon...hope she isn;t anywhere near a phone! In case she trys to kill me again. She is such a vinyl junkie.

Read some of the art diarys and find out that my "Thornbirds in Paradise" Myers original; was completed June 1993, in the Rose Pavillion at Il Porto. Nice to know some of it's history.


---
October 1st
yet another year has gone by way too fast, think I've gotten my life together....seem pretty focused, my "real" diary is full of "chicken scratches"......ideas- some completed, some that will never see the light of day. Even weird lyrics "Boy are you in love with the idea of being in love..." I'm assuming this is one of mine? I tend to scrawl stuff like this in the strange hours of the morning - they always seem to sound like something Tim Rogers would write for his "What rhymes with cars and girls" c.d.

Amanda has a few weeks off- she's off to Italy too- have a safe flight little one! Enjoy the break.

Speak to NZ and there will be two ticket prices for the Enz show- $59.50 and $69.50.... NZ, which is a really good price for New Years Eve. I'm exceptionally happy with these prices, tickets on sale in 2 weeks time.


---
October 2nd
Rosemount Wines win vinyard of the year at last nights USA wine awards, naturally the French are very pissed off. Australian vines are just kicking goals everywhere. The Rosemount people were very humble accepting the awards...though they did have a dig at the French later on. Gotta love a good red!

Spend the afternoon with Marko fixing up the kitchen, mostly facade stuff- you can tell when one of the Mums are visiting..... it's like we expect them to have a score card- have to admit the house is looking pretty snazzy. For two guys our place is too damn clean..... a friend told me the other day that we have the cleanest house of all our friends.....not sure if that is a compliment. ..think so. It's such a big house to keep clean- that alone earns us double points!

Have put in all the organic tomato plants, they look happy and healthy- just want to eat less pesticides.....can't wait for the big garden to happen at the farm. As long as the wombats and Kangaroos don't decide it's a free feast. Thanks to all the readers who have been mailing me some interesting seeds....especially the packets of flower seeds from your different countries. keep them coming.... this garden will be massive. For those Dutch fans who emailed.... I don't think customs would like the idea of me receiving multiple types of marihuana seeds (thanks anyway)!

Our local supermarket has milk for halfprice- we think all the customers are keeping Mum- as that seems like a huge saving...... so hundreds of people are buying cheap milk everyday. Someone will say something soon and blow it.

Tania calls by and we watch some dvd's and drink Queen Elizabeth and Glayva till the wee hours. Leanne calls and she hated "Romey amd Michelle HighSchool Reunion"...she just doesn;t get it... she loved NottingHill for fuck sake. I hate Hugh Grant- he is such an English wanker. I just want to smash him in the teeth evertime I see him.....urghhhhh - makes Tom Cruise look like a great actor. For some odd reason Mark and myself have forgiven Nicole Kidman for all those horrib movies and we have to admit we kind of dig her......that is so scary....think it's because she redeemed herself in "To die for"...such a femme fatale! She seems to be getting that "big hair thing" happening too which both us boys just love! We never thought we'd admit it...then again even the latest shots of Danni Minogue look good..... I am very concerned for us...but rest assured readers we will NEVER like Hugh Grant...no matter how big his hair gets (and at last look his nasal hairs were getting VERY big and bushy). Repeat after me HUGH GRANT SUCKS! Thankyou, I can picture you all going to your office windows- opening them and crying out "Hugh Grant Sucks" (instead of "I'm not going to take it anymore").


---
October 3rd
Headed to babble by myself today- really needed a coffee- had three! Just time by myself- really enjoyed it. Greville Street fashion festival was on.....heaps of people setting up, might eat dinner on the balcony tonight and watch the passing parade.

Fill up the diary with heaps of ideas, I churn them out with coffee....the next three months are very busy, really switched on and focused (or just "wired" from the coffee).

Wow it's October now, time to start Xmas shopping...think this year I'll be more "crafty" with my presents, adding that personal touch.

Take care.....
Peter

---
If there are any problems with this site, please contact webmaster@aswas.com.