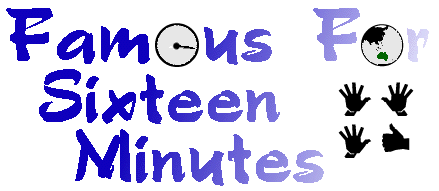 The Life and Times of Peter Green
Archive: 22 March - 2 April 1999
---
March 22nd
Phil Tripp calls the office today about the Australian online music awards. The people behind the very useful Australasian Music Directory are putting the awards together. They will be held on August 7th ,following nominations ,and voting will be via the internet. Voting starts May 1st and finishes June 30th. One vote allowed per email address. The ONYA awards categories and other details are online at http://www.immedia.com.au/onya so remember to cast a vote for one of our websites- Neil Finn, Largest Living Things, Skyhooks. We'll have more info later on, would be nice to win Australian artists website (and it covers Australasian artists, unlike the crappy old Aria awards)... and every person that votes has a chance to win an IMAC computer.

See Jj at brekky, he is getting all excited about heading off to play interstate in the Countdown stage production. It will be Renee's first time away.


---
March 23rd
Have brekky with Ben, the Elephant boys fuss over him, amazing what a new face in the crowd does for them. He's had a fresh buzz cut....tells me he once had really long hair, hard to imagine. He's got some great gigs coming up, one is with the mexican Elvis- ELVEZ. Love his album GraciasLand ...great title.

Beg my Mum and Sis not to send me Easter Eggs, now is the time where I could easily fall back into my old chocolate eating habits- forget the "egg" symbolism.....I ask for some new Nike socks! (To hide the nails in my feet).Opps

Can't wait to see Andy White play at Melbourne's Continental on April 16th. Will be a great gig, and one of his last here, looks like all his mates are going. So remember to book your tickets- 95102788. It's only around $10, so its pretty cheap. See you there?

Send in our request for Solar Power to finally be added to the house, it's great that this is happening, meanwhile a nuclear power plant gets the go ahead in Sydney...crazy, we have SO MUCH Sun here.....it's FREE! Why arn't more companies harnessing it?


---
March 24th
Life is ok at the moment, a few mood swings but I think it's more likely the planets the me...planets are far easier to blame. Just seems to be a lot of madness around, wars, people splitting up, people falling in love with two people, three people, ten people! What is going on here. I sleep really well in the big room, finally use to the new house, not prowling the top section at strange hours- occasionally I do sit on the balcony at 4.00 in the morning and watch the stars. I always get amazed at how many people are wheeled past in safeway shopping trolleys. Rarely do I hear the boys next door having sex...they are (thankfully) so quiet....but only during sex- they are LOUD with everything else. The guy in the room next door to Mark coughs all night!

The office has been quiet in Sydney, still waiting to find out my "areas" re: the Enz gig....have spoken to all the Enz now- except Neil. Have a rough idea of what I want to do. Counting the months.


---
March 25th
Hessie and LLT start recording today. So glad they are jumping in the deep end and finally getting the album uderway. Will be worth the effort. I'm just finishing up the liner notes for the Other Enz double cd, kind of ran out of steam so I'm leaving it for a few days. need to be inspired. Kevin has found the Karekare tape of Neil singing and playing with LLT at The Shed, it was never shown. So we are peeling off the sound and Deb will have it up on the LLT site at some stage, this will probably be the only chance you will have to hear it- so keep checking out the LLT site.

Greg drops in and we run over the last artwork changes on the 'Hooks cover. It's nearly done (yey), surely we have covered all areas...all fiddly little changes but it will look great. aria nomination here I come.

Was in the city today and this girl walks up to me when I'm waiting at Travelex and hands me a flower- of all things, she says I have beautiful blue eyes and smiles and walks off. I always get things like this happening in the city..... I wonder if it was the same girl that whispered "Jesus loves you". It always throws me for a few minutes and then I end up smiling and shaking my head. It's those damn planets I tell you. Or some good acid?


---
March 26th
Well today is the first frenz.Com chat, with fans on the internet. Arrive early, always early. There are people waiting, cool.....goes for about 4 hours, and it works ok. Our power on our street blew up for 5 minutes and my keyboard fried but it was a success. Nic and Chicka dropped in, Krazy and a whole host of people, Marilyn, was fun. Deb suggests we do it again at some later date , in a different time area so the Europeans can join in. Someone asks me who i fell in love with on the tour....why does that question keep on surfacing...ok It's true I slept with Robbie and Rosie the cooks! BOTH at the same time....I could be lying.?!

I have to admit though it did fry me...felt exhausted when it was all over.(no not sleeping with Robbie and Rosie, the Internet Chat you silly things) I'm not very good at this "internet stuff". Still it was worth doing, Deb said she had a lot of requests from European Frenz and we should do it again at a time when they can drop into the FrenzCom chat area -and they don't have to stay up half the night to do it. Good on Deb for putting it together. Fun!


---
March 27th
Get an email from Andrea in Hungary, another F/16 reader, so cool to have people from all around the globe. We get everything ready for the Camberwell cd fair, boxes everywhere. The exciting thing is that we have invested in....."the trolley". Now this is luxury, no more carrying boxes in and breaking our backs, we have "the trolley"...and it's Australian made. Life is good.

Looks like it's going to rain, will probably continue over the weekend. Need an early night. Get woken up by the Lumberjack Man.....he's so crazy, just makes me laugh, more insanity in my life. Just what I need (NOT).


---
March 28th
My body clock wakes me up the usual two minutes before the alarm goes off, looks like Winter outside, all grey and big wet clouds. Let hairball in and she wakes up the household....so everyone is ready to go- almost on time. We arrive at the fair at 8.00 and people are already waiting for us. What a day, it didn't seem too bad and we stayed for 7 hours. Met loads of people, many going down to the Jabiluka protest, so that was good to see. Get home and it's dark, didn't see much of the sun today. Have an early night, sleep really well. No Lumberjack men phoing...haha I've taken it off the hook. I wonder how the Finns are going at the Western Springs benefit in Auckland. I think Liam will jump up and play too.


---
March 29th
Get to the airport and pick Jj up, it's been a pretty rotten week overall, he was almost killed by a freak wave in Qld....another cm and his neck would of been broken....he easily wins "lucky bastard" award this week. Most of my day is spent with him and Renee, I think just being home will help him recover. Leaves me feeling pretty horrible, when I know I should be happy that he is still around. He is one of my best friends in the whole universe. I don't even want to think about him not being around. I know we'll be old men watching Seven of Nine in the years to come, it ai't your time yet Jj.


---
March 30th
Dig up various photos for the "Other Enz" cd....find some funny Enz ones that the band would probably kill me for.....will save them in case the Enz are really really horrible. (Grin). Usually it's Tim pulling faces, Malcolm always wears bad shoes, Neil has his "fang" gap in his teeth.

Spend a fair bit of time at the Elephant, they look like closing for 3 weeks (renovations)....Scotty has promised to bring me soy cappuchinos everyday when I wake up. (Sweet talker). Have to find another good coffee spot nearby. Drop in some new Voyager Videos to Jj, really nice colours, it looks like the real thing. Space is the place...take me their.

The War (well the un-official War) thats going on at the moment is making me feel even more terrible...so many inncocent people being killed and forced to flee, I am so lucky to live here, it doesn't seem real, tv just neutralises all of us I'm sure. Imagine someone forcing you to leave your home, making you walk over mountains, with only the clothes on your back, leaving your life behind, that would feel so horrible, it's inhuman. Now I'm really depressed. Hope it all ends soon.


---
March 31st
The Jabiluka Protest/blockade is getting vicious, the Police are getting a bit agro...the protesters are pretty brave being there, making the effort. Sometimes making a donation is not enough- sometimes actions speak louder then words, or cheques. Out dropping off some artwork, and wing by the Elephant and buy 20 takeaway coffees and call into the protesters and hand them out.....even offered one to a cute cop! (grin). He declined (probably thought I was poisoning him).

get home and Marky tells me that Bongo from the Hooks called and he was thinking of dropping in and seeing the cd artwork.....it's a bit late I've signed off on it. Hope he likes it, think he will.

LLT have finished a few more songs, they are churning out this album.....can;'t wait to hear it. Now if they would only tour.


---
April 1st
Dig up enough money to pay my car registration. $400+ yieks...hate giving them money, but it's paid now for another year. Sadly Wilkeys didn't have enough time to give the Phoenix an overhall, so we are driving away at Easter in a car that's not too healthy, should get us to the property. No lectures Rebecca.

Have coffee with Marky and Rosemaree, have to get in that Blue Elephant "time" before the doors close. Rosemaree is off to Adelaide for a wedding, hope her Dad doesn't drive her batty on the trip. Call in at the Conty and pick up the Andy White artwork.....his show is only 2 weeks away, think he needs some extra promotion, so no doubt we;ll all be helping out...for Free.

Mel calls by, we buy a "nightie" for me to wear during Volleyball, its all summerish and with my Blundstones on I WILL rock! Very Janes Addiction, Pansy Division, Green day ish.....you know rock guitarist in frock look! Note to wear underwear....it is a bit see through! Maybe photos at a later date! (grin). We call into "IT" and have a coffee, IT still has some pretty cool stuff and of course it's VERY overpriced...but they have these great caramel slices that you can have with coffee....it's Easter...so we pig out. Do the shopping for the week away, $170 on food....we have everything, even these groovy lights that you strap on your head...for night bush walks! Had a few calls from people and I think a few people are coming down to the property. Pack loads of wine, find a bit of pot left over from the tour, so I take that with me, enough for two spliffs, been ages since I've had a puff.

My socks arrive from Sis and Mum, going to need them, it's getting cold at night, will have to have some big open campfires. Think the surfing contest is on this weekend too....cool dudes!

Spend the rest of the day packing....Hairball tried out her new walking lead, and of course she hates it.....she folds her back over like she is deformed. Try to squash everything into the car, tell the girls that they can't bring hard suitcases, there simply isn't enough room. Lucky Amy is small. Find out that I am indeed pregnant....April Fool! Gotcha!


---
April 2nd
It's a cold day outside, the car is so incredibly packed, Mark has Hairball and her house squashed in the front,the girls are all cosy in the back , sitting on the blankets and pillows. We head off on the big adventure. Traffic isn't as bad as I thought, maybe we've missed the rush. The car just hates being this full and I keep thinking a tyre will pop!

Oh well, it will be a nice Easter. I think someone will be the lucky 50,000"hit" soon, so keep checking out the site, it could be you. If your counter is #50,000 just print it out and mail it to us for your big prize!

Happy 30th Birthday to our buddy Leanne in Perth. Wish you were here squashed in the car celebrating! We love you- have a good one ol' Gal!

Hope everyone has a nice Easter,for those of you going to church, pray for peace for those of you pigging out on Chocolate Bunnys, pray for peace. Be nice to each other....and pray for peace.

Peter
Easter 1999

---
If there are any problems with this site, please contact webmaster@aswas.com.