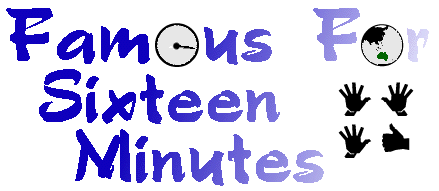 The Life and Times of Peter Green
Archive: 24 December 1998 - 8 January 1999
---
December 24th 1998
Last minute Xmas shopping at the local mall. Run into Mark, such a small town, we've only both been home for short period. He has that "get me back to Melbourne" look about him. Go buy Twister at the local Kmart and the skate kids ask about my eyebrow ring. My uncle tells me about a Current Affairs story on piercing, this is all too easy, just can't shock 'em like I use to. Not that it's the reason I got it done.

Usual relatives at Xmas party, not one person mentions the piercing, I tell them during our goodbyes not to be so subtle. So they all ask about tour life instead, they have a general interest, and slightly proud, all very weird. Sis stays up and we talk till midnight, no sleep- feels like an alternative universe Xmas this year.


---
December 25th
Xmas Day.

Wake up the house at 5.00- first one up- Mum doesn't have time to change into that horrible Santa outfit...phew! Heaps of presents, and the family feels good.

Drive up to Pops and the trifles go sliding under the back-seat, the hire car has a lot of cream in hidden areas....remind them to clean under the seats.

Mum makes a great Xmas pudding, pig out- Oink.

Fall asleep reading U2's "Unforgettable Fire"- one of my presents from Sis... anyway I read it under my favourite peach tree, just lye their under the perfect blue sky, one lone cloud rolls by and I think of the future.

Boiling hot night, feels like Figi-we sleep with all the windows open.


---
December 26th
Wake up nice and early- first up again. Mum makes me a good Aussie brekky, and I pick Mark up at 6.30am. We have to get an international Flight back to Melbourne as all domestic flights are full. Arrive back on a scorcher of a day...phew.

Phone Robin about installing the Mirror Ball in my bedroom. Nice to be home.


---
December 27th
Drive to the airport, heaps of traffic but it's worth it- two of my favourite people are arriving- Di and Erika. Mark has no idea that Erika's arriving.

I spot Erika's bright pink tips as the customs door opens. Nice to have them here. Arrive home and we zoom to the Blue Elephant for breakfast, Fembot rehearsal after brekky. Alison is away for Xmas so Spy fills in as a Fembot- she looks like she's having fun, Erika makes me laugh too much- so I kick her out of rehearsal.

Still can't track down Nick Seymour- guess he's having Xmas with his folks. Buy an 8ft painted toadstool made from foam from Brad- his Art company is "Wild man from Borneo". Very cool, except carrying it side-on ,makes it look like a huge penis. We stop traffic just carrying it home. Will look pretty hot in the dance room.


---
December 28th
Happy Birthday Ben...26 years old- keep forgetting he's still a baby face hiding under that fur. Hope he has a good day.

Take Di and Erika to St Kilda, brekky at The Galleon- Barry is on breakfast duty and is fairly quiet. Spy Di and Mark spend the morning laughing at the dog outside that barks and does somersaults.

What have they done to Luna Park, it's shutdown, and the giant face looks like it has lepracy.....they must be rebuilding it- so ugly. Hope they have it up and running before Midsumma festival's RIDE is underway. Still can't find security for the party so make a last ditch effort and run an advert in the AGE. We get 70 phone calls from interested security people. problem solved.


---
December 29th
Hope all my friends appreciate all the trouble that we are going through for this party, in some ways it's a present to all of them as well. I think it's killing me putting it together. Di, Erika and Mark have been great, and Spot!

SplitEnz show at Gisborne was announced this week in the NZ papers. Not sure if everyone has signed the contracts. Think there might be a walm up show or two, it's still over a year away.

Erika goes for a drive with me and we pick up Helium, we also run across the road to the Victorian markets. Wanted to buy Di and Erika teatowels with Australian birds on them but Erika wouldn't let me. People are dropping into the office for invites, another rehearsal with the Fembots at 3.00. Rosemaree (god bless her) has nearly finished the costumes... all pink and furry, scary!!!!!


---
December 30th
Stay up late with MG working on songs, for the dance area, talk about a wide selection. Something for everyone.

Look in my "real" diary and it says "Has it been a fulfilling year"? I think the answer is yes, a few new people in my life, a few, possibly leaving my life. Someone (who was it) said "may the bridges I burn light my way"....... Could of been anybody, maybe it was me:?

The Kaoroke people do their set up, drive to Troy and grab some sound gear. Thanks to the lovable Dougald for organising this- he really is a Prince.


---
December 31st
Showtime!

Spend the day running around, being a bit too bossy, but I'm sure I'm forgiven. The party, looks damn good, and overall runs according to plan.

Marky B from our crew as Stars Wars Ben Kenobi just made my night. Heaps of people I hadn't seen for awhile, the smoke machines worked overtime, the GoGo cage rocked, except for the lack of Go Going by one Rebecca Booth- we basically built the thing for her! Typical the only night she doesn't dance is New years Eve. Ex-Enz manager Nathan Brenner in a blonde wig and Beatles jacket a funny suprise. John and Caroline from downstairs at the old house look splendidly sixties. Melissa as Space Elvis and Jj and Renee metaloid futuristic goths.

Greg from Skyhooks in his white cowboy suit and Bongo Starr looking like the Aussie equivalent of Bono...his daughter Indianna as a cross between BoyRacer & a NYC model. Mark wearing a space suit and devils horns. Ok- I wore my splendid 6ft black wings, silver shorts that various body parts JUST stayed in, my red balls boots, and a sci-fi top courtesy of "Toxic" Australia, covered in a silver mesh singlet. Add on some horns and a crown and you get the scary picture. Red Hair courtesy of the lovely Erika from America....and fairy dust.

Maggie was the first guest there and her StarTrek nurse friend ( a real nurse just in case), Fran, SuperSonia, Lara and the gang rocked up in full attire, Mish as a green Alien (complete with suction cap hands and feet) escorted Mel. Alison as a spacey Maid Marion.....great silver tinsel hair...and that corset! Tania in a see-thru jacket and silver sprayed bra , left nothing to the imagination, Rosemaree a vision gliding up and down the stairs as Princess Leia and the list goes on....and on. and on. The newly formed SpaceCadets just rock- what a great band, good to see Starkie jump up with them for a song or two. The Hudson Brothers (and mates) kick arse. They charmed everyone and drank all the beer. We went through 480 plastic testube drinks, 500 glasses, $400 worth of pot, we won't go into the rest.......and the people were all very happy.

We escaped receiving an $850 noise pollution fine by the skin of our teeth, an idiot spiked yours truelys drink and almost killed me, and we blew a $2 fuse.... but the house survived, we survived and it's a new year. We enter it with a few dramas and to be honest I'm rising above all of it and just getting on with living, a friend Spock told me he was sick of much of the drama around his life and had a break from it all. I'm doing the same, just don't want to know about it all- time to get on with life. Good advice El Spocko.


---
January 1st 1999
No sleep , move all the gear inside at 6.00 in the morning by myself, horrfied that it was going to rain. Have some rescue remedy in the wee hours and Mark is there to look after me, so thank the goddess for that. Meet various people at the Elephant, Trish who works there,comes up to me and tells me that she also had her drinked spiked at the docks party...same horrible combination. Someone I can relate to. She looks even worse then I do.

Spend the day returning stuff- helicopter lights, smoke machines, the Fembots bubble machine, soundgear, etc etc So much stuff, it will take days for the gear to be returned.


---
Jan.2nd
The printers open in a week so a new Neil mailout will be printed and ready to go out, in about 10 days.

We all have dinner at Ramjets on Commercial Rd.....loads of chicken on the menu. Erika and Mark continue with their beer drinking contest. They also have a contest on the Pinball machine. I'm banned .

Heaps of phone calls from concerned friends and happy party goers. A friend calls and tells me she has a photo of myself (with my wings) and Cher and Elvis playing twister together at the party.Hope it turns out.


---
Jan.3rd
Fave Music Clip- John Spencer Blues Explosion- "Talk about the Blues"

Tv Doco- NIMBIN (SBS)....was filmed in 1995. If you have every been to this town you know how crazy it is.....not sure I could live there.

Fave Book-Saucer Attack- Pop culture in the Golden Age of Flying saucers. By Eric and Leif Neshim. (thanks Jj and Renee)

Fave Colours- Silver and Copper

Food- Amino acid drink

Creep- well at the moment 1 or 2 people would probably vote for me in that area.

New Years Resolution-To swear less (thanks Erika) and to be myself and not get tangles up in everyone elses emotional baggage.

Fave song- Welcome to my kitchen- off Bic Rungas "Suddenly Strange" cd single.


---
Jan 4th.
Do some office work in the morning. Drive Erika to Healesville Sanctuary to see some real live Aussie Animals. Hot day but the Grey Ghost get's us there. Buy Erika this denim hat- really cute. Animals are feeling the heat, the Kangaroo's are sleeping in the shade. The Platypus house is nice and cool and the Platy are having a great time. Watch the Birds of Prey do their stuff. Call in at one of the many small towns and have some lunch. Very civilised.

Back in time to do some work with Rosemaree. Dinner at Alternative. Make Erika watch Buffy the Vampire Slayer. Buffy rules! She hates it. Mark and myself want our arses kicked by Buffy.....PANT.


---
Jan 5th.
BBQ tonight- no word from Becky so I guess she won't be there. We all sit out the back and watch the clouds roll in. Nice and relaxed, I love these people.

Have an early night, need to catch up on some serious sleep. The last few days have taken a lot out of me.


---
Jan 6th
Mark, Rosemaree and Erika meet me at the Elephant for a final brekky. Scotty is on and makes a fuss. Treats me like royalty.he's so crazy.

Erika departs and I give her my spare Qantas Club VIP invite, so she can score her hit of Diet Coke. No coffee, no tea, just Diet Coke.

Have my meeting with Campbell, Bic's manager- I think the Silver GoGo cage distracts him. Will be good to work with him and Bic. She's really talented.

The Paul Kelly Tour starts soon and she's out as special guest on that one. Hope to drag Nick Seymour along to a show in Melbourne as he worked on some of the album.


---
Jan 7th
Wow this site had it's 42,000 hit today. Cool.

It's raining outside, I open the big balcony windows and curl up in clean white cotton sheets and just day dream. I think i do this all day.....can't remember if I did anything else today...... boring in a sexy sort of way!

Oh yeah had some fresh bread.


---
Jan 8th
Go see the Star Trek Movie with Mark. Just the same the 2nd time around, would make a good telemovie....parts are good but it's just not good enough. The space stuff is by far the best. Poor Beverley Crusher- I think I get a bigger role and I'm not even in the movie.

My old friend calls from Brisbane, he;s on the Kelly/Runga tour.....the call made me smile all day. Sometimes that's all it takes.

Nigel from the Enz calls and we talk about this possible Enz related book, he's been interviewing himself....guess it will be out via the club, website and at the shows towards the end of the year. Still not sure what format it will be, all a bit complicated. Maybe Rocket Pocket Books can release it as well. Something to work on during the next few months.

Thats all for now, very little Finn stuff in this issue, been letting Neil have some space, he penned a letter for the upcoming Newsletter, but it's good to let him have some time off. Hope you are all well...and when you see all the emotional baggage arriving on that trolley of life.....look at it and say (in your best Austin voice) "that ain't my bag baby". keep the world turning (pedal faster)

Peterxxx

---
If there are any problems with this site, please contact webmaster@aswas.com.