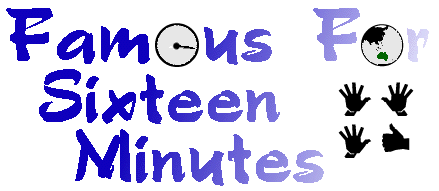 The Life and Times of Peter Green
Archive: 24 January - 6 February 1999
---
Jan 24th '99
Sleep in and arrive at The Elephant late...the rest of the guys were late too, so it didn't matter too much. Started drinking Soy Cappuchino's instead of milk, tastes the same, but better for me. Notice that some of the Drag Queen dolls have sold, the Miss Candee One is still "for sale" ,tempting, could make a good present for someone.

Spot's friend AMY arrives today- so the next few weeks will be interesting.... is she the one? Hell as long as they are having fun, it's not really our business. Is it?

There was this horrible woman at the Elephant, as I walked past her I whispered "If I throw a stick, would you go away"! Fine form.


---
Jan 25th
Great to see Bill today- he was our old tour manager and is out in Australia looking after Manic Street Preachers- drops by the house and just loves it. My bedroom always freaks people out- such a good size. Still getting use to getting changed with a mirror ball spinning round instead of lights.

Take Bill to the Elephant and some of the boys cruise Bill, don't think he realised- hey its a compliment. Gives me 2 tickets for The Big Day out, really want to see HOLE and Ash.

Call Chuck, Bic's tour manager and make sure my name is on the gate at Belvoir in WA. Going straight from my flight to the gig.


---
Jan 26th
Off to the Doctors to get my script for my stomach burns, from New Years Eve, still angry over it. Pisses me off a bit. I have a great Dr.always good for a chat, doesn't just zoom you in and out.

Rosemaree (God bless her) drives me to the airport and we talk about all the shit that's gone down, so bored by it- don't care anymore. Sometimes you just leave people behind, other times you catch up to them further down the track.

Qantas are just the best, seat #1 on the plane, in fact the seat next to me is empty too, so I can spread out in first class. Bring the F/16 Diary roughs along and continue with the editing process. Work the whole way. A stewardess looks after me, brings me many litres of water and healthy snacks.

Arrive Perth and Leanne isn't there so I head to the Hire Car area and the guys gets the address for Belvoir. I'm driving "blind" haven't a clue, just have to trust my instincts. He tells me it's 45 minutes away- I end up making it to Belvoir in 22 minutes- a worlds record. I'm zooming across the property and I can hear Bic Runga's "SWAY" floating out into the night air. So I'll see half the set. Park in the band area and hassle my way in. Head to the sound desk and sit with Ben. Gives me one of those " so bizarre that you are here" smiles.

The crowd love her, the new microphone just improves her vocal a lot. Head side-stage and sit with Bic and watch some of Paul Kelly. Leave half way through the set and head to the hotel, start to party. God this ends up being a LONG night- no sleep, and some serious bar hopping, we end up at The Bog.....a most unattractive name for a Venue. The Bouncer wouldn't let one of our crew in because he looks underage, I try to bribe him....not enough $ methinks. he's a nice security guy, not a prick and in the ends takes our word for it. Too many Sambucca's, some weird Irish Reggae band onstage....very trippy & i start calling for an encore-the ONLY person. Tragic.

I loved it!

PG's room is the party room tonight and the door just opens and closes with people shuffling in and out. Watch the horrible Sun come up, we black out all the windows like Tour Vampires and the party rolls on. Have a great night.


---
Jan 27th
I don't have any accom. tonight, so a good friend lets me crash in his room. I'm loosing weight so i don't take up much space. Have dinner with the crew, and I eat steak for the first time in years. Not sure why, just felt I needed it, back to vegies etc tomorrow. No gig tonight, so the partying continues. I am getting too old for all of this?


---
Jan 28th
Bic and Paul Kelly are playing the Lookout tonight. Decide to have the night off and recover in my 3 bedroom suite. Not sure why they've upgraded me to the best room at the hotel- but hey who am I to argue. Order room service and sit on the balcony. I'm sitting their reading U2's "Unforgettable Fire" and I watch Paul Kelly wander to the tour van, all by himself, carrying a beat up guitar, wearing a groovy pink shirt. He's such a "real" musician- Neil Finn and him out of the same mould. Just a great image, no minders etc. Ben pounds on my door and scares the shit out of me, they've lost their room keys and wonder if I have one of them. I don't (it ends up being in Bens bag) so they all have to climb up the balcony to get in.

Drop back in to room 6, people playing guitars and glenfidich boxes, Bic keeps getting me cups of tea, and everyone is happy. All smiles, good road journey.


---
Jan 29th
Long drive today- 4 hours (plus). Bannamah WildLife Park.

See Dougald drive off with the gear in the truck- 4 hours and very hot- hope he has air conditioning. I have to wait for the smoke machine juice for Paul Kellys stage effect. I drive Chuck and Bic in my car.

Go on a search for decent hair gel- and Bic wanders in with me. The boy behind the counter says "wow your girl friend looks just like that chick in the music clip- really pretty". Now when someone says this you can say "yeah she does" or blow her cover and say "yes it Is her". So I test the water and blow Bic's cover. Within 10 minutes the hairdressers have downed their clippers, and are saying good things. Bic's signing autographs, all weird, think it scared her. Thankfully she's no mad EGO artists. Very humble- we like this.

Next stop it's brekky at a coffee house and we catch up with the band. The girl behind the counter leans over and says "I know that's her"......." I grin and say "Yes it's Monica Lewinsky but keep it quiet"....second mobbing for Bic. Good coffee though.

We do some serious driving and call into Kwinana Beach to wet our feet and watch the Pelicans. Buy icecreams and one of the local surfies asks if thats the "Sway Girl"....third time today. Wild. Carry Bic into the ocean for religous reasons!

Start shooting with B/w film again....

The hotel is so hot, all individual bungalows- no cooling, just an overhead fan. I walk to the beach for a swim and hangout with the band. It's very shallow but you can still float- bob about like a cork.

The Gig is at a wildlife park- bet the crew are frying. We all get lost trying to find our rendezvous at a Pizza Shop and end up at Foghorns Chicken shop. All the logos and designs are seventies, even down to the woman on the face cleaner pack.Can't believe I'm eating a Chiko Roll (urgh) the last time was in 1979.

Venue is great and we check out the animals....accidenetally walk Bic and Chuck in through the feeders gate at the Kangaroo cage....a big Red eyes Bic and bounds up....it says "Arn't you that girl" and then hops away. She reads about Ostrich's and EMU's and uses her new knowledge onstage tonight. Show sounds very good, full moon, duck's flying overhead, stage surrounded by gumtrees and a lake. FB plays a song from the SouthPark Soundtrack....the 2nd song is about having huge brown balls! The crowd giggle.

Get "home" early and have a total misunderstanding, end up spending the night alone on the beach. The full moon is glistening on the water, little diamonds. The sea always calms me, love it. Still my heart is in my head. A bit fucked up. No drink, no drugs, good.


---
Jan 30th
Peninsular Courtyard-WA.

Had a horrible nights sleep- watch the sun come up. Shirley from "The watchtower" is the only other person here and hands me a religous pamphlet and a chat that goes with it. Maybe I need religion in my life? The pamphlet is really depressing, "the end of the world" type dogma. Only learning Gods will-can save us. Nothing in there whatsoever about the good things in life, how great it is to be alive, the positive things that happen. More religion using fear to bring in the masses. Over it- into the recycle bin it goes. Go away Shirley.

Rolly Papers and a burger for a mate. Hope it helped.

Feel like a freak tonight, not sure why. Leave gig early and two people grab me and take me away to the beach. Light a small fire and talk and sing and watch the falling stars. Drive the red hire car back to the hotel- as I near it I see two drunken sailors (ok they were crew members) trying to find some disco. Pick em up- they ask why I am smiling so much (opps). Off to a disco- weird combination of music, bikers everywhere, local townspeople...the boys hit the Sambucca's, have a dance and watch the guys get cornered by the local leader of the bikers club. Scary place.

Mr Shaprio tells me I had too much to drink and I shouldn't drive, I tell him he was wrong and drive anyway- do my additions later and I think he was RIGHT. I was possibly just over the limit...very stupid of me, even if it was only 2 minutes walk.

Security at the Hotel just sucks- power crazy jerk, everyone gives him a serve.

Back down the road again 10 minutes later to the food place, Bic and band are there....buy some cute girls chips. Get home at 5.30 (again).


---
Jan 31st
Drive to Perth for final gig at Sandringham Hotel. Another outdoor show, must be the heat- 7 days at over one hundred degree's is pretty horrible. Hells kitchen.

Had brekky with Leanne, girl talk, both in the same boat.

Change peoples flights and hassle for tickets, get band and Bic onto the VIP list for the flight club in Sydney. Our guitarist pulls some back muscle, so I go out driving for heat cream and do some massage repair work.Suddenly people have pains in all body areas- nice try guys.

Speak to our artist friend Robbie, he's living at Fremantle, a bit pieved that I can't get to see him. Want to see him as MirrorBall Man in his new rock video.

No accomodation again tonight, so I'm an orphan taken in from the cold (yeah right- the HEAT) by F.B.#1....good person. It;s good to have a big brother.

Drive Bic and Chuck to the gig- Chuck has more eyeliner on then usual. I end up with everyones camera's, heaps of snaps. Good crowd, Bic wins them over- a really fine version of Bowie's "Ashes to Ashes"....dedicates it to me. Thanks girlfriend! (BossGirl)

Catch up with everyone in Paul Kelly's bandroom, they are having their pre gig singalong...nice and bluesey. Dougald has a place for me by the stage, a cool wind has sprung up and it's kind of chilly. Doug's is a great mate- at the point of freezing, he takes off his worn tour coat and offers it to me. Why isn't this man married- talk about a good catch...true gentleman and mate. I miss him on tour a lot- another year of study for him. Guess I'll learn to freeze when he's not around.

Paul Kelly was great, he has the best drummer (Pete), every part of the drummers body moves and shakes...just plays the kit like none other. Captivates me.

Gig over and it's back to the hotel- and then we walk to the Oriel Restaurant for the end of tour dinner. I play almost a zero role on this tour- just driving Bic and the odd massage etc , but Paul Kelly insists that he pays for my dinner- and the other 35 guests. Nice guy. It's 4.30 when we finally leave and we have to depart for the airport at 6.30. Fall asleep on big brothers bed, he covers me and takes the couch. Means a lot.


---
Feb 1st
Look like shit when I get up.....get to the airport, and yes I WAS wrong, YOU were RIGHT.....it was straight a head. Check in, flight lounge , flight, Melbourne, heat, home, food.

A really good week, miss the road at the moment, consider other tours.


---
Feb 2nd
Email from Nick- he's about to DO Natalie and he means "DO"! Was going to stay in Melbourne for Big Day Out but felt he wasn't doing anything and needed to finish work with Herbie from Neils band. Message from Paul (Hester) too and he leaves for overseas in March- get the LLT /Shed projects rolling. Can't wait for an LLT cd this year.

Quote from Rebecca- "Vibrators are ok, especially in an emergency". Thanks doll.


---
Feb 3rd
Happy Birthday Tania.

Nick Seymour did additional arrangements on both of Bics Australian singles "Sway" and the latest one "Suddenly Strange". My friends are all getting into "Suddenly Strange"- most people just love those extra non album tracks especially "Welcome to my kitchen". Two dates for Australia- Feb 24th The Basement (Sydney) and 26th The Evelyn (Melbourne), think I'll be at both some come along and say Hi.

Have a long chat with Fran, nice to have her home. Hope she can make it to Tania's little get together on the weekend. Do my tarot cards and they say that it's time to meet some new people and not to trust some of my old friends..... interesting. Shields up Scotty!


---
Feb 4th
Creep of the Month- Beverly LaHaye (USA) wins hands down for being a homophobic slag- because American Airlines supports gay related groups like Human Rights, Aids action etc she is telling them to stop and in the process dragging every homophobic piece of shit out of the woodwork. She should just fuck off. Hope the next plane that falls out of the sky lands on your house Beverly! WOOF! I hate Bigots like her.

Mark from Silver Stars cleaners arrives and they clean the stairs and upstair landings...house is looking good. Think it may appear in "Melbourne" glossy street magazine, as House of the week. Not sure if we want the invasion though.

Go see Velvet Goldmine at the Astor- it's on with The Interview. V.G. is even better then 2nd time around, and it wa sa full house- heaps of people dressing up in Glam-ish clothes. Decide to wear Gunship Blue Nail Polish!


---
Feb 5th
Brekky with Mark, Toija and Jj. Mark is wearing this great seventies shirt- looks incredibly handsome in it. He is my best friend in the whole world , and sometimes I think it's him and me against the world (grin). He was reading some of the roughs for the Famous for 16 Diary Book and It said he loves Animals and kids.....and hates the rest. He felt that was too Michael Jackson-ish. He does like some people- Alison, Tania, Becky, Jj, Rosemaree, Toija, Marco, Leanne... some people he use to like he doesn't anymore. I can't believe that we've been best friends for 30 years! Yes since we were babies. How rare is that? he accepts me for my many faults, tells me I'm fucked at the right moments and is a wise ol' bastard. Mark this is your life......! OK I won't do it- he'd skin me alive. Him and Hairball- the two staples of my life.

Jj is doing Countdown again- he loves playing the HUSH songs best.

Run into Angie and have to meet her at 2.00 to work out at Gym. She puts me through my paces today- adds some extra weights on...feels good. Three times a week, pecs to die for.

Dinner at Alternative.


---
Feb 6th
Really hot night last night- wish I would of joined Becky for a swim. Swapped rooms so MG could get some sleep- we had the central cooling on for hours. Hairball roamed the house, must be hard wearing a fur coat all of your life.

Was hoping Grant would call regarding the Enz New Years Eve Gig. At this stage no walmup shows have been locked in, the contract is very tight- the Enz performance is an exclusive. The band need to rehearse so hopefully a walm-up gig will eventuate but a lot depends on the people organising the main event. Expect the Enz to have a new set of costumes and a new stage set. Crombie inspired. I'm really excited that Bowie is on the same bill, one of my few hero's.

Cool change has just blown in, finally the heat is over.

Off to Ramjets to have dinner with the guys. Tmorrow is Carnival- not sure who's going and who's working. Wonder if the Telstra booth will have the new Miss Candee Phonecards ($10) can't believe Candee is now on a card...fame at any price (well $10)!

That's about it, thanks to the 44,000 of you who have checked out the site and came back.

All the best
Peter x

---
If there are any problems with this site, please contact webmaster@aswas.com.