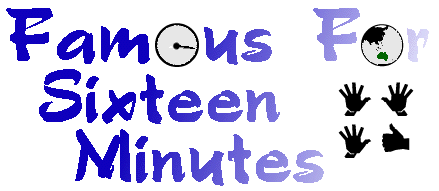 The Life and Times of Peter Green
Archive: 27 June - 11 July 1999
---
June 27th
Had an early morning awakening from Renee. It was about 3.00 and she had just got back from Style-Aid. Someone had grabbed everyone's bags from backstage, so Renee's key and money and makeup...all went. I think she was more worried about her makeup bag going astray. So she couched it, the blue room is full of video boxes at the moment for the upcoming Video newsletter release so there is no where to sleep. Jj is still in Western Australia so she can't get back into the apartment till he gets back and even then it looks like they will have to borrow our ladder to climb in, as she thinks Jj's keys are inside too.

We head to Commercial Rd for breakfast and the only other person in the Coffee house is Miss Candee, she is pretty trashed but not really loud. She has on this great fake RED fur coat....and spends an hour saying "you know I'm a star don't you"! She stands up and exits, soldier crab walking, we watch the heal of her shoe crumble under the weight, she should road test shoes for a living,Candee's quality control, if they can survive a week on her feet they must be made well.

Walk home and wash my car, have to drive to Toija and Marco's engagement party. Gift wrap this great winerack, it's made from chunky steel and we fill it. I think they'll enjoy some of this German wine and a host of australian "classic reds". Its from Marky, becky and myself. Good things come in threes.

Well my street directory is as old as my car so the suburb that has this street on it....just doesn't . So I drive towards the suburb that is closest to the one we are after and it ends up being the right place. So cute- Rebecca and her Mum and Grandma are all squashed up in a car out front- the Booth clan- they peer out at us like racoons stunned in a spotlight. Becky won't go in without us. I think she has all her stuff with her, and plants and whips and bondage outfits.

We stay for awhile, decide to leave early as I want to make sure Renee is ok, and I'm kind of fried.


---
June 28th
Chat to Susan and Peter O'Doherty about their upcoming art show. We are putting together "opening night", always fun for me. It's at Melbourne's Jackman Gallery located at 33 Grey St, St Kilda. The exhibition runs from July 29th- August 15th. So if you are in Melbourne wander on down and have a look. Peter is the bass player in Mental as Anything. Susan 's work is more abstract. It's going to be a good show this one.

I just love my new computer, I pat it like a new pet every day. I have erected a stage 10 forcefield around it that is deff. Johnny proof....I won't let him near my new baby.


---
June 29th
Remind Paul H. that he has to talk at the Songlines press Conference, Kevin from LLT is talking too as is David Bridie. Thats all happening tomorrow. Sarah and myself have hounded a few people, should be a good turn up.

Neils "I can see clearly" debuts in the Australian top 100, radio is being horrid and it's not getting airplay, sad because it is a charity single, and will help restore so many people's site. You'd expect a few token plays, or a few fans would call radio and tell them they should play it. I worked out that our mailorder area will sell enough to restore the site of close to 250 people, that is pretty good. Thank god for the fans. Shame radio, shame.


---
June 30th
By chance I wake up with "last day of June" playing in my head. Urgh tax time.

Press Conference is on today and we have to call into record companys on the way. Get stuck at the lights in the Grey Ghost and wonder if I should just set up house here, they take fifteen minutes to change.

Sarah is out the front with Kass greeting everyone. I'm taking photos today for use in the programme. An hour later and it's filling up. Meet Anthony Horan who'm I've been communicatiny with at In Press. He's a really fair guy as far as a reviewer and journalist goes, have added him to our "good media" list.

The Press Conference goes well, Grant from Blackfire is the MC, does a fine job. We are all reminded that tickets are on sale, I'm itching to see Paul Kelly perform with Kutcha Edwards. The show is on July 17th at Melbourne concert hall. Should be at fun night.


---
July 1st
Spend 3 hours talking band stuff with a script writer for a possible movie, it's all hush hush, but it sounds like it will happen. The vibe is there. Can't say anymore at this time. But it was a day of memories and flashbacks and funny stories.

Found this two page "letter" that was slipped under my door on an Enz tour in the Eighties. It was from :" The latter day episcopal MormENZ". Had a good chuckle, obviously my sex life was under the microscope that day. Looks like Neils handwriting....and Pauls words- who else calls me Peetie. Still haven't heard from Grant. I'm sulking, so I won't call till he calls me. Managers, no wonder I fight being one. Rebecca has had a terrible time with her boss too, maybe it's managers are horrid month. (grin).


---
July 2nd
Book the hire car for my day at the snow, just decide that I need a day off. Plus I made a promise to a 4 year old and I always try to keep my promises.

Mushroom calls and all the Skyhooks posters arrive. The album cover was too hard to recreate so they use one small image from it. Out of all the items on the cover, it ends up being the silver glam space boots. Out of all those costumes etc they are the ONLY item that don't belong to the band, they are actually mine. So if you are driving around Melbourne and you see some Skyhooks posters...think of me when you see those boots! (Grin).

Australia Post tells us that we lost about 20 newsletters in a mail box fire, so I have these burn't pieces, some I can find out the names, a few I haven't. So I'll have to go by the zip codes and countries. One of those weird things, so if you are a Crowdies fan and didn't receive the issue #47 email me, you could be in my "ashes" collection.


---
July 3rd
Well a year ago I met someone that turned my world upside down and despite the cynical (and protective) side of some of my friends....I'm still happy. I have two great people in my life....and they get along really well. Well actually I have a group of great people but you can only love a few with undying passion.

The odd friend just can't let go and they are worried about myself or Mark or whomever, which is touching. But after a year surely they can just give up the ghost and admit they were wrong and spend more time fixing up their own lives.

If three people are happy, surely that is just an incredible thing. There is a calmness in my life these days which is close to Buddhism. There is this great passage, I think it's from the Vinaya Pitaka. It's something like this: "Someone who is about to admonish aother must realise within himself 5 qualities before doing so (that he may be able to say) thus: "In due seaon will I speak, not out of season. In truth will I speak, not in falsehood. Gently will i speak, not harshly. To his profit will i speak, not to his loss. With kindly intent will i speak, not in anger". I find that I am good at certain of the above, like the Truth area, and I'm learning gently. Occasioally though it's hard not to speak in anger. Still growing I guess.

Had to cut the ties with an old friend today that did the dirty- sometimes they represent the lines on your hand...and every so ofte you reach the end of a line and thats it- the friendship just doesn't continue. More of a case of trust, or in this case not trusting them when they have taken advantage of that in the past.


---
July 4th
Brecky at Ramjets, take some work down as I know I'll miss a day tomorrow searching for snow.

Talk to Paul and we locate the Mullanes original demos, hope they see the light of day , one day.....even if it's only via the club. Has to happen.

All the daffodils are starting to flower, thinking of getting two wooden railway line sleepers for out back as a high border aroud the back trees, and put all the daffys around the trees. Gardens, so much effort. While I'm typing this Mark is playing the Crowdies Wiltern Show in the background and we are up to the part where Paul strips out of his Santa suit and says "There is something that I have wanted to do for ages" and the you hear the "thump thump thump" as Paul drums out a beat on the microphone with his penis! He's such a naughty boy that Hester.

Had several emails from Spock over the past few days, good to hear from him, does my heart well. He sounds good.


---
July 5th
The big day. Rosemaree meets me at my car hire. The Hertz boys are just great, they have given us the new top of the line car for our "special day", has a huge cd player in the trunk. Bizarre interior and all these extra buttons that do very special things.

Tania arrives and Jake runs in wearing his snow gloves, now all we have to do is come up with snow. Mark stays at the office and works...I drive off with a very excited four year old- chating "snow snow snow". We head towards the Dandenongs and call in a see Nigel. He is signing the Enz 5x7 photos today and then they are off to NZ. He just woke up and is feeding the cats. Jake plays with Nigels two cars- both toy versions of his real cars.

The date for the possible ŽNZ' recordings has changed again, I think it's only by a week. Next stop Wombat Gully to buy more box hedges for the house. Then we drive 50 kms to try and find this weekend escape. We are juggling around our home loans to try and get a weekender, and this place is as remote as we can get, so remote that without the agent we can't find it!!!!!!!

We head to the snow. After calling in for lunch big Mick at the Vegie store tells us that there really isn't any snow, it's been a horrible season. We all decide to head towards Lake Mountain. Tania goes to a ski shop and the owner says there is a small bit of snow at the very top. It's been a fun day so far and I'm praying to the Goddess that there will be even a micro bit of snow.

We all watch the outside temperature readings on the startrek inspired instrument panel..they continue to drop. As it gets to 2o outside we spot a clump of white by the side of the road. Then we round a corner and see a freshly made snowman...on a big chunk of white. This is Jakes first time seeing non-tv snow. His eyes are huge and the car hasn't even stopped and he's out the door, like it was going to melt before his eyes. We all look like we are heading to Siberia, I have huge earmuffs and Rosemaree has the equivalet of two sheep on her hands and our Rolling Stones tour beanie. We give Jake the carrot we bought and he puts it into the snowmans head as a nose. He throws his first snowball at his Mum....and then we all pull out cameras. We found snow and I have kept my promise. 230 kms later. We continue on our way to the very top of Lake Mountain and there is a small snow run, enough for us to make snowballs and the kids to ride on their sleigh. Jake bombards Rosemaree with encouragement from me, and she finally fights back and lobs a snowball at him. He falls over and starts screaming....but hey, lesson one you have to give to receive. I took some "howling photos" to give to him when he is a teenager at those horrid family get togethers. "This is when we went to the snow and you screamed when Aunty Rosemaree hit you with a snowball" (grin). Another Hallmark moment.

It started getting dark and we headed back, 300kms on the dial and we are finally back home. I'm exhausted as I'm not use to long drives since I've stopped touring. Will sleep well tonight.


---
July 6th
Do some secret Paul footage for the Mick Malloy show, guess they'll use it later on. Mark puts it together, he is such a great asset to the office, we'd probably crumble without him.

Noel drops in some Enz envelopes of snaps and trannis. Find a great group shot for the reunion show. Looks like it is one that everyone will be happy with, so hard because in the recent shots there is always one band member that just doesn't look right- but overall this shot looks pretty good. best shot of Tim Finn I've seen for years.


---
July 7th
"Seachange" rompts it in the ratings, the ABC must be in 7th heaven. Can't remember the last time that an ABC tv show did this well. Always a stigma attached to the abc for the average Australian.

Start filming Vali Myers today, go in and she is alone today working on her latest piece of art. Will take 6 months to finish because all her work is done with such a fine hand. She called me in the morning and asked me to get her some sugar... I never have a problem keeping her happy.

We start filming today and our aim is to talk about all the pieces of art that she has done, she's being stubborn or maybe pratical and wants to talk about paintings that she has never talked about before. We both snack on some truffles, and we both pick the chocolate out of the bottom of the pack, its only 1 or 2 for me....never allowed to go back to being a chocolate junkie. I tell her I'm going to email Rosie tonight who puts together the great Geek Girl website, she's one of Vali's strongest supporters, so I'm hoping that we can help her....with some of this Video footage etc.

I can tell that Vali is homesick for her animals at Positano-Italy, her eyes mist over as we talk about them and the Valley. She said it's too "damn hot" their at the moment, I expect her to go back later on. The filming goes well, we get through a whole micro tape, the last one I will have to do again as she somehow moved out of range, but all the rest should be good.

Jj turns up, my raven boy- Vali loves Ravens. It's the first animal that she drew They always appear in her paintings....those glassy eyes starring at me! Jj and Vali circle each other doing ritual dances, they get along well. The day ends with all of us having a drink- a lebanese potion- and very potent it was, I ended up rather pissed. Catch a train back to Sth Yarra with Jj and we end up at Ramjets for dinner, Paul the waiter tells me that he knows I'm "pickled" (hic). Marky comes by so once again I escape the kitchen.


---
July 8th
Spend most of the day working on the Gallery show invites. The Whos Who of the music and art world look like coming. Should be a fun night. Received a few emails from Spock, so I am really pleased that he is in contact again.

Courier drops in Video newsletter covers so they go out very soon, at long last. The ONYA award voting finishes in a week, so please remember to cast a vote for the Neil website and the LLT website. Go to http://www.onya.com.au and head to the area marked voting (at the bottom). LLT and Neil are in the first section and the second section. Split Enz website is in their too. Thanks to everyone who has already taken the time to do this.


---
July 9th
Deb emails me back that half the diary didn't arrive, not sure what happened, lost in cyberspace. I can't remember what I originally penned, so these last few days are a bit boring....the original was probably really good ):

Mail Nicole her little present, spent some of today trying to find mail size packets of MILO for her. Milo is this Australian milk drink, well it's a powder that goes into the milk, unlike Quick, Milo is healthy. Had no luck. Sorry Nic.


---
July 10th
Well today is the debut for Mick Malloy show. The Largest Living Things are the house band and pop up on the show on a regular basis, especially Paul.

I wake up with horrid hair and flee to Tony (aka Cher) at Spank. So the hair is a new colour, and has a new shape...looks ok. Spank is part of Outlook so you can have good coffee , read cool mags and feast on food while you are getting "restored"....but don't eat while your fringe is being done- hair sandwhich. So I left Spank a new man! Headed to Channel 9 studios. Mostly there for rehearsal and helped Barry and Kevin decide on what to wear on tv. I give up with paul- his shirts are so LOUD and garrish....I'll let Mark dress him. Not that I'm saying Marky has the same tastes.......

LLT played really well- very proud of them, they sounded much better then Spiderbait- which was a bit sad as I love the new Spiderbait cd as you all know. Stayed for a few hours and decided to watch the show in the comfort of my own loungeroom. Thought it went ok. Go LLT Go! Is a great launching pad for them.


---
July 11th
Roll over, wake up, look at clock, fall asleep, roll over wake up, look at clock, fall asleep, roll over, wake up- look at clock and scream. Run to the shower, no coffee for me, have my art meeting at St Kilda.

Hit it off with Di who owns the Gallery. A very good Sunday meeting. Come home and work work work, just have the vibe. Cook Dinner, Mark is just amazed that I could even find the kitchen again. The return of Peters Fine food!

Tomorrow I have to do a phoner for Pacific Way airline magazine-my favourite places. (Thanks Chris). All about Greville St and Commercial Rd. Will send them the usual cheesy "on tour" photo. Oh well.

better go, this is my second attempt at writing the "missing few days"....never works the second time round does it?

Take care everyone. and thanks for casting your votes in the ONYA awards, hope one of you win the IMAC computer.

Peter

---
If there are any problems with this site, please contact webmaster@aswas.com.