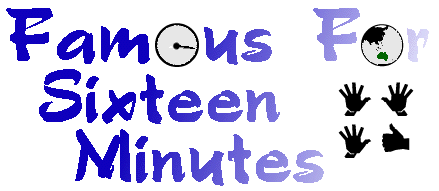 The Life and Times of Peter Green
Archive: 29 November - 15 December 1999
---
November 29th
Well you know that I have been taking drugs or working far too hard to get my F/16 diary update to Deb on time...........ok no drugs- just work. Totally fried, but being the "gorgeous little worker" that I am (that's a quote from the Dame......Edna of course) I will somehow get the last two weeks out of the way....and this time it's my fault that it is late.

Pay off my solicitor today- one bill down 20 to go....who needs money when you have your health... or a decent pair of high heals...who said that???? I must be very healthy as my poor bank account is rather sad and those Crowdies boys don't pay me for another two weeks......is that a Christmas Bonus I can see..............oh no just a trick of the light!

Paul was on Triple J today......he suits anything ABC......plus Triple J have always been good to us, one of my favourite radio stations.

Someone asked me who my five favorite painters were ,in an email today...I like that sort of thing......this is in no order...or Vali would kill me.
1/ Mark Ryden
2/ Vali Myers
3/ Andy Warhol
4/ This guy who's name I don't know but his art is always in this pawn shop in Prahran....it's kind of Dali-ish..........will have to find out...he is damn good.
5/ Brett Whitely
6/ Nick Seymour when he actually paints......he is talented.... oh and Phil Judd........and yes I can't count.......that's seven.
Do you know Mark Ryden? His stuff is on the latest Marcy's Playground c.d....Shape-shifter I think it's called...I want to buy his Buffy the vampire Slayer painting.

Paid my Foxtell Cable bill, they really messed it up.....we are all confused as to how much was owing......sucks!


---
November 30th
Watch the t.v movie "Wonderland" it's about Levitt town.....hmmm I wonder if Deb's relatives were part of that town being created? [editor's note: not related] If I was her I'd drive their and get a huge magic marker (one of those fat bastards) and scrawl DEBBIE about the Levitt Town city limits sign.......! Then again you are now entering Debbie Levitt (Town) sounds a wee bit rude. Yes F/16 site encourages graffiti and all illegal things......everything is good for you even if it kills you. Hey not my words....and I don't mean the illegal bit......disclaimer disclaimer.

Anyway "Wonderland" was great, so many fantastic characters...well worth watching, I love the beauty Queen when she comes home...and does her weights by the shoddy pool.....and Eddie Money was from Levitt Town....he returns home to a very tragic show....loved it! Hmm glad I paid the cable bill or we mightn't have such high quality doco's.


---
December 1st
PANIC BUTTON-PLEASE PUSH []


Yes December Xmas, New Years Eve...the year 2000. Kill me now. Find a note to call my accountant- ignore it totally- fuck the tax man. OK I'd better send it in soon, well at least I am almost up to date, some of my friends are years behind (ahem- you guys know who you are..... *grin* Bad bad bad! You'll be on Australia's Most Wanted soon.)

Get a postcard from Pete O'Doherty, he has an art show on in Sydney but it's all greys, whites and blacks....he told me he saved a fortune on coloured paint. Skip tells me that Pete has sold about 80% of his works at this show.....way to go.

Mark Lizotte calls from the tour- all goes well.....


---
December 2nd
A much needed massage at 1.00...Jen my healer...fixes my neck...even Marck Bailey's neck exercises were not helping.......feeling a bit better. I love a good massage.

Watch "GO" on dvd, loved it and good to see one of Nick Seymours co-written songs in the movie. We recommend this one.

Start working on Xmas presents......still heaps of time.......and that is my fatal error.....Xmas is like that killer truck in the distance.....but objects in the mirror ARE a lot closer then you think.....and Xmas will do us all in......eventually. Hey coca cola invented the red and white suited Santa and we all know what coke does to your brain........so don't trust Santa either.


---
December 3rd
Well stores finally have Afterglow in stock and our mailorder stock arrives very soon, Paul Hester (god bless him) will be signing the majority...mainly because he is a lovely chap and also because the time it takes to get them to Nick and Neil means we wont get them back in time for fans for Xmas.... so praise the lord for uncle Hessie.

Give the girl at HMV a Crowdies Belt Buckle because her friend is a huge Crowdies fan.......my good deed for the day.

No sign of any poster copies, no we won't get any , that's why we only promised one signature on the cd...no mention of a poster (phew) they all went very fast in the stores methinks.

Tim Finn sends me a cdr of Twinkle and Big Wave Rider, hopefully Lynn will have space for these on her site.....love Big Wave Rider- I just laughed so much I had tears in my eyes- Tim Finn is in fine form. The clip is just the best.


---
December 4th
Head to Beenami, a lovely cool day and we fix up the Forest House, the roses on the arch are still alive (it;s a miracle).....and the tomatoes I left haven't turned to pulp!

Mark discovers animal poo on the various Forest trails...he is becoming a turdologist...he knows if it';s a big Red Kangeroo, a common Grey or a wild Ben Yeti just by the droppings. Was thinking of buying a bucket of fake plastic joke Poo's and sneaking out at night and putting them, on the tracks........bad Gryphon!

Today was bliss, so chilled out......I wanted to stay...but Hairball was at home and would go cat mad if we didn't come back.


---
December 5th
While I had the hire car I call around to Roar and Visit Vali....Irish John is there too, John is in some of Vali's paintings and lives in the valley in Positano. We get along really well, and the group of us start drinking.....Vodka and orange...Vali's fault!

Meet this guy from Dunedin, one of his parents were Russian, incredible looks.....I love those Russian features........Vali tells me he is trying to give up smack.....she doesn't know him either- just an art fan.....no more starays in my life please.

Mark spots a Nicole look alike at a LA movie premiere on The HUB.

Finally get home and watch GENERATIONS on DVD which is better then the dvd critics review.


---
December 6th
Afterglow enters the top 200 at #40, we had several days with no stock and it just stuffed up the charts, but it's already GOLD on advance sales.......40,000+. pretty good for a c.d of Orphans and Strays.

All we seem to be doing is carrying mailbags to the post office, we are trying to get all the Afterglow and Tim Finn cds to everyone for Xmas and it's kind of killing us.


---
December 7th
Tim plays Tabac and it's one of the best shows he has ever done....he just loved it. Good to hear him being so happy. he told all these people that he only had 1000 copies of say it is so pressed so I turned on the computer to a lot of emails from people wanting a copy......he was telling the truth that's all he had done for the club/internet.

Put out the rubbish......see a normal kind of guy.


---
December 8th
Wow heavy day- not for me...can't talk about it here.....just kind of mind fucks me.

A weird day all round even in the Enz camp......must be the weather. Chat to Nigel (Enz) I have a feeling that Dec 30/31st will be the very last Enz shows EVER! Tim was talking about doing some obscure ish Enz songs like 129 and Lovey Dovey in the NYE and Dec 30th stage list......VERY COOL.


Work out what to get my soul mate for Xmas........it's perfect....and a secret because they will read this I'm sure. Gee I hope I get a surprise present............even a small surprise....I hate knowing what a present is........! Cmon Cat surprise me.....


---
December 9th
Brecky with the lovely Toija, go to my new flower shop and decide it's an Orange Flower sort of day so I get all the orange blooms in every sort of flower and that is Toija's present for her birthday. They look fantastic. Good to see her. Love having coffee with friends.

My favorite book this month is CAVE IN THE SNOW...by Vicki Mackenzie. It's about an Englishwoman, the daughter of a fishmonger from London's EastEnd, became a Buddhist legend and a champion for the rights of women to attain spiritual enlightenment. In 1976 Diane Perry secluded herself in a remote cave, 13200 feet up in the Himalayas,cut off from the world by mountains and snow. There she engaged in 12 years of intense Buddhist meditation. her goal was to obtain enlightenment as a woman. It's a pretty cool read and out on Bloomsbury paperbacks.


---
December 10th
Finally get our Xmas tree, it's a live on in a huge pot...so we can plant it near the Forest house. Now I just have to have time to decorate it.

Call into EMI, no record company Xmas party this year.....a bit sad guys.

Afterglow has now had orders of over 50,000 so in Jan it should hit platinum. Notice the c.d advert is appearing on the back of Buses. Sanity magazine (FREE) has a Crowdies article in it's latest issue. The promotion is off and running.

Work all night...see the sun come up, Mark has now worked his fingers to the bone and has to use his feet to close the c.d boxes. I'm using various body appendages to type this .....


---
December 11th
After viewing the latest James Bond Movie , Mark has decided that Bond's next image should be one of James wearing a black fluffy fake fur zip top......which drops down to fake fur attached shorts....kind of like the outfit he wears by the pool in GoldFinger...what a silly outfit that was. Anything is better then that...even MG's fake fur.

Brilliant that Mark gets a full credit on Afterglow.....I'm happy just being a Peter......

Wow Labour kicks arse in the Burwood ByElection a 10%+ swing, Kennett held that seat for 23 years and Labour have never won it. Is that a Rooster- oh no just Steve Bracks crowing, now if someone would just give John Howard a one way ticket to uranus.........no not your anus that wasn't what I said. Be nice! I know Howard is a turd but really...... I go to bed feeling Victoria is a great place to live.


---
December 12th
Well the phones are running hot with Jimmy Barnes Gossip.....seems like the letter "E" is involved and the man described as Australia's King of the Yobo's now is enjoying some hot man action. I jokingly told Nick - well he did do the Gay Mardi Gra, oh look I'm sure a huge part is just the "E" - those Barnes people were partying pretty hard in NYC- all those raves........and is it true that the Taxi-Ride boys sprung Jimmmmmmy actually "doing it" at the Aria awards. I just think it's kind of funny and to make it just brilliant it should be revealed that it was Jimmy that Savage Gardens lead singer left his wife for...and they were both running off to San Francisco. Oh cmon good gossip is hard to find. It's just amazing how everyone knows......Paul Hester phoned up and wanted to know how long I knew ...I think he is doing a phone survey on Jimmy's new "hobby". God I wonder if that is why his album is not really selling......all the homophobes are not buying it.

The truth is Jimmy loves his wife and kids....and as Sharon pointed out it's kind of sad that the kids would probably be copping some flak. Maybe that's why Mark Lizotte has not emailed me back, he knows I'll ask.......


---
December 13th
Chat to my Mum...the first thing she says is- "have you heard about Jimmy Barnes"...my Mum just knows. She has amazing advice, like,if I keep doing "that" I will go blind., and she was the first person I know who muttered the phrase "I'm over it". What a groover....she even says "periods" without wincing.

Well I still haven't done the F/16 update and we are still sending c.d.s out and answering emails, it's like one day blurs into another.

Jj calls and asked me to go to his "pop quiz" thing but we are too busy , and to be honest I'd rather go have dinner with some friends........that's if we have any spare moments to eat. Send food we can never leave the office.

Talk to Neil's NZ office and we keep getting non music job offers, so I was thinking of quitting in January........unless my fires get stoked again. Maybe I just need some time off. I told a few of the band related people and they just thought it was bizarre.......not sure if Neil knows.

Ben calls and is a happy boy........phone him back and we chuckle about Jimmy. He promises to feed me soon......

Split Enz-Spellbound goes platinum in NZ.


---
December 14th
Well the Linda McCartney Tribute thing is on tv tonight...and I have promised I will do the new F/16 update......so here it is. A bit boring. A box arrives from Lynn in the States and it contains heaps of Snackwell's Cookies....just great. I'm going to "out her."....yes SHE Loves these cookies! Sorry Lynn but this is the diary site, if hard rock dinosaurs gets outed, what hope do you cookie monsters have? They look great......I want to eat them all.

Isabelle in France sends these amazing chocolates, did I do something right, I have been getting more presents then the band. Hey one thing, please no more attachments on emails, it's taking us hours to download..........thanks.......that sounds rotten but when you get hundreds of emails and even if only 20% have attachments it gets a bit crazy time wise.......and when my only Xmas wish was for an extra hour in the day...it shows how mad this office is.

Simon C has promised to fill up my bathtub in NZ with Glayva......... glad he finally got his Enz tickets! Probably the last time anyone will see them. Mark thinks Neil should sell out and sell "I love you dawn" song to the Dawn dish washing liquid people........he is a "friggin' genius", why does he work for Filthy Rich when he has such brainstorms.

I think we'll have a contest, lucky 70,000th reader wins a date with Mark.......but you must wear a school uniform.....even if you are a male! OK maybe not.....when he reads this he will have my "balls for breakfast".....hmmm what a lovely Australian expression......such a classy country, such a classy Diary site Mr Green (sorry everyone). Sorry the contest is a no show......I value my life.

Hey our Xmas tree is looking good, all alive and happy and silver balls and this groovy angel on top.......but I added a face bra (invented by Elaine from Ally McBeal)........so the angel now looks like it is Hannibal Lectors sister...........scary.


Anyway Happy Xmas -well soon.......everyone should do one good deed between now and Xmas, just one thing, totally spontaneous ......something that your friends will be amazed by, or even something small that you don't tell.....an act of kindness as there isn't a lot of that in the world. OK I'm an old romantic but how great if every reader did one thing.....it would mean this crazy diary site actually achieved something....and if it can't achieve something at Xmas - the spirit of goodwill etc........ it aint never gonna do it baby. So make me proud of you.....one good act.

Thanks for a great year, we've met some amazing people,lost a few along the way but hell that is life and it's something I don't dwell on , done some great things, and I hope 2000 can live up to the hype. (impossible I hear you cry).

Have a good one.

Cheers
Peter

---
If there are any problems with this site, please contact webmaster@aswas.com.