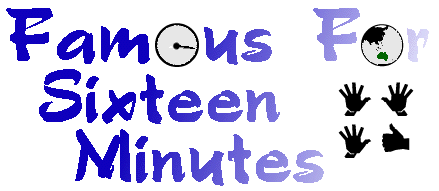 The Life and Times of Peter Green
Archive: 2 May - 15 May 1999
---
May 2nd 1999
Was contemplating staying at home and working today, instead of brekky at the Elephant (kind of like wagging from Church...the great god cappuchino)...after a decent sleep in- Fran calls and convinces me that we have to go as it's the "last Sunday" (more religion) before they close for renovations. So we do it, nice just the two of us, hadn't had a chat for awhile.

Spend the rest of the day in the garden....and cleaning up the leaves which now number in the millions.


---
May 3rd
Dentist day for Marky, Rosemaree's guess is that it will be around $500, works out at about $300 which is pretty good, and no waiting time. Mark seems to be getting off on the needles (urgh).

Columbia emails us and Bics "Sorry" cd single is starting to chart- Victoria leads the way and it moved up ten spots this week. Hope it continues to climb but radio sucks with lack of airplay. They are still playing "Sway" which is now 2 singles back.

Buy Jj's and Beckys presents, Johnny gets the script from StarTrek with the arrival of Seven of Nine....I know he'll be keeping Renee up all night playing the parts....Jj as Captain Janeway...what have we done? Found some fantastic Japanese bowls which are all from this expensive import shop, really groovy.

Speak to Ben Shapiro today, he's in Cairns, day off on the Suzi DeMachio tour sounds ok, not too homesick. Then again it's only a few weeks.


---
May 4th
Call in and do a photo of Imants Strauks with his platinum award for Living in the Seventies, like Split Enz Skyhooks have a lot of record awards and occasioally they ask us to sell them. Fred (Imants) tells me of his plans for a pornographic (humerous) cd.....so I have a chat to him about marketing. Oh those naughty Skyhooks- filth filth filth.

Work for 10 minutes on some questions for Tim Finn, have to interview him quickly at our place tomorrow. Hope they have Harper with them, will be good to see Marie again, get along well with her. The Finn clan.


---
May 5th
Go to the flower hall and grab some new blooms for the house, nice that it smells ok, instead of old sox and boy smells.

Tim calls by, just him and Marie. Running out of time, but enough spare time to open one of our bottles of Red and a quick spliff. I had neither. Good Gryphon. Tim seems to be talking fast today but in fine humor, really good to see them. He doesn't let the camera get too close as he has built up several days growth which is strange for him as he has been clean shaven the last few times. Sounds like he will be glad to head back to NZ...too much road rage in Sydney. Then again I think the real reason is that they have quite a few friends in NZ with kids...so thats good for Harper. Been 25 years since Tims lived in Auckland.

We play the "work in progress" cd which is called "FarOut" so it does have a title. Like 3 of the 5 songs. One of the remaining two is ok, and the other I just dont like. I'm pretty fussy around Tim, but I prefer this cd to his previous demos.

Do the washing up by hand and ignore the dishwasher- it wastes too much water, and tune into Triple J. They play You am I's "Heavy Heart"...just love that song, make a note to order a copy in from my local cd store. Stay up late watching Voyager....so great having a huge tv in my room. Thanks Marky you rock!


---
May 6th
My 10.30 today is with old mate Sarah- just general Skyhooks related stuff. The album is out in just over a week so we are doing our targeting. Run into Kevin who is also having coffee at Albert Park...talk about some offers LLT have had, they can do much better, these are just the first that have came in. Mushroom have the new cd stock for Skyhooks The Collection, really happy with it I eagerly clutch my first official cd cover (yey). Borrow their Margaret Media Guide and attack radio and the printed media like a thing possessed, want to give this cd my best shot. Sarah is great to work with, we make a good team. So if your parents want a nice present buy them the Hooks cd. Give Vali a call and lock in a day next week to visit her studio.


---
May 7th
My navigator is still down, trying to find out if The Hunger is on DVD...have that primal urge to view a copy. Email off some jpegs to various magazines, and I get a call from Neils NZ office about the Enz Bio, think it would be nice coming from the pen of Chris Bourke, per usual we have to call in favours, but I think Chris will get some good Karma back for this. It sounds like he is down to the last few copies of his book Something so strong, so if you don't have a copy now is a good time, before they have all sold. I think Deb created his website- www.somethingsostrong.com

Paul Stewart from The Sun calls and wants to write a piece for the weekend issue so we'll get some press from that. Paul's a nice guy, he use to be with the Melb. band Painters & Dockers....they had a hit with "Nude school". (The video clip had them rolling around with pigs in the mud and the band in the nude!). Cool.


---
May 8th
Happy Birthday Becky!

Work all day, mostly emails..saturation....

At 7.00 various friends drop in, we are all going out for a pg birthday dinner plus its the last night at the Elephant before renovations start. We have upstairs all to ourselves. Fran is there, Robin turns up, Ian and Bronwyn, Toija and Marco,Becky,Tania, Rosemaree & Renee and Jj. Greg turns up later on at home with this huge book. Had a really nice night. Great presents, just fun with all of the family there, glad they made the effort. We all had fun.


---
May 9th
Brekky at RamJets.

Happy Mothers Day Mum....she drove me batty today- just couldn't find her to wish her a nice day...eventually she turned up. Ah Mothers...some Sons do 'ave em.

Spend most of the day with Rosemaree getting nuked from the photocopiers....we did so much work. Where would I be without the big "R"! Came home with a headache....weird.

Slept soundly.


---
May 10th
Call into Mushroom with a mini "target" mailout. Then we drive miles away to get Tims cd underway, poor old Gryphon mobile needs a service. Soon car I promise.

Our IN box is flooded with Birthday greetings, too many, made me feel weird, but in a good way.

Grant calls and there is no real Neil news, just the show for Tibet...wishes me all the best.


---
May 11th
It's my birthday at last, seemed to be going for days. Mark gives me the Star Wars book...I try not reading it before I've seen the movie.....I fail and at the wee hours of the morning I'm reading it.

We head into the city and go to Vali's studio, it's so her.....just full of stuff, mostly prints and photos....and sheepskin rugs. We sift through the remaining 37 paintings (originals) and she tells me stories about them. I just love this lady....and her life.

An hour later...I own a Vali Myers original called "Thornbirds in Paradise", there is a great story to the title which I'll mention one day. I'll be using my pay- several pays for this painting, over the moon and she gave it to me for a very special price. Just so spoilt, considering the last one she sold went for $100,000 (to Canberra). She tells Mark she misses her animals in the Italian valley too much so she might have to leave Australia in a few months....she tells us to visit and stay with her. We seem to hit it off well. She is one of my hero's. Go home feeling great. Declare that I'll get the most out of every day. Big thoughts on my birthday eh?

Call in and see Becky, who doesn't want to go to the movies...crazy, she is living so close to one of the most brilliant old theatres in Australia.

This huge mother fucker Possum that looks more like a Wombat climbs off the roof and is in search of food...scratches Marks hand. I scream rabies!..and run.

Head to the Astor Theatre and see "The Hanging Garden" and "Head On", loved both movies....the Astor has such great doubles. People should get out of their houses more and see more movies.

At 12.01 my birthday is over again for another year. Big lovin' for PG.


---
May 12th
Have brekky with Jj ad MG at Ramjets, they open ten minutes early to let me in out of the cold. Talk stockmarket advice with the waiter.

Get home and Ben 1 from the Elephant has called and wants to have lunch....I think he misses making us coffee. See Victoria some Ben's ARE nice!

My 2.00 meeting today is with Grant from Blackfire. We talk about the Songlines Music Festival. Its on July 17th at Melbourne Concert Hall. Basically its the finale of the Songlines workshop that we have been doing all year. People like Paul Kelly , Ross Wilson, David Bridie, Raymond J and many more are going to be uniting with some of Australias best (and new) indigenous artists. Hester and LLt might be on the bill, it could be the first night they are on the new tv show so we are waiting. Paul said its ok for me to do the Songlines Gig instead so I'm really happy about that. I think we are looking after all the artists on the night, doing the running sheet and making sure they are ready to go on. Torches in hand. Dugald will be working too and Mark so thats pretty good, nice happening crew. The tickets go on sale via Ticketex on July 3rd, and are exceptionally cheap $15 and $12- will be a hot night.!


---
May 13th
Wake up at some silly hour of the morning with space ships in my head, just have to keep reading the Star Wars book MG gave me for my birthday. Its sitting on this great carved stool that Becky gave me. See the sun come up.... boy will I feel like shit today.

Paul calls and wants to borrow a wig for a wig party (very Melbourne to have a cupboard full of wigs!).

Watch "Velvet Goldmine" on DVD- my buddy Sal from the UK sent it to me , on time for my birthday- we all squash in on the couch and just lap it up.....so sad that so many people just don't get it!


---
May 14th
Pick up my copy of You am I's "Heavy heart"....just love the lines "I miss you like sleep, and theres nuthin' romantic 'bout the hours I keep"...such a touring line of lyrics.....can relate so bad. Know who I'd like to send them to.

Red Symons calls me back (yes Hey hey its Sat/Skyhooks) he was really pleasant, I seem to get along ok with him......strange. he agreed to do my WHO magazine interview and everyone said he wouldn't.

Catch up with Toija at the Coffee House on Greville St, she's late, we're early we decide to eat because we know she'll only have herbal tea. Jj was meant to be there but went missing.....I tell her I'm too old to be a Yuppie! The debate begins......"but you own your own home and buy art"......I hate titles.

It looks like rain outside, but god ain't crying this week. Work on the next mailout till the wee hours of the morning again ("there's nothing romantic about the hours I keep........").


---
May 15th
I end up feeding Hairball today...it's kind of become my job to do it on Saturdays. Rained last night so I slept well...seems like years since it rained... have to get our"little person" roof cleaner in soon to do the drains, he's so quick....it's just bizarre with this little bloke (4 foot) carrying a ladder 10 times his height. He never lets me help him. Nice chap.

Go to the post office and buy all the video boxes and stamps for the Video Newsletter #5, Mark is in the middle of working on it.

Paul calls and reminds me that at 4.00 he is dropping in to pick up a wig for the wig party....oh I'm tempted to hide a camera somewhere.................I think he has the Farrah one! Its that or that...one wig per household in Melboure.

Go back to Murchison St- Belmore today...the second apartment is being sold by John and Caroline. It's kind of freaky being back, mainly the plants, the Lavender bush is gigantic, & the original pine we put in when we arrived is now 30ft high (it was 15cm when we planted it). The apartment sold for a lot, heaps of people peeping over the fence at Neil's old house. Was really happy for John and Caroline. Drank champas...

Spent the afternoon working, feel very sleepy, think it's the grey weather. Mark must be doing ok with the video as I haven't heard a "shit, piss bastard,fuck" all afternoon....usually there is a barrage of swear words creeping out of the video suite.

That reminds me...when we were shopping last night we spotted Vivienne WITH A MAN! We have never ever spotted her with a member of the opposite sex.....it really freaked us out. I smiled and waved as I walked past, she called out hullo with a mouthful of pizza.

Hmm thats it for now.....have had some strong urges to have a week or two travelling.....a good overseas jaunt is needed me-thinks.

Stay Honest.
Peter

---
If there are any problems with this site, please contact webmaster@aswas.com.