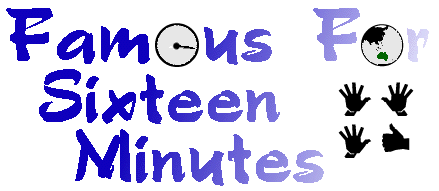 The Life and Times of Peter Green
Archive: 30 May - 12 June 1999
---
May 30th
Well the days are getting a little bit colder here, but Winter looks like having a false start. Still a lot of leaves falling off our huge tree's and no sign of rain. I wore shorts today.

Brekky with the girls at Prahran, the main waiter tells me that they have ran out of Soy because all the Lesbians that came in last night drink Soy. This is the second time someone has told me this. Just strange.

Our Tv campaign has started for the Skyhooks Collection, so cool to see one's artwork on tv. Just creates a giggle in the room when it's on.

Notice it's already mid year and 'Will & Grace' still isn't on Australian tv.


---
June 1st
Winter- open up the end wardrobes and decide what Winter Coats will look cool this year. Decide on several Beenys too. One from the Rolling Stones Tour (has the logo on it), the other this thick wool creation, goes with my Curt Cobain jumper.

RRR needed to borrow a best of Split Enz cd for their Tim Finn radio advert for the Continental Shows. We end up blowing out the advert in the end because the shows have nearly sold out.

An old friend Simone Buck calls from Sydney, she came across the Hooks website (thanks Deb) and tracked me down via Deb, will be good to catch up on the "old days".

Spend most of the day working with press people, just living on the phone. My navigator is still down but Rosemaree has been sending me the counter numbers and this Diary site is still ticking over.


---
June 2nd
Well today I almost died. A world without PG...will happen one day, but thakfully I'm still here.

Our Gutter Man finally arrives, decide it's time to do the gutters now that it's Winter. Our house has exceptionally high celings and is two stories and almost touches Gods feet! So I have done all the bottom gutters and our ladder just wont reach the roof, so I can't track down my dwarf gutter cleaner so I go through the yellow pages and find a professional. His ladder just falls short so I suggest we use his small ladder to get on top of the kitchen roof and then the other one to reach the main roof. I decide to scamper up first as I want to check out the roof for cracks etc (I'm a good homeowner)...so up I zoom. He climbs to the gutter level and freezes. Right there on the edge. I ask him what's wrong..."I'm scared of heights" he confesses. This has to be a joke, a gutter cleaner thats scared of heights. It's like an airplane pilot that's scared of flying. He tells me he'll get someoe else in a weeks time.

I just want this done now, so I suggest he goes down the ladder and I'll rent his ladder off him while he has a smoke and I'll do the drains. So I scamper all around the roof, climb over the frontage, even cut back the overhanging trees... hey I'm good at this drain stuff. I'm covered in mud,smell kind of moldy but it's all done. He climbs on the kitchen roof when I am back on terra firma, and goes to pass the big industrial ladder down. The safety isn't on so it comes crashing down on me...the full length of the house, I catch the sight of it falling out of the corner of my eye, I move slightly, and do my best Buffy the Vampire Slayer stance- hands up to cover face from being ripped off. It catches my head and nose only, just but cuts enough to cover me in blood. I'm lucky that both my arms are somewhat double jointed so they twist around the ladder and slow it's fall into my body...I think that stopped me from being a pulp mess.

The drain man flips. I glide the gore off most of my head, only the cut on my nose is bleeding by the time I get inside. Still not in shock, inspect my face, and I should be ok. Wash my head and that stops bleeding under the cold water! The drain man is shaking, I send him on his way....and then my arm starts to ache....I spend the rest of the week all bandaged up. Happy to not have a new piercing (a ladder). But hey our gutters are ready for the Winter rains. So for all of you who asked, thats why my hand was bandaged.


---
June 2nd.
Tim Finn plays the Continental. Head down with a nice new scab on my nose and arm bandaged. The staff fuss, and give me coffee. Ben and Marky B are there at Soundcheck, Marky B in his Starsky and Hutch jacket (too cool Marky B). Hessie comes up and gives me a "repair hug"...I swear I can see the scab on my nose if I look cross-eyed at it. It makes me paranoid.

Get the guest list together and Tim rolls up with Marie. Paul has lent Tim a bit of gear for the gig. Tim says he likes this tea towell hanging over the drum, for the sound it makes. (I almost say yeah and we can always use it to wipe up the empty beer glasses if we dont get enough payers on the door)....but i didn't. I give Ben one of those ecentric popstar winks...its his first time working with Tim. Ben makes it sound good and Tim is singing well. The world is happy.

Zoom home and have some dinner....at Alternative. C'mon you didn't think I'm cooking again.

Get back just before the doors open. It's a full house and all the gang is here. I wish Tim would of done one or two more songs from his new batch..he sang "Currents" which I like, but I was hoping for "Some dumb reason". He is much happier these days, and just loves Marie- dedicates "this guys in love with you" to her. I think having a family has done that.

Rebecca does her "spider hands" dancing, Dugald turns up, one of the sweetest guys I know- he is a "good australia bloke". Fran and the girls are there and heaps of fans. Get home around 1.00.


---
June 3rd
Soundcheck today was great- one of my heroes-Chrissie Amphlett from The Divinyls is busy writing songs with Tim....and she strolls in-early. Tells me its because she didn't turn up to write with Tim the other day and he "doesn't trust her now"....(with a smile). She makes me tell Tim that she has been here for hours waiting for him. They rehearse a new song "He's in love". Tim says don't tell Peter anything he'll put it on his Diary site (not true).

Chrissie is touring with the stage play "Boy from Oz"...she has one of the main roles in it, but she is trying to get to The Conty on time to jump out as special guest and perform this song. My job is to grab her at the door and walk her backstage....and let Tim know she has arrived. She has time to kill after soundcheck so I catch up with her at "Fool" a hip clothing store on Greville St. She shows me this top which looks good, I tell her the skirt is a bit so/so. She buys the top. She asks me which house is mine and we find out that she lived opposite our place in the Eighties. Small world.

That night, we all meet up in the food area of The Continental...Fran, Lara, Rosemaree,Mark and myself. Leave the girls and head upstairs....Tim arrives early and I tell him that we have now sold out tonight too. He is a happy Finn. Another good gig, like last night- real encores. Very rare at The Conty. Oh before I forget the only graffitti backstage says "Paul Hester made me do it"... I think he scribbled it there at the LLT Halloween Show ages back. Chrissie arrived on time, in fact early again with some of the "oz" cast, she had on these cute bunny ears...the crowd was appreciative.

It's all foggy walking home, kind of romantic, grab my partners arm and dissapear into the mist. Like two vampires....you can hear our footsteps trailing off into the fog...............................................!


---
June 4th
Recover from the last few days and work on some Shed stuff. I just remembered that the Songlines Concert is on in Melbourne July 17th....has amazing people like Paul Kelly ad Ross Wilson playing, with all these fantastic Koorie acts., if LLT are not doing the tv show that night they'll be on the bill too. Tickets via ticketex.

Phone about the Weekender property at Gembrook (Melbourne mountains)... such a great looking place ad the forest is across the road.....praying for a tattslotto win. It's still on the market.

No real news today- just work. Phones are going crazy...the office is busy but not exciting.

Tim phones and thanks me for my work at The Continental. So does Bernie the manager so that's always nice. He asks me if I think Chrissie would be interested in doing her own show. Think she's too busy with OZ.


---
June 5th
The Other Enz cd is nearly finalised as far as tracks, just one or two bits of fine tuning. Think it would be good for Tim to have a live cd out....he plays so rarely, so we are asking everyone to send in a letter saying "pleae Tim can you release a live cd".....no emails ok. It has to be a letter. Write to: p.o. box 333,Prahran Vic. 3181 Australia. We need everyone to do this....or it won't happen.

It's a lazy Saturday- I'm in a bad housekeeping day- wanted to do the cleaning but decided it can wait a few more days. Hybernation instead.


---
June 6th
Marie and Tim are working on a new bio- will give it to Lynn for her Tim Finn site.....she's working on it now, slow and steady. Will be good for him to have a site up. Tim should be off to America any day now.

Wonder if Neil will do a warm up gig with his super group- bet he will try and sneak one in. The problem with warm ups is that Grant sometimes makes me swear that I won't say where they are at....I know he will do this with this gig.


---
June 7th
Well Tim has finished the Enz sheet music score..totally revised and it has gone onto the publishing company, so they should have it underway soon. Really frustrating how long this has taken, we apologise on behalf of the publishing company.

Fran calls by and we all have some dinner. I think she felt like she was being barbequed! Nasty Marky. A friend of mine Ian McFarlane has just released his "Encyclopedia of Australian Rock and Pop". 720 pages of info...a few mistakes but still it's a good effort.

I'm managing to clear 4 Voyager episodes a night....the new tv is so clean and bright...I'm just beamed away....Seven of Nine....pant pant. Love the conflict between her and Janeway. Especially love the scene where Seven gets Harry up against the bulkhead, pushes him back, plants a huge pash on his lips and says "resistance is futile". Sorry NONE of the StarWars Women are as sexy or intelligent as Seven of Nine. Cmon Princess Leia (her surname is Organa by the way...not sure if that's revealed in the movies) and her doughnuts on her head just isn't my kind of sex thrill.

Heaps of promotion happening for "The spy who shagged me"..new Austin Powers movie. Our special opening night tickets arrive next week....can't wait.


---
June 8th
Boring day- work work work. Blow out some meetings, add some extra meetings over coffee and at the end of the day don't really feel like I've done anything with my life. There'll be days like this. Who said that? They were right.

Our Solar Panel people haven't been in contact yet, very slack. maybe they don't install over Winter. See you try to do the right thing, harvest eviromental energy and what happens...they dick you around.

I won't say who asked but someone cornered me and asked if it's true that I kissed Jeff Kennet's son. He's about 22 and is a model. Jeff is the premier of our state....every so often he says the right thing (like the GST is a dead duck) ...but he has sold off Victoria, destroyed the school system and we won't even talk about the hospital situation....he is either hated or liked...no middle ground. His son is not particularly attractive, and I don't think I'd even kiss him as a form of revenge....so this is the weirdest rumor about me that I have heard for awhile. Also I don't go around kissing too many men...or women for that matter (a big No to sheep, donkeys and Guinea Fowl too, though Hairball the cats grey lips have received the odd pash. Gotta love the cat).


---
June 9th
Head into the city today, talk to Vali about filming her and her art...we are going to have her talking about every painting that she has done. Whilst in the gallery she introduced me to Peter Daverigton. he's an artist that is having an exibition at Roar (June 29th- July 11th). Basically he works with "earth". The paintings are a mixture of Earths from around the world on canvas and paper.

Vali says he's a lone wolf too-part of our pack. He just built his own house , mostly pressed earth and mud bricks. Has haunting eyes. Interesting person. We talked about Egypt. He lived in Cairo for awhile, around the time I was there last.

Get home in time to have a shower and get ready to go out for dinner with Tania Rosemaree, Rebecca and MG. Becky has to work late at The Seekers office so she'll catch up with us at home. We are all heading to The Shed. It's only a small crowd tonight but the comedians are great and LLT play well. Fine versions of "Gods Money" and "Trampoline". Tania has to go early to pay the babysitter and Rosemaree looked like she was going to have kittens if she stayed any longer,as she had an early morning. I got a bit pissed (hic) the girl at the bar just kept feeding me triple vodka's. Rebecca had her best Witchy laugh running and we danced a bit....a good night.


---
June 10th
Australia's population is now 19 million people. Not a lot compared to some places, but nice for a country this size.

The very handsome Ben turns up and repairs my computer. Is this the same guy who couldn't load a programme on tour....he succeeds and I'm back on line. best present someone has given me for awhile.

Mark and myself go straight to the DVD page and order in ten dvds. I've been good with my credit card all month so I decide stuff it and spoil ourselves.

It's really flooding down with rain....but our gutters are working well (I'm sure all my blood has been washed out of them by now...and skin and bone fragments).

Head to the Shed and there are at least a dozen accidents on the way...I try to put $2 in the parking meter and it is surrounded by people trying to get parking tickets. Two people flip out and start smashing the machine with their broken umbrellas, by now it's a serious tropical storm. A lady actually blew past me...

I desert the machine and head to the backstage area. I find a towel cupboard that has one fresh crisp clean towel in it....and dry myself in front of the heater. Simple luxury.

Lara ,Sonia, Steve, Fran and all the others turn up...wet. I share my priceless towel with them. catch Paul onstage and dry him off as well. A few more people tonight but the rain will keep people away.


---
June 11th
Grant calls and Neil will be doing a secret warm up show at The Bridge Hotel in Sydney. Tim from You am I will be promoting his solo cd by being special support act. Grant makes me swear that I won't tell anyone. I make some subtle mentions on the bulletin board...and add the word "bridge" next to warm up...in the hope some one will be clever enough to work it out. Tell Deb she can put it on the website at the very last minute. It's the best that we can do, I can't break my word.....and Grant is the boss. Blame him.

Tonights Shed show is interesting , Custard are in town, it's their night off so they drop in, Judith Lucy is here, the BlackFire gang and more. The rain has stopped and the fans are lining up. LLT go off.

We try something different, the band room is now the stage. So we all are onstage acting like it's the band room- we do this for 15 minutes. Mardi (Pauls wife) grabs me and we both walk on stage and do our bit. I confess that I feel like I am in a fishtank with people watching me. All very weird, but original.

Ended with me watching Voyager in bed at 4.00 in the morning- eating fresh out of season cherries. Mark has been copying off all the Video newsletters. They go out in 2 weeks.


---
June 12th
Oh yeah I know what happened yesterday....really strange. I dropped in to see a friend and it was the first time we've been able to talk without the phone ringing or someone interupting...and it was just the best.

On the way home, I felt this intense feeling/presence...it was like someone lifted me up and lovingly lowered me into a bath of water that was the exact temperature...warm but not boiling...and then I was incredibly happy. Not like Xmas morning happy, not like good deed happy, not like haha chuckle happy, just totally at peace..within. If I wasn't so cynical I would say it was part religous experience...like the hand of an angel . God that sounds very wanky, but it left this incredible impression on me. Almost renewed and clean. This feeling is still with me even as I'm writing this. I jokingly told Greg from Skyhooks it was like someone had finally taken my aura out for a wash and returned it a different colour. Just feels different. Isn't that perculiar?

So today I got up- with an incredible "bus hat"....hair standing at all angles and it just made me laugh. Headed to the post office and grabbed more stamps and met up with Jj and Renee for coffee. Caught them snoggling...Jj leaves for WA on Tuesday to do the Countdown stage show and Renee has to survive without him for 2 weeks.

Worked most of the day, had Greg drop in and pick up some cds. Rosemaree called and she has a light dose of the flu...but I think nearly everyone has this time of year. Alison is coming to brekky tomorrow, which is a first for a long time, so that's good. Fran has headed to Ballarat for the first of the "weddings"... a few friends are tying the knot. Rebecca and Fra look like heading to NZ so thats great, loads of fun.

Anyway readers life is good. Almost wish I was in Sydney for the secret warm up show, don't feel too bad, just enjoying being at home this month. If I went we'd all be too wicked, and Dugald has his exams....so he has to come back healthy and ready to pass.

take care....and I hope this strange sensation stays with me for awhile longer.

Peace.
Peter

ps- Just as I finished creating the latest F/16 update, I was really saddened to hear that DeForest Kelly the actor who played Bones on the original StarTrek series had died. Sad, he's one of the first major characters to depart for (hopefully) a better universe. Trekkies around the world will be devestated.

---
If there are any problems with this site, please contact webmaster@aswas.com.