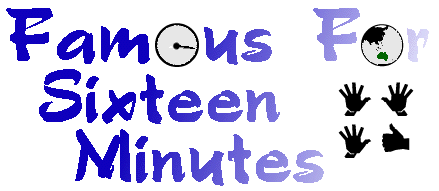 The Life and Times of Peter Green
Archive: 4 October - 17 October 1999
---
October 4th
Australia Post puts up it's postage rates today.....the only thing that stays the same are standard envelopes throughout Australia, all the overseas parcels go up by as much as 20%.... and the service has dropped!

Get some new Crowded House cover art from Grant, none of them excite us, they just don't seem to be like the other covers....they are missing that Crowded House "X" factor, so they will probably be rejected.


---
October 5th
Nick Seymour calls, really great to hear from him, he's in the studio in Wales recording JUNIPER. Mostly we talk about artwork, he dragged me out of the bath, so I'm talking on the phone for an hour- soaking wet with the worlds smallest towel.....covering the worlds biggest.................EGO! Anyway it was just great- he still is Nick- having fun, enjoying life. Will be good to have him back early next year.


---
October 6th
Spend the day creating designs for "treetops" my rainforest "perch" (treehouse). Have this fantastic book which is "back to basics" and it gives you all those bush survival and building techniques (skills).... so I have this idea and as soon as we get to the bush escape, we'll be doing a bit of serious building. It's almost a meditation platform, 20 foot high amongst the trees.

Have one of Neil's signed tour tshirts for Deb for the upcoming Frenz.com auction. The auction should be coming up soon.....no doubt it will be mentioned on Frenz.com.


---
October 7th
Speak to Eddie Rayner our Enz keyboardist in NZ. he's been working on this old Enz song with Tim for the Americas cup launch. Ed found the song on an Enz 1978 cassette. he's added all these brass bands and cultural singers etc to it.....sounds bizarre- don't think it will be a "release" only done for the event.

Email all our media areas re: Split Enz....so the "gig is on" info will start appearing everywhere. Still waiting on the ticket date- was meant to be the 18th october but it could be 22nd.

Feel great today- have been getting a lot of work done, just happy all round.


---
October 8th
Back at the art studio- quite a few people dropping in, mostly art students.

Craig drops in so we head to the pub, the lift operators love it when I have a liquid lunch as I'm so sensible every other moment I'm in there. Find a great spot looking out onto St Kilda Rd, in the lounge upstairs. Just gossip with Craig- good fun.

Neil makes the final nominations today in Australia's Peoples Choice Awards- they usually have some daggy horror like John Farnham winning....boring. Bic's manager Campbell calls by, drops into the studio and we do all the bank paperwork- Bic Runga may have a new single next month- make a note to give her a call. I like Campbell, he is a dream to work for- as far as a manager goes- just lets me "do my thing", which is appreciated.


---
October 9th
Steve Kilbey from The Church was busted in NYC for buying heroin at Alphabet City- and he had to do a days community work cleaning trains.

Spend the day cleaning the house with Mark- must mean his Mum is coming down....it's rare to see him with a vacumn cleaner in his hand.

Heard from an old girlfriend Peggy, who is a scientist in the States....she is thinking of moving into Forensics, it was good to hear from her.

Haven't heard from Hester for weeks- god knows what LLT are up to, I've stepped back, they can find me when they are actually doing something....hopefully they have been recording?


---
October 10th
Have brekky with Rosemaree at Babble, she hasn't been their before...the boys are extra nice to her. It's super busy everyone is trying for our seats!

Wow next weekend the Frankston BiElection is on....I just know Kennett will get his arse kicked, it just depends on how much.

Happy Birthday Sally...manage to finally call her and she was sober!!!!!!!!!!!!!!!!!!!! Wow!

Toija drops by and cuts Mark's hair, we give her a huge pile of flowers- don't see her enough, shes a good friend.

Missing Bic in N.Z. so I give her a call and we chat for way too long....god I miss her, will have to head to N.Z. soon. Her sister Boh is in STELLAR and they have the #1 album this week.

We head to the Four Wheel Drive show as the Holden people were going to give me a special deal on the upcoming new automatic Holden Jackeroo- four wheel drive. Totally luxury- heated seats for when we head to the snow....extra "grunt" for when I move all those fence poles etc around the farm. The Four wheel drive show is packed, Mark panics when he finds me in the Holden dealers "office" convinced that I had just put a new Jackeroo on my Amex card. I was only getting a quote- really, the car isn't out for 2 months. I have 4 weeks worth of stockmarket work coming up, so I guess that's where the pay will go. Head home in our 1962 Holden....it still "talks" when we drive her but get's us from A to B.


---
October 11th
Quote for the day "A good fox hunts far from the burrow".

Hairball gets a "cat dancer" from Wilbur,Lucy and Prizzi in Texas, We didn't think she'd go for it, the last cat toy was a disaster- a fake fur tail on a battery operated ball, Hairball just walked away from it- the guy who sold it to us conned us- "EVERY cat will love this..." he obviously had never met Miss H.Ball. However the Cat Dancer, was HUGE.....Hairball loved it- just wanted to play all day. It's such a simple thing- some wire with some small strips of wood on the end...springs about....I worked it out-it looks like a moth!

Think I'm calling the property BEENAMI...not sure why, just loved the name. Haven't told Ben yet, Mark says "whatever".

Think I found some more cover-art for the upcoming Crowdies rarities.....depends if Neil likes it.


---
October 12th
Head to the studio and the ticket machine at Prahran station ripps me off, so I board the plane and refuse to buy a ticket. In the city I confront security and refuse to payout anymore money- they give in and let me walk through. They kept handing me heaps of paper work...no way not for $2.30.

My preview copy of OTHER ENZ arrives, came out really well, now just to get a few signatures on the covers and they will be mailed out in a week (or so). Can't believe this project has been completed, it's taken 3 years.

Missing Vali so I put on Tightrope Dancer the doco. and in the end about 15 art students all sit around watching it.


---
October 13th
Work work work...get another issue ready, churning them out. Notice I get a mention as the Enz press person in Beat magazine. It goes around the country.

Mushroom send some new artwork for a NZ c.dsingle- "I see red"/"History never repeats"....NZ release only. It's really to get interest on NZ radio. No release date yet.

Hassle Grant for a platinum award for Recurring Dream, told him we should get one as it's now sold somewhere between 500,000 and 600,000 in Australia. Which means it is in the top 10 biggest selling local c.ds here.


---
October 14th
Blow out our meeting with artist Robbie Porritt, too flat out, the office is running like a well oiled machine. Grant likes some of our artwork suggestions , so the cover is back on track again. I seriously doubt we will meet out Nov.15th release date.

Tell Mark that next year I am going to work for Kylie Minogue. We'll see.

mark has given me a list of things I can not talk about while his Mum stays.....all the standards- bondage, erotic stuff, Lara the tractor, Marks secret girlfriend, ...naturally I don;t agree and hold him hostage.....make me a cuppa or I'll tell your Mum about the tractor!!!!!!!!! He does.


---
October 15th
Military takeover at Pakistan, this could be scary- too many countries in that area with their fingers on the "nuke 'em" button....

A girl calls Yoka just quit artschool and wanders into the studio....kind of fate-ish....she watches a few Vali videos and talks art and leaves feeling happy. My good deed.

Mark orders a huge pile of new dvd's....we've hit 100! "Something wicked this way comes" was not on the list anymore.....I want that dvd. Must be coming up again soon. Half of them are movies that haven't been released in Australia yet- Blair witch project, Election, and a very cheap priced The Mummy.

Have too much to eat today, think my stomach is shrinking, Mark tells me I eat less then Lara (I thought he meant the tractor)....oh the person.

get home and put together some snacks- Rosemaree,Tania and Becky turn up, so we all have drinks on the balcony with the candles burning....really fun night. We talk about the upcoming Republica vote.....I just want the Queen out- I hate that English side of Australia, makes me puke, fuck the royals. Australia is just the best and if it can't stand on it's two feet now, it never will. I notice just so many OLD people want us to stay with the monarchy, or really boring straights who have no vision. Sure there will be heaps of fuckups but a country is as strong as it's people and shouldn't be tied to England- time to cut the strings-roll on the Republic.


---
October 16th
Margaret and Allan arrive today really great to see them, Mark is so "polite" when his Mums around (grin)....guess we all are. So I'm back cooking again dear diary, whipping up gourmet treats, spinning the knives and getting all those balances of herbs "just right".

Rosemaree drops in and we head off to The Astor to see Aliens Resurrection and Stars Wars (PM) in a very packed cinema. Glad we have our access ticket book- we don't have to line up. Good to go out, even if Rosemaree's choc-top exploded!

Sleep in the old futon tonight, yes I've surrendered my bed over. Toss and turn all night.....too many thoughts.


---
October 17th
Up early and we take everyone shopping. Mark panics as a girl in a Crowded House Corner Hotel shirts walks my way , Mark tells me to hide! Not sure why.

Buy three tubs of Garzania's, they are great such huge orange flowers when the suns out- they go to sleep at night.

Buy the paper and Jeff Kennett's finger hold on being premier of Victoria is slipping. The Liberals had their sorry arses kicked in the Frankston East election, 8%+ swing to Labour- am extremely happy. I know Kennett will try every legal avenue to hold onto power, one can hope he will just give in and go away. If anyone is stupid enough to believe that he has been humbled and is a changed man they are fooled VERY easy, you'd need some serious sand blasting to remove this leopards spots.

While I was cooking I hear a Brisbane band LAVISH on Triple J....really great- kind of Suede meets Placebo. They have a great c.d. out called POLAROID. Cool band. Mark and family are watching L.A. Confidential, I'm on the computer and totally "all cooked out".....

Grant emails me a new Crowdies cover- a combination of the stuff I've sent him, looks ok....hope we got for it....just so the Rarities c.d gets into production. I love this c.d.

It's a quick F/16 diary , the next one will be more juicy I promise. Thanks to everyone for returning time and again to this site, 60,000 hits is pretty crazy.

Look after yourselves.
peace!
Peter

---
If there are any problems with this site, please contact webmaster@aswas.com.