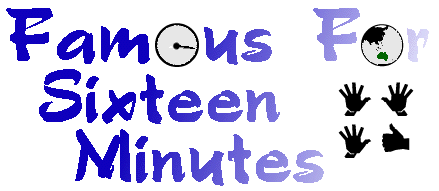 The Life and Times of Peter Green
Archive: 6 September - 19 September 1999
---
September 6th
A frog with six legs was found in Adelaide today...not sure what that means, not sure why Adelaide....I think the Adelaide lord mayor glued on the extra legs just so "something" is happening in Adelaide!!!

Have brekky at Babble today, really quiet, which is good because the tables are those really small ones, so when it's packed it's REALLY packed. I seem to be eating less, the owners keep wrapping up the extra food for me.

"Flotation" arrives today, and we are out of 'art nails" so this huge piece of art leans against the wall in my bedroom. It's one of the few abstracts I'll probably ever own, really love it, the more I look at it, the more I understand it.... reminds me of an orange lava lamp....with all the pieces floating to the top. Should look great up the top of the staircase. Susan O'Doherty is a great artist.

Hassle Qantas for a few more flight points, need them to get that business fare to Positano Italy.

Find one last fully signed Crowded House Opera House Programme, will give it to Deb for the Frenz.Com auction later this year.


---
September 7th
Finally see Renee's TV commercial , she's next to Pop Guru Molly Meldrum, Molly's girlfriend..... which is kind of funny considering Molly is gay, its for Sunburst chewyfruits or something bad for you like that. Becky saw the advert and never noticed Renee, she has a lot of makeup on.

Do my Xmas shopping today, as I'm home for Xmas early...Xmas in September because of this Enz gig. Weird, guess it's out of the way.

Told the cable woman off today, they totally messed up our payment and tried to blame us. She was incredibly rude, like I was trying to rip Foxtell off, thankfully I kept my payment reference number so I turned the situation around Foxtell phoned 3 times apologising. I was pretty rude in the end, actually told the Foxtell person that she sucked....asked to speak to her supervisor, that usually shuts them up. Peter the bastard returns....live on Foxtell!!!


---
September 8th
Spend today in the city at Vali's studio.....I'm there a few days a week, so if anyone is in the heart of Melbourne drop in and say Hi and come see some astounding art. Studio 2 is located on the 7th Floor....Nicholas Building, 37 Swanston Street, Melbourne. I'm usually there 11.00 to 4.00 a few days a week. Probably till mid-October. So come on up and bring me a cappuchino!!!!!

I have been getting the train into the city, I started doing it as a novelty thing, and its actually pretty quick...10 minutes. I'm here sitting at Prahran station, waiting on the 10.50 train to arrive, I'm looking up at a crystal clear Melbourne sky marveling how blue the skys over Australia are. Not like L.A. which always has that brown tinge (urgh). The clouds are just this thin wispy veil... surrounded by an incredible blue. I always get a seat on the train, it's a good time to travel. I leave the studio at 4.00 and miss all the suits heading home.

Robbie Porritt artist calls and he has an art show "surf and syrup exhibition" coming up, but I think we are planning on working all weekend, so we'll have to miss it. Plus Mark doesn't trust me with the cheque book at art shows....and we are meant to be saving.

The fax comes in with a rough list of the songs for the upcoming Crowded House rarities c.d. The only sad thing is that two of our all time fave unreleased songs "My legs are gone" and "Good luck morning" look like they won't be on the Rarities ): Basically I think its because they were done in the period when Nick was sacked from the band.....so apparently he didn't play on them- which is sad because they are brilliant. We might ask Neil if the club can use them for the clubs special 20th anniversary c.d...... they are just too good to be collecting dust on the shelf.


---
September 9th
Spoke to Paul today and he talked to Neil about the rarities....he really wanted "My legs are gone" on their too.....so he's had his say. Paul didn't play on "Help is coming" (its the Peter Jones lineup of Crowded House) but he never made a fuss..... just interesting that Paul is ok for a song that he never played on but Nick isn't. Oh well. I'm sure the fans will get to hear everything at one time or another. Yes the upcoming rarities will be available through the club, which is a good thing as I wonder if Capitol USA will release it?????

Head to the airport to go home for Xmas...and in theory to catch up with "Y". Manage to get the worlds worst tax driver.....his cab would just stop , he kept saying it was because one of his legs was too short for the speed control. Nearly wiped us out three times....felt really ill by the time I got to the airport.

Qantas were great and let me take three huge packages of Pete and Susan's art on board for free. So it goes back to Sydney in time for Susan's art show and doesn't cost us a cent. head to the Qantas club and chill out- have no idea where I am staying tonight. Chrissy the forest boy is in Sydney so I may end up sleeping on the family boat....but I'm in a "lone wolf" mood and think the Sebel Townhouse is a better option.

Susan is at the airport to meet me and invites me to the studio, but I need to find a hotel so I take the hire car to the Sebel instead. Sydney is so cold, it's a real icy wind. I get my usual room and decide to sleep and watch movies and order room service. No phone calls, very weird night.


---
September 10th
Grant is away with Neil at the EMI conference so I won't see him. Call the NEW office which is close by and have coffee with Bill. It's Edrei and Bill's 5th wedding anniversary, they are the best just a great couple.

Find this 'thing" in my work diary :"up to September 15th High"...have no idea why i wrote that or what it means.....just odd . Can't even remember writing it.

Drive the hire car down the coast to visit the family, no calls from the mystery person, just all annoying. Saved by Liam Finn and Lazy Boy.....just love the 5 songs I have on their advance tape. We are trying not to mention Lazy Boy around the Finn fan camp as I think its strong enough to stand on its own, shouldn't just be accepted because he is Neil's son. "Awake" and "West Coast religion" are my favourites....play these songs VERY loud- LAZY BOY are great driving music, and I end up singing very loud. The other drivers keep well clear of me -c'mon my voice isn't that bad!

Am home a day early, call in and see Sis and take her to the local mall for food and shopping. Mum is also suprised and she is happy to have me home. She even has a Xmas tree up, kind of strange all of us celebrating Xmas so early. Have an early night despite the lethal sugarcoated doughnuts....... Wollongong is full of doughnut pushers!


---
September 11th
Wake up at 8.30, Mum is out the door to vote. You'd think she was running for office, every person in line says hullo. Some of the old men tell her she should be running in the election. She would probably win, and my Mum would be more honest then all the politicians combined. I'm now sitting on the front steps of the house, under the big pine tree- where I always sit. Even though the sun is shining, there is a frosty feel to the air. Mums garden is a mass of colour and there are bees and butterflys, it really looks like the start scene from "Blue velvet" movie.

Family Xmas dinner goes well, the Australian BBQ, Mum makes the traditional pudding, and it's a good one- I don't think she has ever made a bad one.


---
September 12th
Fly home today. Get an early Xmas present, a bread making machine, for the farm. The forest will be full of the smell of fresh bread. .... can't wait.

Typical I've almost given up chocolate and scientists are now saying it's good for you (in moderation). It's the substances in cocoa that are arousing interests- "catechins" which belong to a family of food compounds (flavonoids). They help the body resist degenerative ageing diseases such as cancer and heart disease. Dark chocolate is best, so Mark has been right all along.... he likes his dark chocolate. It's true that chocolate does contain andandamide which has a similar effect on the brain as cannabis- but you need to eat A LOT.

Rosemaree picks me up at the airport, which was fantastic. Nothing worse then arriving home and no ones there to greet you. Mark cooks me dinner.....nice to be home.


---
September 13th
Start work for Tim today- back on payroll. A parcel arrives with our master copy of TWINKLE, a new Tim song that is being serviced to New Zealand radio. I'm hoping all the NZ fans will make the effort and hassle NZ radio to play it. Tim is now living back in NZ so it would be nice for the locals to get behind this. catch up on work in the office, really long hours all this week but that's ok as we have a vibe.

Play the promo for the new Garageland album, the lead singer sounds very much like Paul Kelly. Heard the Muttonbirds new song on Triple J the other day, usually they do very little for me, but i do like this new tune. Campbell emails me and Bic Runga will have a new song out late October, think it's a NZ release first.


---
September 14th
Weird day. My life at the moment feels like a still from a Matthew Barney "cremaster" video...... which isn't a bad thing, just a weird thing. Dead earnest symbolism falling through the looking glass!!!!!!!! That's me this week.

The studio is very quiet today, one art group and three phone calls. Feeling very morbid.... decide I'll never fall in love again. Where did these lyrics come from:

I called because I dreamed of you last night
being out of touch was just an oversight,
our friendship was a ship that lost it's way,
but I miss you and you need a place to stay,
But don't forget, if somethings gonna end, it might as well be over,
why should we wait until then, if somethings gonna end.

Never could seem to say I love you at the same time,
never could get you to drop your guard.
Never really cared that much about a star sign, except mine
Now your bull-fighting my Taurean heart.

Hmmm could this be the end? Love sucks.


---
September 15th
Far better frame of mind today. Feel like I'm really focused. (Phew). Drink a lot of tea today. Did you know that tea reduces the chance of heart disease by 44%. Not sure how many cups you are meant to drink each day. Get an email from Jules, she was a bit pissed (hic) which means she must be on the road touring. can't wait for our next tour. Hope it's a huge world tour.

Nothing exciting today- work work and work. The phones are very quiet.


---
September 16th
Spend the day at Studio 2. Melbourne city is like NYC today- heaps of fire engines, people screaming and drug deals going down in the courtyard of the church across the road. You can see everything from the 7th floor. Give the elevator lady some Crowded House to play, she's into them so the c.d's have gone to a good home.

Marks favourite DVDS arrive today. he is very excited.

Rosemaree calls by and we head to the pub for dinner. A very relaxed night.


---
September 17th
Spend most of the day taking bags of mail to the post office. They must be sick of the sight of us.

Spot an advert for the new Holden Frontera V6....4 wheel drive. Looks pretty impressive. Oh to have a spare $50,000.

Jen and Merl call, they have a place by the ocean....Jen has a shed again so she is happy...and a bit out of it. Really nice to hear from them- little Matty is chatting away in the background.

Foxtell run an advert for their "Slayer Fest." two days of non-stop Buffy. Next weekend.


---
September 18th
Well the Victorian Election is on, the papers and pollsters say that Kennett and the LIberals will romp it in. I'm hoping that Labour just win a few more seats. What starts as a sure thing for the Liberals ends up with a very close hung-parliament. Amazing-Labor receive a massive amount of votes and Kennet and cronies have the shit knocked out of them. The Liberal camp almost have a funeral wake.....even though they still might hold power by ONE seat. Just brilliant. His smug face isn't quite as cocky and it's a great thing. Who knows Victoria might become a democratic state again. John Howard (rhymes with Coward someone recently pointed out) will be next. Great to see Joan Kirner celebrating at Labor HQ. Sleep very well tonight....and Jeff was right about one thing, when we all wake up tomorrow it will be a very different Victoria. Someone should of did a voice over saying "Yeah a better one".


---
September 19th
Wake up......smiling. Victoria does feel different today. You can spot the Liberal stooges at the local brekky haunt.....they have the worried look like someone robbed their goldmine while their backs were turned. The owner of the food place asks me how I am today..... "Just brilliant now that Kennets copped a serving".....the two Liberals leave. It's a good day. Have brekky with Fran, Rosemaree is a no show. I think she is still at Labor campaign HQ, I think she is sleeping with Steve Bracks? Oh just a rumor. Sorry R.

Jj and Renee are heading to The Elephant for breakfast, Johnny knows nothing about the election, I think he is amazed that labor did so well. Renee is into it......

Head to the shops and Amex some bits and pieces for the Forest retreat..... only 9 weeks till we officially own our tractor.

That's it for now..... PG signing off from a new Victoria. feels good.

---
If there are any problems with this site, please contact webmaster@aswas.com.