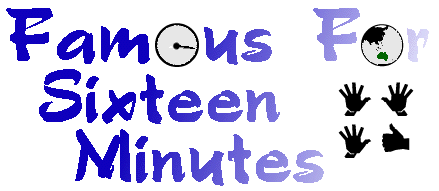 The Life and Times of Peter Green
Archive: 7 February - 20 February 1999
---
February 7th
Write a small piece on Bic Runga for a local street magazine, as long as they mention her gig Feb. 27th at the Evelyn in Melbourne. Think all the internal family are coming along, I think half of them are going just to be supportive of one of PG's new artists. Gotta love my friends, really good of them.

Marilyn Manson is a VJ on RAGE and plays the Enz "One step ahead". He'll be wearing black skivys next and wearing pointed shoes.

Drive the Phoenix down to the Gardens to attend Carnival, everyone is working today or piked out. Good to see Ben working the stage, he's good company and he asks me which girls are "real" and who has had the "chop" (ouch). Scares me that I know, and even know their names! Wigstock was a hoot, Barbara Quicksand is so much like an Aunty of mine....she cut her knee and Ben had to stop me getting a bandaid for her. When I grow up I want to run off and join the circus, I'm sure I said that at a young age...well here it is babyyyyyy!

Heard that BENT TV (Community station) was running out of money, so I grabbed whatever was in my pockets and went and bought their raffle tickets. So guess who won FIRST prize....I didn't even know what the prizes were, this guy phoned the office and told me. So I have a romantic weekend away at some lodgings in the hills/rainforest. Perfect. Good karma I think.

Ben has the Carnival crowd grooving to Cooks "Big brown balls" song from the SouthPark soundtrack.....so funny to watch clusters of Lesbians singing along. Left Carnival early, too hot, missed the lube wrestling, Dale Ryder with Debbie Byrnes and the handbag throwing contest! Such is life. Saw Roxy and the rest of the next door neighbours and she tried to get me very drunk- but all I had all day was water. Ms Wizbang offered me some Ecstasy but I declined, nice and healthy. Wizbang was spotted dancing after the main stage was all packed away, as the cars drove down Alexandra Ave, you saw this silhouette of Ms Thing dancing against their headlights......what a way to end Carnival. She's crazy.

As I drove round and round the Gardens looking for a parking spot, all I spotted was Ben Shapiro's legs hanging out the bottom of the stage area.....6 months on a tour bus and you know every person by their feet and legs.


---
February 8th
Funny start to the week, had some readers (you guys) write in and say "what is it you DO exactly".....now I'm assuming they mean work and not my many defined sexual positions (the lotus, the tumbleweed, the Llama)....I had to hesitate before I answered, my ego wants to cry out ICON....but thats pretty fucking tragic, so I dug the business card out of the wallet and it has Public Relations for: and then lists 10 bands. So that must be it. I should add that I type (badly) crap on the internet....but then again so does at least half the world.

Heard from Nicole- that was nice...Californias weather sounds pretty mixed up. Where was I....yeah funny start to the week. Went to Gym, my instructor- her name is Angie- she was spotted wearing S&M gear for the advert for the Gym..."we'll whip you into shape" (get it)...anyway she's a doll and has been whipping me into shape. A few more kilos and then I will be the same weight as when I was at school. But the weight is actually turning into muscle, so I won't loose much more. Finally I can do stomach crunches, they have these giant blow up balls that you lie back on, and it feels so much more fun, and you can feel that stomach being forced to become a washing board! Her boyfriend will start me on boxing next week. Cool. Some celebs wander in, they nod and are careful to hide from me in case I report on their bad posture on this website. Too scared to go into the change room, the boys are just too good looking and the women are goddesses...and then theres this SouthPark look alike kid (ME).......maybe in a few months I'll flash my trash.

Do some press stuff for Gizzy 2000- we'll have our press kit soon....Deb will run ticket info on the Enz site , and we hope to have some more suprises as the year goes on.


---
February 9th
Hey our first Greek Finn fan signs on for membership. I like that, a few months back we had our first Russian fan. The Russian fan checks out this site, well so I'm told. Send me some Stolys you bastard (kidding- her Dad probably looks after the nukes and now they have been re-centred on Prahran!!!Yieks).

So if you are the lucky 50,000th hit...print off the counter etc and send it to us at P.O. Box 333, Prahran Vic 3181 Australia and we'll send you a special prize pack from all our artists. So check the site regularly, it's getting close.

Sent Deb a pile of Neil Finn calendars, money from the sale goes to FrenzCom to keep the domain a rockin'. It's a good thing, I know at the start it was such a struggle to get people to believe in her quest, but she stood tall, told a few people to get fuc*ed(in her Deb like way) and proved her worth. Frenz.com works and it's always having new info etc added- so buy a calendar from her you cheap buggers. (GRIN). Shit now I've done it, people will probably send them back. Sorry Deb! [editor's note: thanks, PG - couldn't have done it without you and the support of all the fans, even those who can't stand frenz.com!! :) so buy a calendar because you want to.]


---
February 10th
Kevin and Barry from LLT drop in. Barry hasn't been here before, which I forgot, I wondered why we found him inside the wardrobe when he was meant to go to the loo. Barry has such an interesting face, under all those dreadlocks....it's like ET with a mop...gotta love him. Kevin gave us a new LLT photo for the mainpage of the site, its the guys onstage at The Shed, nice coloured shot with blow pipes! Think there might be some new LLT music on the site soon too.

Heard from Nick and he is working with Herbie from Neils band, he (Nick) was going to hang around for the Big Day Out but decided to head back to Ireland to keep working.

Hmm need some fresh blood, so I think we are looking for a new artist, must be able to do full computer work and have everything ready for film..and they must live in Melbourne (essential)....heaps of projects coming up- out with the old, in with the new. Spock did some good stuff for us, but even he felt he was becoming a bit staid, so it's time for some fresh new blood. Apply now- peter@frenz.com. Rosemaree emails me and I think she has found someone already, she is so good to me! But I'm good to her too.


---
Feb 11th
Body Corporate meeting. The question is not what to talk about but what to wear. I decide on all Jigsaw, and airwalks....grab a bottle of red and then out the door. We all vote on the property, huge iron terrace fences will go up- they look pretty amazing, I'll be working many late nights but when its done (and paid for) the house will look grand. very New Orleans, move over Anne Rice. My arms ache from Gym....that Pec machine kills me!

Speak to all of the Enz boys (except Neil- I'm letting him have his break) and if I don't do the Merch for Split Enz I'll do backstage....done it before and love it. Plus I want to invite David (Bowie...who else) in for a cuppa tea. I'll do my best Angie impersonation...hmm maybe not. Can't wait for this gig,

Noel making new costumes, a new backdrop....won't spoil the suprise and say what the last song they'll play on the stroke of midnight.....it's a bit obvious...no I CAN keep a secret. OK it's Ninnee Kneezeup! OK I'm LYING....it will spoil the suprise so I'm not telling.Only 10 months to keep quiet.


---
February 12th
Pay my car insurance, two more years and I'm a rating one driver for life. Catch up with Toija at the Elephant- she looks stunning today- great dress. See GYM and swimming...it works, well on her it works.

Order another 100 Try Whistling This with the bonus Cd, everyone keeps ordering it, poor Neil has to sign them all- he's always good about it. God bless him.

Return a parking ticket to WA and tell them to stick it.....I'm sure I'll win the case on this one....I AM NOT PAYING!

Melbourne is fantastic, we sit out on the balcony, candles burning, watching the foot traffic go past, just talk. All is right with our world.


---
February 13th
Heard from Andy White. He's back in OZ soon, playing Apollo Bay (VIC) and Byron Bay (NSW) in March and April. He's at The Conti.in Melb on April 16th. Will be good to see him again, he's dropping in for breakfast one day. Love his work.

Also heard from the "T" in ALT....Tim Finn. We talked about this before and he thinks its a cool idea to offer a 5 track cd of his NEW solo stuff to club members. So once again we are the record company and 500 will be pressed. If you want to know more email me. "Death of a popular song" is on the cd- it s one of my faves of the new batch.

Favourite cds at the moment- Velvet Goldmine Soundtrack and Andy White's new best of "Compilation"...
Favourite Video Clip- "Party hard" By Pulp.
Brilliant person- Sir Ian McKellan. For the un-informed he's a UK actor, I think he's nominated for an Actor. He was in "Gods and Monsters". He did this brilliant interview on Face to Face....just inspired me to the pinnacle...am going to meet him when I'm next in the UK.


---
February 14th
Happy Valentines Day.

OK this year I got some cards......some flowers, some cyber cards.....a book that I really loved and wanted for sooooooooo long. I spent some time thinking of the people I love, a few people I "burned" recently....I miss a few, I'll probably never forgive a few, but life is like that...it just goes on, evolves.

Live, Die, and theres this stuff in between that becomes so gi-normous (good word PG) that it tends to crush little bodies like mine. Most of my friends think I'm this tough, strong, independent mutant that has some great shields.

Sometimes a single word can crush me inside like a delicate piece of glass. gee that sounds pissy....maybe everyone is like that. I know my mouth can have a sharp edge too....so be it. I think that's why "Y" was good for me, for the first time in a long time I felt totally protected.....girls and boys can make you feel like that- but its a rare person that TOTALLY gives you the feeling of peace. My best friend in the whole galaxy Mark has moments where I think he'd slay Cyclops just to protect me (and of course Miss Hairball)....and there's a few friends who I truely love and count on, so today is for you- not gaudy chocolates and triple priced roses, to me it's a different kind of love. Just love this life I guess. Love my real friends.

God todays entry has become a bit of " the young and restless"...I swear poetry will be next. Now where did I put my smart arse pills, ahhh hear they are.(gulp)

So what do you do when you have the Valentine Day Blues...go and see Hester and the Largest Living Things at St Kilda Festival. The streets are packed, and I mean packed......we are filming today- Mark and myself, and we finally get side stage and security think it's the Rolling Stones. I call tbeir bluff and walk through, Mark films from out front. Meet Stefan from Sweden, good to speak to him, was a bit fried and just wanted to sit with the girls- Mardi and Kass. LLT play well, great to see the usual faces....Kevin bounced around in his Pyjamas stage clothes! Paul had on a white polka dot shirt and awhite cowboy hat, and Peter Jones from the Crowdies was in the crowd. Good show. Thought both Barry and George played well.

Have Italian on the way home and sit on the balcony and sip a vodka and tonic, its a walm night in Melbourne town. (Yet again).


---
February 15th
Hessie was on Sale of the Century today....such a chesie tv game show. He spent most of the day hanging out with the lead singer of The Fauves. Rebecca said she thought he was tragic on the show.....didn't see it- can't watch shows like that...in fact what were you watching it for Becky.....I can see you telling them to spin the wheel harder...and feeling sad when someone had to miss a turn (grin). I know you Becky! Old Game Show Groupie from way back!

Head to the Elephant for a business meeting with Kevin and Kass.....funny to see these guys in the morning.

The Michael Barker mini site has had 400 vists so far, he'll be happy.

Gym again today and Angie isn't in, so I work out all the high tech gear myself...in the words of Dr Smith (Oh the pain). Toija and Marco cook dinenr for us tonight....their flat is great, and all lit up with candles. We end up watching SouthPark and Japanese Ghost on SBS....I liked Ghost- have to get it on video- loved the flying scenes. Get home and its way past midnight. Fun night, love those guys.


---
February 16th
Speak to Scotty at Jacqui O's at St Kilda and promise to come down for lunch, they miss us. The food is pretty good I hear. Jed suprises me at the Elephant and said the most amazing thing to me, good when someone touches your heart and leaves you smiling. Totally unexpected.

Buffy the Vampire Slayer is just so great....go on snigger- we don't care, its a brave person who says yeah this is great. Some major critics are now giving it the thumbs up....Buffy franchise is really doing well. Just have a thing for girls who can kick arse. PG's fetish for the year. Bite me , kick me, pash me, just don't say you love me.

Stay up working on this Diary site till 2.00, will do the rest on Saturday. Go through a lot of stuff around bootleggs appearing on the TITM website, no doubt I'll cop some crap, but I'm past caring- we are pretty good and overall fairly flexible with the fans....and their needs. It's the sad part of my job where I have to put on the Peter the bastard cap. Thankfully it's rare. Need sleep....will continue this tomorrow.


---
February 17th
Didn't get much sleep....wake up, look at the clock, roll over, wake up again and it's several hours later...look like shit or Joan Collins.

George The Largest Living Things drummer calls, he needs some photos for a cd and wants to drop by. He asks me if I had spoken to Paul today-I hadn't, then he tells me that he (George) is no longer part of LLT- Paul wants to be in the drum seat again.All very strange. LLT a three piece. Speak to Kevin later on, and he tells me about last nights gigs- Kevin plays with Blackfire and George plays with The Overtones. They were both on at the same Venue. George finally got a chance to talk to Kevin about no longer being in LLT when Stefan walked up and started asking them questions. Un-beknown to Stefan he asked George how long he's been in The Largest Living Things and George said "I'm not in the band". Bad timing, but Stefan wasn't to know.

Drop in and visit Kass and run through our press release for the new 3KND (90.7) radio station. It's Melbourne's first indigenous radio station and basically they are trying to get a permanent license. So the test broadcast is on March 9th till March 23rd. So all Melbourne people have a listen....some great shows on it, and lovely people like Ruby Hunter and Archie Roach.

Really worn out and decide to go home and do media faxes instead of attending the monthly "songlines" get together. Should of went as I asked Greg from Skyhooks to talk about publishing, he didn;'t need me their, but I should of... worked till very late. Needed some sleep. I think we are trying to do too many projects.

Scotty from Jacqui O's returns all our StarTrek Voyager videos, he'll be happy that we now get them on PAL format, means he won't have to beg for an NTSC player.


---
February 18th
Was meant to get my new mobile phone today- but it's delayed, so no one can call me on the mobile...all they get is the "turned off" message.

Saw the new clip "Don't wanna be left out" from Powderfinger, like the look of the lead singer- glam meets kabuki!

Send off a complaint letter to Dairy Farmers- "Honey Buzz" yoghurt, the 1 litre tubs taste discusting-not smmoth and honey-ish...but chunky like yoghurt baby food!

Hey my airticket to Sydney arrived, Ansett this time, weird, we always fly Qantas, but its a few days in Sydney with Bic Runga, so all you Sydney people come along to The Basement for the launch of her latest single SUDDENLY STRANGE. I promise I'll dance with you!

Get a call from Telstra and they locate one or two of the special Split Enz phone cards-that were done for the Mushroom 25th concert. The phonecards have the TRUE Colours Purple and Yellow cover on them. ($5 cards). Was totally suprised when I saw them as we didn't now they were happening. Heard Paul C. from Mushroom was departing, really sad, he's been very very good to work with.

Decide to send in my Skyhooks invoice, other wise I'll probably never get paid for my album cover work (grin). Once again the 'Hooks release has been put back- May this time- it's really annoying. Told Macainsh that Mushroom should do an anniversary concert for delayed releases, a year since it was meant to come out etc etc. This is the same company that took over a year to release Deadstars MILK cd.....and speaking of Deadstar, what is happening with their latest single.....is it charting, I haven't even spotted a copy in the stores. Doesn't look good. Will have to check out the Deadstar website for an update.

Our Press Kit arrives for Gisborne 2000, and I email Deb regarding what we should do about it. I think a seperate area for Gizzy 2000 info....ideally a bulletin board type thing as I think I'll be adding info every week.[the Gisborne page] Especially as it gets closer. Dying to see some drawings of Noels new costumes, not sure if he has even thought about it yet. New years eve is so far away. Nicole emails me that there probably a cheaper special price for USA fans (airfare and ticket) and I think she's right as they were hinting of that a few days ago.....so it will be on the Frenz.Com Gizzy 2000 area, soon. The Enz site is Deb's site, so I tend to go with whatever she thinks, she's been right so far.

Go to Gym, Angie is back (thank the goddess) and takes me through yet a third workout routine. New areas of pain. Like it so much I might go back two days in a row.

Have dinner at Alternative with Marky G. He wanted to go to RamJets but I got my way, if we go out with Spot 8 and Ms Amy on Sunday we'll probably end up at RamJets... Mark stays up recording the full length version of Spinal Tap- I keep hearing him laughing while I'm typing this. What a movie, every R/Roll cliche'.


---
February 19th
Hmm had a bizarre net chat with a guy today- we got onto the subject of Ecstasy and he wondered where it came from. I quickly ran upstairs and pulled out my trusty copy of "Psycho active substances" (Richard Rudgley).... It's also MDMA which is an analogue of MDA (3,4-methylenedioxyamphetamine).... which first surfaced as a recreational drug in the mid- 1960s. MDMA was first made by the Merck pharmaceutical company in Germany in 1912 and was sold as a slimming pill! It was tested on animals (which sucks) by the US army during the 1950's for possible chemical warfare use. It's title then was Agent 1475. Ecstasy is seen by some as having the status of entheogen (sacred drug of spiritual awareness)...especially in this day of techno-hippes.

The down side (apart from death via heat stroke at raves etc) is that some people get severe cases of paranoia which according to some are due to latent psychological problems bubbling up to the surface. So in the infinite wisdom of the South Park School Counselor...."Don't do drugs kids, don't do drugs". Not sure why we included this in the Diary site, just shows what you can find on these pages.....and remember that as time goes on, theorys and evidence around drugs can change (for the better or worse).

I think my conversation came up about some fans talking about me smoking pot on tour (the whole 4 times.....in 6 months)....taking any drug is your own choice, I am not going to glorify it here. Like everything in life, they can be very bad for you.....and occasionally good for you. Imagine how many songs Neil mightn't of penned if he didn't have that joint handy. I also like to think he is an exceptional talent, spliff or no spliff. Do you stop buying his records because you know a song might of been penned under the influence of pot? Of course not, otherwise half the cds in your collections wouldn't exist, poets ,actors, or even your own brother/sister would be out of your life if this was the case. We won't even talk John lennon, the Beatles or the Stones.

You'll even find Chocolate listed as a drug in many books (it contains both caffeine and theobromine) and was originally called "food of the gods" and was shipped to Europe as an aphrodisiac (1626). Both Pope John Paull II and Princess Anne have had Cocaine when they were in Bolivia. They drank Coca tea (mate de coca) which is traditionally used for altitude sickness....the tea has cocaine alkaloid in it. I've had the same tea in Peru, it's one of the few things that helps. A girlfriend of mine was with me in the Andes the first time and she had a total drug free existant, and begged for the tea at one stage because it was the only thing that helped. So class lesson over...where were we? God anyone would think I'm on drugs I'm rambling so much! Drugs can also fuck up your life so they suck big time too...each to their own.

No Cappuchino's for me today.....no white death (sugar).... a drug free day.


---
February 20th
Deb has already created a piece on the Frenz.Com domain for the Split Enz Gisborne 2000 New Years Eve gig. She created a bulletin board so I can update it as soon as information comes in. So go to www.frenz.com and check it out.

Glad we kept those Qantas stockmarket shares, they jumped to an all time high yesterday, it's rare that airlines make much money on the share market, but Qantas are an exception. Guess a lot of people will be flying around the Xmas /New years period, wonder how many fans are flying in for the final Enz reunion.

The Diary Site has now hit the 45,000 mark....scares me sometimes.

Manage to sleep in today- first Saturday in ages where I didn't have to get up and rush off and do something, really nice.

Get a call from Andrew who runs the Camberwell CD /Collectors Fair.....the club will have a stall at the next fair (March 28th), so it's a chance to clear out the office and meet some of the fans. So pencil it in your diary and we'll see you at the fair.

That's it, take care
Peter.

---
If there are any problems with this site, please contact webmaster@aswas.com.