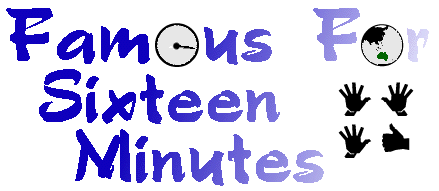 The Life and Times of Peter Green
Archive: 7 March - 21 March 1999
---
7th March 1999
Well how annoying is this, the "n" key on my keyboard is dying rapidly, so many things I'm typing out have the letter "n"...now my grammar is hideous at the best of times and my spellig worse but with all the "n"'s+- missing it just looks like I'm being really slack. All those 'N''s fiNN, porN, Neophyte etc. My friend BeN reckons it's because I type the word porN into search engines too much and I've worn out the "n". I think it's too much "Finn" usage. Then again the word beN has an "N" too...so maybe I should remove all the things that have "n" in them out of my life....then again maybe Not!

Marky B drops in ,in the afternoon, like most of the people I know he is looking for an apartment. There is a housing shortage in Melbourne for sure. Landlords are being pricks- "don't want any of those rock and roll type people renting it" sucks big time. maybe we should just open the rock n roll hotel a la The Chelsea without the od's!


---
March 8th
Start work on the "Other Enz" project, a double cd and we have so much stuff their might be a part two. Tell the record company they should also have LLT on the cd as Paul played with both the Crowdies AND the Enz. Kevin from LLT suggests we give them an unreleased song "My time is now" which also has Noel Crombie from the Enz playing percussion and some drums. Hope Hessie agrees to it as it would suit the cd being even more Enz related....and good promotion for LLT. At least the project has picked up steam, it's been on the drawing board forever and finally it will see the light of day....all good things take time.

The Skyhooks cd cover that we worked on arrives and it came out really well, send Deb a jpeg and she is just fantastic and makes some time to put it up on the site, so we have a scoop. We did the cover photo upstairs in one of our spare bedrooms- and I had this idea of putting the glam wardrobe in several scenarios (forest, surf, desert etc) and Mushroom did a great job. Hey I hope it gets an ARIA Award nomination.You can check it out at http://aswas.com/skyhooks/ Should be in the stores in May.


---
March 9th
Some talk of Neil playing a one off show at Portland USA for radio station KINK. Amanda tells me it will happen on April 13th- don't know the Venue yet. No other USA dates...it's after the special guest spot at the Linda Mccartney Tribute at Royal Albert Hall.

Pick up my copy of "Publish for profit" from Dymocks Book Store, has some good ideas in it. Have pushed the Famous/16 Book back to late April purely so we can get these extra reader photos in it, and a decent layout. Too many words and not enough pages..so I'm still working on it.

Spend a big part of the day in the city, really packed, people running like Ants everywhere. All looking like they have things to do, I'm chilled out and just stroll around.

The Diary site is getting double the ammount of "hits" these days, looks like the lucky 50,000th reader will be sooner then we thought. In case you missed it, if you are #50,000, print out the counter and send it to us and we'll send you your prize, a collection of music from all our artists that we work for. Good luck. It's fun to have a contest.


---
March 10th
Sadly had to blow out my meeting with Paul T. Grant ad Brent Thomas make a suprise visit to the office and that takes up a big part of the day. Grant just loves the house. Good to see them both. Grant is always on the phone, he's such a manager. (grin). At one stage I thought he was going to phone me from the loungeroom just to tell me in the kitchen to put some milk in his coffee.

Paul t offers me a role in his next movie, but I'm hanging out for a spot in this up and coming tv movie....sounds like fun.


---
March 11th
Get an email from Jules in the UK- and send one to Privett, Marky B calls and so does Ben- it's like crew day- hey I should of organised a tour having all those people in contact at once. Now all i need is a band!

Watch "Rude Awakening" - it stars Twin Peaks Sherriwyn Fenn....such a strange show, nudity, alcholism, trash...so naturally we'll keep watching it. Kind of like Ab Fab meets The Bold and the Beautiful. (O r "The scared and the Ugly" as Mark calls it).

Very domestic today- do shopping, wash car, vacumn....must mean my Mums arriving tomorrow!


---
March 12th
Drive to the airport and Mum is one of the first off the plane...ends up she was flying first class (thanks Qantas)......nice and quick.

Pick up a copy of Edith Piafs "Mon Legionnaire" cd....great for pasta dinner music.

Mum looks great, really healthy. Loves the new house. She's kind of proud I guess, Mums are like that.


---
March 13th
Well I surrendered my bedroom to Mum, I think she thought it bizarre that she had to get changed under the giant disco ball......but she said the bed was great. I slept in the guest room, back on the futon......felt weird and small.

Head to the nursery with Mum in tow and do some serious plant buying, hanging baskets for the balcony, a few strange "orphan" plants...you know the ugly ones that no one else would buy.....well now you know where they end up. A few trees an exotic orchid callled "Burrageara" (Stefan Isler)....deep scarlet blooms on long spikes....looks good in the office.

Well the NZ Music Awards were on tonight...and my wish came true- young Elroy Finn scored the award for Best album cover.....age 9. He stood on tippy toes to read his speech, Neil next to him looking proud. Neil getting Best Male Vocalist award- I was hoping he would of scored Best Songwriter....oh well. Bic Runga bumped him off for International artist of the year- so it's good to see all her work pay off. Bic and sister Boh did backing vocals on Neil's "She will have her way". Anyway as long as Elroy scored the award I'm happy.

Still can't believe that Today FM in Sydney isn't playing "She will have her way" or "Last one standing"....so much for supporting local talent. If any Sydney fans are reading this give Today FM a call on 93751067 and ask them to play Neil Finns "She will have her way".....if everyone does it they'll start to play more Finn.....crazy that we should even have to do this...but sometimes its good to do it just to show some support- cmon it's only a phone call.


---
March 14th
Wow Virgin Marys is opened again, after being burn't out for 10 months, the rooftop is full of people partying. Wasn't going to go down this weekend, but after an early morning gardening with Mum we went for a walk. Alison and Rosemaree were there eating so we joined them. Mum was fascinated by the well pumped, tanned gyrating bods on the roof across the road...shame on you Mother perving at your age! (Pst pass the binoculars).

Mum still calls it the Pink Elephant. She just loves all the gay waiters. Mark cooks pasta for dinner and we eat in the plant room, all the pixie lights are on up in the open rooftop and Edith Piaf is playing nice and loud- really good food- MG's specialty....open some wine.....hic!


---
March 15th
Amex have still messed up all my credit cards, my gold card has an extra $1500 on it, and my company card is out by $1500.....gee thats not too hard to figure what happened....they just can't get it right.

Hmmm having the urge to wear yellow, so I check out Lost Vegas, but they only have XL yellow "renagade" tops....so I settle for a blue in medium. Gym is working, clothes are getting smaller and muscles are appearing in interesting places! (Note: Love muscle is STILL the same size *grin*)

Drive Mum to the airport and we raid the Qantas Club for coffee and food. Nice to be back in my own bed. Can't sleep (too much coffee) so I pen a few ideas down on my "night pad"....my best (and strangest) ideas come at night.Have been in contact with Deb and we have worked out a date for the "Frenz Chat with Peter".....it's Thursday night- March 25th California time 6.30pm. Which makes it 9.30pm NYC time and for Aussies 1.30pm Friday 26th. (Remember we are a day ahead of the rest of the planet).....all other areas will have to work it out or email us and we'll try and help. Now the club url is located at: http://clubs.yahoo.com/clubs/frenz and you need to join (it is free but you basically need your yahoo id name etc). Details are located their how to get your name...or email Deb or myself. Deb is so much better then myself at this so any tricky questions she's the one that can answer them. So if you want to ask questions, about any of the bands, the diary site, anything get your name and drop into the FrenzCom chat area at yahoo clubs. This is my first time too, so if I'm willing to have a go you can too.

Think it's great that Frenz.com domain has a structure like this, to keep on doing more and more interesting things. Deb works the domain for free, it's a pet project and very time consuming, so thanks to her for doing this. Now if I can only give you guys the answers to your questions...and make it fun and interesting.


---
March 16th
Greg from the 'Hooks drops in and he is happy with the cover art. Phew sigh of relief.

Grant confirms that the Finn Bros are playing a show in Auckland called "The Big Bill" where all monies raised go to the local companys that never got paid after the Sweetwaters disaster. The show is on March 28th.


---
March 17th
Happy 25th Birthday Amanda from the office.

Songlines meeting tonight and I find out at the last minute that I'm tonights guest speaker. Scrawl a talk ten minutes before I run out the door, and decide that I'll have to wing it. Turns out ok, getting a bit freaked that people are taking notes.....wondered what would happen if I just made up heaps of stuff.

Kevin from LLT is great, just keeps the whole situation moving and asks some good direct questions. Sneak to the beach on the way home and get the last little bit of sand for the Buddha shrine..it's now complete.

Paul H. calls up wanting Tchads phone number, think they'd like to use him to work on LLT's debut cd. He's perfect for it- right kind of attitude etc.


---
March 18th
Run into Miss Renee when clearing the mail at 333, she looks fantastic today- her hair is growing out, great makeup.....she's on the way to a photoshoot, as part of her modelling portfolio...she'll do well.

Hear from Will Tucson -USA- he's editing "Cataline Trust"- a new movie in the States and will hopefully be using some of Neils music in the film.

Paul is unsure about using LLT's "My time is now" on the "Other Enz" cd, will have to have a talk to him about it- sounds like the perfect song to use ,especially with Crombie playing on it.

Clean up the plant atrium, needs a few more hanging baskets, so cool to have a room that's full of greenery....going to fill it with more and more plants, have my own jungle at home. You may never see me again......lost in the wilds!

Ben was meant to return my camera today,sidetracked by work, so I'll have to borrow one for any photo work that I need to do. Wonder if I'll ever see it again! (Grin- joke Shapiro...take your time). he thinks he might go out with the Gurge...about time he rocked out.


---
March 19th
Watch a "Life less ordinary" really liked the movie.....very cool.

Check around for the latest Pioneer DVD player- and we were lucky, found two ....after checking with every store. People are going crazy buying this model, guess it's before the stupid "zone code' starts happening. At least this model is covered for a year of full zone use. Love to get Crowdies "Like to watch" on DVD- in fact all the clips would be great. The usual money costs are the problem, but as more and more dvd's are released I figure the Crowdies stuff will finally get a release. Just remembered that we have a video cd of "Don't dream it's over" that we grabbed from capitol ages ago....so we can finally play it on this new machine.

LLT call and want some LLT shirts for sale at the Healesville Gig this weekend, will take them to Revolver rehearsal studio where LLT are doing their thing. Andy White ("A" from ALT) drops in with family in toe...really great to see him. Rosemaree has kindly dropped in his flyers for the Andy Tour and Fran comes by and we basically do a mini mailout. So if you live in Oz and want to see Andy play check out his website for details. Wonder if Tim will jump up in Sydney?

Fran comes with me down to Revolver, let LLT do their thing and have a coffee upstairs, wow everyone has that I'm totally away with the fairys -ecstasy smile up here. Chat with Fran and then we film LLT for possible use on the next Video newsletter. Kevin tells me he might have some Neil Finn with LLT (unused) footage for the Video newsletter as well-cool. Get home at midnight and don't get any sleep, a bit mind fucked from talking and coffee. Frans fault!


---
March 20th
Get a Russian email from Helen the club member, so thats always a nice suprise, and also from Bene in Belgium. The website is getting noticably more "hits", so the lucky 50,000th contest winner isn't too far away, will have a dig around the office and find some other special bits and pieces for the BIG PRIZE.

Someone has finally flown their hot air balloon around the world, so many failed attempts, never thought it would happen, I think they missed their "grand ending" as I know they wanted to land at the base of the main pyramids in Egypt.

Can't believe that people are still duck shooting, totally fucked, I don't care what they say shooting a poor innocent duck is NOT a sport. Why don't you just shoot each other...don't worry it won't hurt- no brain no pain. You duck hunters are fuckers.

Red Cross Day today- so give to a collector when they rung your bell.


---
March 21st
Wake up and it's been raining, open up the drapes and it's a great day, feel all snug inside, stifle a yawn and pull a sweater out of the wardrobe. Still don't believe that Summer is over....but today is a good practice for colder weather.

At the Elephant all by myself for an hour- Becky stands me up, knew she'd sleep in. She eventually calls, which was nice....late night- the return of the smoking beer woman????? (No relation to the smoking man from the X-files...or is she?). Watch a blonde drag queen walk past in the rain, perfect day to have acrylic hair, the water just rolls off. Tania turns up with young littl'en Jake her son, he clings to her like a Koala bear today. They are heading down to Apollo bay with us, for our week at the holiday house. Think a few people are making the trip.

Come home and there is a message that Hester and LLT start recording this Thursday....the album is finally underway. Hmm time for my faves of the week.

Loves- Melbourne when it rains.
Cover art of the week- Skyhooks -The Collection
Hates- Duck shooting- any animal shooting.
Book- "From lock up to frock up" Mardi Gras-True Stories.-Richard Wherrett
TV-Buffy the Vampire Slayer
Sex object- Cordelia and Faith and Hairball and Mark.
Music-"Guys like us" (Cant get girls like that)- Custard AND "Nice guys finish last"-Green Day. Gee what do thesetitles say about me?
Fashion- Black suede Doc's with blue shoelaces.
Gym Hate- Pec Dec. (URGH Grunt Groan) All pain no gain.
Annoying thing of the month- loosing your "n" on the keyboard......
Creep- Channel 7 - the Buffyless channel. Thank god for cable tv.

Call Tim's place and speak to Marie...they are busy packing to head to NZ for the Finn Bros gig. The Tim 5 track cd is about 8 or 9 weeks ago- Marie and Tim are working on it, the cover art is Tim is some little Japanese style ninja outfit with binoculars (bizarre and fun). So if you still haven't ordered the cd, you can send me an email for info. (peter@frenz.com). Some of you have been asking me about Mary Finn's health, usually i try to keep the Finns life as private as possible, yes she has been fighting cancer and thankfully things are much better. She's a fighter and a real fire burns within, so we are all thinking good thoughts. Thats all I'm going to say, the Finn clan are a tight bunch and they'll be there for her.

That's about all for now, kind of sad note to end things on, but life can be a bitch and can mess up the best of us, so enjoy all the good things, and remember there is usually someone worse off then yourself.

Take care
Peter

ps- Almost forgot- this Sunday March 28th expect to see Paul Hester and the Largest Living Things and many other music industry people playing and protesting in front of the Arts center (5pm). It's against Uranium mining and especially to help stop Jabiluka! So please come along, if you live in Melbourne, it's important ad time to make your voice heard.

---
If there are any problems with this site, please contact webmaster@aswas.com.