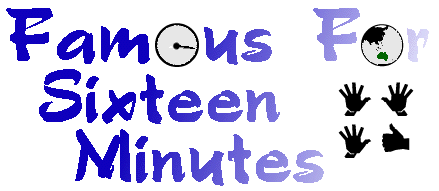 The Life and Times of Peter Green
Archive: 9 August - 22 August 1999
---
August 9th 1999
Worked out why Bongo Skyhook was heading to Brazil...it's the great(?) Train Robber Ronnie Bigg's 70th Birthday so there are sure to be seven days of debauchery happening. It made the late night news, couldn't see Bongo in the background, then again it all looked very Nero-Orgyish!

Win on Lotto again...$23, covers breakfast and lunch. A Journalist from New York's Madison Magazine turns up at Vali's studio to do an interview, she gets more media attention then the Spice Girls (Feral Spice?).

A "listening cd" arrives for Hester from Neils NZ office, a big chunk of it is stuff that we sent over on our "suggestion" cd. Still have no idea what the track listening is- but I love Crowdies tunes like "Time Immemorial" and "Legs are gone"....also " Help is coming" which sounds like its' from the Kare Kare sessions is on this listening cd. Glad they kept "Tellys gone bung"..such a cute Hester song. (Love the Kylie and Jason verse). So the Crowdies rarities project still rolls on, small turns but thats better then stopping.

Speak to Rebecca tonight and she is eating double dip Tim Tams-waiting on Roy Dupuis to come knocking on her door (she wishes)....ok I mean tv set!


---
August 10th
Talk to Greg from the 'Hooks and we both agree this madness around the millennium deserves to have a name- so we've decided on "The Quickening"..... as it gets closer all the control buffers around humans dissapear and people do the strangest things. The amount of affairs in progress around our friends is now reaching double figures-scary.

Notice an internet statement on the Bowie site saying that he isn't playing Gisborne....I wonder if he'll play N.Z. at all.


---
August 11th
Call NZ with the Enz press release corrections. Still a few options up their sleeves, its really a case of everyone sitting tight and see what happens.

Becky comes winging by and we head to Borders to see Chris Issak, thought I'd go along with her- has nothing to do with a certain tech-person...who wasn't there anyway. I think Rebecca pushed(had words with) Issaks girlfriend? But they were rather buddy buddyish in the end and she met Chris, so for the next month we'll be hearing Chris Isaak crooning from above that shoe shop where she lives. We are still trying to work out what he signed on the cd....think it said "hated your fringe"...no no that was me (:


---
August 12th
Miss the Stephen Cummings launch of his album and book. Too many things on.

Check out different Koala Gums for the property, we are going to grow as many as possible, just in case places like Healesville need a source of Koala food in future years, plus with a State forest backing onto your place I'm sure the odd Koala will wander on down. Either that or we will have to stick two of those enviromentalists from Chapel Street, up in our tree- they look kind of cute in those Koala suits. Hmm I' picturing both Mark and Be in Koala-suits...all that fur on the outside driving the babes crazy@!

Decided at breakfast I only like two sections of a cup of coffee. The top of the cappuchino, and the bottom, which has the sugary residue. The general coffee in the middle does not do much for me. It's just a wee bit hard to order coffee without the coffee in the centre. Suggestions- no don't.....last time I had several hundred emails arrive for Pumpkin soup. No suggestions. Especially from Kia-Ora coffee house at Intercourse-Pennsylvania...I know they'll be the first to tell me to try all these other types of coffee's!

Hairball has been talking more and staring into corners. According to Bruce Fogles book- "Natural cat care"...she is simply getting old. Can't wait for the next cycle where she starts attacking us all the time!

As expected Silverchair win the fan website award at the ONYA's, but hey to get in the final top ten is pretty damn good. Really happy that so many people voted- thanks. LLT knocked The Mavis's off, which is kind of funny. Well someone sexy took me to lunch today....felt very spoilt. Just loved it big time and I came home with that stupid smile on my face again. Made it even more special because I knew they couldn't afford it, but that damn pride just made them push me in a chair and refused to let me pay. Gotta love someone that special.

Will & Grace was good tonight- thank the gods they turned down the laugh track- it was so annoying in the first episode.


---
August 13th
Trudi picks me up and we head to the Jackman Gallery to secure the paintings we bought. There is a message from Pete & Susan to pick one of each work for myself, so thats great- Di who owns the Gallery also wavered her fee on my "Big Yella" so that helps my saving (or lack of it) a lot. Have coffee with Trudi at my fave coffee bar (well fave St Kilda coffee bar) around the corner and we talk about "stuff". She understands me better then myself I think.

Eddie Rayner calls from NZ and we talk for a hour- mostly about Enz related projects and options. My three things are : 1/ Enz New Years Eve.... I just want a gig to happen, I'm scared that if the various shows collapse the Enz might just loose the vibe or everyone will get stuck in their own various projects. 2/ Luton- pushing for this to be a club release....its sooo hard to get this one moving, but it is o my agenda 3/ The NEW Frenzy...I want Eddie to work on the dat from the USA issue of Frezy and have it out as a catalogue piece. So those are my three things. OTher Enz is nearly finished, gave them liner notes and information...so its just mastering, artwork and pressig to go. No earlier then late September...thats what the record company tells me.

Still tryig to get a new name for the property- Arcadia is still in there, the RamJets morning manager suggests Shady Gully...rather Ocker I joke, "Patarra" came into my head at some stage. Mark hated "Kashmir" so that ones gone. May have to be a Koori name, will ask about. Maybe suggestions on good property names might be appreciated.....


---
August 14th
My favourites list

FOOD: Golden Days-Sesame Snaps and Indian again.

BOOK: "Storm Breaking" by Mercedes Lackey

DVD of the month- Big Chill, we loved the reunion of cast...and their memories of the making of the movie.

FASHION- was going to be authentic indian shirts....but the buttons rot and the material just fell apart...so I've changed my mind. STP Route 66 tshirts... and no its not because of the sex object behind the counter...or the 10% discount. Just love Route 66- great Greville Street shop

VIDEO CLIP- Killing Heidi with their "Weir" video.

CD SINGLE- same as above...and its only $4.95 this month at all Oz cd bars.

CD-We've been playing the Crowded House listening cd for a week- and those unreleased House tunes are hot. Crowded Houses's hand me downs are more superior then most bands top ten albums.

THINGS THAT PISS ME OFF- LLT band members lack of courtesy. (meowww)

SEX OBJECT- Felicity Shagwell and Mark says it has to be Lara. Go Marky! Fran will be jealous....as will Hairball.

CREEP OF THE MONTH- (ex)Popsters that say they are STARS...and believe it! Sorry this went out in the sixties....someone reind them that its 1999.


---
August 15th
Greg turns up at Brekky, but we have to rush as I'm meant to meet Becky at the office...Ramjets is very quiet today, we have it all to ourselves.

I hear that recording is going great for Neil, can't wait to hear some roughs. I'm still wondering what is going to happen to "Spirit of the stairs"....hope this song isn't wasted. Such a good Finn tune.

Do some gardening, still have Daffodils springing up left right and centre.

The knobheads next door have finally left and the painters arrive tomorrow. Its so good to have this peace and quiet. Guess we won! Think more and more about the country escape....roll on November.


---
August 16th
Hessie calls and he is very powered up. Thinkk the weight of power around LLT will shift. I just want them to get this album moving. He is having a pool added to the house....so he wants me to see his new "hole" (!!!) in the next few days.

Get an email from Jules, I miss the crew....seems like a new world tour is a long way off....wish we could just go out without a band- eliminate them from the equation totally...just the crew and myself having fun....don't think Grant will fund that idea.

Been building my "seed farm"....decided that I need a serious vegie garden later on, so I'm asking everyone to save any seeds for me....nothing better then eating your own vegies. Send me your seeds.

Still no word from Nick Seymour....I think he's gone into hibernation. Wonder if the NZ office has heard from him?


---
August 17th
We get our top 200 charts in for Neil Finn's "I can see clearly", it's dropped out of the charts everywhere ,except here in Victoria. It's going to end up as one of those cd singles that people/fans will want 18 months down the track. I'm thinking of buying a few copies and holding onto them, as I know someone will always ask. So forget futures stock, forget the 2nd telstra float, you'll make more for your $10 with copies of "I can see clearly". EMI tells me they are not re-pressing once this batch goes. If anyone from overseas is after a signed copy please email me (peter@frenz.com) and mention your country or origin, so we can work out postage etc.


---
August 18th
Robert Hollywood in wonderful Las Vegas sends me the talking Austin Powers doll, complete with hairy chest...it's for our next tour bus! The doll was banned in the States for saying "Do you feel like a shag baby?". The crew will enjoy it totally....especially the carpet "hairy-chest", kind of reminds me of crew person Dugald Macandrew and his chest wig (grin). Dugalds teeth are better! Anyway thanks Robert, we opened your parcel at Prahran Post Office and all the Postal girls (especially Caroline) behind the counter....all screamed for Austin ...and a mad frenzy took place. I swear the temperature climbed 10o...more- such is the power of Austin "Danger" Powers!

Happy 50th Birthday Nigel Griggs. yes the Enz Bassist turns 50....the Enz band members are hopeless, so guess who had to call everyone (Melbourne, Auckland, Los Angeles)....to remind them to wish Nigel all the best!

Go visit uncle Paul (Hester) over at his home studio. It seems to have two names. One is "Sunshine".....which is a sign that he found at Chapel Street Bazaar. I think it was originally from Sunshine train station (In Victoria). I am still calling the studio Little Cuba which Paul also likes. It's a great studio, feels nice and comfy...very sixties. So the studio has two names.

Sunday Hester comes in and shows me the hole for the swimming pool....she is so excited and very cute. Wednesday the cat cheats death and balances along the edge, causing minor cave-ins as it pounces along. Family fun at the Hester home. Good to see them all happy.


---
August 19th
Neil has a bit of a play at Largo...very spontaneous, Elizabeth mentioned it on the internet and that started the ball rolling. Even management were not told about this one.

Give Lara a quick call and wish her a good trip for her month in America. Rosemaree drops in one of her family's secret receipes. We love the taste of this one, it's up there with the F/16 salad that Di supplied all those years back. So print this out, it's a good one. Tastes even better next day.

MAMA RIA'S LASAGNE

SAUCE- 750g lean mince, 1 large onion finely cut, 2x500g bottles Leggos tomato paste...or whatever brand your country has, 1/4 cup of red wine, 5 1/2 of the Leggo's bottles water, 2 bay leaves, cracked in 1/2, 3 sprigs fresh parsley, 2 tspn sweet paprika, 1 tspn sugar, salt and pepper to taste, 2 tbsn oil..... (I use Moro extra light Oilive Oil-pg).

In a large saucepan heat the oil, add the mince and the onions. Brown. Add the tomato paste,water,bay leaves,parsley,paprika, sugar,salt & pepper. Bring to boil and keep at a slow boil for 2-3 hours (this is the main secret...timing). When cooked, an oily film appears on the top. If you make a huge batch it can be frozen.

PASTA - About 3 kgs plain flour, pinch of salt, about 14 eggs, 1/2 cup water, 1/4 cup of oil. This makes a LOT...so you can 1/2 the mixture if you like.

Put about 2kg of the flour on the table, make a well in the centre. Beat about 10 eggs together with the water and oil. Put in the well in the centre of the flour. Mix together. If needed add more eggs or flour to make it like scone dough. Knead until sooth. Wrap well and put in the fridge overnight. In the morning Roll out how you like- example-fettuccini, lasage etc etc. Into sheets, using a pasta machine.

PUTTING THE LASAGNE TOGETHER

6 rashes of bacon- fat removed, bacon cubed. 2 hard boiled eggs,finely diced. Lots of tasty cheese, grated.

PASTA
Boil up a big saucepan of water with some salt, oil (1 tbspoon). Cook pasta 20 minutes (or util you think it's cooked) and Drain.

THE OTHER SECRET

Lay the pasta on a clea tablecloth to dry for about 10-15 minutes, then continue!!!!! Cover the bottom of a large baking dish with pasta sauce. Do a layer of the lasage sheet, then sprinkle with some bacon, egg, then cover with some more sauce , then sprinkle some of both sorts of cheeses on. Do another layer and so on etc.

THE TOP LAYER

Pasta, sauce and cheese only. Cover with foil and cook in oven on 350oF (180oC) for 45 minutes to 1 hour. Can be frozen. This can be made with spirals or other shapes. Rosemaree recommends La Triestina! (No she doesn't own shares). Believe us, the office staff LOVES this Lasagne! Well worth the effort, thanks Rosemaree!


---
August 20th
Well Lynn has the Tim Finn guest book up on the website, so if you are a Tim fan check out the site and leave a message. http://www.mediatones.com/crescendo.html

The yearly Frenz.Com auction is coming up soon, Deb is working out a list of goodies. An old tour person has donated a guitar used in the I got you video, Neil has handed over a signed tour shirt and there will be much more. The club will have it's auction later on in the year.

Happy Birthday Rosemaree- we won't make you cook your Lasagna on your birthday, it's off to Ramjets instead. Jets closes down next weekend, so this will be one of the last chances to eat here, whilst renovations are underway.

Sad to hear that the Alfred Hospital seems to be back peddling on the much needed "Continuing Care Unit" for people with HIV/Aids. Really odd because they have the land, the funding and have the plans....so why is this being delayed? In 1996 the care of people with Aids was transferred to the Alfred in 1996, and part of that commitment was the building of the unit. Much political talk of things getting much better- but for some odd reason it's stalled. The excuse of waiting for a master plan for the complete Alfred campus is a bit washy and I'm wondering if this puts the whole CCU in doubt. I'm sure it's hard enough for some people to just get through the day having this horrid disease, the last thing they need are delays like this. Actions speak louder then words. Hope it works out for the best, and the public shows it's support.


---
August 21st
Lara departs for the States, she's heading their to be made into the next major Movie star....Mark says Porno star....I hope he's kidding! I'm sure this comment will get back Marko.

Mark watched a Rodeo contest where people had to grab a goat and dress it in boxer shorts! He's suggesting we make it an annual event at our farm.Be scared goats, be very scared...I think he's serious! I can picture some of our friends trying to "boxer up" a nanny goat or two...hmmm could be worth videoing.


---
August 22nd
Our last Sunday at RamJets till November. Fran and Rosemaree turn up, have THREE cups of coffee so I'm wired for the night. The family went in Lotto and we won the smallest prize, so we are investing it in a ticket for next week.

Head to Jackan Gallery to pack up the final lot of art.Flotation (aka Big Yella) doesn't fit in the car.....so I'm hoping Hessie will drop it around to me. The house is filling up with art...the Susan O'Doherty abstract fits well above the dryer....Pete's almost got his own shrine, all O'Dohertys above the fire place in the dining area. Looking good. Pauls house is full of O'Dohertys too and the odd Robert Moore. Art is just the best, the Jackman Gallery is a nice little gallery and they have some fantastic art in the bathroom!

Mark gets a proposal of marriage from a young woman! On that note...I have to go have my bath.

Be good everyone.
PG

---
If there are any problems with this site, please contact webmaster@aswas.com.