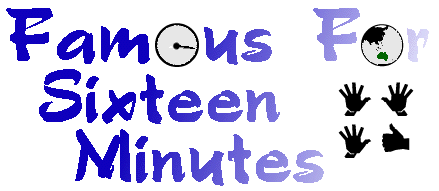 The Life and Times of Peter Green
Archive: 9 January - 23 January 1999
---
January 9th 1999
Manage to get a copy of Monique Brumby's "Thylacine" cd. Wanted it for ages and ages and I'm not sure what held me back buying it. "Mary" and "Fool for you" both should of been huge, radio sucks.

Congrats to Denis Bowler who wins the prize pack for being our 5000th hit on the Skyhooks site (http://www.aswas.com/skyhooks/) we should have the bands new album cover artwork up next month. It's always great to be involved in a cd cover.


---
Jan 10th
The Neil Finn "V" concert (Live at Melbourne Festival Hall) is on cable tv tonight. Came up ok- drove me a bit crazy having to sit through the Whitlams, Liam was exceptional- played really well- very cool. One of his crowning moments and thankfully they had the cameras rolling when Neil destroyed his guitar. You rock Neil Finn. Craig Bird from our old crew hogs the camera during Leonardo's Bride set.

It's nice to be at home for the moment, really great weather, good friends calling by and phoning. Have dinner in the plant room, the stars are very bright tonight, the smell of wild Jasmine in the air. Does it get any better? Still wildly in love. "my nights were so long until you, you came along ease my pain that's what you do".


---
Jan 11th
Speak to the LLT boys- they are rehearsing at the moment, and penned eight new songs. Kevin tells me they are more "up and rockin'"...they also play "This is Massive" at rehearsal. Paul is looking good, seems a bit more relaxed. he has been appearing on "Grace's Cafe" on MMM (10.00-1.00).

Wash the car, she needed it- nothing like a shiny EK. Have been thinking about buying a new Holden 4 wheel drive....just unsure if I will use it enough to warrant the purchase. Guess if I get my bike license in March it will be handy to load the motor bike into the back.

Wonder if Bowie has been confirmed for the New Years Eve Gig- how brilliant, one of my hero's....will do whatever it takes to get a snap with the Thin White Duke with The Gryphon man.


---
Jan 12th.
Trudy calls by to collect her wage, I'm on the balcony editing the "Year One" of the Famous for 16 Minutes Book. So we sit up there for awhile, she has that glow like she is in love. Always wondered how I'd feel if the "mother of my future child" grabbed a boy- and it's actually fine- feel good for her, no jealous stuff and in reality there is no reason to be. Happy that she's happy.

The Paul Kelly/Bic Runga Tour has now entered NSW- still haven't heard from any of the crew or band, no one loves me. Decide to sulk all afternoon.


---
Jan 13th
Rick from The Space Cadets drops in, his brother ran off with Indianna (Bongo's wild child).....watch out Bongo's still got that axe! (And I don't mean a guitar).

Try finding some sound people's numbers for Rebecca at the Seekers office, as she (not so subtle) points out -we stole them from the Seekers...I always thought they quit first? (touche').

Speak to Leanne in Perth, thinking of having a week off and do the F/16 editing in Perth, need a real holiday. I can slink around Perth without being noticed.


---
Jan14th
Grant's Xmas bonus blows me away, saved my butt and I paid all the bills, ended up being $13 in the black. Thankyou GT. It's easy to hang shit on the Manager, but it's nice to be able to say thanks. Made my day- where would I be without you.

Plant Central American "Yucca" plants in the front garden. They have wooden trunks ending in a crown of long sword shaped green leaves. Neat.

Still haven't heard from The Screaming Jets Management, over them, big time, will be glad to quit. Want to work with Bic Runga- so much more fun. No calls or emails, feel let down, sometimes you get too close to a person and they let you down, makes you sad. I know I'm probably accused of the same crime, maybe it's pay back time- oh well here I am- a living target. Fire away.


---
Jan 15th
The Newsletters arrive, nice and early- wipe the sleep from our eyes and start work. Mark starts off slowly- needs his coffee and toast, whereas I'm straight into it.

Deb emails me that Michael Barker from Neil's band has his mini profile ready, the link isn't up yet, but you can sneak a peek at http://www.frenz.com/michaelbarker/ She did a good job, Michael will love it, I can picture Michael and Robert Moore both clicking on the others persons profile just to see who has the most hits. Hopefully a profile from Liam and Herbie at some stage.

Have Coffee with Fran, really fun, worked out the last of our crap, not that there was much, an acceptance of both our faults, guess that's what friendship is all about accepting friends as they are, warts and all, and having some faith that they love you. Don't worry Fran I'll steal some plants from Prahran Council for that crappy Parking fine they gave you. Bastards!

Must look like shit today- had zero sleep. One mosquito had crept into my room and I just can't catch it. Drove me batty- lights on, lights off, torch on, having a wild swipe in the hope that i will connect with it. Next morning it was gone again-forever.

More coffee in the afternoon with Jj and the handsome Marky G. We call into BANG and I buy some new patent leather pants. They are made by S&M shop Lucrezia and De Sade. Black and lined in red with a button fly. Seeing how I keep losing weight (no chocolate yet- nearly 3 months now) they look pretty damn good- even if I do say so myself. Feel like Michelle did when she auditioned for the part of Cat Woman in the BatMan movie- slinky baby! Need to find some "equipment" to go with these fetsih pants- so we head to "The Beat" Sex Shop. No really good S&M toys- expected more. Found glow in the dark dildo's, oral sex rubber masks that have "motion lips"....once again we find "The Tongue".....and Mark finds a HUGE rubber penis, we are talking eye watering honey- cmon WHO (or What) would use something THIS BIG. I am considering buying it and taking it to the Sydney 2000 Olympics and going in the Pole Vault with it- it's so long. Not as many creams or lotions as you'd expect....the metal arm lock bars were tempting, but nothing really excited me.I'm sure it would be hard to work in a Sex Shop, think I'll interview the sales person at some stage. Guess in the first week you have a permanent hard on, after that it's probably all down hill. Wonder if it fucks with your sex life as well as your head.


---
Jan 16th
Clean up my room, find a huge box with all my stuff from SplitEnz tours long gone. Think of the various crew members and wonder what they are up to these days. I don't dwell too much in the past- which I guess means the future is just as passionate- I think if you spend all your time in the past it means you simply don't like your life now? hey food for thought.

Open the windows and write some of my Diary on the bed. Nirvanna's Unplugged is playing. It's 100o outside but a cool breeze is blowing. What a great bedroom this is.

Melissa turns up and we head down to Commercial Road for the Midsumma Street Party. Mark suggests we head to RamJets as the Elephant would be too packed, the Street is already full , so every food Cafe is packed. The Ramjets manager recognises us and ushes us into a reserved table. The perfect night, and as the sun sets the Queens in all their splender fill the golden mile. This year they have all sorts of rides, and many more stages. The rooftop above BANG has a mini drag extravaganza, Milly Minogue (Kylie and Dannis other Sister) goes off. The main attraction is still above the X-Change Hotel, the loadest applause still going to Miss Candee and Barbara Quicksand- for their version of the Beastie Boys "You've Gotta Fight for your right to Party"....Candee carrying a slab of beer- decked out in denim and a skin head wig! Great night. Discover our old Prahran Post office manager is now supporting a nipple ring... the whole world is being pierced. We love that.


---
Jan 17th
We stumble into the Elephant, a wild night here and the staff are still recovering & cleaning up. They were trying to offer me a mere $50 to be one of their Go Go Dances on the front Elephant Podium- I think not.

Great article on Quentin Crisp -he's now 90, and finally has a manager.

Alison comes back to the house after brekky and thrashes MG on the pinball machine. Ok he won the majority but it horrified him just how good she is on pinball, on ya girl! Hmm I just re-read that- when i say "thrashes" I DON"T mean in an S&M sort of way, like whipping his buttocks till they are red raw....I meant in a high scoring Pin ball challenge sort of way! Is that all clear (Phew says Alison).

Marilyn Manson arrived in Australia today- naturally the media wanted some good filthy quotes- so he delivered. "The reverand Fred Nile is having an orgy at his house and he's invited me". I can do better then that- "Fred Nile is an horrible evil c**t!" (and I don't think I've ever said the "C" word on this website...in fact I rarely say the "C" word, so he must be evil.

Watch "Grand Canyon" on cable and it's great but turns you off ever wanting to explore L.A.


---
Jan 18th
Get the good news today that we are now working for Bic Runga. She's out on the Paul Kelly Tour as special guest. All you Aussie music lovers check out her latest single "Suddenly Strange", as good as the top ten hit SWAY. (The 2 unreleased bonus tracks are superb). Will run her Sony/Columbia website address at a later date, we'll have a bulletin board etc on that site , so the info will be kept up to date , as much as our FrenzCom websites.

Congratulations to Frenz.Com and LLT for our 7000th hit on the site. (http://www.frenz.com/LLT).

Buy HOLES "Malibu" cd single. Great value $4.95- two unreleased tracks- "Drag" and the cover "It's all over now baby blue" plus 2 Hole Video clips. Hope to catch them live when they play here. Democrats Senator Natasha Despoja does a phoner with Courtney and Hole for EG magazine. "I was born bad. My biological dad was a bad man". (Courtney Love).


---
Jan 19th
Sitting, thinking, wondering
if you are doing it too.
Miss your fun.


---
Jan 20th
Rosie calls from the UK- she's working on the production of Titanic at Wembley Stadium and then off with Robbie on the Neil Diamond tour. Looks like they may stay here for a few days in March, if all goes well. Marky B and Deb call by and collect their Crowded House "showbag" for Deb's sisters birthday. Give Marky B a copy of "Freak like me" - a belated Xmas present. I like these guys.

Head down to the local cake shop (Neil use to buy his chocolate lemingtons from there) and I turn around and ALL of The Largest Living Things are in the shop. They are rehearsing nearby. On the way out George bumps the fly curtain and it flys back and catapults Kevin's pie out of his hand onto the floor. Big Boy picks it up (calmy) calls George an idiot and continues to eat it. Food is a very BIg thing around this band.

Head off to Songlines, tonights discussion group is on Recording Contracts. Goes ok, nice to see everyone. The good news is that the Songlines Concert will happen in July (15th i think), some amazing people on the bill, when it's all locked in we'll tell you.

I go to bed exceptionally happy.....some people just make me feel deluxe!


---
Jan 21st
Well just locked in a week in Western Australia, Mark will keep the office running. I'm not answering emails between 26th and Feb 1st. Need some time to get the F/16 book together, there will be more tour photos- a few good shots of Neil and the gang. Want it, so it fits in your back pocket, I love small books. The run is limited, so you can get it on the latest club sales sheet, and later on, on this website itself....plus at some book stores (late March release).

Have coffee with Jj, things are happening in his world- not going to say anything in case I jinx him.

Grab a hire car from my new hertz shop, drive to Geelong. Ben's in town with the tour so it will be fun to hang out. I've only known him a few months but he's a good mate- you know the sort of person I mean? A person that wanders into your life and fills a void that you didn't even know was there? Think I just like watching him working the board- getting the sound happening, working magic. Mark does that too- video and cd's...shit i'm surrounded by talented bastards (coming from a not so talented bastard? Think I envy them). Hey at least it's not penis envy (grin).

Good to see Bic again- she walks into the band room and makes a fuss over me, always makes me feel like a Prince. Sexy as ever. I start calling her "Boss Lady" now that I'm on payroll. Dedicates a song too me- I hide.

Great night, happy, mad in the head happy. All that's missing is a UFO sighting on that road back from Geelong........hey there goes one! My life is perfect , finally.


---
Jan 22nd
Have incredible erotic dreams and I know who's fault that is. Here we go again. Diary site up to 43,000 hits, have to give some prize to the lucky 50,000th customer. So if you are #50,000 print off the counter number at the base of the screen and mail it with your name and address to P.O. Box 333, Prahran Vic. 3181 Australia and we'll send you one of our Filthy Rich Promotions "Artists Packs" full of fun things around our stable of artists! (But you don't get the "pole Vaulter" dildo..that stays locked away in the vault. (sorry).

Witch weather day today- walm and rain, huge lightening clouds. Marilyn from Sydney calls and she is finishing her job and working at HMV. This is great, I know what music she'll be making them play (grin). World Domination for Filthy Rich Artists!

Speak to Paul Hester around the Rider etc for the St Kilda Festival. The band are onstage (Foreshore stage) at the best time 7.15. It's FREE so all Melbourne Hester/LLT fans come down (Feb 14th). Wear your LLT tshirts.

Double Gig tonight- Bic and Paul Kelly at the Palace and LLT at The Espy. Mark and myself head to The Palace, catch Bic (she does a mean version of Bowie's "Ashes to Ashes" in the set) and then we run to The Espy and it's packed to the rafters. No sign of the original LLT girls...weird they are not here. I really thought they would be especially with Fran being LLT starved for all those months. Some fans turn up in the Enz Spellbound Tshirts, and I spot 2 other LLT shirts.

Several great new songs in the set- just love "Trampoline"- exceptional. "Sex" is a bit boring, but "Gods Money" is a million times better then when it was played at The Conty. I tell George I'm going to watch it from the back as Paul always finds a way to turn some "FOCUS" on me. Tonight he doesn't need to SEE me I get it anyway " This ones for Peter Green, who's over there somewhere, in one of those dark booths, kissing a handsome stranger etc etc" (you get the drift reader). Hey it's a compliment.....I guess. Mad man that he is.

They are playing better then ever and if you missed them this time around they are returning to the Espy Feb 5th.

Get home and straight to bed, need some sleep tonight.


---
Jan 23rd
Was thinking of going to Hallam Gig for Bic. Long drive and the Grey Ghost still hasn't had her tune up or lights repaired. The Hertz company closes on Sundays so I can't return their car for two days...and I don't want to pay for an extra day- so it's Grey Ghost or nothing.

Speak to Melissa who is rather calm considering tomorrow is "D" day...or should I say "A" day.

For all the Famous for 16 minutes readers who sent small passport photos in, I'm hoping they will all be used in the book issue of the Diary site. So it's not too late- if you are reading this send us a passport snap of yourself- write your name and country on the back and we'll put a collage of all your smiling faces in the book (we hope).Yes weird hats and glasses are appreciated! (Our address-p.o. box 333,Prahran Vic. 3181 Australia).

Better go, am sitting in front of the computer with a new "hair colour" underway and it's time to wash the dye out. "Auburn Slut"...who thinks of these names! 1999 is well and truely underway, feels like a good one to me.

Love
Peter...the happiest boy on Planet Earth.

---
If there are any problems with this site, please contact webmaster@aswas.com.