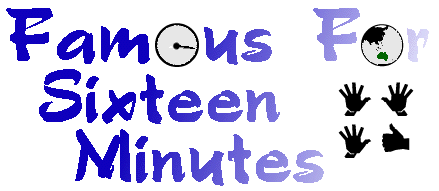 The Life and Times of Peter Green
Archive: 11 September - 23 September 2000
---
September 11th
Late breakfast this morning, as the day starts out with meetings and more meetings, ends up being lunch- surrender to it, oddly enough I wasn't all that hungry, just watched the passing parade and sipped on some coffee.

Neil's shows are the hottest ticket in town, Friday should sell out soon and no doubt Thursday will get all the latecomers, will end up being 2 sellouts, I wonder how many people are turned away, at least we have told everyone.

My Bank manages to mess up our home loan, sending us letters hassling for some extra money, turns out with all the interest rises they just somehow forgot to change our amount- which is good and bad. meant we never paid anymore, no means they have to take the extra out of the account, was tempted to demand an apology (: Looks it's nice to be able to hassle the bank, lets face it, banks are not loved in this country. Possibly because they make huge profits and then stick the customers with even more fee's.


---
September 12th
Over the moon for the Powderfinger guys with their Odyssey Number 5 album hitting top spot on the Australian charts and sending John Farnham down to #3. I'm sick of the "nice guy" stuff, give me some dirty tough popsters anyday.

Mark hassles me to watch "Hideous Kinky" (the movie) and he is right, it's good, the two kids in the movie are the stars....a nice trip- one of those movies that you will love or just plain not understand.

Find two very cheap hardcover Trekkie books at Borders, the same ones I considered paying full price for -last week. Two thirds off so I'm happy that I waited. Good to lie in the hammock and veg. out to.

Get another email from one of the Bardot girls, sounds like they were all happy with what we did on the tour, am spending the next month getting all their fans to support them in their conquest as Australian artist of the year. In my head it's a way to get back at all the 'serious" journalists who have no concept of kids having fun. Even if the B girls get the most votes I bet V channel rig it so they are not allowed to win.

Great afternoon, all Spring like so I do a bit of work around the house and the garden, a bit of dusting and polishing. Spring brings out the vibe, I remember at Murchison Street I use to fling open all the windows on the first day of Spring. The scents from Sharon Finns wild and exotic garden were a taste sensation to my nose. I love Spring, not too cold, not too hot. All those baby Spring lambs in the fields as we head towards the Forest House- Mark always hatching a plan to steal one for the house....


---
September 13th
Sent Koji in Japan his auction prize- Neil's' "Temple" Tour t-shirt. He'll love it, Koji has a massive collection. I think all the auction prizes went to really good homes.

Chat to one of the Scream Jets guys today, finally their album $CAM is coming out- October 9th- and their old manager Aaron returns to the fold for awhile. Will work with them to the end of the year, have to tell them this still....time to move on.

Keep forgetting to check out Tim Burton's STAIN BOY on the web. Stain Boy is on the shockwaves homepage. Tim brokered a deal where he controls everything that is created for Shockwave.com like full artistic control. A man of texture and looks, and I like the way he keeps clear of a lot of cutting edge technology. Good article on him in RES magazine. RES is one of my faves, I like it equally for the adverts on all the latest gizmo's like Sony's DCR-VX2000 and colour correction filters for underwater filming and the HDWF900...I think its the worlds first 24fps progressive scan high definition camcorder etc etc somewhere in all this are articles many I have yet to read.

Kind of like my computers, Ben has installed heaps of amazing "stuff" and I need about a year off to explore, play, destroy (Jupiter II Robot voice add in "Explore, Play, DESTROY...Will Robinson"). I will one day...no one ever believes me.


---
September 14th
Hassle the Solar People so I can put the rebate on the new car, never seems to end, paperwork and agreements but I've signed the last one now so the rebate is being processed.

get Paid by the Bardot people- thanks everyone, all gone even before I open the envelope. I am so glad I am drug clean, can't afford to have a habit. Not that I want one.

Another batch of Split Enz sheet music arrives so if any Enz fans reading this need the Enz portfolio just send me an email and I'll let you know prices for your area. This is one of the last times we'll offer it, we just run out of space in the office.

Not long till the Olympics start, guess I'll be watching the swimming and woman's hockey and a bit of baseball. Hope the opening ceremony isn't something tragic like Kangaroo's on Bicycles.


---
September 15th
Well the Olympic ceremony was actually exceptional, an incredible balance and nothing too horrid. Loved the dreaming sequence and the tap dogs and the tap teenagers were brilliant. But the lighting of the flame just blew me away and the worst kept secret of Cathy Freeman was a highlight. Good to see Dawn Fraser and all those Olympic wonderwoman . By the cauldron itself ablaze and Cathy slowly elevating below it was one of those "oh wow" moments. In true Aussie fashion a 10c component part failed to work and the cauldron froze but it ball added to the excitement, eventually gliding up it's watery ladder to the top of the stadium. Very cool. So it's all on now , and Sydney will become a total insanity. Aussie Aussie Aussie! Bringing home the gold.


---
September 16th
We head up to the Forest House, what a day , Spring has sprung. We call into our Holden dealer first and blow all my tour pay, in fact my pays for the next 100 years on the new car. This is the first time I've ever bought a new car...it horrifies me. We were really casual. Anyway we went for the Jackaroo SE in Forest Green...perfect for all that desert driving. I leave the Holden dealer a poverty stricken peasant, but hey my car is shit hot (grin). I love how they try to sell you all the extras...I hate all the extras...but our seats are good and so is the security system and sound system.

The Forest House has been getting a good balance of sun and rain, hundreds of daffodils are everywhere and all these wild Australian orchards. Something with big claws has been digging in the brown dirt of the barn. We have our own wild thing in the woodshed...and I'm not going to open the door. The blasted baby bat is back, behind the exact same bottle....it has an attachment to the Tequila bottle, out of all the wall bottle sit sleeps behind that one. So we take "him" back outside and he flys away into the dark canopy of the Australian forest.

Mark goes and cuts back the drive, I plant some Australian Kangaroo paws. Nah didn't cut up a Roo, they are an Australian native.... all furry and red and orange, one of those alien looking aussie plants. They look great under the windows so I'm hoping it's a good spot. Decide the day is too good to work away, so I set up the hammock between the blue gums and gaze up at the bluest skys in the world.

We head home a different way and call into one of those small towns who always make the best hamburgers...and no surprises they did. Get home in time to see Australia do amazing things in the swimming- the relay, taking Gold, away from the USA who have always won that event. One of the few times I get so happy I shed a tear or two over a sporting event!!!!!! Could of been the extra Visine but it moved me.


---
September 17th
Have coffee with Rosemaree and have a look in HMV for c.ds. None of which I buy because I am a poverty stricken orphan. (:

Head to Camberwell with Mark who is on a mission. I do lash out on a $4 c.d single that I just had to have because of one of those hard to find bonus tracks.

While we were c.ding, a little girl in London town was shaking her Mum. "Wake up Mummy". The darling TigerLilly- child of Michael and Paula aged 4 loses her last remaining parent. Paula Yates dies, alone, her only acquaintance that night, some prescription pills, vodka and some heroin. Totally tragic, but even more so that two people could create such an amazing child and then fuck her for life. I just don't get it, can someone explain this. Sadness and grief and everything else, and not even judging but how fucked is this. Poor kid. Just fucks my head and saddens and angers me. Think I'll not write anymore today....


---
September 18th
We watched "Addicted to Love" last night and I still love Nineh Cherry's version of the song.

Just work all of today, Bardot single drops one gigantic spot, it's floating around the Top 20.

Back to Asia in a few weeks, told the t.v. shows is doing really well. We seem to be getting a lot of emails from that part of the planet. T.V. is such a strong thing, 3/4 of Australia watched the Olympic opening ceremony- so channel 7 have a huge hit on their hands. I think they spent about $80 on the tv rights.

Paula's exit makes the front pages everywhere. I just think Michael H. Dad comes across as a really nice guy, probably the most normal of the whole batch.

Do some final media bits and pieces for Neil's show. The Friday gig is now sold out, and Thursday will probably go next....not long till he's in town.

Was over the moon that he sent us the album, have to play it a few times and I'm not even sure if it's the finished cd. Need more time to sink into it, my head is in outer space right now and I need to get back to inner space and play it a few times. A few surprises, some things as expected, some tracks I love instantly others I will need to wrestle with in my satin sheets......whatever that means. I'm glad I have to digest the sounds and lyrics a bit, makes it a better musical meal. Still saying January for the release.


---
September 19th
Mr Streetcleaner woke me this morning....I usually am use to him but he seemed to clean extra hard in front of our place. I just watched the mirror ball turn and turn on it's own momentum ...round and round....and the clock slowly ticked over......stumbled up and out. Threw the several naked bodies out of my bed...I hate it when you have a foursome and they just won't go home! Sorry it's late I have to lie a bit don't I? Can someone take that goat with them!!!!

Run into Miss Renee after brekky and she IS in the Queen of the Damned movie, not the role she went for but a role anyway....she gets to seduce a lovely boy and of course kill him. Hmm art copying life copying art....really proud of her...she is walking around Greville Street looking for a soul.....but all she could find was us- so it was good VERY good news for us all. Now if Jj can get rid of his voodoo curse his career will be next.

Speaking of movies don't you think Hayden Christensen will make a great Anarkin Skywalker (Darth) in the upcoming Star Wars- Darth has NEVER looked so hot! Then again the baby is only 19, he should do well. 2002 for the next release...as long as it doesn't have that stupid animated creature in it.

Hmmm and Brad Pitt as the next Batman- if he can be Lois he can be Bruce. Nice or not we like Brad so we wish him well in the cape.

Odd day, decides to rain, just as the Womans Hockey team has a tie. The Hockeyroos NEVER TIE, I am worried about this. They played well but those chicks with sticks just couldn't rake in the goals. Still they are in the running.

Mark wants to head into the city and play with the Melbourne show animals...they are meant to be for kids but you can always spot us borrowing someone's child just to get in with the baby goats, piglets.

Tania calls and is going to bring Spock along to Neil's show at the Prince. Which is good because I have to blow out coffee this week as the Finnman is in town....just in case I'm needed.


---
September 20th
Well Privett has flown in to do the sound, all the way from the UK...so Neil will sound good. Finns arrive later tonight. It's sunny in Melbourne and that is weird for Neil being in town, it's either supper hot or wet ....but the gig is tomorrow so we will see.

Mark is a god and runs down the road to buy some Tim Tams...need a chocolate fix.

The 2nd Neil Prince show sells out and half of Melbourne suddenly wants to attend, so the phone goes crazy and we have to say NO to everyone. People have had so much warning about these shows, but there was a huge rush of tickets a few days before, like Melbourne awoke from a huge sleep and went "Hey Neil Finn...gotta go ".

Weird afternoon , so happily escape with Marilyn, Richard and baby Liam for a coffee. Babble Boys refuse any money, which was nice of them.

Watch the Woman's Hockey get back to their winning form and they move on to the main Hockey batch, so a potential Gold is heading their way-if all goes well.

Mark is watching Wild-On on cable (nicknamed HardOn)...what a pervert. he goes on about the nudity and endless woman lifting their tops, and the Wet Penis contest (instead of wet t-shirt)...BUT he tunes in every week! What a dirty old man- he wishes he was part of Spring Break let me tell you! It's like- see a camera, drink as much as you can and take off your top- EVERY week!

Watch WARHOL's TRASH.....freak when Joe starts shooting up and all that blood backwashes through the needle...urgh. Plus Freak city- Holly Woodlawn was kind of cool- in a almost had a sex change sort of way...we especially liked the Welfare Agent who had an obsession with Holly's Silver shoes....but the classic moment is when Holly stands up - feigning pregnancy...and the pillow falls out of her shirt. Next scene Little Joe attacks the Welfare man...totally naked of course! You can tell by all the zits on Joes arse that he was doing a bit of smack, so not much acting needed. I wish someone would put Chelsea Hotel on dvd...a bit of Edie Sedgwick at her best...the true Warhol star (and Candy darling, never forget Candy...).

Still have my Dogs bark cough from the Flu....will have to visit the Doc. after Neil leaves.


---
September 21st
The newspapers have been mentioning Neil's gig, so the phones are still ringing and the hunt goes on for any spare tickets. I leave the machine on. The memory freaks in the computer so I can't download any emails. Crew arrive at the venue at 10.00, get a "good morning" call, kind of feel like I am on tour. Play Neil's new stuff while we work over lunch. "Driving me mad" is really lovely....good lyrics and harmony's.

Head down to soundcheck, incredible day so I decide to walk. 5 Minutes from the office and one of our old Crowdies member- Lloydie pulls over and offers me a lift- to show what a small town Melbourne can be, the girl next to him will be our door girls for the night. To make it even more bizarre, Sharon (Finn) opens the car door for me. It's like a voice goes "you have now entered Finn world". Run into Amanda from the NZ office who has an interesting new haircut, which I am now use to, I tell her it's early Bic Runga, which was a compliment. Nearly all our crew is attending, Jules is missing which is kind of sad and odd, I kept expecting that smiling face to pop out of the keyboard area and make me laugh. Then again it's 2 pub gigs and one free show so there is no budget.

Neil is on stage and looks much "smaller"- not in a "lost some weight" sort of way, just smaller, could be the stage itself.......head to the band room and clean it up a bit and add some touches, some funky covers and candles etc. It already has it's own mirror ball!!!!!

Soundcheck goes fine, and I walk a few Life members in- Hi Leigh, Bradley and Steve, Neil comes over and Amanda says she could see everyone shake just a little- hell I still shake around the Finn man but it's more like to planets getting too close (Ok I'm a small moon)......you know what I mean, hmm maybe not.

Liam decides not to do harmonies during Secret God...good to see the young man again, and it looks like Betchadupa will be putting out another ep. We talk about the positive side of Channel V (cable) "NZ has nothing like this..." Betchadupa would be great on a show like this...they need some clips.

Head off home about 3 hours later, some weird homing instinct makes us all end up at a cake shop near The Prince, just in lots of two we wander up......Liam Finn last spotted with two huge chocolate icecreams- looking after Elroy not pigging out.

Decide to go to the gig only 15 minutes before Neil hits the stage, otherwise we'll be talking to people all night and my throat is still crappy from this cough thing... dress well and do a serious bit of hairwork- big blonde chunks at the front.

We take the grey ghost seeing we won't have it much longer, and find a spot at the back of the Prince the only problem was the side curb had a huge broken chunk of bluestone which rips the front tyre to shreds. So we stumble in the dark to change the tyre which is sinking into a hole....after covering ourselves in grease and cuts and bloody hands....I just say "fuck it lets leave the car"....so the Ghost sits next to the curve up on jack.....

Totally destroys my vibe, as do all the smokers inside. Sharon Julia and Pink are in front of us, give Sharon -Privet's Melatonin that he needs for his long flight back to the UK and the odd person looks at me like I've just done a serious Ecstasy deal.....3 white pills small plastic bag....can understand why. I did write Melatonin on the pack incase customs things he is carrying "E".

With my mind a bit pissed off even the gig couldn't appease me, seemed to get lost in it. It wasn't till Hester comes up for a squeeze that I "pop" back to reality. he stands next to me and we just chuckle over Neil's endless stage raves...."Petey you're going to have to tell him..." says Paul. We just grin, he really has became Dame Edna-ish- commenting on NZ's Olympic lack of medals, to some guy in the crowd who gave his demo reel to Neil, to the "shelf life" of I Got You etc etc......Mr Prattle, but i kind of like it. The set starts off with a new song (Lester inspired again....Neils version of LLT's "Crooked fence"???) a really good song- BUT it's not on the album cdr he gave us. We hope this ends up on the album, it is REALLY good, Mark leans over and says to me- "God I hope this doesn't become another Spirit of the Stairs....classic track not released etc etc).

It's packed, the crowd seem to love it, 2 encores worth of loving, technical problems , an odd keyboard run during I Got You...kind of Telstar-ish..... but that ripped up tyre just annoyed me too much. As the old saying goes "there's always tomorrow night"....and there is.

Escape during the encore, call the RACV man to bring a bigger jack to lift it- and this guy is the most miserable old fart- talk about hating life. We tried to be nice but this guy was misery on 2 legs. So instead of killing him and feeding him to some mountain goats....I was incredibly fake NICE....really obvious....annoyed him more by asking how his job was going. Old shit.

Finally get home, crash and burn into bed....falling asleep and the phone rings from people making sure we are ok. Which is nice......but I'm fried.


---
September 22nd
Sunny day, didn't sleep very well. Change the answering machine to say " no tickets available", as its getting out of hand.

Head down to the Prince early and hang out. Ask Neil about the song that I like and he convinces me that it is Anytime....one of those songs when played live just stands out....it's one of the few new songs that I can't remember the studio version.

Wendy and Lisa are total sweethearts and the merits of leg shaving are discussed.

Very good gig tonight, could be my frame of mind, I like this 100 times more than the first night, yep I think it's me. Neil made many red wine toasts onstage, and an interesting assortment of "items" were thrown onstage......it seems to be a new "area" whatever you throw up we will make music with. So they used a watch, photo of the Finn Bros and a toy keychain......lots of weird slide guitar noises from this batch of stuff....fun.

Same set as last night but that's expected this early. I liked Sinner tonight, always an odd one in the set but it seems to of found it's perch. Liam is peaking (musically not the other way) and his drumming is probably NZ's only chance at Gold in these Olympics. He can stand on his won musically, being Neil's son has been put to bed as he delivers the goods- a joy to watch.

Head out to the front with Sharon and we watch the set from the mix. A bit of a chuckle about the consumption of red wine, but Neil's having fun. Some targeting of a guy in the front row who claims that he was no "poof"...so Neil grabs the opportunity and matches him up with several men, another homophobe bites the dust. (chuckle).

The hardest thing is playing a batch of new tunes, especially when your songwriting catalogue is a pretty solid one- thankfully the crowd were a willing audience and showed appreciation.

Say my goodbyes, get a thankyou for all the press from the boss and that damn fine monitor guy drops me off home. (thanks B).


---
September 23rd
Sleep in a bit- come down stairs to the sounds of Marc Bolans "Life's a Gas"...

Overcast day, a good time to do some work so we start on the cds that have just arrived and finish off this diary update. Rosemaree helps us out, so we are on track with work etc.

The entourage have been up since 6.30 and were off to Sydney, the crew having to get gear to the airport at 4.30. Much as the giant Olympic show would of been amazing, I decided to avoid the crowds and I just love those smaller intimate shows. Hopefully it will be a lovely balmy Sydney night and the place will go crazy. I told Amanda that I think 80,000 may well turn up. Everyone looks horrified, except Neil who says "it doesn't really matter". Not sure what that means .

Anyway for those of you attending the Sydney gig- have fun.

Take care

Peter

---
If there are any problems with this site, please contact webmaster@aswas.com.