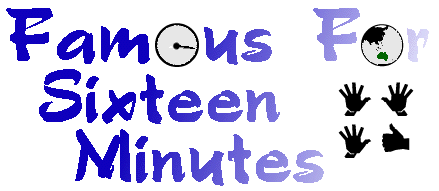 The Life and Times of Peter Green
Archive: 12 August - 29 August 2000
---
August 12th
Still away till September 5th...hopefully Deb will get this and put it up on the site.

Rosemaree drives me to the airport for the Bardot tour...it's one of those afternoon flights so I get to do all those last minute things at home. Can't remember a thing about the flight- feel a bit sad that I'm flying out and wonder what the girls will be like in a "touring" situation...for some people this is the first time they have ever been on the road....which can be both a plus and a minus.

A really nice taxi driver takes me to the hotel, Perth is looking nice and lush. As I arrive a familiar face grabs my cab...it's Tiffany Bardot.... off to get a tan...out of all the people who steal the cab. Huge hugs and cuddles happy to see each other....

Call venue not really needed so I head off with Leanne for dinner and coffee. Watch the Wa nightlife go by...end up in the hotel with vodka and food watching "American beauty".


---
August 13th
Perth Entertainment Centre....catch up with the girls and start to define my work areas. Our wardrobe girl is Mirella and she is funny and cute and we hit it off straight away.

Set up merchandise, and dress the band room. We have these big satin sari's and cover the ugly footlockers and drape around the mirror...vases with flowers from the fans.

Do a full dress rehearsal and part of the job is helping the Bardot girls get change...yes nudity is involved but to be honest I tend to get more into getting them ready ....it's a good chance to work out which costume is a nightmare...Katie's boots drive me ratty as they are double zipped and hard to get on....I am a bit red faced and tend to ignore the bra's flying and body squashing in. Make sure the girls are fine about having a male presence and they all give me the thumbs up. Hey Mum just inherited 5 extra sisters!!!!

The show goes off....we are talking wild.....very LOUD non stop screaming (aka- beatles-like). Flowers and presents, little Popstar kids all dressed up. All of management are present and it is pretty good. We get the costume change down to 1 minute 30 seconds the girls are a bit frantic during the cossie bit but we make it happen.

Leanne has food poisoning so we have to make do with the 3 of us. Toss and turn most of the night. late night room service, old habits never die.


---
August 14th
Wake up to a great review in the paper....reviews like this will blunt the current media attack. The press are such lame arse bastards sometimes, they just keep adding crap on you and totally ignore the sales, the crowd reaction etc- told the girlsw that the best revenge is continual success....we'll get their.

First on the tour bus...the Bus is called The Lady Beatrice.

Catch Ansett flight 184 to Adelaide. Girls are mobbed at WA airport. Arrive Adelaide to a lot of media and fans. Belinda manages to sneak through....next to me. Tiff calls out "hey Belinda" and the media turn and start filming. Have a fun idea so I turn and we both grab each other, Belinda is quick off the mark with the joke "Oh honey I have missed you sooooo much" , "Oh baby you are the best"...we fake a huge pash and the camera crew starts rolling..... Every so often I get huge joy setting the media up...wonder if it will be on tv. Belinda has a chuckle over it on the bus and says we will both get in trouble from our partners....at the same time they both will get the joke.

It starts raining and we have the day off so I go out shopping for the band room and decide to see the XMEN movie.....the cinema is empty- total. The tickets are being sold at the candy counter. I am totally thrown when the girl says "hey you're the guy going out with the Popstar girl"...... I instantly ask if she was at the airport, and about to explain the "joke"...... "No just saw the news...." I start laughing it actually made the news- very cool.......

The movie cinema is empty- just me, it's like having the worlds biggest dvd screen......take off my shoes and snuggle up for some sci fi.

Movie over back to the hotel, the girls have been doing the media rounds, I have dinner in my room and watch the rain fall down.....

There seems to be more talk on the news about the high levels of aflatoxins in chilli products than the poor 116 Russians stuck in the submarine. I think about those 116 people every day, what a horrible way to go...so sad.


---
August 15th
Adelaide Entertainment Centre

Sally's home town and it's like everyone knows her.....her family and relatives are all here, the tour merchandise goes through the roof.

Bardot run out of "V" energy drink so I head to the local milkbar. On the way I give out the nightly prize packs to club members...it's like being Santa....managed to get a dozen packs together every night. It's a good thing to do.

The milkbar people look at me strangely as I buy up their complete supply of "V".

I walk back with a huge array of fans, all dressed up as mini Bardot members- they are sooooooooo excited and happy. That's the stuff I like when they are digging it totally. All music can be powerful.

The costume changes are very quick have it down pat.....and it's a great show.

We all celebrate back at the bar....Mirellas relatives and Sallys are all here and the drinks are downed and everyone is in party mode. Both familys are just loveable and very proud, really good to see.

Bill from the office is over for the show and we know he will sneak across to that damn casino (grin).

Put some drinks on my Gold card but everyone keeps insisting on paying....it's getting louder and louder so I tip the staff and everyone is happy....not too much of a late night.


---
August 16th
Yet again another great review....

Wake up and flights are cancelled and changed, I think I have the bug that's going around...horrid.

Today is a full on day....as we are running Melbourne's merch as well...I am starting to hate the merchandise area, am trying to do too much and keep everyone happy......luckily our mates are helping out.....

We arrive so late I have to take all my luggage to festival Hall...arrive in a wheelchair taxi....and I feel like I could sleep in a wheelchair all night.

I open the stagedoor and the roar of the crowd is so intense it's like being hit by a wall of bricks...knocks me backwards...never ever have I experienced a solid wall of sound. Scares the shit out of me. Katie- is proud of her hometown girl reaction..... Mark and Rosemaree etc get crappy seats, a bit pissed off but the show is nearly sold out so i guess not much is left.

Totally freaked as the small truck has left the venue with no room for merch...so I have to friend another way to get it to tassie- tour manager John helps me out, as well as driving me home...despite his tough reputation I'm convinced he is a fair big ol' pussycat- so he gets a double dose of respect and a bit of shit from me....but mostly respect.

Arrive home and work till 4.00, anxiety- ill, over it......not the tour just Merch.


---
August 17th
Call the Tassie winner of the fanclub contest and she will come down to the gig with her friend.

Get a hire car to the airport with 19 pieces of luggage, I look like one of the Gabor sisters....the Ansett people are very understanding and let me put it all on. God bless them.

Catch up with the girls at the freaky flyer lounge....get so upset, and can either burst into tears or have some chocolate cake.....close to tears I grab the cake at the last second. Soph. see's how upset I am and if she looks at me with those huge eyes and concern I really will loose it. I know it will get better, just too many things to do- have learnt a hard lesson from this.

The girls sleep in the lounge and autograph hunters are always waking them.....I do my guard duty "look" and they are finally alone. Ana who was on the Popstars show is doing a fantastic job, on the road manager.... we hit it off and I have plenty of time for her.....basically I'm there to make life easier......they have me down as "ambience" in the tour Itinerary.

Soph and Sally go for a walk around the airport and we have to run for the flight.....they hold it for us, all very glamorous....

Read in the paper that Meg Ryan is now back with Dennis Quald after discovering that our Russell (Crowe) was seeing another woman. I bet it was Jennie Dempster the BBC researcher, she seems to be around a bit these days....bad boy....

Arrive Tassie late and night and fans are braving the cold and mob everyone. Sophie's adorable boyfriend is at the airport, they are just great- two sweet kids- perfect together. We climb aboard a new bus and head to the Hobart hotel- right next to the harbour.


---
August 18th
Get a message that Neil may change his pre-Olympic gigs from Sydney to Melbourne, so i'm happy about that. He's headlining the Sydney gig at The Domain-Sept 23rd....hmmm I think Nick Seymour will be back in Melbourne around late September too and Paul Hester lives here...so no doubt those Crowded House rumors will resurface.

Slept really well last night- I have an amazing apartment room, bedroom upstairs etc...wake up to the sound of seagulls. Girls are away early doing Tassie radio so I catch them on the air while I'm having brekky.

The people at the venue are really nice....look after us. Walk the Club Bardot contest winners in and they get heaps of stuff signed, pose for photos etc, two very happy fans....they get to watch all of soundcheck too and the girls sing a few songs for them.

Home at midnight from the show, this is early for once. Totally crapped off as I was sidetracked by paperwork in one of those "must have now" meetings and totally missed the first costume change... felt like I let everyone down but they were totally fine.....no hassles. The staff present me with all this wine at the end of the gig, and this huge thankyou card. Managed to get a pile of cd covers signed for them....all good.


---
August 19th
Drive with the merch. guy to Launceston...eat at some foodhall and wasn't impressed....nothing like what I asked. Washed all my socks last night and nothing is dry......god bless Belinda (Boo) she goes out and buys me a new pair of angora socks....have to get them off her at Launceston.

The concert is another crazy one, fans going nuts- screaming the full length of the set....dance backstage with Mirella- we have a groove going on.

Love my Hotel room....they give me a clock as a present...I must keep giving out these body smells I'm enchanting people!!!! (Grin).

Call Mark am homesick....end up watching some very odd movie, straight/gay guy movie....comedy I think...very sbs! No sleep till Brooklyn!!!! My motto.


---
August 20th
Happy Birthday Rosemaree- give her a quick call from the tour.

Double flight today- Tassie-Melbourne-Cancerra. very small plane, Belinda is next to me so we have some d&m's....she's putting on a brave front- still scared of flying- and she knows I've done 500+ flights and asks me about every noise...it is a shitty flight. Take everyone into the freaky flyer lounge...such a quick stay I couldn't even finish my cuppa tea.

Someone leaked the news of Bardot's arrival at Canberra and there are about 600 fans....almost zero security and some of these fans are just little kids. They are everywhere hanging off the stairs etc...incredibly dangerous so we have to sneak everyone out......usually we'd do the walk through with the girls but there were really little kids everywhere so we make the decision and even though it would piss off some fans it would mean they would all be safe.

Rest of the day off so I head out with the band room list, call Mum and watch the cockatoo's in the park.


---
August 21st
Canberra Royal Theatre.

Just a walk across the park. get to the gig early and do the bane of my life- Merch. setup..... fix up the band room with candles and have to do the stagecase in satin as we are using that for the couch...at some shows.

No crash barrier tonight so the audience is much closer and the stage is very low. One of our smallest shows, just 2000 people but they are LOUD.

I confess to the girls that I sneaked back to the hotel room and had a bath when Kaylans set was on....made me feel 100%. Later on I spot Katies blue hair in the casino, I'm still finishing up on work so I ignore those gambling tables.

The corridor on my floor is a thick haze of dope smoke..... head down to reception as I was too embarrassed to call them up for my faxes and have to wade through the smoke.

Sleep really well.


---
August 22nd
Drive Sophie and Mirella in my red sports hire car that the tour has provided....we head to Wollongong, the rest of the guys have the vans....cars keep coming along side us and scream when they see Sophie. We call into a food place and everyone stops eating when we walk in.....ok when she walks in but I look freaky in my pvc's.

Go for a drive around the harbour and pull up at a red light....look to my left and the car next to me is being driven by my sister...so what are the chances. We both laugh and will catch up later.

The fans almost break the security door at the show....the glass is cracking, walk Sophie to the door with an armfull of flowers and she throws them to the fans. Sallys cheers her on.

I head down the coast to catch up with family.....chicken and cheese sandwiches with Mum.

Take a photo of Boo with huge hair curlers for Marky.


---
August 23rd
Sleep in...Mum cooks brekky. Have lunch with her and my sister and take Sis shopping for her birthday told her she could have whatever she wants.

Bardot have 3 pages in the local paper...now we get the publicity for Wollongong.

Am driven to Sydney, the hotel has an incredible view of the Sydney skyline.... I have one of the better rooms, some of the others suck and smell of cigar smoke (urgh).

Phone home again....counting the days now.

The best news is that for the final 3 shows I don't have to do any merch...I am free, when the guy told me I cheered YES...didn't impress him....opps. After the tour have a week off, everyone can wait, emails everything......comes a time when you have to put everything on hold and take time for number one.


---
August 24th
Not sure if this can be leaked out yet but Neil Finns Prince of Wales shows in Melbourne are on 21st and 22nd of September. Tickets are on sale either 1st or 4th September....from Prince of Wales, Polyester Records, Gaslight, Greville Records... this will be one of the few times to see Neil play for many months.......

Remember to get the towels for the gigs.....part of the job is to make sure they have enough water and towels after every show, I'm onto it every night. My new hair colour has been destroying towell's across the country- all those reds and coppers and sunburnt browns....anything white is destroyed.

Sophie is a bit sick tonight- I hassle her about eating the right food.....the Sydney crowd get revenge and squirt Bardot back with waterpistols when the girls attack the crowd.....I warned 'em!!!

Good gig....hope the media review it. Kids are having heaps of fun. So proud of them tonight I buy a bottle of Moet (yieks) at the bar....and we find this alcove and squash in...all of us are too tired for drinking.

Great to see Bill and his family, taught the girls some stage moves...or did they teach me......


---
August 25th
Up early and off to Brisbane. Soph is still sick so she is off to the doctor and now Belinda is not at her best...my girls are dropping like flys. All (except Soph.) head to the childrens hospital- she heads to the doctor... Mirella hatches her plan to put cornflakes in someones bed for revenge......ok I came up with the idea...

Call Mark on the tour bus and the house a few doors down from his Mums is under siege for almost 2 days so they can't leave.....excitement. The real world.

Very warm in Brisbane, the sun feels great on my skin. Has to help us we are fatiqued, all of us, you can see it in our faces.

meet heaps of fans and the prize packs are gobbled up quickly....good gig. very noisy cover band near my hotel and they play a rock version of "Mean to me"...just what I need at 3.00 in the morning.


---
August 26th/27th...it's a blur!!!!!!
Nerwcastle Workers Club.

Don't sleep very well, up at 7.00. Can't remember the flight to Sydney....Grant drives the hire car to Newcastle with Belinda and a few of us....Belinda does a bit of "mooning" of the other van has us all in stitches....who would of thought.

Wear my bondage pants and seem to live in them for a few days...everyone is into them...heaps of comments. They'll probably stink by the time I'm home.

Last song and the girls thank Ana, Mirella and myself onstage, sometimes that just makes a tour perfect...Mirella gives a huge cheer from the crowd- god bless her.

Drive back to Sydney and head to a party venue for our end of tour...totally fried and I'm now on the first flight out to Melbourne...I want to get home. get to the hotel at 5.30, throw everything in the bags and I drive the hirecar to the airport in the dark, somehow.....climb the stairs to the freaky flyer lounge and nibble on raisin toast. Fall asleep on the plane and the ansett people tuck me in....taxi home.....worn out. Sleep on and off all day, a bit sick, haven't been looking after myself during the last few days...day light savings did not help. What day is it again.


---
August 28th
We have the week off so this is the only work I'm doing, only because it's not work......

Have the cough back, try some chinese medicine but I may have to go to the ol' doctor for drugs.,

Mark has done an amazing job with the office and our Imacs have died.....Ben comes back from the Oils tour soon and he will fix them- our hero.

Just a day of catching up.....my taste-buds are crappy- Babble coffee tasted strange.

Notice the THESE DAYS single is now in the stores.....will be interesting to see if the third single is a hit.


---
August 29th
Trying to get a copy of "Steal this book"...they are making a movie of it soon.

See Renee and Jj and they've re-written Renee's part in the Vampire movie, hope it all gets finalized soon.

Pick up our this big carved Buddha, always wanted 3...its the rain Buddha...and I'm wheeling it home on the big trolley and yes, you guessed it, it started raining, I just laughed and looked like an eccentric Sth Yarra person wheeling a statue around in the rain......

Call my Sis for her birthday- she's no longer a baby.....depressing. She was sooo tiny, now she's a woman, us big brothers hate that! (:

better go, will be back on line in a week.....not checking for mistakes......just letting everyone know we are alive.

Life is sweet.

Peter

---
If there are any problems with this site, please contact webmaster@aswas.com.