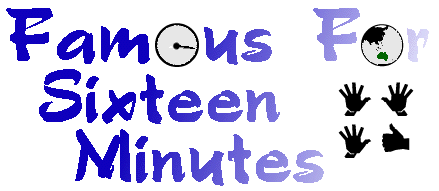 The Life and Times of Peter Green
Archive: 13 February - 27 February 2000
---
February 13th
Well the Finns celebrate their 18th wedding anniversary. Kind of weird as we were out driving and went past the church....and it occurred to me that their anniversary must be coming up soon. Returned home and a friend reminded me that it was today. Odd because I am hopeless at even birthdays....all I can remember is Tim as best man in that pale blue suit....and his dad Richard in his brown suit....both laughing the same laugh. There is a photo of Dick and Tim in the front of Nigel's BOOKENZ...taken at the church. Richard has the super 8 camera in hand, the same one we used to film Betchadupa at the New years Eve show. So 18 years- for Neil and Sharon- feels that long- we've all stuffed our lives full of adventures in those 2 decades.......the only life-bond that has been going longer is my own.

Went on a cleaning spree at the big house. Noticed the poor old 'space plant" has died. Just it's time.... we fed it, watered it , talked to it...but after 2 years it died. So to immortalize it I decided to make it into a real 'space plant. I found the half full can of silver spray paint and made it look even more freaky. It looks like I stole it from one of the early episodes of Lost in Space. People walk in and just stare at it. It's because it is "real" looking but silver. You see their brains ticking over. I was thinking of installing a motion sensor so it would talk or make rustle noises but I thought that walking by it at 4.00 in the morning for a glass of water might just freak people out.


---
February 14th
Happy Valentines Day. A day to make a whole bunch of people miserable. I decide to keep quiet to see if any "lovers" remember me. I do get an email from England, part valentines message and part chart position. Nothing like a practical Valentines day email. Afterglow has debuted at #18. Which is pretty high and I wonder if it will exit the charts at a great speed.

I remembered the name of my "Person of the month", well probably year. It's Dr John Wamsley. he's the founder and MD of Wildlife Conservation Company- Earth Sanctuaries. He was one of the main people who inspired me to buy Beenami, to protect the old growth forest and to prevent logging. he just bought a 1000 hectacre property to protect one of Victoria's most endangered ECO systems, the western basalt plains grasslands.

I've worked with and supported several different green groups over the years (with a name like Peter Green you can't help but but environmental) and the one thing that has frustrated me is that so many never achieve their goal of protection, or have a poor success rate. A lot of money is splintered up and the public gets a bit apathetic as you can only support so many things. Dr John just inspired me , in the way that to protect the area is to own it. So you can say No loggers go fuck yourselves, you don't own this old growth forest. So I think over the next few years somehow working for Earth Sanctuaries would be a cool thing....or buying up more land around Beenami to protect it from logging. So Dr John is my person of the month.

Have breakfast down the road and I get these chocolates sprung on me for valentines day, oddly enough I had just purchased a similar box.......that's what happens when you are joined at the hip. So to my other half, you are the best, carve it in stone. Happy Valentines Day. I can never imagine my world without you in it. OK a romantic Gryphon isn't what you read this for, you want smut, sex peddling, gossip and dirt.....we will do our best.


---
February 15th
Well I was amazed at how many "we hate Naomi Campbell too" emails arrived after the last F/16 diary post. ...and thankyou to the person who sent the bag of dog bones for her, we have sent them on. Woof woof Naomi. .. She has finally left Australia, possibly one of the most hated visitors that has been here in years. Nothing but tantrums and blowing out half planned appearances at the ADC (Australian designer collections). Award of the night goes to the very groovy Fiona Horne as she paraded down the catwalk with "Naomi Sux" emblazoned on her midriff-at the end of the evening in protest. Promoters to the choreographer were exposed to her royal uglyiness. You can bet this dog with fleas won't be invited back. Woof woof Naomi you really are not that good!

But there are great gals out there. The lovely Bic Runga gives me a call, and that was super special. Can't wait till we have her second solo cd out. JP has created a brilliant new Bic website in NZ.


---
February 16th
So Bowie and Iman are expecting a baby in August. His first with her. Doesn't David look fantastic, Well his new look will probably not be enough to save him as the also youthful looking Neil Finn creeps closer and closer to bumping him off in the Glastonbury Festival voting.

This year the Glastonbury people are asking the public who they would like to see play. Our long time fan Kok emailed me the Glastonbury info...Neil at the time only had 3 sad little votes. We mentioned it to the fans and now Neil is in the top 10 most requested artists to appear at the Glastonbury Festival. So if you are reading this and haven't cast a vote, please do so, it only takes a minute...and thankyou to all of you who have voted already. The website is at: http://www.glastonbury-festival.co.uk/ Neil Finn is located under the "N" section.

Tim Finn is also up for votes as is Split Enz and Crowded House. Even our old friends Seventies band Skyhooks have sneaked onto the voting list (thanks Peggy). At the time of writing David Bowie is only 50 votes ahead of Neil.....so it's not many. I'd love for the promoters to ask him to play.

Check with our Qantas people about our first class tickets to San Fran/ Alaska....245,000 points. I just have enough.....those wonderful "bed" seats are calling my name. "Mr Gryphon Mr Gryphon report to seat 1A". Gotta love that.


---
February 17th
In a twist of perverse "stuff" Mr Ben returns to the Seekers fold for their Ballarat gig. It's a one off and he is so perverse he wants to do it. Wonder if they are all playing their instruments this time? And they say that Skyhooks won't go away.

Mark is playing the Stones "Memo from Turner" what a great song....has the best lyrics... it's like an art-house "song"....funky and twisted...perfect music to do the F/16 diary site. I also play the Dandy Warhols "Famous for 16 minutes" (yes 16 minutes) off their debut cd....also their "not even if you were the last junkie on earth"...track from their 2nd cd. So many cool songs to write the diary with. Explains all the type-os!!!

Hmm weird day, the phones were dead quiet.

I ok'd the solar panels for the house. They would be ideal to be operating now as the days are very sunny, not a cloud in our lovely blue skies.

Have this really weird feeling of the grim reaper following me lately- not that I was going to die just that someone close.....really odd feeling and I haven't been able to shake it. Horrible eh? Well at the time of typing so major deaths close to me. Think he's gone away, or at least hiding around a corner. Ugly bastard that reaper.


---
February 18th
City today...hot sticky, people bumping into me.

Wish I was elsewhere, seeing Neil Finn play at Largo could be neat. Glad he did some new songs: Turn & Run, "Last to know", "Anytime". He didn't play "Driving me mad" which I like from the solo II cd. ....."Miracle Morning" is still a tentative title.... so I try not to call it that. He enjoys just turning up and playing and not really letting people know, it's the best way to road test new songs and the last time the gig was mentioned and the place was under siege it was the worst show.....people hassling etc. I can understand why he just does this, more pure. Fans have to understand they just don't own him, or have to be told. Sounds brutal but it's honest.

Jj and Renee call by..... it's a hot night outside so we pop some champas. Johnny lent us this video...had "Gary" in the title- art-house vid. The first half was great, the 2nd just odd like it was a totally different movie.


---
February 19th
Couldn't sleep last night- just wanted to read so I grabbed the Michael Hutchence book "BURN"... some interesting bits. Just makes INXS's latest decision to play at the Andrew Llyod Webber "in the round" show to be really tragic. Michael would just hate this. I am so glad people like Mike Gee commented and said "this is wrong". INXS what the fuck are you guys doing? What are they going to do, play the theme from Cats with an INXS white boy funk beat? This is very scary. It would kind of like Neil dying and Nick and Paul and Mark Hart going on the road and doing nothing but Celine Dion covers.

Spent the afternoon watching Teen movie fodder- Jawbreaker and American Pie, which was all fine. Amazed at how much exposure Bic Runga gets with Sway in American Pie. I wonder if people think Madonna's version of the Don McLean classic "American Pie" is connected to the movies. her version is about 3 verses less.....a lot of people are slagging it off but I bet it's going to be huge on the charts.


---
Feb 20th
God how creepy...Michael Jackson is meant to be playing the brilliant 19th century gothic Edgar Allan Poe. ....give me a break, I look more like Poe then Wacko!

We love Melissa Auf der Maur from Hole....think she'll be great in The Smashing Pumkins...

Just got the Q awards special of "Q" magazine- love the free cd- Suede, Macy Gray, Gomez and even Dean Martin! Worth buying for the cd alone. Speaking of magazines, it just goes to show how huge Buffy the Vampire Slayer is becoming in this country when Juice magazine runs Buffy on the front cover and a 5 page article inside. More power to the Buff! She's so...aghhh Buff! We can never look at WIllow again after what she did with that flute in her American Pie appearance.....if being a lesbian Vampire in Buffy wasn't enough to shatter her good girl mould......finding a new way to play the flute most surely did!!!!

Well Popstars is on tonight and Grant left the message...come work on it. Still scared and unsure.... but GT must be rubbing his hands, it's (again) the #5 show in Australia. It's really becoming huge, and if one more person asks me who the final girls are I will scream. Watch the show.


---
Feb 21st
It's Monday, the start of a new week. My stars tell me my life will return to normal March 1st... thankfully that isn't too far away (phew). Phone up the "Old Pepper" and book a table for a few of us...we want a Pizza and Beer night! (hey we are Australians).

I keep playing phone tag with Miss July.....she's off on a shoot in tropical New Guinea and hasn't been emailing anyone.

Pay some bills, we seem to be flooded with them lately, Kevin from LLT emails, wants to do a mailout for an upcoming gig- so i'm thinking about that. Mardi must be really showing her pregnancy by now.....will have to drop by and see how Dad Paul is going.

Took an old lady to the bank today- she was totally lost, it was easier then trying to explain where it was, I even walked slow.


---
Feb 22nd
Spend the day airing and ironing the new Split Enz costumes. We are taking some of them to the upcoming cd Fair, at Camberwell (Melbourne) Civic Centre on March 26th. So fans can have a photo wearing them.....it's as close as they can get , before they are whisked away into the vaults.

Walk out the security entrance and run into Matt....and he drags me off for coffee. He's a good bloke, and we chat for a few hours. I just realize how hard it must be if you work in the music industry- to get a real relationship happening. It's easy to have a one night fling but the industry is not known for long term relationships. For the crew you almost have to leave the road and touring, or have a very understanding other half. Which I guess is what I have.....the telephone company's are the ones who make a fortune when you are on the road. Always calling home.

Naomi calls me regarding the script writers, I get the date mixed up, it's Feb. Not March, but i can reschedule and shuffle. New writers, cool.


---
Feb 23rd
Big bloke drops in with a present from 'Nam. I was excited to get a t-shirt, but we ended up with this incredibly amazing wooden lacquered photo album. Was speechless.....yeah I know but I was...really...honestly. I love surprises.

Urgh Channel Ten ran this Michael Hutchence special....was weird....and very American. had all the girlfriends except Kylie......which was just strange. Mike was ok, and Michael's dad who I tend to like...Rhett was kind of creepy......strange.

Our new Enz contact called so finally Split Enz....have something close to management.... we'll see how it goes. I'm being positive.....

hey remember to go to the Glastonbury-festival website and cast a vote for Neil Finn...or Tim. http://www.glastonbury-festival.co.uk/ gee how did that slip in there.......(grin) Thankyou.


---
Feb 24th
DHL courier just didn't turn up today....it isn't the first time the driver has just decided to go home. They are not my favourite courier company. Slacko's!

A sweet older lady called by today and wants me to do the Morgan poll for tv, radio etc etc. I decided I would, keeps a few people employed plus she was fun. She also was amazed by the Nick Seymour Crowded House backdrop painting in the corridor. The Morgan people also offered me a few $ to be part of their internet program..basically software is downloaded and they keep tabs on what sort of internet user you are. Might as well.....maybe I should check out nothing but Porn for three months...see if I can destroy my good reputation!

Mark comes home with a dvd of "To sir with love".... because I liked it. feeling very spoilt today. Lulu looks like a very OLD teenager in it, and they sing the theme countless times but it's a classic.....love it. England is so very grey outside. I now understand why so many English come to Australia to live. It has to be our sky's!


---
Feb 25th
Rosemaree drops in all that typing, god bless her. A few Baby G watches arrive for lucky contest winners in the Bic Runga Club. They are pretty neat.

Our seventies band Skyhooks- website has hit 11,000 on the counter. Someone spotted carpenter/ skyhooks lead singer Shirl on Ackland street the other day...bet he was eyeing off all those cakes and pastries!

Cosmo the rabbit is alive and well....rather spoiled, likes one piece of toast per day, her carrots cut in half and the super natural brand of Lentils! never has a ball of fluff been so spoilt. She is very clever and will move heaven and earth to sneak inside for a cuddle.

Head to the city and pay off some Amex, been living on my card all month.....even food gets me a few flight points!

The Buffy area at Minotaur was packed, so funny to see Buffy businessmen fighting the Buffy preteens for a coffee mug or Willow panties! Gotta love Minotaur. The best Sci Fi store in Melbourne.

Get home to find Squids parcel of decals for Lara the tractor.....all very sexy. Our tractor will look HOT! The she devil stickers are perfect.

Just catch the train, Mark looks like he is going to die, I have to admit it's a sticky hot day and the sidewalk is dripping into the gutter...Melbourne is melting before our eyes. The train seems to wobble along on swollen tracks and I keep smelling burning everytime we reach a station.

Was going out for dinner but we changed our mind, will catch up with people during the week.

Hot night.....melatonin heaven methinks.


---
Feb 26th
make a mistake and open the window...of course the loudest mosquito gets in and kept me awake all night. It was one of those "mossies" that you never see...only here. So I read all night...saw the sun come up and for this vamp. that's rare.

Crashed back into dreamscape about 7.00 and before I knew it it was 1.30!!!!!! Mark thought I'd died but he still didn't open the door and check. Maybe he was waiting for the smell of death to twig his nostrils!

Hmm by this time next weekend half of Sydney would be getting ready for Mardi Gra and morons like Fred Nile would be out hassling people. Hope it's fun guys nothing like a cock in a frock on a float all sequined up with nowhere to go. I wonder if Paul Hester will get his own float- he has been dying to for years.


---
Feb 27th
Wake up at a "normal" time and Tania leaves a message that she will see me down the road for Brekky. So it's one of those "speedy conzalez" showers, change,eye drops, clean teeth type moves ......and I get their before she does! Fuck I'm quick. Coffee is really nice today at Babble and I am wired after one sip. Bring my diary and do some work.

Tania arrives without Jake.... and we have a good chat. head back home and she wants her Tarot done. So I decide on the Tarot of Marseilles...it's one of the oldest tarots....originates in Egypt. Nothing too "spooky" but I do decide that my tarot table needs a damn good dusting! The dust of ages has settled...the rest of the place is super clean. Adds to the 'feeling"...my excuse.

Work on emails all day, Marky is in the studio working out his next Rolling Stones compilation 'experience". Nick Seymour is down the coast getting a "tan"....and will reemerge to the city in a few days.

So finally we get to catch up. So that's all from me...hey did I mention voting for Neil Finn on the Glastonbury festival site...surely not. Really I did.....no I don't think I did....would I lie? OK I would but a 100% vote from you guys is the only way you will shut me up (or one of those kinky rubber mouth ball things would be acceptable!!!!!). The website -http://www.glastonbury-festival.co.uk/ Neil is under "N". OK I won't do it again....

Take care everyone...am enjoying the break...have to go watch "Popstars".....the making of the aussie girl group. yes we've been sucked in too.....wonder if we will work with them. Won't spoil the surprise of which of the girls make the final group.....$100 on the blonde one!

Peter

---
If there are any problems with this site, please contact webmaster@aswas.com.