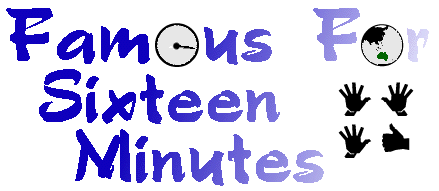 The Life and Times of Peter Green
Archive: 16 July - 30 July 2000
---
July 16th
Wake up with a lingering for a Babble coffee- I never drink coffee at home, a little bit of tea but the only coffee I have is either at Babble (at Prahran) or the The Alley cat (City) the only place to have one. Will mention the address of these places later as they are both worth going to for caffeine hits and inspiration.

So Rosemaree comes by and we have some brekky- Mark never goes "Babbling" on Sunday only on weekdays- a case of overkill and I know he's right but it's nice to establish tradition. Babble is our St Elmo's Fire Bar.......and I've babbled on too much over Babble.....4B Izett St Prahran.

Speak to the Bardot girls who have just completed another instore- all squashed in the car- 6500 people turned up for this one so the instore "thing" isn't dying yet. They were all chatting away, I felt like I was calling several sisters from the tour...weird in a good way.

Goulash for dinner and it was the perfect combination- used these weird purple potatoes as well ...the skin is the only purple bit. Took the peeling's up to the farm and they are already springing up into potato plants. It's the Irish in my that loves the Spud! Plus you can grow potatoes anywhere.


---
July 17th
Toija is home and it's nice to hear her voice- told me of a quick way to get from Naples to Positano if I am visiting Vali Myers. Hydrofoil up the coast. Sounds like they had a great time, swimming in those warm crystal clear waters on the Italian coast. Wanted to jump on a flight that afternoon.

Paid off heaps of bills today- all the credit cards, electricity etc. Our next electricity bill should have the Solar reduction on it- don't expect it to be huge because it is Winter and in reality it will be Summer where we save $$$$. Read a report in the Earth Sanctuaries news-sheet that the average Australian family generates 150 tonnes of CO2 equivalent per annum. One fifth is generated at home, while the rest is generated by industry manufacturing products for your use. Shows how important regrowth range-lands are- it is estimated that regrowth rangelands extract 3 tonnes of CO2 from the atmosphere (per hectare) per year. So each family would need 50 hectares of regrowth rangeland just to neautralise what we create in CO2! I figure Beenami and the solar panels covers double that- so our little tribe is ahead environmentally. Scary when you think of it- and all the countries chopping down more and more forest.

Spend the afternoon installing some micro bugging devices in our phones, just pickups mainly. My first test subject is Katie from Bardot- ends up being a mini phone interview for fan use later on. She's just finished a day at the latest Video shoot, head in a glass bowl full of water!!! The things these Popstar girls do (grin). We both have a laugh at InPress's overreaction to my "vote for Katie" campaign- I swear they do not have a sense of humor and of course only printed half of the truth. This guy who has this lame Bardot site on the web sold me out- just for some pissy publicity- he cut his own neck, dickhead- there's always one.


---
July 18th
Have some food with Marky at the foodmall- some weirdo walks through pointing his finger at people going "bang bang bang"....you just know that his next visit it will probably be the real thing if it was America he'd probably have a real gun instead of a smelly finger the first time around, so I guess it's still a bit safer in this country. I should of aimed my finger , but it's too hard to make machine gun noises...and you never know what buttons you might press.

Call Nigel Griggs from the Enz and was really sad to hear about Gollom passing away- out of all the cats he loved that one...and he knows we understand why it saddens him. He was happy to have someone to talk to about it. I think we hugged Hairball to death almost that night...

Slowed down on my reading lately. Usually crash and sleep as soon as my head hits the pillows, putting in long hours. So a collection of new books is growing by the bed.


---
July 19th
Win on lotto again- $26.95...always roughly the same amount. Yey me!

CitiPower turn up and cut back the trees from the power lines, which is a good thing as they were getting a bit too huge to handle. Impressed them with my stealth and skills dealing with the local council who managed to get some tenants to move their cars for us....the head guy told me I should be in politics- is that a compliment?

No news from NZ ,the Finns have been quiet, just spending time with the family. I know Neil will be playing that show at Sydney Domain Sept. 23rd....and with that being a big show I'd expect some warm up gigs ...surely (don't call me surely....*sorry* grin*). I asked Amanda to ask Neil if there is any work for me at the show....seems like forever since I've seen Fang play live. If we know of any warm ups they'll go on the website.


---
July 20th
Head to Ben's for a visit, call into the Mac shop on the way and pick up a usb cable. Wait forever for them to get the cable.....very slow and I was worried that I was going to get a parking ticket but the goddess was smiling and I escaped (again).

I kind of like Northcote...mainly the odd shop- head to Maxines- has all these cool Indian trinkets and boxes. Buy Trudi and Fran a amethyst coloured box each...they had some great girls clothes and the usual shit guys stuff....girls get better gear than guys....hate that.

Ben is gearing up for the Midnight Oil tour, he's already done some warm up stuff for them.

Head to Kmart and keep turning their t.vs down as they annoyed the shit out of me......I like Kmart- they have all the best crass stuff.

Coming home flick to Triple J....hear a band I think they are called the Brunnatechs....from Adelaide but I missed the name of the song- than another Aussie band wow 2 good songs in a row. Gotta like that. Some fresh Aussie music.

Michael leaves a message that the 2nd Bardot single went Gold today and the album is double platinum.


---
July 21st
Wake up early and pick up the hire car- we are heading to Beenami today- decided to take the day off. Return the broken axe to Kmart and buy a fuel tin and a basketball and some munchies, it all seemed like a good swap- plus change for lunch.

We also called into the Holden dealership to have a look at the new Frontera V6 and the head sales guy sent the worlds oldest man out to look after us. I think I must of had my "we are Belgravian peasants" face on.....as they started talking long term finance...which I didn't need. As soon as they heard we were from Sth Yarra the Gm was kissing our butts.....and they still thought we were suss. After all that they didn't even have the Frontera....we tried a few other 4 wheel drives and hated the seats....wheeled the old man back to his stable and left.

Arrived at the Forest House and Mark notices that a bottle of Vodka is poking out of the wall holder a tad- so he pushes it in and hears a small squeak. It ends up being a small fluffy BAT, very very cute eyes the size of pins. It somehow got behind the bottle and pushed it out.....we decide it will die inside so we take it out to the barn as there will be more insects etc. It is so tiny.

I drive to visit the gas man to replace the huge gas bottle, it fuels part of the oven and the fridge. I impress Thomas the Gas man by lifting this 5 ft gas giant out of the car. Great to have gas on, boiling a kettle is now an easy task.

We are both feeling very guilty that the weather has turned and hairball is at home outside. OK she is in her igloo-furlined and safe and dry but with Nigel's cat dying we are a bit "odd", she is an old bag of bones these days.

So at 11.00 I'm upstairs in Beenami with the guilts, take a melatonin to try and sleep...drifting and drifting...and flutter the damned BAT gets back inside and just misses my face. I turn on the light and it's hanging upside down by the door SMILING. Or the bat equivalent. I head downstairs where Mark has the rather luxurious couch bed and he isn't asleep- Hairball guilt's too. I surrender and suggest we drive back to the city before we get even more guilt ridden (I'd make a good catholic). Clean up the cabin first take the cold coffee grounds outside and allow my night-eyes to take over...but it is VERY dark-we are talking BLACK. I throw the coffee over into the area for the vegie patch and the cold grounds and water land on.....several huge grey Kangeroos. I must of walked on silent feet because they didn't hear me and I didn't hear them- and I think they were even more freaked than I was- they jumped upright and stomped and than bolted....sounded like a train. I Speedy Conzalezed inside.

We leave the property at midnight and for the first 50kms it's fog and blackness and not a single car- Australia is still remote at times- this is one of them. Marky plays a selection of unreleased Crowdies and this amazing Stones rarities he created...I drink a whole bottle of Coke to Caffeine up my system. We get home at some stupid hour and of course Hairball is sound asleep, warm and has that "people are really dumb" look on her face. What a night.


---
July 22nd
Get a call from Renee and she needs to borrow my Anne Rice Vampire almanac as she looks like getting the part as an extra in the upcoming "Queen of the Damned " vampire movie- filmed in Melbourne. We catch up at Babble and the news is even better, after one quick screen test they have decided to extend her role all a bit blurry but I think it starts in a bar scene. The contract is kind of fun as it asks if you would be fine about having Vampire teeth fitted etc etc so it's all very full on. Incredibly happy for her....Mark keeps saying that Tom Cruise doesn't let people look at him when he is "performing" so we stress that Renee must now say "Don't look at me..." everytime a camera is nearby. One of the reasons for using Melbourne too is the Olympics and how certain images (and I guess buildings) are being used as backdrops for the games- not to mention the obvious nightmare around streets being closed and the whole Olympics takeover of Sydney sin city.

I try on some green tinted glasses at Izett St- still can't find what I want- the original sixties bottle green ray-bands are the best, all the glasses I like at are light green, crappy, will have to get them made up.


---
July 23rd
Have breakfast at The Conty....doesn't really do it for me....boring. Even the waiter who try's to speak 10 languages has lost his novelty value.

Notice Judith Lucy the comedian has her one woman show playing here, she keeps saying that her "relationship' fell apart etc etc wonder if she is going to name ,names onstage..... guess it doesn't matter as the married man has left the country so I guess no one will be hurt, not that it even matters....

We keep playing different Finn live shows at home and are amazed at how many times Neil just cuts Tim off -mid sentence, could be Neil's way of saying "lets get on with the song"....chalk and cheese.


---
July 24th
Decide to join Ansett's Golden Wing- as we are not flying Qantas on this tour (sob)....so I can take the girls into the lounge to escape the public prior to boarding. Wonder if Ansetts freaky flyer lounge is as good as Qantas's.

We watch "Who wants to be a millionaire" the t.v show- an old friends husband is on it, surprise myself and answer 49 out of the 50 questions correctly- of course it's a Sport question I get wrong- than again so does the contestant.

Horrible act of the week goes to the Millennium World Peace Summit held at the U.N. in August. 1000+ religious leaders were invited to attend. But not the Dalai Lama for fear of offending China which just makes the whole thing lame. If religious leaders can not put politics aside there really is no hope. This will come back and bite the arse of the MWPS, incredibly piss poor.

Major rain and sleet and hail tonight- a huge crash as something fell down our chimney.... the street is again covered in white and Cosmo is snuggled up in her "house" thinking it's the end of the world. It's a very noise night and the household is a bit bleary eyed in the morning.


---
July 25th
Head into the city. Take Mark to the Alley Cat (8-10 Centre Place Melbourne). The owners son found this site so I get some good natured stirring from the Cat Girls..... It is one of my fave haunts and a great spot to watch the passing parade. They make these great chocolate tipped biscuit type things......but be wary you just can't have one.

Toni is in the studio and a couple have traveled from the country to buy a Vali print so I leave her with them. They are long term Vali/art fans. ..they watch all the Videos and are in awe of the art around them- nice to see.

We head home and get ready for dinner. Going out with Trudi and Robin. Back to La Camira, which means metaloid nail polish...and Vodka all round. We talk about the Peru hike next year- the 4 of us decided to do the Inca Trail (after some time in San Francisco and a drive to Vegas). mark threatens to dress up as Elvis for the Gracelands part of the trip-Robin looks concerned, but Marl always threatens to dress up...one day he may do it (and I know he is reading this). In the words of Keith Richards- talk is cheap.

Nice night- we all have fun.


---
July 26th
Have to head back into the city so I pick up my new suitcase for the tour. Strand bags in the heart of the city is a good place to buy luggage. If you go there when the guy on the mike is out the front you get a further 10%, so I saved about 30%...and it has 3 years warranty....so I know I'll get a good 3 years of touring out of this baby...and yes it has wheels!

Toni is having a break so i'll jump in and look after the art studio next week, can work from in their. All those city views, kind of looking forward to it.

Spend the afternoon having meetings...decide to wear my PJ bottoms to the meeting, hey it's my office...I'll wear PJ's if I want.


---
July 27th
Happy Birthday Marky. To my best friend in the whole galaxy- you are unique and truely wonderful. (even if you won't dress up as Elvis). Special thanks to Squid for helping with MG's mystery present...a good belated surprise.

Try tracking Becky down all day and gave up....I thought Aliens had stolen her, hope I was calling the right mobile number.

A few of us head to Turkish...Arkanna. Tania, Rosemaree, Fran and Lara. We had this boyish waiter who had no idea about house wine, was very slow and tania wouldn't seduce him (I kept humming the Mrs Robinson Theme - Lemonheads version of course). The conversation covered all topics from erotica to well erotica.....I think we were all rather turned on when we left! Nice fun night. I am now penniless from paying for birthday dinners (:


---
July 28th
Caught up with Sharon Finn on the phone, Neil was seeing his Mum. So good to chat to Sharon, seems like ages since we caught up- that Tasman sea is just too wide sometimes. The Finns have a new dog too- Elroy owns her....and Lester loves having a friend.

Liam and Betchadupa had packed their bags and headed to Wellington (?) so they still have the live vibe which is nice, forgot to ask about their debut album (sorry Nic).

I watch the news and wild mobs surge through the streets of Lima as President Alberto Fujimari gets a third term of office.....cars on fires and there goes the State bank. As long as it is not Cusco and the village is safe. Hope they don't try and blow up the 12 gauge rail tracks again.

My friend drops in with the ingredients for my magic cookies. Oh i should be coy- it's just some Pot off cuts for some Pot cookies. Will make them tomorrow.

Spend the night mailing out the Split Enz sheet music books- get 50% done and then fall asleep at the desk.....zzzzzzz.


---
July 29th
Off with the mail sack to the Post office. Rosemaree makes this huge effort and swings by to help. I run into Jj and Renee on the way and will link up later. The mail people ask about my cookies, the word is out. I am the cookie man dooo doopie doo...oh that's I am the Walrus sorry...and no I haven't been sampling them....

Call into Candy Bar and snuggle with Jj and Renee near the fire, I love a fire during brunch. Decide to have a Glayva and Johnny looks at me startled...I tell him it's ok I'm not becoming a "lush" it was just the fire.....(grin). Stay for an hour, we seem to see each other a lot these days, in fact most of our friends are calling by- I think the world has settled down again, the last 18 months have been extreme...especially around relationships.

head home and do some work and decide it's Cookie time. When I am lazy and can't be bothered creating the cookies from the start I like to use White Wings Choc. Cookies Mix or Butternut Pecan Crunch.....always use butter never margarine.

Pot Cookies seemed to be the only drug for some friends- they don't take tablets, alcohol or smoke Pot but the odd cookie is a forgivable crime. But it's still contains a drug so people should be aware, and it doesn't make it cool all you youngen's. But this is my diary and I decided to make some unconventional cookies that Aunty Julie probably wouldn't make (but my Aunty Julie is pretty cool she might).....so I should mention it here, as I'm not big on the lying scale.

First off I try to be clever and use this cookie cutter and it is a nightmare-too sticky, so it's back to round shapes from squash ball size chunks. They all come out nice- the Pecan crunch extra special and just the odd nibbling of the batter from my fingers etc gets me a bit merry. I deliver a few to some friends and a few business people at Prahran lunge at them like they are Gold. A friend's kid wanted one and I refused to let him so I'm probably now an official "old fart".

Catch the last half of Babe II (the pig movie) on cable and find it extra funny....and let my bath go cold while waiting for Eric Bana Interview on the Screening Room. Eric plays the part of Chopper Read. The movie is called Chopper. When Eric puts on the wait and fake Tatts he is a lot like Read in looks.... Today's Sun says "More mullets in this movie than live in Port Phillip Bay...". Chopper fans have been stealing the cardboard Chopper cutouts from movie cinemas.

Get into my bath and have a float. Watch Jack Nicholsen in "As good as it gets" which is funny -cookies or no cookies. Worth renting. Mark is dying for Vivienne to turn up so he can open the door and say the Nicholsen line "Go sell crazy somewhere else we are all stocked up here".


---
July 30th
Head to Babble by myself today....do some writing and read the papers. The Olympic flame heads to Chapel St this week and this is Marks big chance to jump out as Mrs Doubtfire and steal it.....we have a plan.....ok maybe not. So if you are watching the news and an oldish looking woman that has been hit with the ugly stick steals the flame...you will know (:

I finish the F/16 update with Tim Finn singing "Hey big spender" on one of the live shows.....I wish the Finns would hit the road together again. I wish I wish too many wishes and not enough fishes- have no idea what that means. Probably means it's time to finish up.

Melbourne is still in a big Winter'y sleep..... everyone is sleepy and snuggley, but Spring must be on her way as the Daffodill bulbs are all springing up at Beenami- 500 of them. A sea of yellow soon. Too Winter lazy to check this entry.....sorry.

Stay Sexy.
PG

---
If there are any problems with this site, please contact webmaster@aswas.com.